Subscribe to Magazine and eNewsletters
Begin or renew your FREE subscriptions to the market-leading magazine and eNewsletters from Logistics Management.
Logistics Management keeps logistics and supply chain professionals up-to-date on the latest news and trends in transportation services, equipment and technologies. Learn how to dramatically improve the management of your supply chain and logistics operations with the cost savings ideas and solutions you'll read about when you subscribe to Logistics Management.
Contact Customer Service
Email: [ protected]
Phone: 1-847-559-7581
Fax: 1-847-564-9453
Mail: American Truck Media, PO Box 677, Northbrook, IL 60065-0677
Latest Whitepaper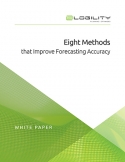 8 Methods to Improve Your Forecast Accuracy
In this paper we will take a brief look at eight methods that have produced superior results for Logility's many clients in a variety of industries and market conditions around the world.
Download Today!
From the February 2019 Logistics Management Magazine Issue
State of Global Logistics: Time for a reality check
Preview some of the innovations you will see at ProMat 2019
View More From this Issue
Latest Webcast
Freight Tech: Separating Need from Noise
In this webinar experts will share practical advice for selecting solutions that provide quick time-to-value while readying your supply chain for long-term success.
Register Today!