RSS News Feeds
With RSS, you can get what you want when you want.
Instead of visiting your favorite sites everyday and trying to find the new content, subscribing to the site's RSS feed allows the new content to be sent straight to you!
Finding an RSS Reader
There are plenty of options for RSS readers—some of the more popular ones are Google Reader, Bloglines and My Yahoo!.
Here's an extensive list of RSS readers, categorized by platform and accessibility.
Subscribing to a Logistics Management News Feed
To subscribe to a Logistics Management RSS feed, click on the orange RSS logo found on any article or index page and copy the URL into your RSS reader.
http://feeds.feedburner.com/lm/rss/recentlyfiled
For a more detailed look at RSS, .


Latest Whitepaper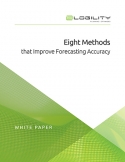 8 Methods to Improve Your Forecast Accuracy
In this paper we will take a brief look at eight methods that have produced superior results for Logility's many clients in a variety of industries and market conditions around the world.
Download Today!
From the February 2019 Logistics Management Magazine Issue
State of Global Logistics: Time for a reality check
Preview some of the innovations you will see at ProMat 2019
View More From this Issue
Latest Webcast
Freight Tech: Separating Need from Noise
In this webinar experts will share practical advice for selecting solutions that provide quick time-to-value while readying your supply chain for long-term success.
Register Today!