State of Global Logistics: Delivering above and beyond
Industry experts agree that costs across all sectors worldwide will continue to rise in 2018, and the most successful shippers will be those that are able to mitigate their impact on profitability. And, the right technology will play an increasingly vital role in driving efficiencies across the global logistics network.

Logistics in the News
April trucking tonnage is solid, reports American Trucking Associations
Zipline Logistics' report highlights importance of logistics for CPG shippers
Weekly diesel average sees slight increase, reports EIA
Looming AOBRD deadline could negatively impact trucking capacity
FMCSA floating idea to allow more teenage truck drivers in interstate commerce
More Logistics News
Logistics Resource
Sustainable Food Supply Chains: Making Sure Everybody Eats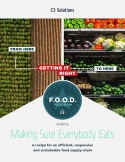 A recipe for an efficient, responsive and sustainable food supply chain
All Resources
By
Patrick Burnson, Executive Editor
·
February 1, 2018
A recent series of surveys conducted by a prominent industry think tank indicates that the current state of global logistics is characterized by extreme urgency and the pressure to deliver above and beyond—regardless of mode.
a consultancy based in Bath, England, recently produced a collection of primary research reflecting the latest thinking in the market along with the views of senior shipper executives within its "Logistics Briefing" network concentrated in the EU.
According to the Ti collection titled "," completed last December, there's scant doubt that the global express industry has already undergone significant transformation, not least due to the seismic shifts brought about by e-retail. The collection provides analysis of the key trends affecting the overall industry, and is split into five surveys investigating the freight forwarding, motor carrier, express and warehousing sectors as well as the increasingly important topic of "environment and ethics" in global logistics.
While the individual surveys identify a different set of challenges for each of the logistics markets, disruption was one of the most important trends, which was identified across all the segments. In each case, innovation and disruption was regarded as a "double-edged" sword.
For example, a large proportion of respondents in the forwarding sector believed that traditional freight intermediaries would lose out to new entrants, but at the same time saw certain technological innovations as a way of mitigating the impact of increasing costs. The freight forwarding survey also found that logistics professionals identified air and sea freight as the trade lanes that offer the best prospects for volume growth over the coming years.
In Ti's European "Road Freight Survey," responding shippers also reveal which technologies have the greatest potential to transform their business. It may come as a surprise to some that autonomous vehicles were not the runaway winner—they ranked third—perhaps because many respondents took the "believe it when they see it" view, assessing fully driverless trucks as something of a pipe dream.
The motor carrier survey also suggests that this market will witness significant fluctuations in trucking freight rates in the EU in the coming year with changes in the truckload and LTL sectors. Overall, the survey identifies where growth opportunities might lie in the European motor carrier sector, thereby providing input into transforming trucking strategies to align these with the upcoming trends and demand fluctuations.
Technology key to logistics evolution
Despite many years of on-line shopping, shippers told Ti researchers that they continue to believe that this offers their businesses the best opportunities for growth. Furthermore, they want their carriers to stay focused on meeting evolving consumer needs.
Given the strains that e-commerce can put on the operations of express carriers, logistics managers are searching for solutions to best deal with this change in volume mix, say Ti analysts.
, Ti's chief executive officer, notes that e-commerce is having an equally important impact on warehousing property in the EU. Not only has this trend led to vast investment in new facilities but, according to the survey, smaller locations aimed at distributing e-retail shipments to local consumers are also growing in importance in the Americas and Asia-Pacific.
"Given the amount of publicity that many online booking and quotation platforms have received in the international freight forwarding sector, I was surprised at the amount of respondents who were disappointed in their performance," says Manners-Bell, who adds that 61% of logistics executives who had used these platforms said that performance had been "mixed," while only 14% said that it had performed well in all areas of functionality.
"This finding suggests to me that the sector still has a long way to go before this technology disrupts more traditional freight forwarding processes, even though the survey also suggests that significant progress towards digitization is inevitable in the next five years," says Manners-Bell.
According to Ti, next year's survey will track the development of these platforms around the globe, not only to find out how widespread adoption has become, but also to discover if they're living up to expectations of advances in instant pricing.
"Costs across all freight transportation sectors around the world will continue to rise in 2018, and the most successful companies will be those who are able to mitigate their impact on their profitability," adds Manners-Bell. "And there's little doubt that technology will play an important role in this by driving efficiencies."
In wrapping up the findings, Ti analysts report that shippers also expect more mergers and acquisitions activity in the parcel and 3PL sectors, as the major players seek to consolidate their position in the market and push into specialized—and more lucrative—niches such as global perishables and pharmaceuticals.
Beware of technological promises
Analysts for the global management consultancy have also weighed in on what they believe is the current state of global logistics. Their body of research comes to many of the same observations: Certain logistics-related technologies don't always live up to their promise either here in the United States or around the world.
Indeed, Ali Sankur, an expert based in the company's Chicago office, maintains that logistics technology has "a checkered" history. "Since the development of the first mainframe computers, companies have pursued technological solutions for their logistical challenges," he says. "Their search has led them up plenty of costly dead ends."
Furthermore, Sankur believes that some technologies have created as many problems as they solved. "Manufacturing-resource-planning (MRP) systems, for example, promised a fully automated solution to difficult production-scheduling activities," he says. "In practice, their mechanistic, inflexible approach often struggled to cope with the uncertainties and volatilities of the real world, in which machines break down, suppliers fail to deliver, and customers change their minds."
Sankur also notes that other "solutions" turned out to be clever in search of a real problem. Radio-frequency identification (RFID) tags, for example, were intended to provide a real-time view of the progress of every item from production line to customer, revolutionizing logistics and supply chain management anywhere in the world in the process. In practice, however, high cost and difficulties in implementation have limited the use of the technology to a few niche areas.
"Over time, companies learned that out of every hundred radical new technologies that promised to transform logistics and supply chain operations, only a handful actually fulfilled their potential," Sankur concludes.
Three trends to watch
And while Sankur sends out that subtle word of warning, other McKinsey analysts maintain that three broad areas of logistical innovation deserve particular attention today at home and across the globe: Automation and robotics; open IT platforms; and on-demand transportation.
These areas stand out thanks to high levels of activity by the biggest global services providers as well as the positive benefits already achieved by early adopters. Equally as important, however, is that these technologies all share one critical characteristic: accessibility.
"While adopting a new supply chain technology might once have been a multi-year, multimillion dollar effort requiring significant changes across the global business, these three technologies allow companies to smart small, addressing specific problems and achieving rapid impact," says , a McKinsey partner in the Miami office.
Benavides argues that starting on small, targeted new technology projects minimizes risk, making it easier to make the decision to go with an innovative approach, and provides shippers with valuable intelligence that they can apply to other technologies or different areas of their supply chain one step at a time.
If, on the other hand, an idea doesn't work, it simply reinforces the new cultural imperative: Fail fast and move on.
"In the warehouse sector, falling system prices, combined with lower set-up costs, mean robots can reach payback even if they are applied only in specific roles for short periods," notes Benavides.
Indeed, the potential impact of warehouse automation goes beyond productivity improvements. "Technology can help warehouses handle fast-changing, multi-channel and omni-channel requirements, and increase service levels to support same-day and next-day delivery," says Benavides. "As significant, automation can increase storage density and reduce labor overheads, giving companies more strategic freedom in their network footprint decisions."
On-demand delivery
Ride-hailing services have disrupted transportation industries in many cities around the world. The same concept—using smart software to match supply and demand in real time—is now being applied in logistics. Companies can use online auction systems to buy and sell space on trucks, pushing utilization up and costs down.
Uber launched a trucking-industry version of its service in early 2017. As well as matching loads with available capacity, the system also aims to simplify rate negotiations and speed up payments, a critical element for small truckers and owner-operators.
Other organizations around the world are offering crowd-sourced last-mile delivery services, allowing commuters, taxi drivers or students to pick up parcels and drop them as part of their regular journeys. Systems such as these are changing how companies think about last-mile deliveries as customers everywhere have come to expect same-day service as a matter of course.
Retailers worldwide are already developing advanced omni-channel fulfillment offerings that allow a customer to pick a product online—often using a mobile device—and then select from a range of different collection or delivery options.
Behind the scenes, these systems require an accurate, real-time view of inventory across the company's warehouse and store network, together with fast picking and packing operations ready for that on-demand last-mile delivery. According to , a partner in McKinsey's Stuttgart office, supply chain technology development has entered "a most exciting" phase.
"Available and emerging solutions have the potential to transform the speed, flexibility, and efficiency of organization's existing processes, and to enable entirely new business models and service offerings," says Alicke. "For global shippers, the challenges lie in understanding which solutions will work for them, and in implementing those solutions faster and more effectively than their competitors."
Alicke concludes, however, that because no two logistics or supply chain operations are alike, logistics managers must demonstrate a willingness to experiment, and to accept that some experiments will fail. "The good news is that today's technologies support such experimentation," he adds. "They are quicker and cheaper to implement, more straightforward to manage, and easier to scale than those of the past."
February 2, 2018
About the Author
Patrick Burnson, Executive Editor Patrick Burnson is executive editor for
Logistics Management
and
Supply Chain Management Review
magazines and web sites. Patrick is a widely-published writer and editor who has spent most of his career covering international trade, global logistics, and supply chain management. He lives and works in San Francisco, providing readers with a Pacific Rim perspective on industry trends and forecasts. You can reach him directly at
Subscribe to Logistics Management Magazine!
Subscribe today. It's FREE!
Get timely insider information that you can use to better manage your entire logistics operation.


Latest Whitepaper
Is It Time For a New Network Strategy?
A successful supply chain network design gives companies a competitive advantage, pinpoints ways to significantly reduce costs, improves service levels, reduces overall cycle times, streamlines all processes and systems used, and more.
Download Today!
From the May 2019 Logistics Management Magazine
The Digital Supply Chain Takes Shape
Top 30 U.S. Ports 2019: Trade tensions determine where cargo goes next
View More From this Issue
Latest Webcast
Technology Roundtable: Are you ready for what's next?
In this webcast LM's group editorial director Michael Levans gathers four top supply chain management technology analysts to discuss how some of the hottest software and technologies is helping logistics and supply chain management professionals streamline their operations to meet the pressing demands of digital commerce and manage through the tightest labor market in a generation.
Register Today!