Shift to cargo insurance helps Macy's roll out the carpet for a smoother supply chain
For Kenneth Mink/The Fine Rug Gallery at Macy's, the company's exclusive lease partner and also the operator for Macy's area rug business on Macys.com, the transition from carrier liability to cargo insurance was a long time coming.

Logistics in the News
U.S. rail and intermodal volumes see annual declines for week ending May 11
FTR Trucking Conditions Index turns negative
Looking beyond the glitz and glamour of digital freight matching: questions for your DFM provider
Hub Group heralds new visibility and shipment-level ETA offering
project44 rolls out additions to Advanced Logistics Visibility Platform
More Logistics News
Logistics Resource
Sustainable Food Supply Chains: Making Sure Everybody Eats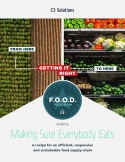 A recipe for an efficient, responsive and sustainable food supply chain
All Resources
By
Jeff Berman, Group News Editor
·
December 3, 2018
Even with the economy rolling along at a healthy clip, there are always things for shippers to be concerned about. Make no mistake, the list is long, and it often includes things like freight rates and pricing, capacity availability and commitments, supplier requirements, and meeting tight delivery windows, among others.
But one thing that often gets overlooked is insurance, make that cargo insurance, in this case. Or, is it carrier liability? The reason for that question is that shippers usually have one or the other but are often not as dialed in as they need to be, when it comes to actually knowing the distinct differences between the two. And those differences can lead to the difference between supply chain success, cohesion, and, ultimately, peace of mind, for shippers. To get to that point, though, shippers need to educate themselves on the differences between cargo insurance and carrier liability. That does not sound all that difficult but there is far more than meets the eye to be sure.
So, what are the main differences between carrier liability and cargo insurance?
A study published last year by clearly defines the differences. Carrier liability, it explained, is the standard liability offered by the carrier for a shipment in the event of a loss or damage (e.g. up to $100 for small package, or $25/lb. for less-than-truckload), with excess liability referring to the shippers' purchase of excess-value coverage (e.g. more than the carrier's standard liability coverage), up to the cost of the shipment, offered by the carrier in the event of loss or damage. Types of instances not covered by carrier liability include: an Act of God like a hurricane, Act of War, fault of shipper (inadequate packaging), goods defects, and government actions.
As for cargo insurance, and its main difference compared to carrier liability, UPS explained that a true all-risk cargo policy would pay regardless of fault, even if the damage was noted after delivery (up to the date specified in the policy), or was caused by factors outside the carrier's control.
"This whole idea around carrier liability and cargo insurance is a pinch point for us from an insurance perspective," said . "Based on our research with Harris Interactive, there are about 40% of shippers, or supply chain decision-makers, that don't know the difference between the two, with the other 60% indicating they know the difference but cannot describe it. Carrier liability is really designed to protect the carrier, not the shipper or person shipping the goods. That's a fundamental issue. It is there, because, by law carriers have to provide some sort of protection."
As for cargo insurance, Zamsky explained a typical policy is not one size fits all. Instead, it is written for the shipper based on their specific needs and shippers can apply for coverage up to 90 days after the shipment, due to possible concealed shipment damage. And he added that insurance provides shippers with retail value coverage. So for a shipment of $500 that is worth $1,500 in market value, insurance covers total retail value and not just the cost of goods.
From a shipper's perspective, leveraging the benefits of cargo insurance can pay significant dividends, especially in the form of claim reimbursements and overall supply chain efficiency improvements.
For , the company's exclusive lease partner and also the operator for Macy's area rug business on , the transition from carrier liability to cargo insurance was a long time coming, with the wheels going into motion shortly after he took his position on the logistics side, coming over from sales in 2014.
"What we had been doing previously was using carrier liability on all our packages," said Gittleman. "And I would notice on our claims that we were not getting reimbursed for the majority of the packages we filed claims on. We also learned that we were not able to file claims on damages for larger oversized goods that are in excess of 10 feet in length carpet rolls, because it was not included in the tariff for UPS Ground, our carrier."
That led to a discussion with Gittleman's UPS reps, as they heard from him about his frustration and encouraged him to speak with UPS Capital, saying they may be able to help out.
While skeptical at first, Gittleman said after the initial meeting, Kenneth Mink got a better understanding of how UPS Capital could work with him, and that this made sense for his group to give it a shot.
"The biggest thing was not only the potential cost savings but also gains on the productivity side as well," he said. There were a lot of opportunities to streamline the process and simplify it."
When Kenneth Mink was only using carrier liability, Gittleman noted that the company was recouping around $16,000 annually, which he described as a "huge loss." Making matters worse was that there were few options for what to do with damaged merchandise, coupled with the labor side of things being overly time-consuming in terms of processing claims.
These factors ultimately led to Kenneth Mink listening to UPS Capital and making the switch from carrier liability to cargo insurance.
Time wasted with processing claims, he said, has been lessened through UPS Capital's Bordereaux spreadsheet for claims submissions processes, which includes detailed and easy to access information for things like carrier, tracking number and shipment ID, nature of loss or damage, billed merchandise amount and shipping charges, among others.
"Bordereaux is essentially a spreadsheet in which whenever you have a loss or damage, you enter in the tracking number and the cost of the merchandise into it and it is submitted monthly," said Gittleman. "We get reimbursed automatically to our account so there is no longer that traditional long process of claims filing."
This tool has been a key driver in Kenneth Mink upping its lost damages recouped from $16,000 annually in the past to $300,000 today for its packages, with the majority transported via small package, around 25% via LTL, and a portion via full truckload.
"This is especially common with LTL shipments, even though we try to make our packaging as durable as possible," he said.
Write Offs
While damages and returns for Kenneth Mink's rugs and carpet are all inspected and graded, Gittleman said most were in still in good enough shape to go to liquid and clearance centers, with half of Kenneth Mink rugs needing to be written off, or about $150,000 in costs.
A big change, and improvement now, though, is that Kenneth Mink, said Gittleman, is being reimbursed for 98% of every claim it enters into Bordereaux.
While that number may be very impressive on paper, Gittleman labeled it as cost-neutral, because Kenneth Mink is not losing money on it, nor is it making money either.
"It is not a profit center for us; it is saving us on the back end in terms of cost savings, productivity, and workload, as well as moving product, too," he said.
What's more, the 98% reimbursement figure was not feasible for Kenneth Mink, when it relied on carrier liability in the past. And that reimbursement figure carries even more weight, when considering that Gittleman's group ships around 60,000 packages annually on average, sometimes more, in addition to the 15 vendor partners that drop-ship for Macy's.
"Looking at the costs of carrier liability versus the costs of a cargo policy, if you break it down by package, we are paying a fraction of what the same package would cost with carrier liability," he said. "That is definitely a huge difference in cost and is something we can customize based on volume levels."
Having used cargo insurance for the last two-and-a-half years, Gittleman says he wishes Kenneth Mink had transitioned to it a earlier, considering the benefits it has gained for package reimbursements, claims filed, time savings, and the reduction in potential losses and the gains in savings.
"I would really say it is a 'must have' for shipping a lot a merchandise that has high potential for loss or damage," he said. "That is how I look at it."
The E-Commerce Effect
With rugs being sold at 200 United States-based Macy's locations and also on Macys.com, Gittleman maintained that cargo insurance should be viewed as a must in today's e-commerce environment.
"There are more and more packages being handled, coupled with fewer people going to physical locations to make in-store purchases," he said. "And with more packages being shipped, there are various benefits that come with the coverage cargo insurance can bring."
That also factors in from an inventory planning perspective, too. With its commodity being rugs that are not items that fit into a typical 12"x12" box, Gittleman said that Kenneth Mink is cognizant of what it ships and how it ships, as freight rates can rise frequently.
"We need to protect our product and having a cargo insurance policy is a major step in the right direction," he said.
February 13, 2019
About the Author
Jeff Berman, Group News Editor Jeff Berman is Group News Editor for
Logistics Management
,
Modern Materials Handling
, and
Supply Chain Management Review
. Jeff works and lives in Cape Elizabeth, Maine, where he covers all aspects of the supply chain, logistics, freight transportation, and materials handling sectors on a daily basis.
Contact Jeff Berman
Subscribe to Logistics Management Magazine!
Subscribe today. It's FREE!
Get timely insider information that you can use to better manage your entire logistics operation.


Latest Whitepaper
Is It Time For a New Network Strategy?
A successful supply chain network design gives companies a competitive advantage, pinpoints ways to significantly reduce costs, improves service levels, reduces overall cycle times, streamlines all processes and systems used, and more.
Download Today!
From the May 2019 Logistics Management Magazine
The Digital Supply Chain Takes Shape
Top 30 U.S. Ports 2019: Trade tensions determine where cargo goes next
View More From this Issue
Latest Webcast
Technology Roundtable: Are you ready for what's next?
In this webcast LM's group editorial director Michael Levans gathers four top supply chain management technology analysts to discuss how some of the hottest software and technologies is helping logistics and supply chain management professionals streamline their operations to meet the pressing demands of digital commerce and manage through the tightest labor market in a generation.
Register Today!