Peter Moore on Pricing: Paying the piper on the high seas
Vessel owners were lucky to be able to run between continents well out of sight of government and non-government organizations for over a century.

Transportation in the News
North Carolina Ports to implement the Navis N4 terminal operating system
Panjiva data shows a rebound in U.S.-bound ocean cargo shipments in March 2019
Port of Long Beach outlines its growth strategy
ATA reports mixed trucking tonnage volumes for March
FTR's Trucking Conditions Index declines sharply
More Transportation News
Transportation Resource
2019 Top 50 Trucking Companies: Working to Stay on Top

The nation's top carriers are making every effort to extend the trucking rally, satisfy customer needs and differentiate themselves in a cutthroat market.
All Resources
By
Peter Moore
·
February 5, 2019
In less than 12 months, the regulations reducing emissions from ocean vessel fuels go into effect. Anyone who has seen a ship "blow its stack" with dirty bunker exhaust loaded with air pollutants knows why there's a need to clean up the industry.
Vessel owners were lucky to be able to run between continents well out of sight of government and non-government organizations for over a century. The pollutants from a single ship equal thousands of automobiles—and all the while we've been leaning on car owners and manufacturers to reduce emissions for decades.
The economics of ocean cargo has favored large diesel engines burning cheap, semi-refined fuels. No one should be surprised that the owners dodged this international rulemaking as long as possible. In fact, my brother was an engineer and merchant marine and he would tell of the oily dirt in the engine room getting into every nook and cranny. I remember getting a tour of his workplace and being told not to touch anything, even the safety railings, or it would ruin my clothes.
In talking to ocean industry insiders, I found that many understand that it was time for an upgrade. However, no one was going to go first and either spend hundreds of thousands on scrubbers or scrap vessels in favor of new ones with clean-diesel engines that reduce pollutants by 95%. It took action by the IMO as a part of the to make everyone upgrade, and now all owners are making the necessary investment—and shippers will be paying more for cargo in nearly every trade lane. Indeed, the whole market will have to adjust.
Another unfavorable result of this massive investment is that the industry will further consolidate, as some smaller operators exit the market rather than pay to comply. Consolidation brings pricing leverage, as it has in all transportation modes.
However, there's a silver lining of which shippers need to be aware. New vessels are larger and better designed for fuel efficiency from hull design to multi-directional propellers and thrusters to facilitate faster docking. Meanwhile, more TEUs per vessel means a lower per unit cost, while crew sizes are staying stable or being reduced—ultimately to near zero as artificial intelligence changes how booking, load planning, routing, engine and deck operations are managed.
For carriers and forwarders, I suggest that you understand your costs and are able to articulate that story to shippers because they need to explain rising rates up the ladder in their organizations.
For shippers who have to explain a perhaps 10% increase in ocean rates to their executives and customers, I suggest boning up on the issue and have the facts at your fingertips. If everyone is paying more, there's no competitive disadvantage for your product or service.
Several clients have told me that they're preparing to tell a "green" story to customers as they further clean up their supply chain and reduce their carbon footprint. Transportation executives on both the shipper and carrier side need to embrace this improvement on behalf of their company and their community because studies have repeatedly shown that customers will pay for greener products and services. In paying the piper, we may just learn a new moneymaking tune. •
February 5, 2019
About the Author
Peter Moore Peter Moore is Adjunct Professor of Supply Chain at Georgia College EMBA Program, Program Faculty at the Center for Executive Education at the University of Tennessee, and Adjunct Professor at the University of South Carolina Beaufort. Peter writes from his home in Hilton Head Island, S.C., and can be reached at
Subscribe to Logistics Management Magazine!
Subscribe today. It's FREE!
Get timely insider information that you can use to better manage your entire logistics operation.


Latest Whitepaper
2019 Logistics Management Salary Survey Complete Report
35th Annual Salary Survey, the most comprehensive report of the current state of salaries and overall compensation packages for logistics and supply chain professionals.
Download Today!
From the April 2019 Logistics Management Magazine Issue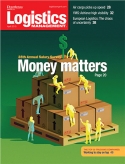 Next-Generation Data Capture Emerges
2019 Air Cargo Roundtable: Volumes and pricing gathering speed
View More From this Issue
Latest Webcast

Case Study: Enabling the Autonomous Supply Chain
During this webinar Nucleus Research and One Network will dissect a global company's strategy to leverage a multi-party network to enable the autonomous supply chain.
Register Today!