On-demand warehousing ready to be a game changer
Flexibility is the name of the on-demand warehousing game. Sure, it's in early stages, but the potential is enormous.

Logistics in the News
April trucking tonnage is solid, reports American Trucking Associations
Zipline Logistics' report highlights importance of logistics for CPG shippers
Weekly diesel average sees slight increase, reports EIA
Looming AOBRD deadline could negatively impact trucking capacity
FMCSA floating idea to allow more teenage truck drivers in interstate commerce
More Logistics News
Logistics Resource
Sustainable Food Supply Chains: Making Sure Everybody Eats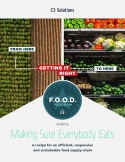 A recipe for an efficient, responsive and sustainable food supply chain
All Resources
By
LM Staff
·
September 24, 2018
Editor's note: This article originally appeared in .
From Melbourne to Mumbai to Manhattan, it seems the entire supply chain is taking a crack at something new – on-demand warehousing.
Actually, the concept is not as new as the name. After all, who doesn't know that a fairly successful e-commerce company that has been practicing on-demand warehousing for some time. You know it as .
Companies that sell products on Amazon can use FBA to fulfill those orders. Or as FBA says - "You send your products to Amazon fulfillment centers, and we pick, pack, and ship them and provide customer service."
Now that is not the only way on-demand warehousing works, but it is the nub of the idea. If you don't have enough warehouse capacity for your inventory, on-demand warehousing provides a flexible option to store inventory elsewhere for a period of time.
Or, as puts it, "on-demand warehousing is a game changer for the supply chain. It makes better use of underutilized warehouse assets for companies that need a home for inventory on a flexible basis."
Vyas goes on to say, "it isn't a whole lot different than what Uber and Airbnb do in matching people to underutilized vehicles and lodging, respectively." For more on Vyas' take on on-demand warehousing, .
Just as interesting, companies as diverse as KFC and Exploding Kittens have used on-demand warehousing.
In the case of Exploding Kittens, it is the only way it was ever going to be distributed initially. The company thought it could assemble, pack and ship its first orders at a launch party. Except a million orders flooded in almost all at once. Forget the launch party, enter on-demand warehousing.
Already, there are different flavors.
In one, the company providing the warehouse space also fulfills orders just like FBA. Or, the owner of the inventory might prefer to have its own people on-site filling orders. A third variation is a consortium of companies that efficiently stage inventory and fulfill orders across their private network.
On the operations side, on-demand warehousing is not so tough. Slotting inventory into empty space in a warehouse is manageable. And it's not impossible to work out the details of who and how that inventory will be managed. The tough part is matching up warehouses with space and companies with inventory.
A tried and true approach here is third-party logistics. It's a big business. But 3PLs usually want multi-year deals and big space requirements. They typically have no intentions of letting anyone but their own people manage the inventory.
On-demand warehousing is not a new twist on 3PLs. Flexibility and short-term storage are the hallmarks of on-demand warehousing.
Clearly, 3PLs have quite a different business model. "There is a great void between the requirements of 3PLs and companies that might only need 300 pallet positions for three months," says . "This notion of flexible space just doesn't exist," he adds.
But Rosenthal and others are trying to change that. He compares , which is in beta, to WeWork for office space. Both offer space and some supplemental services including security. All of the matchmaking is done electronically.
The challenge, he says, is finding warehouses that want to lease space short term. "That's unfortunate since demand is off the charts," says Rosenthal.
The claim that demand is strong seems to be confirmed by UPS' jump into the fray last month. platform is targeted at small- and medium-size companies. UPS says its service can handle the entire transaction starting with finding space and ending with fulfilling orders with guaranteed two-day order-to-delivery. Almost sounds like FBA.
Still another approach is a new consortium called . Engineered by long-time , MonrchFX is an alliance of companies that brings together their assets and services.
Beyond a base of Tompkins International consulting and hardware solutions, MonarchFX is a consortium of warehouse and logistics service providers.
Together, they provide services from design and implementation to operations plus technology and automation as well as delivery. Early members of the alliance include NFI, DHL, Kenco Logistics, Softeon, JDA and Piedmont National.
However, a company needs to have joined the consortium to benefit from the capabilities of those partners. For many, that is too restrictive.
Clearly, there are several options already in on-demand warehousing. The challenge is to find the one best suited to your business. In any case, rest assured that the next time someone asks you what KFC and Exploding Kittens have in common, you know the answer—on-demand warehousing.
Gary Forger is the special projects editor for . He can be reached at [ protected].
September 24, 2018
Subscribe to Logistics Management Magazine!
Subscribe today. It's FREE!
Get timely insider information that you can use to better manage your entire logistics operation.


Latest Whitepaper
Is It Time For a New Network Strategy?
A successful supply chain network design gives companies a competitive advantage, pinpoints ways to significantly reduce costs, improves service levels, reduces overall cycle times, streamlines all processes and systems used, and more.
Download Today!
From the May 2019 Logistics Management Magazine
The Digital Supply Chain Takes Shape
Top 30 U.S. Ports 2019: Trade tensions determine where cargo goes next
View More From this Issue
Latest Webcast
Technology Roundtable: Are you ready for what's next?
In this webcast LM's group editorial director Michael Levans gathers four top supply chain management technology analysts to discuss how some of the hottest software and technologies is helping logistics and supply chain management professionals streamline their operations to meet the pressing demands of digital commerce and manage through the tightest labor market in a generation.
Register Today!