U.S. Port Update Part 1: Infrastructure Shortfalls Driving Innovation
Seaports on West, East, and Gulf coasts are all poised to compete on one major imperative: investment in transformational technologies.

Transportation in the News
May truck tonnage sees some gains but trends down due to tough annual comps, reports ATA
Cass Freight Index reports more shipment and expenditures declines in May
U.S. waterborne shipments are up in May, reports Panjiva
Annual truckload and intermodal pricing gains remain intact, reports Cass and Broughton Capital
U.S. rail carload and intermodal volumes are down for week ending June 8, reports AAR
More Transportation News
Transportation Resource
2nd Annual Trucking Fleet Management Survey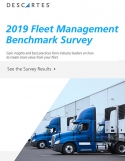 Download This Complimentary eBook – 2019 Descartes Fleet Management Benchmark Study Findings
All Resources
By
Patrick Burnson, Executive Editor
·
January 8, 2019
As 2018 came to a close, U.S. logistics managers witnessed unsurpassed inbound container traffic through our nation's largest ocean cargo gateways. But industry analysts warn that a variety of disruptive factors may demand more creative solutions from port stakeholders to remain competitive.
Fitch Ratings expects port volume growth to continue in 2019, consistent with the U.S. economy, but ports with higher exposure to commodities or trading partners targeted by tariffs and trade policies may see greater volatility. Furthermore, say Fitch analysts, ocean carrier consolidation, mergers and acquisitions as well as changes to alliances are also likely to have an impact on port productivity.
"Despite these disruptors, recent volumes are performing at above average levels and investments continue to focus on capacity enhancements to accommodate larger vessels," observes , a senior director at Fitch. "Investor interest in port assets is also increasing."
According to Lehman, large greenfield projects with lengthy construction periods may face continued execution risks for a multitude of reasons. "This includes delays in third-party approvals, contractor financial pressures, scope changes and lingering disputes," he says.
Meanwhile, port authorities are examining a new generation of technology, as shippers insist on faster service and greater overall efficiency on our nation's docks. These solutions include dock automation, business intelligence, planning and management systems, Big Data analytics, SaaS applications and Cloud services—tools to modernize now weary legacy processes.
Positive expectations
Fitch expects cargo growth to continue to move in step with U.S. GDP in 2019. Of course, West Coast ports may see short-term volume adjustments from trade policies due to concentrated trade with the Asia-Pacific region, a trend observed in the second quarter and third quarter of 2018.
East Coast ports saw comparatively higher growth through September 2018, which Fitch measures to be 7.2% compared with a year prior. By contrast, the West Coast saw 3.1% growth for the same time period. This differs from the relatively balanced cargo growth in calendar 2017 for both the East Coast (up 7.8%) and the West Coast (up 6.3%).
"Port capital programs continue to be driven by measures that facilitate handling of larger vessels and their associated cargo loads," says Emma Griffith, a senior director at Fitch. "This includes channel and berth deepening along with crane improvements," she says, adding that it's important to note that technological improvements and increased automation is becoming a key differentiator in all of these projects.
Performance dichotomy
A new benchmark study developed by the in partnership with the international port consultancy Navis is aligned with many of the Fitch Ratings conclusions. This inaugural "Navis Business Bellwether" survey was conducted in September and October of 2018 and includes responses from more than 175 maritime industry executives and logistics managers.
One key area of the report explores port and terminal plans for increased technology spending and found that 90% of respondents intend to invest this year—with almost 60% indicating an increase of 6% or more.
At the same time, however, there appears to be a dichotomy between placing a high priority on technological improvements and the pace of progress. Researchers were dismayed to discover that 44% of the respondents feel the pace of port innovation is too slow and needs significant improvement.
Beyond technology, the report also explores additional topics including the impact of the global business environment on the shipping industry, expected financial performance of carriers, biggest business risks, top priorities to improve performance and opportunities for growth.
, vice president and general manager of field operations, the Americas at , says ports and terminal operators currently "embracing technology" as a competitive advantage include the Georgia Ports Authority, Ports America, Maher Terminals and APM Terminals,
"These ports and terminals are leveraging our terminal operating system to optimize their yard, gate and vessel operations as the new generation of mega-vessels arrive," she says. "That's because container carriers are expecting the same—if not greater—levels of service that they had when they were bringing in much smaller ships."
More automation, contends Gardner, also serves to mitigate risk at the ports by introducing big data into the picture. "This enables decisions to be made with hard figures rather than 'gut feelings,'" she says. "Port authorities are able to make more timely and strategic decisions as opposed to always looking to put out fires."
Technology also allows ports to take workers out of harm's way and into safer environments to do their jobs, thus reducing safety incidents that can be significant, says Gardner. "Most terminals would put a high value on the ability to reduce the amount of interaction their workforce has in the most dangerous areas where cranes and other container handling equipment is working," she adds.
Using differential global positioning systems (GPS), for example, gives terminal operators a significant enhancement of the existing GPS by increasing the range of signals. New applications of RFID and optical character recognition (OCR) are also serving to keep the docks safer and more efficient.
Perception counts
Shippers and their freight intermediaries are also telling ports that they expect more automation to be introduced within the next five years. A recent survey conducted by the on-line forwarder lists the 10 ports U.S. shippers regard as the most progressive in this regard.
Besides the mega-gateways of Los Angeles/Long Beach on the West Coast, New York/New Jersey on the East Coast, and Houston in the Gulf, a number of usurpers are perceived as technologically advanced.
The , for example, is lauded for building the largest single terminal in the Southeast, thereby capturing the largest concentration of import distribution centers in the region. Seattle/Tacoma, which merged to scale up its automated services, is also becoming increasingly attractive to logistics managers breaking into trans-Pacific markets.
The South Carolina ports of Charleston and Georgetown were credited for their ability to handle diverse commodities by iContainer shippers. Oakland and Miami rounded out the list, two ports that shippers recognized for their ability to accommodate demand for specialized services.
, vice president of operations for iContainers notes that the pace for fully automated operations should coincide with real-time and precise cargo tracking. "This data is generally available now, but is often delayed while it's being confirmed," he says. "Shippers want to see the container when it's gated, loaded, unloaded and discharged."
The same level of transparency goes for container chassis, say port industry experts. Ports that can't ensure this essential equipment will be on hand will soon fall out of favor with major shippers.
, senior vice president of product management for the collaborative supply chain platform provider , maintains that the current chassis crisis can best be addressed through collaboration. "The end consumer's need for instant gratification is driving innovation and investment in technology upstream in the supply chain," he adds. "Ports are investing in visibility, but the same must be done by chassis providers, drayage companies and the shippers themselves."
Shippers driving port innovation
Although U.S. ports have adopted automation more slowly than comparable sectors, authors of a new report issued by titled "The Future of Automated Ports" say that the pace is now starting to accelerate due to shipper demand.
"Many ports find that exceptions are the greatest single challenge for raising productivity," says , a partner in McKinsey's Hong Kong office. "More than 60% of the operators in our survey agree that when ports have large numbers of exceptions, the likely culprit is a mistaken approach to automating manual processes."
He adds that these ports skip an important step: simplifying processes before automating them. These processes therefore remain cumbersome even after they're configured by automated systems.
According to McKinsey, leading automated ports have revealed general principles that others might consider.
Port operators should start with a blank slate as they think through every process from beginning to end, across functional silos.
Set up strong project governance and communication plans and execute with discipline. Automation projects require a wide variety of capabilities in areas such as terminal operations, technical engineering, software engineering and systems integration.
Port concessions have timelines, so realizing the benefits of automation at a reasonable pace is important.
Build and continually refresh your technology ecosystem.
Incorporate external data into the automation system.
"One key benefit of automation is consistent, predictable performance," says Chu. "In a perfect world, machines would execute nothing except instructions. But operational variables beyond terminals—for instance, the arrival of trucks, feeders and ships—are also important elements of performance."
McKinsey analysts maintain that ultimately, these investments may well drive ocean cargo gateways from being merely asset operators to comprehensive "service orchestrators."
January 24, 2019
About the Author
Patrick Burnson, Executive Editor Patrick Burnson is executive editor for
Logistics Management
and
Supply Chain Management Review
magazines and web sites. Patrick is a widely-published writer and editor who has spent most of his career covering international trade, global logistics, and supply chain management. He lives and works in San Francisco, providing readers with a Pacific Rim perspective on industry trends and forecasts. You can reach him directly at
Subscribe to Logistics Management Magazine!
Subscribe today. It's FREE!
Get timely insider information that you can use to better manage your entire logistics operation.


Latest Whitepaper
Making the Case for Using a Transportation Management System for Parcel Shipping
We discuss the key pain points that all parcel shippers are dealing with right now and show how a multi-carrier transportation management system can help reduce costs, improve efficiencies, and improve the organizational bottom line.
Download Today!
From the June 2019 Logistics Management Magazine
Warehouse Execution Systems (WES) Evolves Beyond "inside the four walls"
Got labor? How supply chain companies are recruiting talent during a labor crunch
View More From this Issue
Latest Webcast
How to Solve The Unique Challenges of Multi-Carrier Parcel Shipping
Join Logistyx President Ken Fleming for an appraisal of multicarrier shipping, TMS solutions and the nuances of interpreting Gartner's Magic Quadrant for TMS, without a barcode label in sight! Using case studies, review scenarios traditional TMS solutions struggle to manage, such as high volume and international shipping, and learn why parcel shipping requires a different solution and how to design your process and architecture to leverage both effectively.
Register Today!