2019 Ocean Cargo Roundtable: Past is prologue
The ocean cargo industry has been characterized of late as being plagued by cultural dysfunction, keeping it mired in a sea of debt and service constraints. Our maritime experts reflect on how systemic change may lead to recovery.

Transportation in the News
Peak season vs. baseball season
Article 3: Hedging Applications for Trucking Carriers, Shippers & 3PLs
Carrier executives grapple with driver shortage expected to worsen
Panjiva reports gain in July shipments despite trade concerns
July Cass Freight Index Report shows ongoing declines
More Transportation News
Transportation Resource
Create Shipping Efficiencies and Decrease Delivery Costs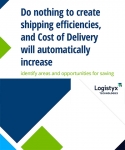 How will your shipping team win during peak season?
All Resources
By
Patrick Burnson, Executive Editor
·
August 12, 2019
Ocean carriers had a rough time of it last year, and many industry experts fear that "past is prologue" for 2019 for both carriers and shippers. Joining us in this discussion is Philip Damas, head of Drewry's Supply Chain Advisors; Brendan McCahill, senior vice president of trade data content at Descartes Datamyne, an import/export trade database company; and Dan Smith, principal at The Tioga Group, a freight transportation consultancy.
Logistics Management (LM): Will the ocean carrier alliance structures finally make carriers more solvent and more reliable?
Dan Smith: No. Solvency will only come when demand starts catching up to capacity. Instead, carriers continue to expand capacity faster than trade is expanding with new megaship orders. From what I can see, alliances have made service less reliable by complicating vessel loading and planning, and by adding stops to fill large vessels.
Vessels are also straining terminal capacity, making it more difficult for terminal operators to turn vessels on tight schedules or get late vessels back on time. I would characterize alliances as a survival strategy, not an improvement strategy. If they lead to faster vessel retirement and capacity "rationalization" they could help with solvency, but they have not done much so far.
Philip Damas: I agree with Dan. Ocean carrier alliances, and there are now just three of them, are still not able to provide "reliable" service considering that, on the major routes, no more than 80% of vessels arrive on the scheduled arrival day. This will not change for a while. At best, the carrier alliances continue to provide a relatively stable supply of ship capacity to the market and a relatively predictable network of weekly services, but they have come under criticism.
"Solvency will only come when demand starts catching up to
capacity. Instead, carriers continue to expand capacity faster
than trade is expanding with new megaship orders."
— Dan Smith, The Tioga Group
Brendan McCahill: All valid points, however I will take issue with some of the conclusions. Clearly, the idea to share tonnage, coordinate deployment and add flexibility to schedules in a manner to maximize service versatility and port coverage gives better economic opportunity to participating carriers. These carriers can now offer service at more diverse locations to their shippers without the same capital requirement, should they try to offer that service without rationalization. Let's bear in mind that the vessel is only one part of the total transportation chain offered by capital intensive operators, and we have seen chassis pooling, shared terminal operations and shared technology platforms, which also contribute to greater economic stability.
LM: Are shippers seeing more transparency in pricing and service as a consequence of enhanced information technology?
McCahill: Greater technology supports more transparency. However, over the past years, as vessels became larger, the need for cargo commitment to support all this new tonnage has also contributed to this truthful and transparent attitude. As the post-Panamax vessels made their appearance and impact on the key east/west trades, the need to move freight payments from "grudge money" to "relationship management" on the part of cargo interests and carriers has brought with it the added benefit of a meaningful level of transparency in the dialogue.
"Greater technology supports more transparency. However,
over the past years, as vessels became larger, the need for
cargo commitment to support all this new tonnage has also
contributed to this truthful and transparent attitude."
— Brendan McCahill, Descartes Datamyne
Damas: Brendan makes an interesting point. There are an increasing number of ocean price indices that provide more transparency on spot freight rates on the "power routes." Online marketplaces are also providing spot freight rates on numerous routes, but these rates tend to be on the high side. Contract freight rates are much less transparent today, although this could also change as new online marketplaces are introduced to cater for this more complex segment. The availability of cargo visibility tools is spreading, and this makes it easier for shippers to assess the reliability of services and the performance of their vendors.
LM: Should we expect international trade tensions to have an impact on vessel deployments and schedules?
Smith: I understand that there have been "extra loaders" introduced into eastbound trans-Pacific schedules to handle the short-term surge from "front loading" import inventory. The vessel capacity will be controlled by the headhaul, so it will stay high as long as Asian exports and U.S. imports stay high. That surge seems to be declining. But where else would the capacity go? The big problem is that the rampant uncertainty over trade makes it impossible for anyone in any part of the business to make coherent plans.
McCahill: It would seem to follow that carriers have the ability to modify tonnage deployment and schedules to allow for the impact of trade tensions on cargo flows. It only makes sense that if cargo falls off in certain lanes, then carriers will look to deploy where they can get a maximum lift. Unknown at the time is whether or not the carriers may be burdened with requests to reduce rates to compensate for—or participate in—any impact on landed cost due to new duties assessed. It's a bit of a shared misery.
Damas: If the U.S./China trade war escalates, this restructuring of trans-Pacific ocean networks will result in larger changes in vessel deployments and schedules. Southeast Asian services would then become more frequent and more mainstream, while China services could lose some of their current dominance in the world of trans-Pacific ocean services. The trans-Atlantic route is busier than in the recent past—and freight rates much higher—while the China/U.S. route is clearly declining.
LM: Any thoughts on the trade tensions in the Middle East?
Damas: The Iran situation could have huge repercussions on all the carrier services in the Middle East Gulf if the Strait of Hormuz is shut down due to attacks on ships transiting the strait. However, the economic interests of keeping the strait open are so vital that we would expect that political powers in the region will not allow it to shut. There is now a Saudi rail land bridge alternative to the dominant Strait of Hormuz maritime route, but it could not handle the container volumes to and from the entire Gulf.
LM: Can you share any insights on the status of IMO 2020 preparations and the freight rate implications shippers may expect to see?
"Following a difficult 2018 peak season and widespread
congestion and performance issues in early 2019 in the
trans-Pacific trade, shippers and NVOCCs are increasingly
turning their attention to ways in which they can make
ocean transportation services more reliable, more
predictable and less prone to 'roll-overs.'
— Philip Damas, Drewry​
Smith: I think it's clear that IMO 2020 is being overshadowed by the trade wars. Rates will go up not only because of the increased costs to carriers, but because carriers need every possible reason to raise rates. The big argument will be how much they will go up and under what terms.
Damas: Most U.S. shippers have reviewed their contract bunker formulae to take into account the switch to the new IMO 2020-compliant fuel before signing their new May 2019-April 2020 trans-Pacific contracts. So, most are prepared for the switch from a shipping contract viewpoint. However, there's still no established price for the new, compliant low-sulfur fuel, so being prepared or confident in terms of budgeting is much harder.
McCahill: It's hard to dispute that we all have an obligation to protect our environment, and that's exactly what IMO 2020 is all about—environmental awareness. Perhaps it's analogous to the U.S. based rulings on truck idling and the reduction of diesel particulates over the past 10 years? Heavy-duty engine manufacturers like Cummins, Caterpillar and Detroit Diesel had to find ways to reduce emissions, and they did.
The community started off with great trepidation, but technology and a need to protect the environment found common ground. In the maritime world, this may take a bit longer as this is really a global initiative, with different levels of priority in different geographic regions, but attention to the environment is a task that has the global benefit that we all participate in.
LM: The Panama Canal Authority has proposed to make toll modifications designed to retain and "incentivize" increased cargo volumes. Where do you think this will go?
Smith: Regardless of how they structure it, it's an incentive and a volume discount. Incentives and discounts will nudge the needle farther toward Panama from Suez or U.S. West Coast options. In the meantime, Suez could cut rates in response, but I don't know of any way to cut rates on the Pacific Ocean.
McCahill: The Authority wants to win back cargo that it feels has been lost over the past few years with the advent of post-Panamax vessels and schedule modifications prior to the opening of the third set of locks. The new toll structure has many features, and one would think it would take some time for carriers to run a comprehensive series of "what if" scenarios to glean the benefit.
The economics are influenced by multiple factors, one being the cost of the tolls, another being the opportunity to lift more direct cargo or more interim cargo along the itinerary, the value of superior transit times, or even market dominance in some high volume port pair analysis. So, this is not one-size-fits-all in my opinion.
LM: Any other trends we may expect as we inch closer to 2020?
Damas: Following a difficult 2018 peak season and widespread congestion and performance issues in early 2019 in the trans-Pacific trade, shippers and NVOCCs are increasingly turning their attention to ways in which they can make ocean transportation services more reliable, more predictable and less prone to "roll-overs." Some small and medium-sized shippers have learned, at their cost, that having a very low freight rate could mean being the first customer to be put in the queue for ship capacity.
We believe that the focus of shippers in the next year or so will be to secure capacity, reduce the risk of under-performance and making sure that providers react faster to problems. This calls for new technology-enabled forwarder and carrier "guaranteed services." But it seems that all stakeholders will need to go back to basics and define what they mean by a "quality" service and how to incentivise providers to deliver more reliable services to time-sensitive shippers who really need it, while keeping their main services low-cost for the majority of their customers.
Smith: Philip is right, but we must realize that terminal automation is going to proceed slowly, although there may be some splashy exceptions. Automation of any type requires capital and confidence in near-term payback, and the current environment doesn't provide that confidence.
August 12, 2019
About the Author
Patrick Burnson, Executive Editor Patrick Burnson is executive editor for
Logistics Management
and
Supply Chain Management Review
magazines and web sites. Patrick is a widely-published writer and editor who has spent most of his career covering international trade, global logistics, and supply chain management. He lives and works in San Francisco, providing readers with a Pacific Rim perspective on industry trends and forecasts. You can reach him directly at
Subscribe to Logistics Management Magazine!
Subscribe today. It's FREE!
Get timely insider information that you can use to better manage your entire logistics operation.
Start your FREE subscription today!
Latest Whitepaper
How to Manage Increasing Labeling Demands
Download the report to learn best practices for managing those increasing label demands.
Download Today!
From the August 2019 Logistics Management Magazine
Ocean: Protecting margins in a soft market
Warehouse Voice Technology Speaks for Itself
View More From this Issue