2019 Air Cargo Roundtable: Volumes and pricing gathering speed
Air cargo demand lost momentum toward the end of 2018 in the face of weakening global trade, sagging consumer confidence and geopolitical headwinds. Still, demand grew by 3.5% compared to 2017—which was also a banner year.

Transportation in the News
U.S. waterborne shipments are up in May, reports Panjiva
Annual truckload and intermodal pricing gains remain intact, reports Cass and Broughton Capital
U.S. rail carload and intermodal volumes are down for week ending June 8, reports AAR
FourKites shares insights on best transport management practices
Q&A: AAR President and CEO Ian Jefferies & SVP Policy and Economics John Gray
More Transportation News
Transportation Resource
2nd Annual Trucking Fleet Management Survey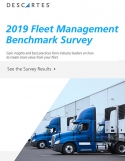 Download This Complimentary eBook – 2019 Descartes Fleet Management Benchmark Study Findings
All Resources
By
Patrick Burnson, Executive Editor
·
April 4, 2019
The International Air Transport Association (IATA) maintains that it's "cautiously optimistic" about the fortunes for the global cargo sector, but allows that with the persistence of trade tensions and protectionist actions by some governments there is a significant downside risk.
"To attract demand in new market segments, the air cargo industry must improve its value proposition," says IATA's director general and CEO. "Enabling modern processes with digitalization will help build a stronger foothold in e-commerce and the transport of time- and temperature-sensitive goods such as pharmaceuticals and perishables."
Our trio of prominent air cargo experts invited to participate in our annual Air Cargo Roundtable acknowledge this caveat; however, for the most part, they're confident the industry will continue to trend upward. Joining us this year are Skip Dokker, a consultant with London-based Drewry Supply Chain Advisors; , president of the Airforwarders Association; and , vice president, Network Integration Strategy for Descartes, an import/export trade database provider.
---
Logistics Management (LM): How may we best summarize the current state of the air cargo market? Does it continue to strengthen or has it plateaued?
Skip Dokken: In short, the market is strong. Not only are volumes good, but also the make-up of the whole market is solid. New and old carriers are providing the service to meet shippers' needs, while forwarders are constantly improving in what they offer their clients and doing what they say. Integrators and new e-commerce carriers are evolving and growing, trying to meet their shipper's specific requirements. So, I'd say that the market hasn't plateaued at all, and we'll continue to see new carriers come in and others exit. At the same time, we'll see service levels continue to grow as technology continues to improve and provide new offerings.
Brandon Fried: I certainly agree with Skip. The past year was very robust, and at this point, we have not seen softening of demand in the market. We share some of IATA's concerns, however, and also remain cautiously optimistic for the year ahead.
Jos Nuijten: When you look at the data, global shipping volumes are expected to surpass 100 billion parcels in 2020, which represents an 11% increase over 2016. These larger volumes have increased demands and costs in some trade lanes and spurred new service providers to enter the e-commerce and package distribution markets. This trend has also caused some e-commerce companies and retailers to review and reorganize their supply chains to allow products to be closer to the end consumer or enable them to move more rapidly to the end consumer through new transportation providers.
LM: What are the biggest macroeconomic drivers for the industry and how are they re-shaping air cargo market?
Fried: Consumer confidence is a significant driver because if buyers are not feeling comfortable spending, our economy feels the pain. We see this reflected in manufacturing, retail and e-commerce sales. Government actions around the globe including trade agreements, looming tariffs, security concerns with the U.S. and North Korea and civil unrest in Latin America and the Middle East have an adverse impact. Of course, tax policy here and abroad influences the economy as well.
Dokken: Good point, Brandon. In the "old" days, it wasn't that difficult to model the air cargo industry using economic variables. But today's environment is full of non-economic drivers that are mainly political and can't be easily modeled by a computer. So, the biggest driver in terms of impact, not volumes, is uncertainty. Will old trade alliances break down and new ones pop up? Will the trend toward more nationalism and less globalization cause major shifts in trade flows? And will the political moves of countries provide more impact than the true economic changes of growing and declining economies?
LM: With all this in mind, where do you see air cargo volumes headed?
Dokken: Well, with all the uncertainly we just mentioned it's tough to project futures volume trends. I'm sure that there will continue to be global growth, but the rates by geographic sector will move and shift as non-economic factors come and go.
Fried: If my crystal ball had that sort of clarity, I wouldn't be sitting here today. But I can say that the fundamentals look strong. And as Skip just mentioned, it's the wild cards that will keep air cargo stakeholders up at night.
LM: So, under this umbrella of uncertainty, where do we see rates going?
Fried: Airfreight is probably one of the purest forms of supply and demand pricing. If volumes increase, so will air cargo pricing. With that considered, fuel prices can move rates very quickly, regardless of demand.
Dokken: I always love to hear talk about rates. Each group tries to put forth what it hopes will be a self-fulfilling prophecy. Airlines tell shippers and forwarders that rates will be going up due to increased financial pressures. The forwarders in turn give their clients the heads up that rates will be going higher due to the squeeze by the carriers and operating costs. However, the shippers have their CFOs saying cut your budget by x% and then threaten to go out for bid if their rates aren't lowered—it's nothing new and will probably never change.
LM: Can you provide your assessment of global e-commerce airfreight volumes in relationship to the Amazon Air effect?
Dokken: We need to remember that a large portion of the current e-commerce volumes used to be volumes that moved to DCs and then to brick and mortar stores. So, e-commerce is definitely driving volume growth, but it's not new volumes. It's just a shift in distribution. But even as traditional volumes move to an expedited e-commerce mode, there will also be a segment of new growth that comes from people finding it easier to shop, buy and get rewarded using e-commerce.
I think the Amazon Air effect will be fun to watch. Seeing how FedEx and UPS respond to large amounts of Amazon business moving to Amazon Air can create a business school case study. However, more important is how Amazon deals with the huge expenses that come from flying airplanes. Have they done all their homework to profitably operate the fleet? Or will the direct and indirect costs of flying and delivering prove overwhelming?
Nuijten: All true, and these larger volumes have increased demands and costs in some trade lanes and spurred new service providers to enter the e-commerce and package distribution markets. It has also caused some e-commerce companies and retailers to review and reorganize their supply chains to allow products to be closer to the end consumer.
The "Amazon effect" has also changed customer expectations on shipment visibility and delivery time lines, which has caused traditional logistics service providers as well as air cargo carriers to have to review their delivery operations, system capabilities and customer-facing operations, as the end consumer is starting to expect the same shipping experience that they receive from Amazon today.
Fried: When you boil it down, large-scale firms operating proprietary fleets conceptually is not a new trend. After all, many have run their own trucking operations for years. This can be both good and bad news for our industry. Amazon Air removes freight volumes from traditional carriers, but also frees up capacity for lower volume competitors in the market. Operators are distracted because having their own fleets requires a "feed the beast" focus instead of searching for a more strategic, emerging opportunity vision.
LM: How will shippers and carriers overcome global cross-border e-commerce impediments?
Dokken: The only way for the world of e-commerce to survive and grow is to continue the path that has been blazed before them by carriers, forwarders and integrators—get rid of paper, connect all parties in the supply chain including governmental agencies, continue to move toward a common language for global trade, and work toward more open trade. The problem is that while we need to do the same things that we've done in the past the bar keeps rising as things like terrorism, hacking and protectionism grow.
Fried: Customs authorities around the globe have been agonizingly slow in adapting to changes in finished goods supply chains. This continues to be an ongoing challenge, although in the United States the minimum value of shipments requiring formal Customs clearance increased to $800, thus extremely decreasing the need for a vast majority of express shipments purchased online.
Nuijten: Many shippers have also started working with their logistics service providers to better streamline the declaration process for the import/export of goods across borders. This streamlining has often been in the form of better integration of data surrounding the shipment from purchase orders, origin of goods and goods classifications, along with enhanced declaration systems to process cargo security and Customs brokerage declarations with minimal or no data input. •
April 4, 2019
About the Author
Patrick Burnson, Executive Editor Patrick Burnson is executive editor for
Logistics Management
and
Supply Chain Management Review
magazines and web sites. Patrick is a widely-published writer and editor who has spent most of his career covering international trade, global logistics, and supply chain management. He lives and works in San Francisco, providing readers with a Pacific Rim perspective on industry trends and forecasts. You can reach him directly at
Subscribe to Logistics Management Magazine!
Subscribe today. It's FREE!
Get timely insider information that you can use to better manage your entire logistics operation.


Latest Whitepaper
Making the Case for Using a Transportation Management System for Parcel Shipping
We discuss the key pain points that all parcel shippers are dealing with right now and show how a multi-carrier transportation management system can help reduce costs, improve efficiencies, and improve the organizational bottom line.
Download Today!
From the June 2019 Logistics Management Magazine
Warehouse Execution Systems (WES) Evolves Beyond "inside the four walls"
Got labor? How supply chain companies are recruiting talent during a labor crunch
View More From this Issue
Latest Webcast
Driving 20% More Revenue with APIs
The lack of connectivity between your systems and processes is your #1 barrier to efficiency and growth. Having helped some of the world's top logistics providers, Software AG shows how APIs can help you move faster than ever.
Register Today!