11th Annual Material Handling Professional Salary Survey
Materials handling professionals are as committed as ever to advancing the industry— although there is still plenty of room for young faces in this lucrative and fulfilling career.

Warehouse in the News
Insider Q&A: Robotics in the Warehouse; Changing the Fulfillment Paradigm
2019 Logistics Management Salary Survey Complete Report
Manhattan Associates highlights WES approach at ProMat
2019 Top 5 Trends of Enterprise Labeling
DHL Supply Chain makes $100 million investment into S.C.-based distribution and warehouse park
More Warehouse News
Warehouse Resource
Insider Q&A: Robotics in the Warehouse; Changing the Fulfillment Paradigm
Download this free Insider Q&A with Locus Robotics' CEO Rick Faulk as he discusses how robotics can dramatically improve the makeup and efficiency of any fulfillment facility.
All Resources
By
Josh Bond, Senior Editor
·
November 13, 2018
As is always the case, Modern's annual salary survey reveals more about the materials handling industry than just paychecks and perks. This year's results again emphasize some of the same themes we've seen since the survey's inception 11 years ago: a sense of meaningful contribution to the company and industry; dynamic and ever more sophisticated work environments; and stellar job satisfaction and retention.
The retention figures are a double-edged sword when not accompanied by an influx of young, new professionals. In the open-ended feedback section of our survey, one respondent offered some insight into the dynamic.
"The old guard is going away," the anonymous respondent wrote. "We are getting fewer and fewer young people coming into the profession and staying to make a career out of it. Beginning salary and commission schedules are usually lower than other industry pay levels. A person has to tolerate that and stay long enough to develop some expertise and 'whiskers' and a lot of the younger generation don't seem to stick with it and move on. Material handling can be interesting and fun, but you have to survive long enough to get good at it."
The latest survey responses also suggest the industry is again pivoting. Having spent time and money getting the back of the house in order—improving inventory management, minimizing operational costs, etc.—the objective now is increased sales. Survey respondents, nearly a quarter of which have never worked for another company, appear ready to meet the challenge again.
Job satisfaction
Satisfaction continues to ride high, especially among those who are very (53%) or extremely (20%) satisfied with their jobs. A quarter of professionals say they are somewhat satisfied with their careers, and 1% is either not very or not at all satisfied.
This year, 41% of respondents indicate no interest in seeking another job, tying the record high set in 2012. However, 39% say they are "always open to other possibilities." In the meantime, 15% are passively looking for work elsewhere, and 5% are actively looking—both record lows.
Those looking elsewhere are motivated primarily by compensation (49%), the desire for new challenges (37%), and a lack of advancement opportunities (30%).
Levels of stress seem to have little to do with satisfaction. Although nearly half report their jobs are "very" (38%) or "extremely" (9%) stressful, 94% would still recommend the industry to others. Those in extremely, very or somewhat stressful positions earn an average of about $107,000, while the 11% of those who claim work is not stressful will bring home an average of $79,730.
The top factors contributing to stress include workload (44%, down from 56%), lack of people (41%, down from 47%), balancing work and home life (41%, up slightly), and just not having enough time (37%). The number responding that they are working with outdated technology has fallen from 35% to 30%.
The frequency of dramatic cost-saving measures continues to fall with 19% in each category reporting layoffs, hiring freezes or reductions in benefits or health care. Not long ago, one in four respondents checked those boxes. In 2017, 66% reported their companies were hiring, reversing a three-year downward trend. That figure held strong in 2018. Reduced overtime is the only cost-saving measure with an uptick, which is of course a mixed blessing.
As reported by readers, the turnover rate within their own departments has increased to an average of 9.5%, up from 8.2%. In 2018, 7% of respondents were personally affected by layoffs in the previous year, down one point since 2016.
In the months and years to come, 56% expect to finish their careers with their current employer. Less than a third are unsure, and 13% are sure they will end up somewhere else, down 9% from 2015. Half of respondents have been with their employers for at least 10 years, including 29% with more than 20 years of tenure.

The compensation picture
After peaking at an eight-year record of $98,000 in 2015, the average base salary dipped by several thousand before breaking into six digits at $104,015 in 2018. This year, 58% of respondents said their salary had increased in the previous 12 months, down from 67% last year. And, 2% again reported a salary decrease. The average base salary increase was 5.4%, up from 4.5% last year (median 3%). Of those respondents whose salaries increased last year, 15% report increases of 10% or more, and another 16% saw raises of between 5% and 9%.
Following consecutive years of smaller and less widely available bonuses and commissions, the high representation of senior management in the survey base has again boosted results. The majority (62%) reported no change in bonuses, but the 28% who received more earned an average increase of 24%.
Of the 76% of respondents who received a bonus last year, 26% earned less than $10,000, down from 32% last year. About 33% earned bonuses of between $10,000 and $50,000, which was similar to last year, but 17% earned more than $50,000, which was 5% more than last year. One in 10 saw bonuses decrease by an average of 30%.
The average bonus now sits at $24,685 (median $10,000), a slight decrease from last year. All told, given the increase in average base salary, the survey reported overall compensation up more than 9%.
About 63% of bonuses are granted based on the company reaching its performance goals, a percentage that has trended slightly downward in recent years. The same goes for the 43% who were rewarded for individual performance. Previously on a multi-year upward trend, bonuses granted for lowering operational costs have dipped to 23% of all bonuses given, while inventory management also fell from 17% to 13%. Increasing sales results in 35% of bonuses, up 5% from last year.
Earnings by demographics
The 2018 survey reflects the perspectives of materials handling professionals across a balanced range of company sizes. Sixteen percent work for companies with estimated 2018 revenues under $10 million, and one in five project between $10 million and $50 million. This year, 44% crossed the quarter-billion mark, including 19% who expect to surpass $2.5 billion in revenues.
The 47% of respondents who work for manufacturing companies earn an average of just more than $100,000. Top earners come from the 7% of respondents from third-party logistics providers ($115,545), followed by other non-manufacturing (17%, $110,925), retail trade (8%, $104,320), transportation and warehousing services (10%, $93,975), and wholesale trade (11%, $87,845). Primary job functions of respondents include warehouse, distribution and logistics (31%), engineering (15%), plant management (13%), company management (13%) and purchasing (8%).
On average, those who have been in the industry less than five years can expect to earn $83,905. If they stick with it for between 10 and 20 years, the average earnings approach six figures at $97,770. Above the 30-year mark, the average salary tops $128,000.
The 13% of respondents in company management (CEO, VP, GM, etc.) added about $10,000 per year between 2013 and 2015, when salaries averaged $163,000. In the 2016 and 2017 surveys, this cohort fell to about $120,000 before spiking in 2018, when the average company manager earned more than $170,000. The engineers who make up 15% of the survey base saw average salaries continue to post small but steady increases to cross the $95,000 mark. Last year, salaries for the warehouse, distribution and logistics supervisors who make up 31% of respondents fell to the lowest since 2011. They have since recovered $95,835, approaching a record high.
Those with supervisory responsibilities (69%) expect to earn an average of $115,750, which is 48% more than their non-supervisor colleagues' $77,970. In recent iterations of the survey, this gap has varied from 8% to 25%, but this year's survey base seems to reflect a larger percentage of senior management. Similarly, in 2018 those respondents with budgetary responsibilities (65%) will earn $114,500—36% more than those without, who will earn an average of $84,245. That gap has varied from 6% to 40% in recent years.
Making the case
Why would you recommend the materials handling profession to others? (94%)
Allows creative thinking for designing solutions, meeting people and competitive pay.
Great job for a woman if you are very active, have a mechanical mind and like change.
We're at the front/middle of a big technology swing in the industry with lots of opportunities to apply better methods and make a significant impact.
There's a shortage of skilled workers for the future, but new technology helps make jobs better. Livable wages and benefits without huge college debt.
All things supply chain have become more complex, and supply chain management has become a category differentiator.
It will get you where you decide it should take you.
It's an industry where you can personally make a difference and hard workers are rewarded.
Why would you not recommend the materials handling profession to others? (<6%)
It is drying up for the most part. Only big guys will be here in 10 years. All is going online. No more field reps.
Long hours, difficult situations, no recognition.
Online competition is too invasive.
Average combined salaries and benefits have shifted in different regions of the United States. In the Midwest, where 37% of respondents are located, compensation approached six figures in recent years, only to settle to 2013 levels at about $91,000 in 2017. In 2018, the Midwest average is now $108,590. About 15% of respondents work for companies based in the West, where average compensation also crossed into six figures at $106,620. In the mid-Atlantic region, home to 14% of respondents, the average improved 17% from last year's record low to an average of $96,530.
In the Southeast, where 13% of all respondents are employed, average salaries increased 4% to $97,135. After a small dip in 2017 following several consecutive years of growth, compensation for the 10% of respondents from the South spiked 30% to more than $120,000.
Respondents by the numbers
In September 2018, Modern Materials Handling subscribers received an e-mail invitation to participate in the 11th-annual salary survey. The e-mail included a dedicated URL linked to a Website that hosted the questionnaire. The study, performed by , received a total of 304 responses from qualified materials handling professionals.
The average respondent earns a salary of $104,015, up 13% following a flat year in 2017 and a 6.5% decrease in 2016. The median salary also jumped from $82,000 to $87,000. Bonuses, on the other hand, held steady after five consecutive years of growth. The average $24,685 earned from bonuses is just lower than the second highest in the history of this survey. The median bonus is again $10,000.
The average respondent is 53 years old and has worked with his or her current company for the past 11 years of a 20-year materials handling career. During that time, the average respondent has worked for 2.2 companies.
Females hold 13% of materials handling positions, and their average salary of $75,400 is a 6% improvement following a downward trend since a peak of $90,000 in 2015. The median female salary also jumped from $64,000 to $71,000. The average male salary increased 12% to $106,820, while the median remained essentially level at $91,000.
Of the 59% of respondents with budgetary responsibilities, the average oversees $244,420, up from $169,950 last year. This is a result of 4% more respondents (14%) managing $1 million budgets, and 13% fewer (64%) managing less than $100,000. Average revenues tell a similar story, up 12% to $716 million (median: $158 million). The average company employs 2,887.
Among respondents, 78% have been in the materials handling industry at least 10 years, and 28% have been at it for more than 30 years. About 12% have been in the industry less than five years. Only 7% of respondents were personally impacted by layoffs in the previous 12 months, up slightly from last year's record low of 6%.
November 13, 2018
About the Author
Josh Bond, Senior Editor Josh Bond is Senior Editor for Modern, and was formerly Modern's lift truck columnist and associate editor. He has a degree in Journalism from Keene State College and has studied business management at Franklin Pierce University.
Subscribe to Logistics Management Magazine!
Subscribe today. It's FREE!
Get timely insider information that you can use to better manage your entire logistics operation.


Latest Whitepaper
Insider Q&A: Robotics in the Warehouse; Changing the Fulfillment Paradigm
Download this free Insider Q&A with Locus Robotics' CEO Rick Faulk as he discusses how robotics can dramatically improve the makeup and efficiency of any fulfillment facility.
Download Today!
From the April 2019 Logistics Management Magazine Issue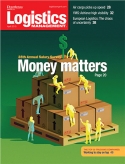 Next-Generation Data Capture Emerges
2019 Air Cargo Roundtable: Volumes and pricing gathering speed
View More From this Issue
Latest Webcast

Case Study: Enabling the Autonomous Supply Chain
During this webinar Nucleus Research and One Network will dissect a global company's strategy to leverage a multi-party network to enable the autonomous supply chain.
Register Today!