Parts and Parcels: Handling the Holiday Rush
Automation, software help omni-channel retailers and e-tailers manage the demands of small parcel shipping

Latest News
Dematic names Bernard Biolchini EVP and CEO, Americas
Logisticians, carriers fret over U.S. economy's future
U.S.-bound shipments trend down in June, reports Panjiva
Rules of Origin Really Do Rule
Trump administration working to relax truck safety standards
More News
Latest Resource
Rules of Origin Really Do Rule
Inputs Make the Outputs: How Rules of Origin Really Do Rule
All Resources
By
Sara Pearson Specter
·
December 13, 2016
As you read this, any retailer or shipper handling parcels is in the thick of the holiday shipping season. In recent years, that has meant as much as a 10 times spike in daily order volume for omni-channel retailers and e-tailers; a sharp boost in holiday hiring from an ever-shrinking pool of workers; and a struggle to get the right parcels out the door for timely (yet carrier cost optimized) delivery to the right customer.
This year, things are changing. According to a report in The Wall Street Journal, parcel delivery giants like FedEx and UPS are investing heavily in "
Major retailers and retail distributors featured in Modern—such as American Eagle Outfitters, Destination Maternity and REI—are also investing heavily in parcel handling automation in their distribution centers. Here's a look at the technologies driving the parcel handling industry today.
Pack out: Software makes packaging, carrier selection decisions and automation boosts efficiency for cost savings
As picked items reach the point of pack out, a sophisticated network of software and controls work in concert to identify each order, its contents and delivery destination—then route it to the appropriate packaging station or machinery. The newest software and control features automate and execute the selection, sizing and application of secondary packaging to minimize dimensional weight (DIM) charges, says , founder and general manager of .
"Previously, when customer orders were shipped in multiple sizes of corrugated boxes, there was a lot of air being shipped," says Ram. "Now, much higher volumes of items are shipped in polybags to eliminate the wasted space, which means the software needs to understand what kind of packaging will be required for the order itself. And, instead of managing one area with multiple carton sizes, it now must route to and manage multiple areas for auto-baggers, manual baggers and cartonization."
The software makes the decisions based on inputs from the facility's warehouse management system (WMS), the warehouse control software (WCS), and mechanical controllers direct the routing and application. Upon arrival at the packing system, further decisions must be made by software about the next step for the parcel, depending on service level agreements (SLAs).
"A lot of the logic is dedicated to real-time carrier rate shopping," Ram adds. "We're integrating software with label print-and-apply lines and scales at the shipping system. Based on predetermined parameters, the software conducts a real-time rate shop with inputs from transportation management software (TMS), then prints a label based upon the best cost for the required SLA."
Also within the realm of right-sized packaging, more DCs are investing in automated systems that build a closely sized corrugated box around items that need more protection than a polybag can provide. Not only do these systems eliminate the need to stock a variety of carton sizes, and the space required to store them, but they also contribute to a reduction in carrier charges.
"Interestingly, although customers come to us with DIM weight among their list of concerns, their primary driver for implementing on-demand packaging technologies has been the challenge of staffing their facilities and retaining trained employees," says , general manager of North American operations at . "Many tell us there simply aren't enough workers to keep up with their packing demands."
For that reason, Brooks adds, Packsize has been developing new features in their automatic custom box-making systems that reduce the amount of labor required to run the machinery, as well as an intuitive interface that simplifies training and operation of the equipment.
Post-packing: Automated singulation, sortation help manage small parcel volumes, reduce carrier costs
To handle the dramatic uptick in small parcels, more facilities are implementing post-packing station technologies that have traditionally been more commonly applied at carrier parcel hubs, says , manager of product management at .
"In the past, DCs typically used conveyors and sortation systems that transport products single-file, one at a time. That allows for a separate scan of each item to trigger a decision about where it goes next," Kraus explains. "In the parcel world, things tend to be handled in bulk and converted to singulated flow right before a routing decision."
Because of the broad variety and excessive volumes of small parcels now being handled at retail DCs, however, more bulk parcel handling solutions are being implemented within those facilities, says Kraus. The reason is to conduct a parcel pre-sort prior to trucking to carrier distribution hubs more closely located to the orders' final destination.
"It's called zone skipping, and more retailers are looking to do it to get a dramatic reduction in their shipping rates," Kraus explains. "They sort and bundle those small parcels into corrugated Gaylord containers, then deliver those to a more targeted region for last-mile delivery within a carrier's larger geographic zone."
The cost savings come from eliminating additional processing steps by the parcel carrier, Kraus adds. "Further, for omni-channel retailers already sending trucks to fulfill brick-and-mortar stores in the same geographic area, they can stop at the carrier's last mile distribution hub and drop the Gaylords off as part of their route."
It might sound like zone skipping creates more work at the retail DC, but the investment in automated shipping sortation and singulation equipment to do it has been quickly paid back in carrier cost savings for Intelligrated's customers who have implemented such systems, Kraus says.
The sorters themselves can either be separate from handling order flow, or the two processes can be integrated into a single machine. Further, Kraus says the newest shipping sorters feature more compact destination divert chutes to maximize square footage. "When you change from sorting to 12-foot-spaced dock doors to 4-foot-spaced Gaylords, it's important to install equipment that makes the best use of available floor space," he says.
Additionally, more retail and e-tail DCs are looking to convert from manual to automated singulation technologies, which can be tricky considering the variety of parcel styles used.
"The variety of parcels being handled these days, including corrugated cartons, padded envelopes and polybags, often requires facilities to separate their shipping operation into two work streams." explains John Sarinick, chief sales officer at . "Typically polybags are handled in bulk flow and require associates for sorting while corrugate cartons are handled using singulated flow and sorted automatically using a loop or line sorter. We have a new parcel singulator that handles polybags extremely well, converting the bulk flow to a singulated flow to provide a single work stream."
Having consistent, reliable, singulated flow performed automatically reduces labor costs significantly, Sarinick adds. "And, in certain regions of the country, labor is incredibly difficult to find. Particularly in those areas, if an operation can automate a previously manual process and reassign six or eight people to a different task, they are more than willing to do it."
At carrier hubs: Semi-automated unloading speeds the process
At carrier hub locations, technologies that allow operators to be more productive when unloading truckload shipments of loose parcels are allowing these facilities to handle the surge.
"Generally a worker has to manually unload those parcels, usually onto an extendable conveyor, but there's a lot of reaching, stretching and twisting," Sarinick says. "We've introduced a semi-automatic parcel unloader with a hand-operated tool connected to an extendible belt conveyor that rises and lowers as parcels are removed. The tool helps the operator gently pull several parcels down onto the extendable conveyor."
The system, he continues, helps an operator unload a trailer up to 2.5 times faster, enabling a carrier facility to turnover their dock doors more quickly with less labor—a key benefit during peak shipping seasons.
Last-mile: Mobile devices support deliveries
At the delivery end, getting all those packages into the hands of their purchasers is putting a strain on carriers. They must meet consumers' expectations for consistent and fast delivery, regardless of the calendar, and deliver more packages in less time at a high degree of accuracy.
Rather than adding more trucks and drivers, says , director of supply chain marketing at , it is more effective to make current delivery personnel more productive by providing them with enhanced mobile technology.
"Workers can use these connected devices to capture secure signatures, take pictures of package condition, collect remote payment and change routes dynamically to support better delivery through real time connectivity to the dispatcher," Stubbs explains. "This enables workers to deliver more packages per route."
Additionally, Stubbs continues, deploying voice technology in the field for pickup and delivery tasks increases delivery accuracy. "This adds another level of productivity in the handling of packages on the truck and speeds up the overall process," he says.
In the future, such mobile technologies will help parcel delivery companies to collaborate during peak times, he continues. "Perhaps even using private drivers—similar to Uber—to assist with delivery as opposed to adding more trucks and drivers on a permanent basis."
September 13, 2018
About the Author
Sara Pearson Specter Sara Pearson Specter has written articles and supplements for Modern Materials Handling and Material Handling Product News as an Editor at Large since 2001. Specter has worked in the fields of graphic design, advertising, marketing, and public relations for nearly 20 years, with a special emphasis on helping business-to-business industrial and manufacturing companies. She owns her own marketing communications firm, . Clients include companies in a diverse range of fields, including materials handing equipment, systems and packaging, professional and financial services, regional economic development and higher education. Specter graduated from Centre College in Danville, Ky. with a bachelor's degree in French and history. She lives in Oregon's Willamette Valley where she and her husband are in the process of establishing a .
Subscribe to Logistics Management Magazine!
Subscribe today. It's FREE!
Get timely insider information that you can use to better manage your entire logistics operation.


Latest Whitepaper
Rules of Origin Really Do Rule
Inputs Make the Outputs: How Rules of Origin Really Do Rule
Download Today!
From the July 2019 Logistics Management Magazine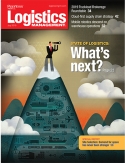 2019 State of Logistics: Third-party logistics (3PL) providers
2019 State of Logistics: Air cargo
View More From this Issue
Latest Webcast
Leveraging 3PLs for Future Shipper Gains
In this webcast, Evan Armstrong, president of Armstrong & Associates offers logistics and supply chain managers the industry's most comprehensive overview of the state of domestic and global third-party logistics arena.
Register Today!