Where is supply chain software headed?
Industry leaders discuss the key trends, capabilities and innovations that will shape the future of supply chain software.

Technology in the News
Warehouse Voice Technology Speaks for Itself
IBM and Chainyard announce collaboration on blockchain network
Cognex Retail Distribution Logistics Solutions Guide
BlueGrace introduces Carrier File data mining tool for flagship TMS
Supply Chain Management in the Cloud
More Technology News
Technology Resource
Cognex Retail Distribution Logistics Solutions Guide
Power Up Your Retail Distribution Operations With Cognex
All Resources
By
Bridget McCrea, Editor
·
September 5, 2018
Real-world advances in machine learning, deep learning and artificial intelligence (AI) are bridging the gap between fact and fiction in the supply chain—a place where science fiction is literally coming to life to help companies work smarter, more efficiently and more economically. From autonomous robots that work on the dock to drones that manage yard inventory to sensors that track shipment condition during transport, supply chain technology is proliferating on two fronts: the equipment itself and the advanced software that runs the equipment.
Using AI, or the theory and development of computer systems that can perform tasks that normally require human intelligence, for example, machines can think about—and solve—problems at the individual item level and store level. This presents clear advantages for companies struggling under the current labor market constraints and the ongoing need to scale up and meet customer demand.
"Companies can't just increase their workforces by 100% in this environment; it's not economically feasible," says Puneet Saxena, JDA's GVP of product strategy, supply chain planning. Add AI and machine learning (the science of getting computers to act without being explicitly programmed to do so) to the mix, however, and software developers gain the power of being able to model supply chain problems in more granular detail.
"Machine learning allows us to scale the elastic computational power that we have available in the public Clouds now, and provide answers," Saxena explains. "Humans can't digest those volumes of data, but machines can. And, they can learn how to figure out discrepancies."
Take the company that's trying to nail down a specific inventory goal, but that can only get within a few thousand units of its target. Demand may currently be 10,000 units per week, but in reality, that number fluctuates between 7,000 and 13,000. The more precise the number, the better the directions that are relayed back to the production department. But nailing down a more precise target is difficult for the human mind to do, says Saxena. However, it becomes more doable with machine learning and AI, both of which are increasingly being folded into the modern-day supply chain software applications.
"With machine learning, simplification of real-life mathematical models becomes much easier," says Saxena, who acknowledges that just a few years ago these processes would have been a far-off ideal for most supply chain managers. "All of this would have sounded like sci-fi, but we're already working with grocers in Europe that are improving the quality of their demand forecasts and upping service levels as a result of this advanced software. It won't be long before that extends beyond groceries and into different retail, manufacturing and distribution verticals."
The stars are aligned
Sometimes it takes a tractor-trailer one day to get from Atlanta to Miami, and sometimes it takes two. Seemingly innocuous, this variation can make a big difference in performance levels, service levels, customer satisfaction and how the truck itself is moved (interstate drivers can only be behind the wheel for 11 consecutive hours at a time). Add weather and traffic conditions to the equation and exact shipment arrival times become even fuzzier.
"In real-life, everything is a distribution vs. a static number, and yet in the mathematical models, everything from cycle times to transportation times to human production rates to machine production rates are modeled as static numbers," Saxena explains. "In reality it's a distribution." Put simply, next generation software understands patterns in the supply chain (e.g., how much was the factory supposed to produce versus what it produced? How much was the transportation cycle time versus what it was supposed to be? What is the inventory level at the DC vs. what it was supposed to be?), examine those patterns, and predict, say, whether a stock-out will or won't happen two weeks from now.
"It's almost as if the stars are aligning when you can say, 'when this, this and that happens two weeks from now, I'll see something,'" says Saxena. "Humans cannot see this, but machines are very good at it."
The intelligence-driven supply chain
In assessing the current state of supply chain, it's no secret that procurement is another discipline that's moving from being a largely static model to one that's much more dynamic and intelligent. At Jaggaer, CTO Zia Zahiri says his company takes a holistic view of the data-driven supply chain when developing software, knowing that today's supply chains—and those of the future—are fueled by real-time information, compliance, guidelines and guidance.
Take the Internet of Things (IoT), for example. The interconnection of computing devices embedded in everyday objects via the Internet, IoT allows those devices to send and receive data without much human intervention (if any). "Thanks to IoT, we see a lot of the physical, day-to-day procurement that doesn't really require human intervention," says Zahiri. "That concept can be easily moved into automation, where robots can handle simple tasks and/or repetitive tasks."
Looking ahead, Zahiri says the time when the same robotics can help optimize workloads isn't that far off. And on the procurement front, the same capabilities will be folded into everything from compliance to contract management to ordering processes. "This advancement will change and shift the way [companies] procure their products," Zahiri says.
Companies that want to leverage the intelligence-driven supply chain should start by considering the meaning of "true digitization," says Zahiri, and figuring out what that means to them. In other words, what will it take to truly reinvent current supply chain processes and make them more digitized? And what current, manual approaches can be replaced and digitized? "Start by putting in place the processes and strategies now," says Zahiri, "with the ultimate goal of working toward more digitization, workflow processes, and automation."
Predicting the future
A type of algorithmic decision-making that helps firms optimize inventory decisions while also providing specific actions that they need to take to improve their bottom lines, predictive analytics (here's what will happen) and prescriptive analytics (here's what you can do about it with the goal to changing the outcome) are converging to help companies reduce shortages and stock-outs, improve inventory turns and gain visibility.
Expect this trend to continue as more software developers incorporate predictive analytics capabilities into their applications. "As inventory and supply chain systems become more complex, they actually require more advanced processes to translate the data and insights to help reduce inventory, improve performance and increase efficiency," says LeanDNA CEO Richard Lebovitz, who sees the expansion of global supply chains as one key driver of software innovation right now.
"Over the last 20 years, we've seen companies go from being very vertically integrated (e.g., a manufacturer made the steel and then assembled and handled all of the machining for its products), to working with hundreds and even thousands of suppliers around the globe," says Lebovitz. "This move toward less 'localized' factories will continue as more companies work 'virtually' with one another."
That movement affects the vice president of supply chain who is now being asked to manage activity in a more distributed environment. Through a combination of Cloud computing, Big Data and AI, software is helping a smaller group of people manage multiple sites all over the world. Add advanced analytics to the mix and even the company that uses multiple enterprise resource planning (ERP) systems in those locations can pull together, analyze, and use intelligence (i.e., standardized practices and benchmarks) across the entire organization. "From there," says Lebovitz, "the ability to drive gains across any part of that organization becomes faster and much more effective."
Getting to the "full view"
The Holy Grail for most supply chain managers, complete visibility across the supply chain is finally coming into view and allowing companies to better understand the activities taking place both inside and outside of their four walls. Scott Wahl, vice president at Dematic's Software Center of Excellence, credits Cloud-based platforms, analytics and IoT with helping companies gain those "full views" while at the same time increasing their overall effectiveness.
"It's no longer about individual processes and silos," says Wahl. "The Cloud platforms and IoT are maturing to the point where it's now viable for companies to pull the data they need from disparate systems and processes in order to get full visibility."
Dave Adams, Dematic's director, global software solutions, says the same innovations are helping companies tackle day-to-day manufacturing and distribution challenges. "There's a lot of interest in using IoT sensors and devices to help manage intermittent problems (i.e., an unusual vibration in a particular motor)," says Adams. Using IoT and sensors, the same problem that would have required a maintenance professional to "stand over it and watch it to see what's wrong," he says, "can now be handled by throwing a few sensors on it and monitoring it on a 24/7 basis."
There's more to come in this realm, says Adams, who adds that combining sensor data that's installed on equipment and machines with data generated by a warehouse execution system (WES) or warehouse control system (WCS) into a single data warehouse—and then using that data for real-time decision support—is the next step. "There will be no need to pull four or five people into a conference room to discuss an issue or look at a potential 'problem area,'"says Adams. "A few people can just look at a screen of data to see what's going on, and proceed from there."
September 5, 2018
About the Author
Bridget McCrea, Editor Bridget McCrea is a Contributing Editor for Logistics Management based in Clearwater, Fla. She has covered the transportation and supply chain space since 1996 and has covered all aspects of the industry for Logistics Management and Supply Chain Management Review. She can be reached at
, or on Twitter @BridgetMcCrea
Subscribe to Logistics Management Magazine!
Subscribe today. It's FREE!
Get timely insider information that you can use to better manage your entire logistics operation.
Start your FREE subscription today!
Latest Whitepaper
Create Shipping Efficiencies and Decrease Delivery Costs
How will your shipping team win during peak season?
Download Today!
From the August 2019 Logistics Management Magazine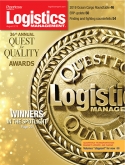 Ocean: Protecting margins in a soft market
Warehouse Voice Technology Speaks for Itself
View More From this Issue