Warehouse/DC Management: How to maximize your Warehouse Management System (WMS)
Today's warehouse management systems (WMS) come with sophisticated rules and logic, real-time seamless integration to aligned business applications, and effortless interfaces to automated equipment and mobile technology. But why are we still not putting these capabilities to work?

With the implementation of its new WMS in its McDonough, Ga., regional DC (above), the company shed its paper-based systems and maximized its WMS to automate inventory, shipping, and labor. The company is now rolling out the WMS to the rest of its regional facilities.
Warehouse in the News
Availability of U.S. industrial & logistics real estate rises after 34 months of declines, says CBRE
Finding the Right Fit for New Technologies and Automation in your Warehouse/DC
Mobile Robotics Descend on Warehouse Operations
Warehouse/DC Site Selection: Demand for space has never been stronger
CBRE research shows ongoing demand leads construction of new warehouses
More Warehouse News
Warehouse Resource
Finding the Right Fit for New Technologies and Automation in your Warehouse/DC

In this white paper, Canon Solutions explores the challenges companies face when automating, explain why there's no need to rip-and-replace existing systems
All Resources
By
Maida Napolitano
·
June 1, 2012
Early warehouse management systems (WMS) stuck to the basics—tracking what was coming in, what was going out, with workers manually keying in data along the way. Since then, the technology has matured to expand beyond the core functions of receiving, picking, and shipping to include an extensive menu of modules to execute and support every conceivable task occurring under the roof of a warehouse or distribution center (DC).
Many come with sophisticated rules and logic, real-time seamless integration to aligned business applications, and effortless interfaces to automated equipment and mobile technology. Yet, despite having many of these technological advancements within their reach, users are still not using their WMS to their fullest potential. "Industry and market folklore suggests that users are availing themselves of no more than 60 percent to 65 percent of the functionality of contemporary WMS," says John Hill, director for supply chain and logistics consulting firm, St. Onge Company.
Dwight Klappich, vice president for research and consulting company at Gartner Inc., goes as far as saying that a name change may even be in order. "We shouldn't call it a warehouse 'management' system, we should actually call it a warehouse 'execution' system, because that is basically what companies are using it for—the execution of specific warehousing tasks."
Over the next few pages we'll put a spotlight on WMS functionalities and capabilities that warrant a second look. Many have documented benefits and savings that can maximize the return on your WMS investment. So, if you feel your WMS has yet to reach its potential, it may be high time for you to take notes.
Task interleaving
Any discussion on maximizing your WMS deployment is not complete without a discussion on task interleaving. Also known as dual cycling, task interleaving involves having the system direct a worker with a queue of prioritized tasks that can be performed based on his travel paths and the specific handling equipment being used.
Although it's typically been a standard offering in WMS, this functionality has not been used extensively in many DCs. Users may be wary of any additional WMS set-up and training required, especially for workers accustomed to performing mostly one job.
If done right, however, it can increase worker productivity by a reported 20 percent by eliminating movement of a truck with no load. For example, a driver may need to put away a pallet at location A21. Instead of heading back to the dock "empty" or with no pallet, the task interleaving function of the WMS instructs him to pick up a replenishment pallet at location A23, because he's right there. Bob Silverman, senior vice president of Supply Chain & Logistics Solutions, a consulting group within the real estate firm Jones Lang LaSalle (JLL), warns however that to be truly efficient, task interleaving requires significant activity moving in multiple directions simultaneously. "If not properly planned and controlled this can result in congestion and lost productivity."
Integration with labor management systems (LMS)
By interfacing with the WMS, labor management systems are able to track and monitor each worker's performance in a DC.
How does it work? The WMS tracks critical data for each worker such as the number of units picked, the number of orders completed and the time elapsed to pick an order. The LMS then extracts this data and uses it to compare how well workers are performing against established labor standards. Above-standard performance is rewarded, while poor performance is reviewed to determine if there were any barriers to productivity. "It provides the ability to measure and reward employee performance," says Silverman. "As a result, you get better labor productivity."
In addition, with advanced visibility into future workloads from the WMS, you could also plan exactly how many workers you need for a task and put together a much better budget with this solution.
Yet Klappich notes that LMS penetration is only at 20 percent to 25 percent of the market. Many feel implementation can get quite involved because labor standards first need to be developed at the granular level. He speculates, however, that as more managers are pressured to enhance productivity and efficiency in the warehouse, LMS installations will increase.
Steve Banker, service director of supply chain management for the ARC Advisory Group, reports that LMS, specifically those based on engineered labor standards, has, in fact, been getting very good payback periods. "Whereas on average the payback period for WMS is about two years—which is pretty much average for supply chain applications—it's often under a year for LMS."
Banker adds that the ROI is getting bigger and better even for smaller warehouses, with some lower-cost solutions now readily available.
Integration with transportation management systems (TMS)
Warehouse and transportation management are becoming more closely entwined than ever. As a result of this trend, a growing number of WMS vendors are either adding transportation management capabilities to their systems or offering compatibility with the goal of providing seamless logistics visibility.
But why aren't users taking advantage of this integration? To some shippers, size matters. "If I've got 10 parking spaces and five docks, I don't need a system to do that," says Klappich, "But if I've got 200 parking spots and 25 docks with a number of trailers coming in and going out every day, then dockscheduling [from the WMS] and yard management modules [from the TMS] may be needed."
Many are taking advantage of this integration by streamlining the flow of outbound product from picking to trailer loading. Shipping documents are printed, along with pick labels, so that completed orders are picked and immediately routed to the outbound carrier's lane.
"By interfacing with each other, WMS and TMS decisions can be made even before product is received," says Silverman. "Carriers and customers have access to information in advance of shipments being picked up and delivered."
Cartonization
If you're picking orders with products in different quantities, sizes, and weights, then you need to know the right carton to pack that order. The cartonization module, resident in many WMS but not being used, the selection of the right carton based upon the sizes and weights of items for a given order.
According to St. Onge's Hill, not everyone needs cartonization, but often times those that do are unaware of its availability. "I don't think they're neglecting it. They might think that for whatever reason that it's too complicated. I have seen it in operation and the benefits are incredible," says Hill.
It begins with the determination of whether you've got the right-sized box for a given order. This minimizes the amount of air shipped, keeping transportation costs low. Using the right-sized box also decreases the need and costs for dunnage, while reducing shipping damage. Hill suggests investigating historical order sizes and weights in order to determine the range of order sizes and total order weights that a family of box sizes would be able to handle.
"If it turns out that there are 50 or 60 different box sizes, it's probably not going to make a whole lot of sense to use this module," adds Hill. "But most people wind up with about eight to twelve different box sizes."
When a wave of orders is scheduled for picking, a message is sent to workers preparing the boxes to make the proper assortment of boxes for the next wave of orders. With every order, the system can recommend the proper box size—instead of the picker wasting valuable time trying to figure out which box best fits that order. "It's one of many WMS features that people aren't using, but that can be a real contribution to the market," says Hill.
Performance event management
Performance event management is the transformation of a hodge-podge collection of data transactions collected by a WMS into timely business intelligence that can be used to make immediate or long-term decisions.
The reality is that while most systems do offer some form of performance event management, or analytics, with their packages, users don't always take the time to go over all the options to determine which reports will provide the most accurate picture of current performance without being overwhelmed by too much information.
For example, a warehouse manager may be concerned that he may not be able to make delivery on an order. "Today's WMS can be set up so that it notifies the warehouse manager and shows him a dashboard that says here are all your orders," says Gartner's Klappich. He notes that WMS providers have even created Apps for mobile equipment—tablets, smart phones, handheld computers—so that a manager can be alerted when 20 orders are potentially going to be late.
"He can click on the alert and scroll down to see the problem," says Klappich. "In the past, they used to have to print out reports and be very paper intensive."
Slotting
Slotting determines how best to organize inventory based on product velocity. Fast-moving items are located in the most accessible areas closest to the docks, while products that don't sell very often are assigned to locations in elevated racks towards the back of a warehouse.
Unfortunately, it's not always that simple. Putting all fast movers in one aisle can lead to congestion, while sometimes it may make more sense to group products that are generally sold together. Because of this complexity and the amount of data generally required by slotting optimization software, users typically buy the slotting module as part of their WMS package, but have yet to use it.
According to Hill, when done properly, a good slotting plan reduces pick paths, increases pick rates, thus improving productivity. Storage space utilization also improves while reducing damage and improving safety.
"If you've got relatively static inventory, with no seasonal cycles, and you've got good forecasting and planning because your market doesn't change all that dramatically, slotting may not be that important," says Hill. "But if the flipside is true, then maybe once or twice a year you ought to take a look at making certain that you're putting your fast movers where it's most accessible."
Regardless of the size and complexity of your warehouse or DC facility, Hill recommends a post-implementation audit after every WMS deployment or upgrade. "Users have to take responsibility for defining what they need," says Hill. "The audit will compare what the WMS is doing against those needs. Only then will you know if you've truly maximized your WMS investment."
April 12, 2016
About the Author
Maida Napolitano Maida Napolitano has worked as a Senior Engineer for various consulting companies specializing in supply chain, logistics, and physical distribution since 1990. She's is the principal author for the following publications:
Using Modeling to Solve Warehousing Problems
(WERC);
Making the Move to Cross Docking
(WERC);
The Time, Space & Cost Guide to Better Warehouse Design
(Distribution Group); and
Pick This! A Compendium of Piece-Pick Process Alternatives
(WERC). She has worked for clients in the food, health care, retail, chemical, manufacturing and cosmetics industries, primarily in the field of facility layout and planning, simulation, ergonomics, and statistic analysis. She holds BS and MS degrees in Industrial Engineering from the University of the Philippines and the New Jersey Institute of Technology, respectively. She can be reached at
Subscribe to Logistics Management Magazine!
Subscribe today. It's FREE!
Get timely insider information that you can use to better manage your entire logistics operation.


Latest Whitepaper
Rules of Origin Really Do Rule
Inputs Make the Outputs: How Rules of Origin Really Do Rule
Download Today!
From the July 2019 Logistics Management Magazine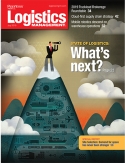 2019 State of Logistics: Third-party logistics (3PL) providers
2019 State of Logistics: Air cargo
View More From this Issue
Latest Webcast
Leveraging 3PLs for Future Shipper Gains
In this webcast, Evan Armstrong, president of Armstrong & Associates offers logistics and supply chain managers the industry's most comprehensive overview of the state of domestic and global third-party logistics arena.
Register Today!