6 Network redesign tips
Successful network design will always come down to the specific needs of your business, the needs of your customers, and the types of products moving through its veins. Our panel concludes that while there are a lot of options, there's no silver bullet.

Maida Napolitano
·
June 22, 2010
Over the past 18 months or so, the economic challenges of the recession found many companies scrambling to overhaul their distribution networks, closing or even consolidating warehouses—some a little too aggressively—in an effort to cut costs and conserve cash. Recent market upticks, however, suggest it's time to regroup and re-assess what you currently have and gear up for an economic recovery that's likely waiting just around the corner.
Jeff Metersky has been seeing some of the effects of the upturn firsthand as vice president of the supply chain strategy practice for Chainalytics, an Atlanta-based consulting firm specializing in distribution network design. "The emphasis has moved away from the more strategic exercise of closing and opening facilities to finding ways to better use existing networks with a heavy emphasis on cost reduction for immediate short-term tactical gains," says Metersky.
C. Thompson Brockmann, principal for the Raleigh-based supply chain consultancy Tompkins Associates, agrees with Metersky's observation. "The successful organization is one that's leveraging the resources that they have right now and reconstructing how they're distributing products to their customers," he says.
Indeed, network studies have been known to reduce distribution costs by as much as 25 percent. But cutting too much can compromise your ability to provide the highest levels of service that your customers have been expecting. A lot of effort and energy needs to go into understanding how your network is performing today before you can start picking away at where the opportunities are.
To accomplish this, you start by asking the right questions that are related to your business goals. Are you servicing your customers correctly out of the network you currently have? Do you need to shuffle SKUs, inventory, or shipping points around? These are best answered by modeling and analyzing your network.
And, of course, there's no time to lose. As the country slowly emerges from the depths of this recession, Troy West, Nashville-based assistant vice president for supply chain consultancy TranSystems, explains why companies should seize the day: "With so much capacity available right now, it's easier to negotiate rates with real estate brokers and carriers."
In the next few pages, and with the help of these three experts who have spent a combined 50 years studying supply chain networks, we'll explore how to make the most out of your existing distribution network. They all agree on one single axiom: There is no silver bullet.
The right distribution network will always come down to the specific needs of your business, the needs of your customers, and the types of products you're moving through that network. It's critical to accurately model your business and apply only those relevant tips that will help you reach that light at the end of what has been a pretty dismal economic tunnel.
Tip # 1: One size does not fit all
The high-performing network is usually one that responds to the specific needs of each customer. This may involve designing and engineering a unique path flow for a specific customer or customer segment.
"One size does not fit all," says Metersky. "You have to know what it is that you're trying to provide from a cost and service perspective." He cites a clear example in major retailers that have primarily been invested in brick-and-mortar stores, but have now gained strongholds in e-commerce.
"There's a fundamentally different need from a customer service perspective of what it means to deliver goods to retail brick-and-mortar stores, as opposed to delivering goods to a person at their home because they've ordered off the Internet," says Metersky. "E-commerce deals a lot more with faster-paced parcel shipments, while the brick-and-mortar stores typically replenish themselves with truckloads—but occasionally it can be slower multi-stop truckloads."
Tip #2: Get down to the nitty-gritty SKU level
Managers need to determine, at the SKU level, which products should go direct to store and which should go through DCs. You can figure this out once you know which product should be stocked and at which DC, including how much and where, and which product should be cross-docked.
"For example, if you have a fast-moving, high margin item, the level of service and stock-outs that you would be willing to tolerate are going to be a lot lower than something that's a low-margin, slow-moving item," says Metersky. The goal is to maximize your product's profitability by reducing the costs associated with the movement of product through DCs and trading partners. Commercial software packages are now available, allowing network analysts to process tens of thousands of SKUs in just a short amount of time.
Tompkins' Brockmann relates the story of a retail client who adopted a product-line focused network by consolidating large, bulky, difficult to handle product lines—such as furniture—into one facility. "Most of the day-to-day items still ship out of their traditional network, but now they've got a large-goods focused facility," says Brockmann. "It lowered the inbound cost, decreased handling cost, and kept specialized material handling and transportation in one place, while freeing up much-needed storage capacity in the other DCs."
Tip # 3: Being green can bring more green
The whole movement towards environmentally-friendly or green networks has certainly helped companies enhance their level of social responsibility—but it's also saving them money.
One of the best ways to get started, says TranSystems' West, is by reducing your carbon footprint and cutting back on transportation costs by winnowing down the miles driven or the number of trucks and shipments. More transportation managers are also looking into intermodal opportunities versus truckload. "It's not only to reduce costs, but also to be more green-friendly, because rail is more energy efficient with less emissions," he adds.
West predicts even more emphasis will be put on "going green" as future regulations on emissions will likely increase and a potential cap and trade market will evolve. "We anticipate a substantial growth in carbon footprint analysis as companies will not only conduct studies to identify their carbon footprint, but also make supply chain network design decisions regarding the number of their facilities, size of their transportation fleets, and their potential carbon penalties, tax credits, or trade value," he adds.
In any network study, it's essential to not only reduce costs as products flow from one facility to the next, but it also makes sound economic and environmental sense to reduce operating costs within each facility in the supply chain. For example, at each DC, use fans for air circulation; replace high-intensity discharge lights with energy-efficient fluorescent lighting; and consider installing solar panels on rooftops. These are just some of the more popular environmentally sustainable initiatives that are not only part of good corporate citizenship, but also reduces operating costs of DCs across the network.
Tip #4: Get creative with transportation
The biggest cost drain on distribution networks has typically been transportation costs; thus, finding creative low-cost ways to reduce these costs can certainly go a long way. Much of it involves collaborating and negotiating with trading partners and other carriers to create more efficient loads, eliminating "empty miles," and achieving lower transportation costs overall.
West suggests taking advantage of online freight exchanges to look for backhaul opportunities. Consolidate not only on the outbound but also in the opposite direction.
How does it work? Shippers typically sign up for online freight exchanges and post key lanes that they plan to share with other companies in order to reduce costs. Load-matching services have been offered for many years, but have only recently been tapped for long-term, continuous arrangements between what can be two completely unrelated companies. We showed a terrific example of this in LM's March feature "Macy's maneuver to fill empty miles." For a subscription fee of less than $2,000 a year, Macy's is seeing an average annual savings of $25,000.
In another transportation cost-saving maneuver, Metersky describes how large retail companies are now taking more control over inbound freight. "Loads once transported by truckers hired by suppliers are now being transported by the retailer's own dedicated carriers and private fleets," he explains. Retailers save money because they can now dictate what carrier and mode can be used for their inbound merchandise and have better control of inbound shipments.
Tip #5: It's time to consider inland ports for your network
For a few years now, congestion issues along with sustainability and clean air mandates in West Coast seaports have companies looking into inland ports in cities such as Kansas City, Chicago, Memphis, Dallas, Columbus, and Atlanta.
The Center for Transportation Research at the University of Texas defines an inland port as: "A physical site located away from traditional land, air, and coastal borders with the vision to facilitate and process international trade through strategic investment in multi-modal transportation assets and by promoting value-added services as goods move through the supply chain."
"They're trying to get containers away from the seaports themselves where the real estate is more costly, there's more congestion, and where the labor rates are higher," says West. Inland ports are
typically more centrally located leading to shorter trucking distances to DCs in
the network while offering more intermodal opportunities, thus reducing transportation costs.
Tip #6: Create an off-shore, on-shore, near-shore blend for flexibility
TranSystems' West cites rising labor costs, lack of quality control, and political instability in off-shore manufacturing sites—coupled with an anticipation of rising fuel prices—as some of the major reasons why many operations are coming back to North America (on-shore) or to Latin America (near-shore).
Managers need to look at the total landed costs by customer segment and the appropriate service level required by that segment to determine which approach for locating production is best in a post-recession economy. It may very well be a combination of all three.
First, the bad news: Chainalytic's Metersky believes that over the next few years there's actually not going to be enough capacity—especially in the truckload market. "With more demand and less supply, transportation rates are going to go back up again," he adds.
Now, the good news: According to West, seems to be more of a collaborative effort among trading partners "to share information to reduce costs as seen in the case of freight exchanges."
The temptation to wait and see how the economy progresses can be great; however, according to our experts, the companies that will thrive are those now taking advantage of the recession's low real estate rates.
—Maida Napolitano is a Contributing Editor to Logistics Management
July 26, 2010
About the Author
Maida Napolitano Maida Napolitano has worked as a Senior Engineer for various consulting companies specializing in supply chain, logistics, and physical distribution since 1990. She's is the principal author for the following publications:
Using Modeling to Solve Warehousing Problems
(WERC);
Making the Move to Cross Docking
(WERC);
The Time, Space & Cost Guide to Better Warehouse Design
(Distribution Group); and
Pick This! A Compendium of Piece-Pick Process Alternatives
(WERC). She has worked for clients in the food, health care, retail, chemical, manufacturing and cosmetics industries, primarily in the field of facility layout and planning, simulation, ergonomics, and statistic analysis. She holds BS and MS degrees in Industrial Engineering from the University of the Philippines and the New Jersey Institute of Technology, respectively. She can be reached at
Subscribe to Logistics Management Magazine!
Subscribe today. It's FREE!
Get timely insider information that you can use to better manage your entire logistics operation.


Latest Whitepaper
Strategies to Build Efficiencies into Your Supply Chain and Logistics Operations
This white paper outlines key areas where third party logistics (3PLs), carriers, retailers and manufacturing companies can replace manual repetitive work within their operations with new and innovative robotic process automation technology solutions.
Download Today!
From the November 2018 Logistics Management Magazine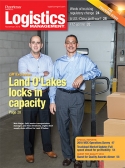 Land O'Lakes lock in Texas-based capacity
How will the tariff war with China affect U.S. container ports?
View More From this Issue
Latest Webcast

Leveraging the Internet of Things (IoT) in Manufacturing
Is digital transformation a risk or an opportunity? This webinar will detail Manufacturing industry challenges and how using IoT can address these challenges through optimizing logistics, improving processes and gaining meaningful insights.
Register Today!