Trump administration working to relax truck safety standards
The Department of Transportation is quietly moving to make truck drivers' hours of service rules more flexible.

John D. Schulz
·
July 19, 2019
It may be the dog days of summer in Washington but that doesn't mean there's any lull in the regulatory environment of the nation's 3.5 million heavy truck drivers.
In no particular order, the Transportation Department wants tweak drivers' hours of service rules, and is proposing a two-year delay of certain provisions in a driver training rule to allow states more flexibility in how Commercial Drivers' Licenses are issued. On the other side of the regulatory coin, two U.S. senators are trying to place mandatory speed limits on heavy trucks.
Jannine Miller, DOT's deputy assistant secretary for transportation policy recently called for making "common sense" changes in hours of service regulations.
But the Federal Motor Carrier Safety Administration's Kyle Bonini says safety is the agency's top priority in any rulemaking and safety won't be compromised. "While the HOS proposed rule continues to be reviewed, the intent of this rulemaking is focused on improving safety by making hours of service rules more effective and efficient," Bonini told LM in an .
Some leading trucking industry executives told LM these changes are welcome. Derek Leathers, president and CEO of Werner Enterprises, said in trucking rarely does a one-size-fit-all regulation work in the complex and deregulated nature of modern trucking.
"There's not a single answer for everyone," Leathers said. Noting that a truck driver has 660 minutes of legal driving time in every 24-hour period, it is up to that driver and his or her company to devise the best, most efficient and safest use of that precious time.
The goal, Miller recently told The Associated Press, is to "take away the heavy-hand of government where it does not help the private sector, and make sure, obviously, we're still protecting all the safety standards that we benefit from."
"The rulemaking process is currently at a proposed rule (NPRM) stage – not a final rule," Bonini said.
Bonini said after the proposal being issued, there will be a corresponding comment period where stakeholders and the American people can share their opinions on the proposal and offer suggested changes final proposed rulemaking as it strives to make HOS regulations more compatible for drivers.
"I can tell you the Department understands the importance of giving you the flexibility," Transportation Secretary Elaine Chao said at the Mid-America Trucking Show in March.
The Owner-Operator Independent Drivers Association (OOIDA) is pushing for elimination of a mandatory 30-minute break. But no action has been taken on that so far.
In comments filed with the Transportation Department, OOIDA says truckers should be allowed to effectively stop the 14-hour clock for up to three consecutive hours. During this off-duty period, drivers could rest or simply wait out heavy traffic.
Current HOS regs have been in place since the Obama administration issued them in early 2012. But nothing will change at least for a year following a lengthy public comment period after the Federal Motor Carrier Safety Administration issues its notice of proposed rulemaking, which is expected this summer.
Safety advocates can be expected to weigh in vigorously. They say "flexibility" is another word for "deregulation," and any changes to HOS would worsen truck driver fatigue, which is cited in about one-third of all fatalities involving heavy trucks.
But Bonini said, "FMCSA's rulemaking process is focused on improving safety by making hours of service rules more effective and efficient." He said in 2018, FMCSA sought public comment on HOS and received over 5,200 public comments—a majority of which requested the agency updated HOS rules to provide additional flexibility to make driving safer.
In 2017, the last full year for which statistics are available, there were 4,657 large trucks involved in fatal crashes. That's a 9 percent increase from the year before.
Hours of service is not the only area to watch when it comes to truck safety initiatives. Recently, FMCSA said it is proposing a rule to streamline the process for men and women interested in entering the trucking workforce.
FMCSA said the proposal is intended to allow states greater flexibility in conducting skill tests for individuals seeking a commercial driver's license (CDL). The proposal would alleviate testing delays and eliminate needless inconvenience and expense to the CDL applicant—without compromising safety, FMCSA said.
"The Department is committed to reducing unnecessary barriers to employment for men and women interested in obtaining jobs in the trucking industry," Transportation Secretary Chao said in a statement.
Currently, federal rules currently do not permit a CDL skills instructor who is also authorized by the state to administer the CDL skills test to perform both the instruction and the qualifying testing for the same CDL applicant. The proposal would eliminate that restriction. It would allow states discretion to allow qualified third-party skills trainers to also conduct the skills testing for the same individual.
"We continue to examine opportunities to provide common-sense regulatory relief to states and to individuals seeking to obtain a CDL," FMCSA Administrator Raymond P. Martinez said announcing the proposal. "This proposal will provide states more flexibility, while maintaining safety on our roadways."
FMCSA has been focused on reducing regulatory barriers for CDL applicants. Last March the agency issued a final rule streamlining the process and reducing costs to upgrade from a Class B to Class A CDL— a deregulatory action that the agency says will save eligible driver trainees and motor carriers $18 million annually.
Meanwhile, two U.S. senators are pushing a bill that would limit heavy trucks to 65 mph speeds throughout America. Sens. Johnny Isakson, R-Ga., and Chris Coons, D-Del., said it would take the place of a proposed Department of Transportation regulation that has "languished in the federal process" for over a decade.
The Alliance for Driver Safety & Security (Trucking Alliance), an industry-based safety coalition, is supporting this legislation. The American Trucking Associations has not taken a public stance.
The "Cullum Owings Large Truck Safe Operating Speed Act of 2019" (S.2033) will direct the Secretary of Transportation to create a federal safety standard that requires all large commercial trucks to not exceed 65 miles per hour on the nation's highways.
"My late father and grandfather drove trucks for a living," Steve Williams, Chairman and CEO of Maverick USA in Little Rock, Ark., said in a statement. "I've spent my entire career in the trucking industry. There's simply no legitimate reason for an 80-foot tractor trailer to be driven within a few feet of other motorists, at speeds of 70 or 75 or 80 miles per hour. The safety benefits of Senate Bill 2033 are obvious."
The senators said most U.S. roads already have the speed-limiting software built in, but it's not always used. Most countries in Europe already use it to cap truck speeds, Isakson said in a statement.
The measure also would circumvent the Trump administration, which has delayed any action on the proposed rule indefinitely. Sens. Isakson and Coons say the rule would require that all large commercial trucks be equipped with speed limiting technology, that is set at a maximum speed not to exceed 65 mph on the nation's highways.
Owners of older trucks without speed limiting technology will not be forced to retroactively install speed limiters. They will, however, be required to comply with the safety standard, or be issued a federal safety violation, rather than a state issued speeding ticket.
Sens. Isakson and Coons further say in the statement that the rule would decrease the estimated 1,115 fatal crashes a year involving vehicles with a weight of 26,000 pounds or more, on roads with posted speed limits of 55 mph or more.
On the federal website showing the status of such rules, this bill is listed as "undetermined" under the next action category.
When the speed limit speed regulation was first proposed, DOT estimated it would save 63 to 214 lives per year. An Isakson spokeswoman said making the legislation bipartisan was a top priority for him "and we'll be working hard to demonstrate that this is a common-sense idea that will protect millions of America's drivers."
But the Owner-Operator Independent Drivers Association (OOIDA) said it is opposed to the issue of "split speed limits" between trucks and cars, and said it actually raises the likelihood of more crashes. In any event, the measure is considered a longshot to advance in the Republican-controlled Senate.
July 24, 2019
About the Author
John D. Schulz John D. Schulz has been a transportation journalist for more than 20 years, specializing in the trucking industry. John is on a first-name basis with scores of top-level trucking executives who are able to give shippers their latest insights on the industry on a regular basis.
Subscribe to Logistics Management Magazine!
Subscribe today. It's FREE!
Get timely insider information that you can use to better manage your entire logistics operation.
Start your FREE subscription today!
Latest Whitepaper
How to Manage Increasing Labeling Demands
Download the report to learn best practices for managing those increasing label demands.
Download Today!
From the August 2019 Logistics Management Magazine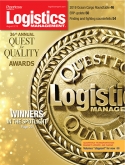 Ocean: Protecting margins in a soft market
Warehouse Voice Technology Speaks for Itself
View More From this Issue