Trucking Regulation: Carriers push back, shippers to pay
Our panel of trucking analysts takes a deep dive into the federal regulations that are driving increased cost pressures on carriers—and, in turn, driving up rates on shippers.

John D. Schulz
· March 1, 2015
When then-President Jimmy Carter signed the Motor Carrier Act of 1980, it deregulated the interstate trucking industry from a host of outdated laws governing rates, routes, and operating authority. That stroke of the pen unshackled the industry from much Washington oversight and enabled it to become the responsive and innovative transportation mode it is today—capturing more than 70 percent of total freight revenue.
But while the landmark law economically deregulated truckers, today they're facing a barrage of regulations covering everything from how much pollution their engines emit to how much sleep their drivers must get.
"A regulatory tsunami" is how U.S. Chamber of Commerce President and CEO Thomas Donohue, formerly head of the American Trucking Associations (ATA), recently defined it.
Clearly, Washington's regulatory focus on the less-than-truckload (LTL) industry has changed in four decades. While LTL carriers can charge any rate-per-mile they want, the regulatory focus has shifted from economic to what Dave Osiecki, the ATA's executive vice president for advocacy, calls "social regulation."
And many who keep a close eye on this industry believe he's right. In fact, one could argue that LTL carriers today face more laws from more Washington agencies than ever before, all stemming from the usual "alphabet game" of Washington regulators.
Safety laws are coming down from the Department of Transportation's Federal Motor Carrier Safety Administration (FMCSA); emission regulations and fuel mileage requirements are emanating from the Environmental Protection Agency (EPA); pension laws coming from the Department of Labor (DOL); background checks on drivers from the Department of Justice (DOJ); post-9/11 security regulations from the Department of Homeland Security (DHS); and truck safety regulations coming down from the National Highway Traffic Safety Administration (NHTSA).
"This industry is more regulated than it ever was," says James Welch, CEO of YRC Worldwide. "Government wants to stay involved in our industry, and there are a lot of good things such as the mandate for electronic onboard recorders. But there's a cost to us for all of this."
Analysts absolutely agree with Welch. "They say it's all in the name of safety, and I agree that we definitely want to have oversight to ensure people are not driving a truck drunk," says Satish Jindel, principal of SJ Consulting, a firm that tracks the $34 billion LTL industry. "That's not good for anybody who uses the highways; however, it's a fine line we have to balance. That's where there is no easy answer."
And while it's easy to pick on Washington for targeting the $700 billion overall trucking industry as a "cash cow" for additional user fees, taxes, and add-on regulatory costs, those regulators don't have the easiest task in trying to achieve that perfect balance of cost vs. safety benefit.
"Ultimately it's about the safety of your family and my family and those who travel on the roads," says Duane DeBruyne, spokesman, FMCSA.
"That's what everybody is focused on. If we can make progress through safety improvements, that's what the point of the discussion needs to be about."
John Cutler, general counsel for the National Shippers Strategic Transportation Council (NASSTRAC), says that while the goal of truck safety regulations is laudable, rules can often be achieved in a more cost-effective manner without all the micromanagement from Washington.
"If the government were more concerned about the economic practicality of some of these regulatory initiatives, it would be better for everybody—better for shippers, better for the government, better for the trucking industry," says Cutler.
Analyst Donald Broughton of Avondale Partners says that the FMCSA's goals are certainly admirable, but so far its effort has been "ineffectual. "Have them write rules that make sense and that people can understand," he says.
So let's take a deeper dive into the regulations that are putting the clamps on LTL productivity in order to better understand what's driving the cost pressures on carriers—and, in turn, inevitably driving up shipper freight rates.
2 biggest regulatory hurdles
Talk to any LTL trucking executive for any length of time and if the subject of regulation comes up you're likely to hear two acronyms: HOS and CSA.
HOS is shorthand for "hours-of-service," a two-decade old push to modernize the amount of time truckers can drive and be on duty. CSA stands for "Compliance, Safety, Accountability," a five-year-old program designed to weed out as many as 150,000 truck drivers that the federal government feels are disproportionately involved in truck accidents.
"To make it even more interesting, CSA and HOS are both in flux right now," says Randy Mullett, vice president of government relations for Con-way Inc., the $5.5 billion parent that operates LTL Con-way Freight.
Thanks to Sen. Susan Collins (R-Maine), late last year the trucking industry won a delay until Sept. 30 of this year in the enforcement of the so-called "34-hour restart" provision in the latest HOS initiative. It remains unclear what, if anything, the Republican-dominated Congress will ultimately do—a fact that's causing uncertainty and adding cost for truckers that are unable to make long-term planning and staffing decisions regarding their drivers.
"We got a reprieve on the restart provision of the HOS, and that's beneficial to us," Con-way's Mullett says. "It would be nice to get the research and make that change permanent. But we're happy for the additional flexibility of operation for our drivers and we're sure this will improve safety."
Shippers applauded the delay and were thankful that the FMCSA did not alter the 11-hour per-day driving limit for truck drivers in a 15-hour, on-duty period. "We in the shipper community, like the carriers, are happy FMCSA didn't cut the hours to 10 or less per day," says NASSTRAC's Cutler. "That shows some sensitivity to economic realities."
While the LTL sector won a reprieve on HOS, Mullett believes that there's still a significant amount of anxiety revolving around CSA. LTL carriers feel that the "safety scores" associated with CSA—and formerly available to all on FMCSA's web site—were incorrect because of a flawed accounting system.
"As long as the scores stay hidden as it stands right now, it becomes much ado about nothing," says Mullett. "Before they make those scores public we want to be sure that they make the scores right. However, the energy on Capitol Hill right now is to maintain the status quo."
For its part, FMCSA officials say that they often have little input in the final trucking regulation—yet they add that they're often demanded by Congress to take action.
So, it's a balancing act. FMCSA officials believe that while LTL carriers often say that they're being picked on and micromanaged by Washington. On the other hand, the safety advocacy community often complains that FMCSA is "too cozy" with the trucking industry and is often too lenient.
As an example, when the DOT recently made its decision to expand operating authority of qualified Mexican-domiciled fleets into this country, the Owner-Operator Independent Driver Association (OOIDA) and Teamsters union both howled that it would harm truck safety. But the ATA was actually quite supportive of the move.
"Usually if there's a decision where both sides complain then we feel that we probably got it right," says FMCSA's Debruyne.
Financial impact of regulations
While HOS does not directly affect the LTL industry due to the design of its hub-and-spoke networks, carrier executives say that it does have a "trickle down" effect because it makes the truckload sector hire more drivers, exacerbating the driver shortage and pushing up pay for the entire industry.
"When the truckload guys have driver recruitment problems, it eventually trickles down to the LTL sector as well," says Jindel.
Just this year, Con-way is setting aside an additional $60 million for driver pay increases, partially because of the squeeze in productivity caused at least in part by tough trucking regulations.
This year, the final rule mandating electronic onboard recorders (EOBRs) will most likely be issued by FMCSA. Most of the trucking industry has praised the move, one that will eliminate the paper logs that drivers often refer to as "comic books."
But while the goal of EOBRs is commendable—geared to reducing illegal hours of operation and creating a level playing field for all carriers—one of its unintended effects will be a tighter supply of compliant drivers for the entire industry.
Economist Noel Perry of FTR Associates is already predicting that the driver shortage could approach 200,000 within the next decade. While economics, changing demographics, and the industry's inability to market itself to younger people and minorities are primarily responsible for the shortage, there's little question that increased scrutiny of drivers is playing a role as well.
"We're not necessarily talking about economic regulation, but health, safety, environmental, and security regulations," says Cutler. "It just seems to me that for some time the FMCSA's focus is not primarily on safety, but almost exclusively on safety without regard for cost or adverse implications for trucking companies or their shipper customers."
Other analysts agree. "Absolutely," says Jindel. "In terms of all this compliance, especially CSA, we hold the driver of the truck to a much higher level than our elected officials. They say it's all in the name of safety, which is fine. However, if society wants to have all these regulations to ensure a high level of safety, then we have to agree it comes with a cost and we have to pay the trucking company more for it."
Regulatory road ahead
Rest assured that there's plenty more coming down the regulatory pipeline. FMCSA is now talking about tougher rules for truck driver training and driving schools; rules governing sleep apnea are in the works; and President Barack Obama recently signed a law requiring trucks to effectively double their miles per gallon (mpg) in fuel efficiency.
The price of a new Class 8 truck has risen more than 40 percent in the past decade to more than $125,000, at least partially because of new EPA
required emission standards. At the time it issued the rule, EPA stated that the additional cost for those pollution controls would be about $5,100. In fact, according to a report from the American Truck Dealers, the actual increase was over $21,000 per truck.
Doubling the fuel efficiency of an 80,000-pound truck that today gets about 6 mpg will no doubt be a daunting and expensive task. Privately, truck manufacturers say that they don't know how they'll get there, but they do know it will be expensive.
"It will require a ton of money for add-on environmental and improvements in those engines," adds Con-way's Mullett. "That's another thing that will have a huge impact on costs."
As for rates, shippers can expect all this regulatory overkill to drive up carrier costs, which have already been rising at an annual rate in excess of 10 percent. And if there's any universal complaint in trucking today, it's that regulatory pressures are driving up rates.
"I don't think shippers are aware of it," says YRC's Welch. "They hear us talk about the cost of regulations, but I don't think they understand the ramifications of it all. There's a cost of everything, and we have to do a better job as an industry of explaining what government regulations are costing us in the future."
According to Jindel, it's about time carriers become more aggressive with shippers on rates. "If you don't get a correct return, don't cry about the shipper," he says. "Find a way to get adequately compensated for your services. If society wants to have all these regulations to ensure high levels of safety, then we have to all agree it comes with a cost—and we have to pay you for it."
Jindel and other industry analysts believe that LTL carriers should and must raise rates to cover compliance costs with CSA and other initiatives.
However, the question remains: Will the Republican-controlled Congress act to water down some of these initiatives?
It's possible, analysts say, but don't count on it. "I wonder if they have motivation to change anything," adds Jindel. "There are so many other things for Congress to deal with at this time that things would have to evolve into a crisis for them to act. Right now, trucking has not reached a crisis point."
About the Author
John D. Schulz John D. Schulz has been a transportation journalist for more than 20 years, specializing in the trucking industry. John is on a first-name basis with scores of top-level trucking executives who are able to give shippers their latest insights on the industry on a regular basis.
Subscribe to Logistics Management Magazine!
Subscribe today. It's FREE!
Get timely insider information that you can use to better manage your entire logistics operation.


Latest Whitepaper

Finding the Right Fit for New Technologies and Automation in your Warehouse/DC
In this white paper, Canon Solutions explores the challenges companies face when automating, explain why there's no need to rip-and-replace existing systems
Download Today!
From the July 2019 Logistics Management Magazine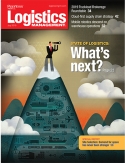 2019 State of Logistics: Third-party logistics (3PL) providers
2019 State of Logistics: Air cargo
View More From this Issue
Latest Webcast
Leveraging 3PLs for Future Shipper Gains
In this webcast, Evan Armstrong, president of Armstrong & Associates offers logistics and supply chain managers the industry's most comprehensive overview of the state of domestic and global third-party logistics arena.
Register Today!