The new breed of intelligent machines that are core to Industry 4.0 will eliminate waste
Fleet management technologies continue to become more capable and more diverse, even as some fleet managers are trying to figure out what all the data means. To help set the table for success, Modern explores some of the flavors available.

Warehouse in the News
Finding the Right Fit for New Technologies and Automation in your Warehouse/DC
Mobile Robotics Descend on Warehouse Operations
Warehouse/DC Site Selection: Demand for space has never been stronger
CBRE research shows ongoing demand leads construction of new warehouses
5 Best Practices for Effective Labor Management in the Warehouse/DC
More Warehouse News
Warehouse Resource
Finding the Right Fit for New Technologies and Automation in your Warehouse/DC

In this white paper, Canon Solutions explores the challenges companies face when automating, explain why there's no need to rip-and-replace existing systems
All Resources
By
Josh Bond, Senior Editor
·
May 2, 2017
The journey to reform practices looks different for everyone, but some common themes recur. Labor costs are a challenge for fleets of one to 1,000 and ensuring the optimal performance and behavior of those operators is an ongoing effort. The equipment is smarter across nearly all models, many of which come factory-ready to electronically export a wealth of usage data from onboard sensors. The appetite is there, the table is set, but how do fleet users decide what to order from the menu?
"Fleet management is still fairly new, and a lot of folks are not quite sure what to think about it yet," says , sales and operations manager for . "Some folks do a better job than others, but nobody is great at it. 'Telematics' is kind of a buzzword, like or . There's a lot of product differentiation and not all of those products are using the same data."
The process of adopting technologies and transforming fleet management practices tends to be incremental, both because of customer apprehension and the difficulty of overcoming old habits. In the beginning, telematics solutions providers were convinced of its obvious value and offered products that assumed their customers' lifelong commitment to granular fleet management.
A sometimes substantial upfront investment, the theory went, will ultimately provide returns far beyond the initial pain point that drove adoption. The same devices and services that help monitor something as simple as forklift impacts in the short term might one day offer data from all aspects of equipment operation.
"The industry is moving to a true a la carte model instead of a lump sum to start and then a series of add-ons," says , director of aftermarket solutions for. "That said, the real value of telematics is still beyond the low-hanging fruit. There are 1 million lift trucks in use in the United States and less than 20% have telematics. Until we get to where that crests over 60%, a la carte options are just window dressing. As customers really adopt the telematics findings, we are seeing efforts to integrate telematics data into their business systems until it becomes a lifestyle."
Whether large or small, sophisticated or homespun, any fleet can benefit from added visibility, accountability and efficiency. Modern talked to a collection of experts about the current state of the market and how managers can take the next bite out of fleet costs.
The ingredients
Solution providers have pared down their telematics offerings to give customers more targeted choices, according to , general product manager at . Some customers are strictly concerned with operator management, some strictly with forklift management, and others are focused on broader fleet management and fleet right-sizing. Still, the application of the solution is never a silver bullet.
"They want to target their pain point, or their perceived pain point, but their reactions to those incidents can be even more painful," Hasenstab says. "If a driver impacts something, who is alerted? Does it result in an automatic write-up? What happens to the lift truck? This has pushed a lot of thinking on what follows an impact. If we believe an impact of a certain severity could have damaged something on the equipment, should it go to creep speed so the driver can move away from a door to clear the way? Or, was the impact so severe that the truck should shut down, period."
This is a very basic version of one of the biggest complaints surrounding telematics. Call it "analysis paralysis" or "drinking from a fire hose," but a solution should not provide so much data that it overwhelms the fleet manager's ability to use it. After all, "we're not launching a space shuttle here," says, president at . "We just want to look at impacts, usage and the operator."
This might include automated pre-shift checklists, access control for added accountability, or metrics with regard to the performance of the. However, Wickman warns some data might actually be misleading.
"You look at when the ignition is on, when it's moving and lifting, and you can put some numbers together on which forklift is more productive. But in many ways, you can't," Wickman says. "That data is not always useful. Say a company tries to set a standard for pallets moved per hour. If they're making the same product in two plants, those metrics could come out different. One has a 50% longer run, the other a 25% higher lift. Standard numbers get hard to make sense of because there are so many factors that go into what makes one more productive than another."
Some telematics users have met this challenge head-on by attempting to account for as many variables as possible. According to , senior vice president of product technology and innovation for telematics solutions provide insights and capabilities by combining data sets from the fleet and related systems. Together, the data creates a whole that is greater than the sum of its parts.
"Especially in the warehouse, telematics is changing from a device-centric and simplistic view to software-driven and connectivity-driven middleware, like an ecosystem," O'Connell says. "It's shifting to offer a window into everything happening in the warehouse, connecting warehouse management to labor management and safety to generate data around where and what is happening. This is a world of difference from five years ago."
LaFevers agrees and notes that telematics is less focused on the mechanics of the lift truck and more on their impact to the customer's operation. "I see it as a massively broad impact on the market," he says. "I think we've hit the point of the exponential curve, and telematics are permeating through every facet of our organization. The goal is to now make sense of the abundant data for our customers."
To help turn a fire hose of data into a manageable drinking fountain, the data from telematics and related systems increasingly involve Cloud-hosted services and dashboards that present only the most relevant and actionable data. There is no shortage of sophisticated solutions, LaFevers says, but they often require constant support.
"They are awesomely complex, but only a few people know how to use it. We want the customer to spend 15 minutes and find something useful," he says. "It's not about whether you have 102 data pieces or 110, it's how easily you can access information for decisions. The truth should smack them in the face so that it is obvious what area of the business they should focus on improving and what that improvement should be."
To keep it simple at the outset, LaFevers recommends targeting the three "I"s: inventory, idle time and impact.
"If you can improve that intelligence trio, most of your payback will be solid and the rest is gravy," he says.
The recipe
To be clear, the gravy can be very rewarding. O'Connell says it has also gotten easier in recent years to marry fleet utilization data with , and other software systems for a holistic view into operations.
"What we used to call 'hard code integration' is a bygone era, since trying to integrate LMS or telematics with WMS is problematic for a number of reasons," O'Connell says. "Instead of account-to-account integration, an API [application program interface] allows data to be gathered externally so it doesn't become a firewall exercise. We've lived those horrors. Plus, with software providers like Manhattan and SAP in the , you can exchange data without worrying about site-level details, which makes the world a lot simpler."
Consider for example a graph showing hours in a day and the number of units in use simultaneously. There will be a peak, low and average, all of which can illustrate what an optimal fleet needs to look like, O'Connell says. In a seasonal business, the graph might show that December has 40 forklifts in use at the same time, when the rest of the year has 20. Plenty of people used to accept that they need 40 year-round because of that peak, O'Connell says.
Another way to avoid an overly large fleet is to use data to calculate in advance how many drivers and lift trucks will be needed to move 1,000 pallets per hour, for example. Good data can offer a view into actual productivity, which O'Connell says is often much less than assumed.
"Even in operations that consider themselves very good we might see 33% productivity, when it should be closer to high 40s or 50," he says. "For a 100-truck fleet, that's 17 excess units and operators."
Labor is the biggest cost of a forklift fleet, but managing those individuals is among the biggest challenges. Toyota's Sassatelli says the optimal fleet management program requires continuous engagement from operators, managers, dealers and service providers.
"We want to ensure the customer doesn't lose the mentality of always making changes and improvements," he adds. "Some customers have used telematics for three or four years and ask, 'now what?' The entire team has to understand the value and without that support, the customer will not necessarily find it on their own."
Companies mentioned in this article:
.
December 22, 2017
About the Author
Josh Bond, Senior Editor Josh Bond is Senior Editor for Modern, and was formerly Modern's lift truck columnist and associate editor. He has a degree in Journalism from Keene State College and has studied business management at Franklin Pierce University.
Subscribe to Logistics Management Magazine!
Subscribe today. It's FREE!
Get timely insider information that you can use to better manage your entire logistics operation.


Latest Whitepaper

Finding the Right Fit for New Technologies and Automation in your Warehouse/DC
In this white paper, Canon Solutions explores the challenges companies face when automating, explain why there's no need to rip-and-replace existing systems
Download Today!
From the July 2019 Logistics Management Magazine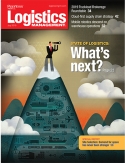 2019 State of Logistics: Third-party logistics (3PL) providers
2019 State of Logistics: Air cargo
View More From this Issue
Latest Webcast
Leveraging 3PLs for Future Shipper Gains
In this webcast, Evan Armstrong, president of Armstrong & Associates offers logistics and supply chain managers the industry's most comprehensive overview of the state of domestic and global third-party logistics arena.
Register Today!