Syncing demand plans with WMS
Bringing the planning and execution worlds together is a classic problem, but one that can be solved with additional planning tools that sit between corporate forecasting and WMS.

Latest News
Dematic names Bernard Biolchini EVP and CEO, Americas
Logisticians, carriers fret over U.S. economy's future
U.S.-bound shipments trend down in June, reports Panjiva
Rules of Origin Really Do Rule
Trump administration working to relax truck safety standards
More News
Latest Resource
Rules of Origin Really Do Rule
Inputs Make the Outputs: How Rules of Origin Really Do Rule
All Resources
By
Roberto Michel
·
February 1, 2016
For all the capabilities of warehouse management system (WMS) software fed by real-time data capture and communication with automation, a supply chain can't rely solely on its ability to execute to set up its best chance at smooth fulfillment. Effective fulfillment starts with demand planning and the use of other types of planning software such as replenishment planning tools that convert forecasts to meaningful requirements at the distribution center level.
The goal is to get corporate-level planning and DC-level execution working in concert. And since WMS is the mainstay solution for warehouse operations, this means demand planning and WMS should have some means of synchronization. The big problem with that notion, say consultants and WMS providers, is that traditionally, a disconnect has existed between the world of demand planning and the world of warehouse operations.
"The software industry has generally done a good job of creating great capabilities within functional silos, but what is needed is better capability across silos," says Fab Brasca, a vice president of solution strategy with JDA, which offers supply chain planning solutions as well as WMS and other supply chain execution (SCE) software. "What we are trying to do is create an awareness of each domain within the other."
The fix to this disconnect is not exactly simple. For some companies, it involves the use of replenishment and inventory planning software that takes the output of corporate forecasts and breaks them down into inventory requirements and moves for the DC network. Other ways to address the problem include better multidisciplinary planning processes such as sales and operations planning (S&OP) teams that regularly consider fulfillment requirements for forecasts.
According to Larry Lapide, a noted S&OP expert and a lecturer at the University of Massachusetts–Boston, a challenge with corporate forecasting as part of S&OP is that traditionally, forecasts may happen at an aggregated product level rather than a level that makes sense for warehouse operations, such as stock keeping units (SKUs) or the flow of shipments through DCs. "There can be a disconnect there," says Lapide. "So you may need to take that forecast data from the corporate level, break it down by SKU, break it down by warehouse, and feed it to those responsible for warehouse operations and see if they can sync to it," he says.
Since approaches to S&OP, planning and warehouse operations vary by industry and individual company, there might be no single way to ensure that demand planning and WMS become better synchronized. However, some best practices and technologies for bringing the two worlds closer include:
• inventory and replenishment planning tools that take corporate forecasts and project the warehouse impacts so managers can assess labor, space or other execution needs;
• making warehouse constraints part of the optimization model for replenishment planning;
• predictive analytics using WMS-level data; and
• better visualization capabilities in WMS to assess the impact of pending orders.
Simply handing down a sales forecast from the corporate level to the WMS level may not be enough, because warehouse operations speaks its own language as do other functional disciplines who use demand forecasts, says Lapide. "It's not just a matter of sharing the output—people need it in their own language," he says.

Multiple planning levels
Making forecast information useful at the warehouse level is a challenge that involves the use of distinct software solutions over multiple planning horizons, and predictive analytics can help, according to Joe Vernon, senior manager of North America supply chain technologies for consulting firm Capgemini. The key is to narrow down longer range plans into insights that help a DC plan its inventory and labor resources, Vernon explains.
"One demand plan process can be more useful than another if it really tells the warehouse the way that products are going to be coming to them and gives some insight on the way they are going to ask to be shipped," says Vernon. "It's one thing to say that you are going to have to ship 10 of that item, but another to find out during execution it comes through as 10 orders of one item."
The way supply chains have tried to narrow down the impact of demand, says Vernon, is to leverage multiple planning tools with each cycle, hopefully bringing more clarity on fulfillment impacts. In consumer goods, for example, assortment and merchandising plans at the corporate level might be done 18 months in advance of fulfillment. Closer in, there is a corporate demand planning process that narrows down what needs to be manufactured or purchased, and that depends on the lead times involved with producing certain goods or bringing them in from overseas.
Some companies take the output of the corporate demand plan and move the data into inventory and allocation planning tools to figure out how much inventory for specific SKUs should be positioned within the DC network, explains Vernon. Inventory planning and allocation software can also be used to decide how much inventory to reserve for each channel within multi-channel DCs that share common inventory and labor resources, but it's harder to get that right compared to inventory planning for DCs dedicated to a single channel.
"The more you co-mingle inventory for omni-channel within a single facility, the higher the complexity, while the margin for error tends to be more impactful," Vernon says.
For companies and DCs that have a relatively stable buying cycle in which purchase orders and economic order quantities and lead times are pretty consistent, says Vernon, the warehouse can view open purchase orders and get a good idea of what lies ahead. "A single central warehouse model can use this method fairly effectively, but an omni-channel network with multiple facilities will have less accurate results as the plan may not be able to specify which warehouse will catch the demand," says Vernon.
Ultimately, says Vernon, DCs are trying to figure out—based on the plan closest to fulfillment—what inventory they should have on hand, what labor resources they will need, and which SKUs and quantities to position in forward pick areas. Even using integrated, best-in-class tools over progressively tighter planning horizons, it can be difficult to pinpoint the warehouse impacts of demand, so some suppliers and end users may start to apply predictive analytics to the challenge.
These predictive analytics would take warehouse-level history and metrics and apply some predictive models and machine learning algorithms against the data to determine how fulfillment might shake out, Vernon explains. "We see a lot of movement in predictive trend analysis for the warehouse," says Vernon. "We used to look only at flat metrics, like lines per order trends, and that's useful, but with predictive analytics, you can pump some of that same data in and get your own view of what the fulfillment profile and execution processes will look like," he says.
Expect more supply chain execution suppliers to start talking about predictive analytics for warehouses, says Vernon, especially suppliers focused on verticals such as grocery or retail. Consulting firms such as Capgemini can help DC operators get started with these analytics, adds Vernon, but these solutions should be seen as an additional layer of insight to existing inventory and allocation planning software, as well as longer horizon demand planning. "You wouldn't want to take any existing tools off the table from a visibility and enhanced decision-making perspective," says Vernon.
Projecting the impact
Inventory optimization solutions can be used to take a higher-level forecast and break that down into the inventory impacts at the DC level, says Scott Fenwick, senior director of product strategy for Manhattan Associates. Within Manhattan's Demand Forecasting & Inventory Optimization solution, demand planning functions give a statistical view of demand requirements, but the other half of the solution set is about planning inventory for DCs.
"Inventory optimization takes that forecast and basically uses it to optimize inventory—meaning how much inventory you put in the pipeline, how much you need to go by, and how much inventory placement should facilitate with inter-DC transfers or inter-store transfers," says Fenwick.
Inventory optimization is crucial when it comes to helping warehouses prepare for expected demand because it breaks down sales into inventory needs, says Fenwick. Within Manhattan's software, this step is called an "order projection," which gives warehouse managers a tangible view of what to expect. "If you think of a demand plan as, 'how much do I expect to sell of this item, and when am I going to sell it?' there is a need to translate those plans into what my actual order movement will look like, whether that is inbound to the DC or outbound," he says.
This projection from a forecast can be used by managers to help them assess labor needs, be fed into a labor management system (LMS) to come up with schedules, or go into slotting solutions to reconfigure the placement of SKUs within a DC. "So this order projection sort of becomes a bridge between what goes on in the planning world and what needs to happen in execution," says Fenwick.
JDA is another major SCE supplier offering planning solutions. The JDA planning solutions' origins trace back to its acquisitions of Manugistics and i2, which are now several years in the past (nearly a decade in the case of Manugistics). Over the last few years, JDA has worked to more closely integrate its latest planning software with SCE solutions such as WMS, says Brasca, culminating in software that supports JDA's "Intelligent Fulfillment" concept by embedding warehouse-level constraints into the planning solutions.

For instance, says Brasca, JDA Fulfillment, a replenishment planning solution that takes forecast data and translates it into the fulfillment requirements at the warehouse level, can have warehouse specifics such as number of dock doors at a facility modeled into its optimization engine so replenishment plans reflect what is possible in the warehouse. "We want to provide the fulfillment planner with a view into reality-based constraints that exist at the warehouse level—things like dock, space and labor capacity—the factors that would affect my ability to push inventory through the supply chain," says Brasca.
JDA is creating standard templates to model and solve problems such as replenishment planning that is warehouse aware, adds Brasca, but these templates will be configurable to address the variables that might come into play in a particular DC network.
WMS decision tools
Even if a company has good demand, replenishment and inventory planning capabilities, suppliers say it's important that the SCE solutions, including WMS and slotting, are able to make use of the planning data.
Jon Kuerschner, vice president of supply chain solutions at HighJump Software, says HighJump's WMS is able to take feeds from forecasting systems and use that data to make better execution decisions, such as slotting to a forecast, committing manufacturing or import inventory to orders, or making transfer priorities across DCs.
If the planning solutions can provide enough item level and time horizon detail, or if a "scrub" of the data can be performed to expose the warehouse-level details, then WMS and SCE applications can make the needed adjustments, says Kuerschner. When it comes to inter-DC transfers, it is useful to have a WMS to do things like define min/max item levels by site and automatically create transfer orders at the source DC and advanced ship notices for the destination DCs.
"The warehouse needs to know the expected number of sales by item, by time horizon, and by warehouse to make good decisions," says Kuerschner. "We have customers who look at their days of inventory on hand within the forecast by item, by time horizon and by DC to make these types of decisions in slotting and transfers."
Analytics tools within SCE solutions also can help prepare for demand. Kuerschner notes that some HighJump customers have used the vendor's Pulse supply chain intelligence solution to create views of WMS transactional data that can help them make forecast-related decisions. For example, a company could look at how much cubic volume of a product it shipped for a given month over the last couple of years, assess any trends, see how many trailer loads that equaled, and assess what the carrier/trailer requirements would be if sales for that item for the given month were to increase by a given percentage. In effect, he says, such what-if analytics "allow customers to look into the rear-view mirror to make better decisions out the front window."
Brian Lindenmeyer, principal solution consultant at International Business Systems (IBS), sees WMS capabilities such as visualization and analytics as key to being able to react to demand requirements. IBS, whose software spans enterprise resource planning (ERP), WMS as well as planning functions including software for S&OP, offers capabilities within WMS that permit user companies to load pending order types into a visualization workbench to analyze impacts, such as the most efficient wave building, dock door availability and what type of picking and labor will be required.
"Visualization and analytics within WMS give you the ability to take in planning data, or what we call future transactions, and say, 'here are what the impacts would be in the warehouse,'" Lindenmeyer says. "Planning tools are important, but you need to be able to use planning data at the warehouse level, and turn the data into actionable, executable information."
One company that has used IBS's WMS visualization is American Hotel Register Co., a Vernon Hills, Ill.-based global supplier of equipment, goods and furniture to the hospitality industry. American Hotel uses IBS's ERP system and its WMS solution, making extensive use of visualization in IBS Dynaman to take demand data and place it into order pools to perform pre-wave planning or what it calls "dispatching" of how orders should be grouped, picked and shipped. Lindenmeyer describes the visualization as a "click-and-drag way" for users to easily perform pre-wave planning and then with one click, trigger the needed WMS processes.
According to Lindenmeyer, many companies have used spreadsheets and offline analysis by managers to accomplish this daily wave building and dispatch planning, but it is a time-consuming process. At American Hotel, the automation of order wave management using Dynaman's visualization has on average days saved four to five hours per day in management time, and as high as nine hours on heavy volume days. So while planning software that is granular about the way it forecasts is important, says Lindenmeyer, the two bring planning and execution together. The WMS solution needs tools and rules to quickly assess the impact of pending orders, rather than forcing managers to figure it out offline.
"That's management time that can be redeployed to guide other processes in the warehouse, instead of just trying to plan for the day," he says.
Companies mentioned in this article
• Capgemini
• HighJump Software
• International Business Systems (IBS)
• JDA
• Manhattan Associates
August 19, 2016
About the Author
Roberto Michel Roberto Michel, an editor at large for Modern Materials Handling (MMH), has covered manufacturing and supply chain management trends since 1996, mainly as a former staff editor and former contributor at Manufacturing Business Technology. He has been a contributor to MMH since 2004. He has worked on numerous show dailies, including at ProMat, the North American Material Handling Logistics show, and National Manufacturing Week. He can be reached at
Subscribe to Logistics Management Magazine!
Subscribe today. It's FREE!
Get timely insider information that you can use to better manage your entire logistics operation.


Latest Whitepaper
Rules of Origin Really Do Rule
Inputs Make the Outputs: How Rules of Origin Really Do Rule
Download Today!
From the July 2019 Logistics Management Magazine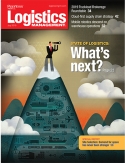 2019 State of Logistics: Third-party logistics (3PL) providers
2019 State of Logistics: Air cargo
View More From this Issue
Latest Webcast
Leveraging 3PLs for Future Shipper Gains
In this webcast, Evan Armstrong, president of Armstrong & Associates offers logistics and supply chain managers the industry's most comprehensive overview of the state of domestic and global third-party logistics arena.
Register Today!