Supply Chain Technology: 7 ways to optimize an existing WMS
Advanced warehouse management systems (WMS) users are taking the next step and figuring out how to drive process efficiency improvements through their applications—rather than just focusing on keeping track of what's been done. Here are seven different ways they're making that happen.

Warehouse in the News
Availability of U.S. industrial & logistics real estate rises after 34 months of declines, says CBRE
Finding the Right Fit for New Technologies and Automation in your Warehouse/DC
Mobile Robotics Descend on Warehouse Operations
Warehouse/DC Site Selection: Demand for space has never been stronger
CBRE research shows ongoing demand leads construction of new warehouses
More Warehouse News
Warehouse Resource
Finding the Right Fit for New Technologies and Automation in your Warehouse/DC

In this white paper, Canon Solutions explores the challenges companies face when automating, explain why there's no need to rip-and-replace existing systems
All Resources
By
Bridget McCrea, Editor
·
July 1, 2015
All the technological innovation in the world can't make organizations, small businesses, or individual users actually utilize everything that a specific piece of hardware or software has to offer. In fact, the image of that latest and greatest piece of technology "gathering dust on the shelf" as workers go back to doing things the way they've always done them is as old as technological innovation itself.
The problem transcends into the supply chain software arena, where many logistics operations admit that their warehouse management systems (WMS) could be doing more—if given the opportunity.
In a recent survey of software users, research giant Gartner asked respondents how effectively their organizations utilize business applications across a number of supply chain business functional capabilities. For WMS, 18 percent of respondents said that their warehouse management systems are "underutilized," while 37 percent said that the platforms are "generally utilized." Thirty-one percent said their WMS was "fully utilized."
"More than half of WMS users aren't maximizing their systems," says Dwight Klappich, research vice president for Gartner. "And while the vast majority of WMS users are satisfied with system performance, most of them are using the platforms to receive, put away, store, count, pick, pack, and ship goods. That's all they really care about."
However, there are logistics managers who want and expect more from their WMS investment. According to Klappich, the more advanced WMS users are "taking the next step and figuring out how to drive process efficiency improvements through their applications, rather than just focusing on keeping track of what's been done." Over the next few pages, we set out to help managers reach for that next level by outlining seven different ways to maximize an existing WMS.
Becoming an advanced WMS user
As Klappich points out, picking the low-hanging fruit that's dangling off your WMS is a fairly common practice for logistics managers who just need to "get things done."
But what if your WMS offered more? What if it could serve as a more valuable business tool across different tasks, users, and even departments? Here are seven different ways that you may not have considered using your WMS:
1. In conjunction with your labor management system (LMS). Labor management has been used in warehouses for decades, but in many cases the activity takes place outside of the warehouse management tasks.
"Labor management has been about after-the-fact reporting—how many orders did we pick per person," says Klappich. "There's nothing wrong with that, but those results don't tell you what you need to do for the upcoming back-to-school or holiday rush period."
When you fold WMS and LMS together, however, warehouse managers can do a better job of predicting upcoming rushes, slow periods, and other events that could affect labor decisions. Say the WMS shows that 25 tractor trailers will be arriving for loading/unloading the following morning, and that later the same day a large number of packaged orders will need to be shipped out.
"Wouldn't it be nice to know in advance that the morning's workforce could be allocated to the packing area in the afternoon?" Klappich asks. "Most managers handle those decisions manually, and usually find out that there's a problem when it's already too late to be proactive about it."
2. As an analytics tool. With more companies interested in using analytics and metrics to make better decisions, it makes sense for WMS to serve as a predictive and prescriptive analytical tool.
Chock full of historical information about dock scheduling and usage, for example, WMS can help logistics managers "do a more effective job of managing inbound and outbound trailers as they come in and out of the warehouse," says Klappich, who sees North American and Western European shippers leading the charge in this area right now.
3. To support the omni-channel trend. In most cases, the need for warehouse-oriented analytics is being driven by the growth of omni-channel distribution, says Klappich, who points to Manhattan as one WMS vendor that's made strides in this area. "Over the last few years, Manhattan has focused on the exploding demand for omni-channel," he notes, adding that an increasing number of C-level executives are warming up to the idea of investing in WMS based specifically on how well the software supports omni-channel.
"Three years ago, these projects were getting shot down on the funding side because there were other priorities to worry about," says Klappich. "Now, with issues like agility and adaptability becoming major issues for omni-channel shippers, and because the trend is advancing so quickly, we're seeing more companies move from rudimentary systems to full-blown WMS."
4. As a mobile information tool. With today's workplaces becoming more and more mobile in nature, WMS vendors are stepping up to the plate and developing solutions that support this movement. As he looks around the warehouse management landscape, Clint Reiser, research analyst with Boston-based ARC Advisory Group, singles out Manhattan's mobile distribution management application as one of the more significant mobile advancements of the last year.
Using the application, shippers can get real-time feeds from their WMS and LMS. Warehouse managers can then act on that information as needed, and right from their smartphones or tablets. "It's designed for a warehouse manager who wants quick views from both systems," says Reiser, "and it allows the manager to view data, click on it, drill down, see the tasks and individuals, and track their progress."
5. For directed putaway and replenishment. Fearful that their data may not be accurate enough to support future decisions, some shippers opt to "turn off" their WMS' directed putaway and replenishment capabilities. This is a big mistake, says Norm Saenz, managing director at supply chain engineering and consultancy firm St. Onge.
"I've worked with companies that didn't want their WMS doing directed putaway because they felt the system didn't know the size of their products or their locations," says Saenz. "It was because they hadn't gone through the effort of defining those parameters for the directed putaway to be accurate."
The same scenario applies for replenishment, which also can't be handled automatically if the system doesn't contain the right information. "The whole data component of the WMS relies on accurate information," says Saenz. "Without it, the system can't make smart decisions for you."
6. To enhance warehouse automation. Driven largely by the growth in omni-channel, today's warehouses are more automated than they've ever been in the past. Bob Hood, a principal at consulting firm Capgemini, says WMS is particularly well positioned to help warehouse and distribution center (DC) managers achieve their automation goals while also supporting the growing omni-channel distribution movement.
"We're definitely seeing an uptick in the level of automation that warehouses are adopting," says Hood, who expects more shippers to discard their proprietary, customized, age-old warehouse management systems in favor of newer options over the next few years.
This, in turn, will virtually ensure a higher level of automation within the warehouse or DC. "Just the act of fulfilling e-commerce orders alone requires different operating models within the DC, and that's causing shippers to up their levels of automation and eke more capacity out of their existing facilities," adds Hood.
7. For better workforce optimization. Let's face it, warehouse and DC work can be pretty dirty and rigorous. With more than 78 million Baby Boomers heading into retirement and younger workers equipped with a healthy pool of jobs to choose from, warehouse managers need to be able to attract qualified, stable workforces.
And while a WMS may not appear to be a workforce optimization tool from the outside, Hood says that such systems can go a long way in helping shippers keep their DCs running smoothly.
"Warehouse work is hard work," says Hood, who worked recently with a firm in Southern California that was having a difficult time maintaining a stable workforce. "They're looking at further optimizing their WMS in order to be able to do more with the same level of human labor," says Hood. "Through automation, they may be able to mitigate that problem, even in a tight labor market."
June 15, 2016
About the Author
Bridget McCrea, Editor Bridget McCrea is a Contributing Editor for Logistics Management based in Clearwater, Fla. She has covered the transportation and supply chain space since 1996 and has covered all aspects of the industry for Logistics Management and Supply Chain Management Review. She can be reached at
, or on Twitter
Subscribe to Logistics Management Magazine!
Subscribe today. It's FREE!
Get timely insider information that you can use to better manage your entire logistics operation.


Latest Whitepaper

Finding the Right Fit for New Technologies and Automation in your Warehouse/DC
In this white paper, Canon Solutions explores the challenges companies face when automating, explain why there's no need to rip-and-replace existing systems
Download Today!
From the July 2019 Logistics Management Magazine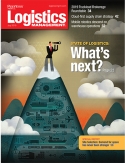 2019 State of Logistics: Third-party logistics (3PL) providers
2019 State of Logistics: Air cargo
View More From this Issue
Latest Webcast
Leveraging 3PLs for Future Shipper Gains
In this webcast, Evan Armstrong, president of Armstrong & Associates offers logistics and supply chain managers the industry's most comprehensive overview of the state of domestic and global third-party logistics arena.
Register Today!