Supply chain software basics: The enterprise level
Enterprise-level supply chain software solutions give an operation the tools to create and test effective business strategies and plan ahead by incorporating commands for necessary preemptive strikes.

Latest News
Report: Pallet wrap sales growing steadily
U.S. West Coast ports warned about "complacency"
Dematic names Bernard Biolchini EVP and CEO, Americas
Logisticians, carriers fret over U.S. economy's future
U.S.-bound shipments trend down in June, reports Panjiva
More News
Latest Resource
Rules of Origin Really Do Rule
Inputs Make the Outputs: How Rules of Origin Really Do Rule
All Resources
By
Lorie King Rogers
·
November 1, 2011
Today's supply chain software solutions are enhancing every link in the supply chain, enabling real-time communication and effective management between an operation's internal departments and its global trading partners. As the technology evolves, so does the seamless sharing of information.
Software applications are moving away from stand-alone applications to systems that are working together and using common data to effectively plan across the broad enterprise. Today's software provides an end-to-end process, says Richard Kirker, SAP's SCM solution management and solution owner for warehousing.
From the end users' perspective, as technology evolves and becomes more affordable, organizations that didn't think they could afford it are taking advantage of the optimization offered by the common data and architecture that today's solutions offer.
From the suppliers' perspective, the goal is to keep up with end users' demands and market-driven changes.
"As businesses look to refresh their offerings, software has to keep up," says Jennifer Sherman, senior director of logistics product strategy for Oracle. As a result, software applications at all levels have an increased depth of capacity.

Software can be organized into two basic categories:
applications that plan and manage processes and operations across an enterprise, also known as supply chain management applications, and

solutions that execute those plans inside the four walls of a facility, or supply chain execution solutions.
This equipment report looks at supply chain management (SCM) software and how these applications are being used in today's supply chain operations.
Enterprise resource planning
A packaged enterprise resource planning (ERP) system is a business software application that resides at the corporate level and serves as the information backbone, or the system of record, of the supply chain. It allows a company to:

automate and integrate its business processes,

share common data across the entire enterprise, and

produce and access real-time information.
Typically, the core business functions managed by the ERP involve the manufacturing, distribution and financial needs of a company, including cost accounting, inventory at a high level, purchasing, customer orders, invoicing, vendor invoices and payments, customer receipt processing, general ledger and shop floor features.
The data created by those processes is maintained in a common file and in a common language that is understood by all the other systems in an enterprise, whether those systems are part of an integrated supply chain suite or linked together through interfaces.
In the past, no one single vendor had all the parts to manage the entire supply chain. The software market has matured and has become a platform in itself. While there is still a gap between the robust functionality provided by best-of-breed applications, ERP suppliers have closed the gap in many applications. As a result, many customers can go to a single vendor for a set of products that work together to run all areas of their business. That is especially true for customers running relatively straight-forward operations.
Order management system
Filling an order begins with capturing order information from the customer. The order management system (OMS) may receive orders by fax, phone, EDI (electronic data interchange) or on the Web.
Because there are a number of order and delivery scenarios, the OMS has to be heterogeneous with the functionality to deal with multi-channel capture and multi-channel fulfillment channels. Multi-enterprise OMS sits above the ERP and presents one face to the customer: Place an order and the OMS will parse out the different line items of an order to the right division, the right manufacturing plant, the right third-party distributor or the right warehouse.
Supply chain planning
Supply chain planning (SCP) software, which also resides at the corporate level, is an umbrella technology that enables an operation to perform advanced planning and scheduling. It may also be used to handle information about orders collected by the systems of record and generate plans to accomplish the work.
SCP applications can be configured any which way. During the programming process, an operation's business rules are entered into the system. While there can be literally thousands of variables incorporated, these business rules are what optimize the process.
The SCP system usually resides at the corporate level, where it has a broad view of the orders to be manufactured, picked and shipped. It also sees constraints or limitations on the availability of capacity, materials, equipment and personnel. With this information, it determines the ideal way to schedule an order and plan for the future. In planning, SCP software may even determine that an order cannot be filled profitably and therefore should not be scheduled at all.
While there are many planning components, most SCP systems approach a problem from one of three angles:
Strategic planning looks at capital asset allocation as well as market and resourcing decisions like a warehouse location that best serves a particular market.

Tactical planning looks at an operation's resources and customer demands to determine what will produce the most profit for the company.

Operational planning looks at the supply chain plan developed by the strategic and tactical planning programs and creates an operational path to execute those plans. For example, the operational plan might outline a weekly production schedule then go a step further and break down the schedule by the day, hour, minute or the second.
Multi-echelon planning
Multi-echelon planning is an application used to optimize the amount and positioning of inventory across the supply chain. These planning solutions have matured and can add significant value to an operation, says Karin Bursa, vice president of marketing for Logility.
The multi-echelon solution evaluates the entire network and helps make decisions about the best quantity of product to keep at the most desirable location, explains Bursa. "Instead of spreading inventory like peanut butter, the multi-echelon solution enables you to spread inventory with precision across the network and better align with customer service goals."
For example, this solution can simultaneously consider inventory at a number of DCs, supplier warehouses or inventory in route from a manufacturer or distributor. It can also consider product still in the manufacturing phase, evaluate your work-in-process materials and develop a postponement strategy for the operation, if necessary.
A postponement strategy, which can be as simple as packaging decisions for different customers, allows a company to bring working capital down significantly and accelerate total inventory turns, Bursa adds.
Supply chain collaboration
Supply chain collaboration systems go hand-in-hand with planning. In a global supply chain, where every participant has its own planning and execution systems, a collaboration platform enables all players outside the enterprise to communicate as if they were part of it. Collaboration is especially useful for companies with complex contract manufacturing and distribution requirements.
Inside the enterprise, these systems provide tools to share a common view, says Scott Fenwick, senior director of product strategy for Manhattan Associates. "Internally focused, collaborative tools bring together all sectors of the supply chain. "The idea is to collaborate and work against the same plan. All points have the information to effectively plan and execute the sales and operations planning (S&OP) sharing projected needs and plans internally to ensure that all departments are aligned and no one area is making decisions that are sub-optimal."
During the business process, key stake holders can connect to review the plan and reevaluate the strategy. Once a plan has been created to fill an order, and the resources needed to execute that plan have been identified, the requirements are made available across the supply chain through the collaboration platform. Each supplier is asked to commit to providing the parts needed within the established timeframe. If a supplier cannot commit, that information can be fed back into a planning system to create an alternative.
As the plan unfolds, the collaboration system can monitor the progress using event management and serve as a repository of performance data for future analysis.
Supply chain optimization and network design
Supply chain optimization and network design planning solutions are like having a window into the future. These tools can model and simulate complex supply chains so that decision-makers can decide the optimal way to source materials, locate manufacturing plants and distribution centers, and set up transportation lanes.
Once the network design is in place, the system can run what-if scenarios to determine how the supply chain will perform when business changes occur. It then looks for opportunities to optimize the current network.
Every step in the enterprise has the same goals–low cost, high quality and visibility, says SAP's Kirker. Success is achieved when the final goals in each step are met, and software enables that achievement.

click here to download PDF article
February 15, 2012
About the Author
Lorie King Rogers Lorie King Rogers, associate editor, joined Modern in 2009 after working as a freelance writer for the Casebook issue and show daily at tradeshows. A graduate of Emerson College, she has also worked as an editor on Stock Car Racing Magazine.
Subscribe to Logistics Management Magazine!
Subscribe today. It's FREE!
Get timely insider information that you can use to better manage your entire logistics operation.


Latest Whitepaper
Rules of Origin Really Do Rule
Inputs Make the Outputs: How Rules of Origin Really Do Rule
Download Today!
From the July 2019 Logistics Management Magazine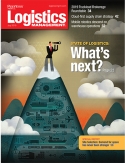 2019 State of Logistics: Third-party logistics (3PL) providers
2019 State of Logistics: Air cargo
View More From this Issue
Latest Webcast
Leveraging 3PLs for Future Shipper Gains
In this webcast, Evan Armstrong, president of Armstrong & Associates offers logistics and supply chain managers the industry's most comprehensive overview of the state of domestic and global third-party logistics arena.
Register Today!
У нашей фирмы нужный сайт про направление видеодомофон
https://sledoc.com.ua/domofony/videodomofon-kupit-kiev/