State of WMS: Upgrade Time
According to our 2010 Software User survey, nearly half of all logistics operations using a WMS are looking to upgrade over the next 12 months. Our technology correspondent explains why and then introduces us to a shipper that's on the brink of revolutionizing its warehouse operations.

Latest News
Trump administration working to relax truck safety standards
U.S. rail carload and intermodal volumes dip for week ending July 6, says AAR
Other Voices: 5 steps to integrate PFEP software with PLM and ERP to accelerate product launches
Report: Molded wood pallets sales on an upswing
Indiana University Health builds a supply chain (and a distribution center)
More News
Latest Resource
Finding the Right Fit for New Technologies and Automation in your Warehouse/DC

In this white paper, Canon Solutions explores the challenges companies face when automating, explain why there's no need to rip-and-replace existing systems
All Resources
By
Bridget McCrea, Editor
·
June 1, 2010
The grandfather of the supply chain software sector, the venerable warehouse management system (WMS), held on to the top spot in its class last year. Logistics Management's 2010 Software User Survey revealed that these useful systems continued to gain ground in 2009 and will penetrate the market even more this year despite the continuing economic woes being reported by many of its traditional users.
Our survey told us that WMS is being utilized by 53 percent of responding supply chain and logistics managers, while 27 percent report that they plan to upgrade or buy new systems this year. Of those shippers in the shopping mode, 38 percent are currently evaluating vendors, 10 percent are actually in the process of selecting a vendor, and 19 percent are already in the midst of making the purchase.
With WMS standing out as one of the most mature sectors of the supply chain software market, it stands to reason that the top market driver this year is the fundamental need to upgrade an existing system. Other drivers, according to the LM survey, include the need for improved real-time control, inventory deployment, label printing, and labor management.
Greg Aimi, research director with AMR Research in Boston, validates these findings, saying that his firm's research pinpoints WMS as a stable market, despite the economic downturn. "WMS is in a changeover cycle right now, being that many solutions were put in place in the mid to late 1990s," says Aimi. "These applications typically have a 10-year to 15-year lifecycle, so we're at the point where many shippers are looking to upgrade and replace their antiquated solutions."
Aimi also points to an increased interest in network design—the attempt to figure out optimal inventory placement within the four walls of the warehouse—with driving some of the interest in WMS. Add offshore manufacturing and demand-driven inventory to the mix, says Aimi, and the result is a very different supply chain than the one most shippers were using 15 years ago. "That's lead a lot of companies to buy a new WMS that can handle those changes," says Aimi.
The recession has also affected the WMS space, where Aimi is seeing frugal shippers outsourcing their warehouse and distribution activities to third-party logistics providers (3PLs) in an effort to save money and resources. Those 3PLs now need robust WMS capabilities to handle the increased workload; and, in turn, are helping to drive sales in the space. "As companies have downsized and gotten rid of staff, they're looking more and more at outside parties that specialize in warehouse and distribution," says Aimi, who has seen numerous 3PLs migrate over from in-house, legacy-built applications to off-the-shelf software packages. "We're seeing the 3PLs partnering with the WMS vendors to add more software as they take on new clients," he adds.
Market drivers
Robert Hood, senior manager at supply chain consulting firm Capgemini, says a lot has happened since those initial WMS installations were put into place, and the systems available on today's market are much more sophisticated than those original solutions. "They're very alluring for shippers in search of advanced capabilities that their previous solutions didn't provide," says Hood.
Like Aimi, Hood says the highest amount of new activity involves 3PLs that are striving to meet their own customers' specific WMS requirements. To answer the call, many 3PLs are using multiple WMS installations.
The variety is mainly due to the inheritance of client systems, or the purchase of specialized, best-of-breed solutions from vendors like Manhattan or Red Prairie. By choosing these systems over those offered by ERPs, for example, shippers gain expanded software functionality and expertise that larger providers can't always provide. According to Hood, obsolescence is also playing a role in the WMS sector's growth. He says that happens when vendors consolidate or close up shop, or when older systems become too expensive to warrant updating. The trend is forcing some shippers to upgrade or purchase new systems, or risk losing both support and capabilities. "In some cases there's no opportunity to go back to the existing provider," says Hood, "so companies are forced to take a look at what's available now and replace what they've been using with something new."
Even with the positive momentum caused by these top WMS drivers, the sector can't escape the negative impact of the global downturn. Finalizing a WMS market report at press time, Steve Banker, director of supply chain solutions for analyst firm ARC Advisory Group, hinted that revenues for smaller WMS vendors were down by 20 percent so far in 2010 compared to 2009, with larger providers feeling a smaller pinch.
"There are upgrades going on, but there's still less activity than last year," says Banker, whose own research reveals that most vendors think the worst of the recession is behind them. "They tell me that the project pipeline is improving, and there are new deals out there."
Hood expects slow, steady improvement in the overall supply chain software market in 2010, with WMS benefitting from that rising tide. He expects some vendor consolidation to take place, but says most shippers will stick with one of two schools of thought: Go to ERP providers like Oracle or SAP for comprehensive solutions that include WMS, or take the best-of-breed route with companies like Manhattan or Red Prairie.
Expect the best-of-breeds to expand their footprints in the market and offer even more comprehensive supply chain solutions, says Hood, in an effort to go head-to-head with the ERP providers. "The ERPs are becoming one-stop-shops where companies can get it all," says Hood. "This wasn't always a problem for the best-of-breeds, but SAP and Oracle have enhanced their capabilities and offer more complexity and depth of functionality that shippers are looking for from their WMS."
However, the question remains: Are shippers really maximizing the full capabilities of their WMS once the systems are in place, or are they just scratching the surface?
"Like any piece of software, WMS has a lot more functionality than what's actually being used," says Banker, who sees the rush to install and implement the systems as a primary driver of that trend. "Companies want the system in on time and on budget, so they simplify things and never come back to see what more their systems can be doing."
Half Price Books: Kissing manual systems good-bye
One company that's not rushing into anything is Dallas-based Half Price Books. The company has taken plenty of time to select the right vendor and even push its rollout date back three months to ensure a smoother implementation.
This family-run firm posted growth—sales were up 7 percent in 2009 over 2008—during one of the nation's worst recessions. And and when it rolls out its new WMS from Manhattan Associates in May, the company says it plans to take full advantage of all of the system's capabilities. In fact, the discount book retailer—which previously relied on a manual warehousing system—has certainly taken its time with the process, which started with a Request for Proposal sent out to multiple WMS vendors in 2009. "We used a lot of different filters to get it down to three vendor options," recalls Eric James, the bookseller's distribution manager.
James says the company's top criteria included a system that would work on a .NET platform, a vendor that was familiar with retailing, and a robust customer support network. It also had to be scalable and able to manage the warehousing activities for a company that's nearly doubled in size from to 109 stores, up from 60 in 1990.
Half Price Books has stores in 16 states, with each location carrying a variety of new and used books, music, movies, and games. The company continues to grow, having recently opened new stores in the Chicago area, Omaha, Neb., and Oklahoma City. The firm buys and sells "anything printed or recorded except yesterday's newspaper," according to James. "Preserving and recycling resources and entertainment of every form is our business."
The firm's new WMS will manage its traditional, fulfillment-type warehouse from a wholesale perspective, says James, while also managing the company's retail distribution. That distribution network includes unique inventory for each of its locations. James says that the WMS will also handle the "Big Kahuna" of the firm's supply chain operation, its assortment process. Using that process, Half Price Books purchases tractor-trailer loads of publishers' returns, sight and condition unseen.
"We have very little invoice or manifest detail for these shipments," James explains, "but as we process them we need to collect the individual item data and the depth of quantity for all of those items."
With the help of its WMS, Half Price Books will be able to gain visibility of those shipments, make intelligent distribution decisions, and track the inventory at the item level across the supply chain. "We have no idea what individual SKUs are in those shipments, but we have to be able to collect that data and automate it quickly," says James. "We've never been able to do that before."
Half Price Books will also be using its WMS to manage a complex processing system based on the individual inventory requirements of each store location, where inventory visibility is critical to purchasing decisions. Also crucial is the handling of publisher returns, damaged merchandise, and other unique items that can quickly choke up an inefficient warehousing system.
James sees the WMS as an ultimate facilitator for Half Price Books' inventory and fulfillment challenges, and calls it a "building block for other systems to tie into." He expects proper allocation of inventory, access to inventory data and reports, and improved shipment visibility to be the top benefits provided by the WMS.
"We have a vast inventory, but sometimes we can't see it," says James. "Through this automated system we'll have the hard data we need to be able to make better purchase decisions, allocate inventory, and price items correctly. That will translate into streamlined processes across our entire supply chain."
February 21, 2012
About the Author
Bridget McCrea, Editor Bridget McCrea is a Contributing Editor for Logistics Management based in Clearwater, Fla. She has covered the transportation and supply chain space since 1996 and has covered all aspects of the industry for Logistics Management and Supply Chain Management Review. She can be reached at
, or on Twitter
Subscribe to Logistics Management Magazine!
Subscribe today. It's FREE!
Get timely insider information that you can use to better manage your entire logistics operation.


Latest Whitepaper

Finding the Right Fit for New Technologies and Automation in your Warehouse/DC
In this white paper, Canon Solutions explores the challenges companies face when automating, explain why there's no need to rip-and-replace existing systems
Download Today!
From the July 2019 Logistics Management Magazine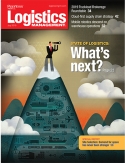 2019 State of Logistics: Third-party logistics (3PL) providers
2019 State of Logistics: Air cargo
View More From this Issue
Latest Webcast
Leveraging 3PLs for Future Shipper Gains
In this webcast, Evan Armstrong, president of Armstrong & Associates offers logistics and supply chain managers the industry's most comprehensive overview of the state of domestic and global third-party logistics arena.
Register Today!