State of Mobility: Part of the Playbook
By taking the process to the product, mobility enables a more streamlined, more accurate and faster approach to warehouse and DC management in today's e-commerce age.

Technology in the News
Supply Chain Management in the Cloud
Supply Chain's Cloud-first Strategy
Making the Case for Using a Transportation Management System for Parcel Shipping
XPO cites steady adoption of Drive XPO carrier app
Kenco Logistics plans to open up dedicated physical warehouse space focused on innovation
More Technology News
Technology Resource
Supply Chain Management in the Cloud
Download this whitepaper to understand the unique risks associated with Supply Chain Management with the cloud.
All Resources
By
Bridget McCrea, Editor
·
January 31, 2017
Intent on improving real-time operations transparency, making better and faster logistics management decisions, speeding up order processing and gaining better control over their operations, a growing number of logistics operations are implementing mobility solutions within the four walls of their warehouses and DCs.
Using handheld mobile devices, vehicle-mounted devices, ruggedized mobile computing solutions and voice solutions, those forward-looking logistics operations are able to better track the productivity of individuals or groups, produce audit trails for improved accuracy and accountability, and streamline inventory management as well as inbound/outbound materials processing.
"We're definitely seeing a more widespread adoption of mobile computing in the warehouse right now," says , senior consultant at the "Whereas 20 years ago integrated scanners and radio frequency [RF] devices were considered 'new,' more and more companies are getting away from fixed workstations, using voice, and going to more mobile solutions."
The benefits associated with these moves are well documented and recognized. Called upon to orchestrate the movement of inbound freight into the warehouse, for example, mobile devices can make or change dock door assignments on a real-time, mobile-enabled basis—that way, employees spend less time waiting for vehicles to show up at the receiving dock.
And when mobile devices can quickly suggest suitable inbound shipment assignments, they can then help reduce the time and effort required to match inbound and outbound cross-docking shipments. Over the next few pages we'll explore the inroads being made in the mobile warehouse, discuss the key mobility components that go into these facilities and provide some insight into what the warehouse of the future might look like.
You've come a long way, baby
When thinks back to the 1980s, he remembers just how enthused companies were to be able to integrate RF technologies into their warehouses and DCs. And while there were some kinks to work through with that particular technology at the time, this research vice president for says that those early "wins" helped shaped the now-mature warehouse mobility environment.
"To be frank, mobility is ubiquitous in the warehouse setting at this point," says Klappich. "All warehouse management systems [WMS] vendors support traditional, ruggedized, RF-based devices. As a result, the early barriers we dealt with on the mobility front are now gone."
Globally, Klappich says that one of the more interesting mobility trends is the fact that emerging economies have embraced these state-of-the-art technologies on a widespread basis. "Workforces around the world are using mobile devices, and many of the emerging economies don't even use landlines anymore—so moving to mobile has been even easier for them," Klappich observes. "As a result, we're seeing very rapid ramp-ups in terms of companies getting workers to use mobile solutions in the warehouse."
Helping to drive some of the growth in warehouse and DC mobility, says Klappich, is the introduction of consumer-grade devices that are capable of operating in—and standing up to the rigors of—today's work environment. In other words, a logistics operation doesn't necessarily have to invest in a bevy of ruggedized devices, tablets and handhelds to be able to gain global connectivity within its warehouses.
"There's really no reason why that company can't use less expensive, consumer-grade devices," says Klappich. "We've yet to see any large upticks in the usage of these devices, namely because of the advantages that ruggedized devices offer within the industrial setting."
Working without wires
In surveying the modern-day warehouse, Klappich says that he's seeing more mobility solutions being developed with the warehouse supervisor and logistics manager in mind.
No longer tied to a desk, these employees can be out on the warehouse or DC floor, armed with a tablet or other mobile device, pushing out alerts, reviewing analytics, keeping an eye on dashboards—and keeping their fingers on the pulse of the facility.
"Anything they used to be able to do in their offices they can now do while they're out on the floor," says Klappich, who is also seeing more interest in voice-based solutions that allow employees to work on a largely "hands-free" basis when fulfilling orders.
More expensive than traditional RF solutions, voice offers a more adaptive and less expensive mechanism than, say, an automated solution. Interest in voice, wearables, and products like Google Glass is largely being driven by the growth in smaller, high-volume e-commerce orders, says Klappich, and the realization that traditional picking and packing methods don't always cut it when order velocities and volumes reach a certain level.
Looking ahead, Klappich expects the current level of warehouse mobility to continue and even pick up slightly as more shippers work through the challenges associated with e-commerce, omni-channel and multi-channel distribution. "We've all received boxes that were packed poorly, or the one big box that's full of peanuts and one single memory card stuck in the middle of it," says Klappich. "Going forward, we'll start to see mobility applied to very specific use cases, versus just heavy-duty transactional use."
Seasonal support
In a recent "Logistics Viewpoints" post, ARC Advisory Group's Clint Reiser discussed Singapore Post's (SingPost) new e-commerce logistics solution integration. SingPost is a third-party logistics provider that recently built an e-commerce logistics hub to support its growing direct-to-consumer retail channel.
The company is using s WMS to support its logistics centers, where Android handhelds are used to improve operational efficiencies and quickly onboard temporary workers—particularly during peak times—at a fairly low per-device cost.
Reiser compares this development to Manhattan Associates' introduction of a mobile app that runs on iOS and Android, thus giving shippers more flexibility in terms of the actual device that they choose to use out on the warehouse or DC floor. "These mobility developments are mainly geared toward getting seasonal or temporary workers geared up and ready to handle peaks in order volume quickly and without much training," he says.
Reiser adds that the drivers behind this trend are straightforward: Pretty much everyone already knows how to use a smartphone, and the cost-per-device is cheaper than industrial-grade, ruggedized options. "On the negative side, smartphones are more vulnerable to damage, and I'm not sure how accurate and fast these devices' scanning and processing capabilities are," he points out. "In the end, it's really more about getting up and running quickly and saving some money."
Taking the process to the product
As more shippers explore their options in the world of mobility, and as the challenges associated with e-commerce and omni-channel continue to mount, Derewecki envisions a time where companies strive for a completely hands-free, ergonomically-friendly work environment. He also expects more shippers to invest in equipment like mobile printers, which—by allowing employees to print labels where they're working, versus having to walk back to a central location to do so—help cut down on the time it takes to fulfill an order.
"The printer could be mounted onto a cart and used as a mobile workstation, or maybe the printer is hanging off someone's tool belt and controlled using a wristband device," says Derewecki. "Whatever the specific format is, the ultimate focus will be on taking the process to the product, versus bringing materials back to a central processing workstation to do the work."
In assessing just how far warehouse mobility and connectivity has come over the last 20 years—and how far it still has to go before shippers can truly say they're working "without wires"—Derewecki says that while the progress has been substantial, there's still more work to be done. "Focused on improving labor productivity, the most aggressive companies are already seeing the results of their investments in mobility," he says, "with many already integrating voice operations with scanning and printing to achieve operational improvements."
February 2, 2017
About the Author
Bridget McCrea, Editor Bridget McCrea is a Contributing Editor for Logistics Management based in Clearwater, Fla. She has covered the transportation and supply chain space since 1996 and has covered all aspects of the industry for Logistics Management and Supply Chain Management Review. She can be reached at
, or on Twitter
Subscribe to Logistics Management Magazine!
Subscribe today. It's FREE!
Get timely insider information that you can use to better manage your entire logistics operation.


Latest Whitepaper
Rules of Origin Really Do Rule
Inputs Make the Outputs: How Rules of Origin Really Do Rule
Download Today!
From the July 2019 Logistics Management Magazine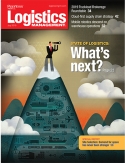 2019 State of Logistics: Third-party logistics (3PL) providers
2019 State of Logistics: Air cargo
View More From this Issue
Latest Webcast
Leveraging 3PLs for Future Shipper Gains
In this webcast, Evan Armstrong, president of Armstrong & Associates offers logistics and supply chain managers the industry's most comprehensive overview of the state of domestic and global third-party logistics arena.
Register Today!