State of Cloud Computing: Sky's the limit
Cloud-based applications continue to penetrate the supply chain management (SCM) software space as more operations are eager to embrace the advantages it maintains over traditional options. We explore how far shippers have gone into the Cloud and reveal several limitations that could hinder the flight.

Technology in the News
Supply Chain Management in the Cloud
Supply Chain's Cloud-first Strategy
Making the Case for Using a Transportation Management System for Parcel Shipping
XPO cites steady adoption of Drive XPO carrier app
Kenco Logistics plans to open up dedicated physical warehouse space focused on innovation
More Technology News
Technology Resource
Supply Chain Management in the Cloud
Download this whitepaper to understand the unique risks associated with Supply Chain Management with the cloud.
All Resources
By
Bridget McCrea, Editor
·
October 1, 2013
Drawn in by cloud computing's low startup fees, cost efficiencies, virtually unlimited storage space, and the potential to reduce IT implementation and support costs, a growing number of companies are opting out of purchase-and-install software options and instead implementing cloud-based applications that allow them to share and access both software and information via the web.
Instead of using their own physical servers or hard drives to store the software and information, logistics professionals can now "subscribe" to software services that are housed and readily accessible online in a 24/7 format.
Frequently confused with on-demand or hosted solutions, cloud applications are delivered as a utility and outside of the shipper's firewall via a service like Amazon EC2. Another point of confusion involves Software as a Service (SaaS), where applications like TMS and WMS are delivered in a multi-tenant environment and hosted at the provider's datacenter, via a third-party host, or through a cloud computing provider.
Cloud computing has been gaining ground in the supply chain management (SCM) software space over the last few years.
According to the Logistics Management 2013 Technology Usage Study, 18 percent of responding logistics professionals say they've already adopted cloud-based solutions, 37 percent are evaluating them, 13 percent don't see cloud-based solutions as an option, and another 26 percent say they're not sure of their company's interest in cloud computing.
According to the survey, key concerns that shippers cite in relation to cloud computing include security, system reliability, privacy, and backup plans. Those companies that are strongly considering cloud solutions say ability to access from anywhere, bandwidth, and capacity, and the fact that current SCM software providers are swiftly moving in that direction, are driving their decisions.
Over the next few pages we'll explore the depth of cloud computing's mark on the SCM space, discuss the limitations of this software delivery method, and hear from an equipment manufacturer that's bent on getting 100 percent of its customers using the cloud as soon as possible.
Surpassing growth expectations
There's no doubt that shipper interest in cloud-based applications is on the rise. By 2016, analysts at Gartner predict that roughly 40 percent of supply chain applications will be delivered in the "combined cloud," which encompasses public cloud (where multiple users share resources), private cloud (for a single company), and multi-tenant SaaS (the application serves multiple businesses and users) delivery methods.
Dwight Klappich, Gartner's research vice president, says certain sectors of the supply chain space are already surpassing that 40 percent target. More than 50 percent of new sourcing and procurement applications, transportation managements systems (TMS), and , for example, are currently being delivered in the cloud, he says.
Klappich says both and select supply chain planning (SCP) applications are gaining traction in the cloud, albeit not at the same rate as TMS and GTM. "We're beginning to see more interest and acceleration in the cloud for WMS and SCP," he explains, "but their numbers trail those of other supply chain applications."
In most cases, Klappich says that the reluctance to move into the cloud comes down to a single question: Is there a real advantage to running the application offsite versus in-house? "When the answer is no, shippers generally don't make the move into the cloud," says Klappich.
However, when TMS is moved into the cloud, shippers gain the advantages of being able to collaborate and interact with suppliers, carriers, and other key service entities in a 24/7 environment online. And when GTMs are cloud-based, solutions providers can easily and quickly push out the most updated trade compliance and regulatory parameters to a shipper's global locations—all via the web. "The advantages are pretty clear," Klappich says, "and that's why applications like TMS and GTM took off faster in the cloud."
Steve Banker, director of supply chain solutions for ARC Advisory Group, says that in some cases, shippers have had no choice but to move into the cloud. In the supply chain planning market, for instance, vendors like Aspen Technology and Kinaxis, for example, don't offer traditional software delivery models.
The fact that choices were limited helped push up cloud adoption numbers in those sectors and also helped buoy cloud computing as a whole. In the TMS and GTM software sectors, Banker says that the architectural advantages of moving into the public cloud, namely for the sake of collaboration, "simply couldn't be matched by traditional software solutions."

Assessing cloud's limitations
Throughout most of its history, cloud computing has been presented as the "quick and cheap" way to get a new piece of software installed and operating. Not so fast, says Klappich, who sees "quick implementation" cloud sales pitches as misleading.
"Some vendors are overselling the fast implementation aspect of the cloud," says Klappich. "Cloud users do gain some advantages in this area, but nowhere as great as some of the vendors have stated. That's caused issues for companies that thought they'd put software in the cloud today and be using it tomorrow."
Keep in mind that moving into the cloud doesn't necessarily change the implementation process itself. And if it does, the gains may come in the 10 percent to 20 percent range—as in a cloud implementation is 10 percent to 20 percent faster than traditional purchase-and-install. A new TMS user, for example, still has to load all of its carrier rates and configure the new system to integrate with its transportation networt regardless of the fact that the application is cloud-based.
Cloud computing's limitations don't end there. Now that the delivery method has had some time to create a track record for itself, Klappich says a few more issues have been brought to his attention. For starters, he compares the cloud versus the purchase-and-install decision to the "lease versus buy" choice that new car buyers must make.
"A car is cheaper to lease if you're going to keep it for two years, but if you're going to keep the auto for 10 years then it makes sense to buy it," says Klappich. "The same logic can be applied with SCM software."
Infrastructure management issues also come into play when the cloud is involved. What sounded like a good idea upfront—offloading server space and support to a third party—hasn't panned out for all shippers. "When you select a cloud-based option you have to go into it with your eyes open," says Klappich, "and recognize that you're actually relinquishing control over the infrastructure management and application support."
One way to avoid or at least manage these challenges is by biting off small chunks of the cloud—rather than trying to do department- or enterprise-wide software rollouts. "Figure out what you have the bandwidth to handle and then build a roadmap around that," advises Jeff Trino, principal, GTM leader, supply chain technologies at Capgemini.
When working with shippers, for example, Trino focuses on a specific aspect of the firm's business, such as its inbound distribution center network, implements a specific piece of cloud-based software, and then waits for the early successes (or failures) to rear their heads over a six-month period. "Carve out an approach that's realistic for your business and tackle it one piece at a time," he says.
No end in sight
Expect to see more growth ahead for cloud computing in general and for cloud-based solutions in the SCM space. Will it get to the point where more shippers are using cloud than purchase-and-install software? Not anytime soon, says Banker. "The cloud segment continues to grow faster than the traditional software segment, but it's going to be many years before the segment gets bigger than that of the traditional software model," adds Banker.
Trino sees more growth ahead for the cloud and points to companies' desire for faster ROI and shorter IT deployment times as the key drivers going forward. He also expects continued consolidation among cloud providers as large players like Oracle, SAP, and Microsoft continue to build up their own cloud-based SCM offerings. "These companies have the install base," says Trino, "and they're actively looking for acquisition targets to expand in this market."
Klappich, who will be keeping an eye on Gartner's 2016 projection that 50 percent of new software deals will be cloud-based, says the fact that WMS took just five years to mature in the space (compared to 10 years for TMS), is proof that shippers want alternative delivery methods and the benefits that they provide. "We're going to see continued growth in cloud-based SCM, just like we've been observing for a while. At this point there is no end in sight," he says.
Riding the coattails of WMS into the Cloud
If Jim Gaskell had his way, every Crown Equipment Corp. customer would be using the cloud to store, manage, and retrieve information about its material handling equipment. Instead of sending maintenance, transportation, operator, truck, and battery information data to the warehouse or distribution center operation's server via a wireless network, the lift truck's onboard computer would simply ship it off to a web-based platform. Accessible from anywhere and on a 24/7 basis, the information could be shared across the entire enterprise—and not just within a single warehouse.
Gaskell's dream may not be far off. In October, Crown rolled out a cloud-based solution for its Infolink lift truck fleet management system. Hosted on its private cloud system, the solution will help users consolidate their data, house it on the web, and then access it whenever they need it.
Whether logistics professionals choose to embrace the system remains to be seen. According to Gaskell, director of global Crown Insite products, some have voiced trepidation over the security of the information and the fact that they'll be "losing control" of the data that was once stored on their own servers. But Gaskell and his team have an ace in the hole—the fact that more and more companies are using cloud-based warehouse management systems (WMS).
"Quite honestly, if users don't have a problem putting WMS data in the cloud, then they won't have a problem putting their lift truck data there," says Gaskell, who estimates that 10 percent of Crown's customer base is currently using the cloud for lift truck fleet management. "We'll just come in on the coattails of WMS."
Gaskell sees the cloud as particularly relevant for global supply chain organizations that rely on a highly fragmented approach to lift truck fleet management. And while all U.S. operations may be able to use a central company server, locations in Mexico, Latin America, or Europe have to meet different data collection and management rules, and therefore can't always use the domestic infrastructure.
"Customers are telling us that they are challenged in trying to get all of their global data in a central location," says Gaskell. "The cloud solves that problem."
April 7, 2016
About the Author
Bridget McCrea, Editor Bridget McCrea is a Contributing Editor for Logistics Management based in Clearwater, Fla. She has covered the transportation and supply chain space since 1996 and has covered all aspects of the industry for Logistics Management and Supply Chain Management Review. She can be reached at
, or on Twitter
Subscribe to Logistics Management Magazine!
Subscribe today. It's FREE!
Get timely insider information that you can use to better manage your entire logistics operation.


Latest Whitepaper

Finding the Right Fit for New Technologies and Automation in your Warehouse/DC
In this white paper, Canon Solutions explores the challenges companies face when automating, explain why there's no need to rip-and-replace existing systems
Download Today!
From the July 2019 Logistics Management Magazine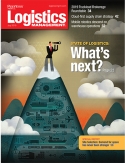 2019 State of Logistics: Third-party logistics (3PL) providers
2019 State of Logistics: Air cargo
View More From this Issue
Latest Webcast
Leveraging 3PLs for Future Shipper Gains
In this webcast, Evan Armstrong, president of Armstrong & Associates offers logistics and supply chain managers the industry's most comprehensive overview of the state of domestic and global third-party logistics arena.
Register Today!