State of Cloud Computing: Defining itself in SCM
We explore the progress supply chain management (SCM) applications are making in the cloud, pinpoint key benefits, attempt to demystify the concerns, and discuss which solutions are helping to solidify cloud delivery in this somewhat reluctant market.

Technology in the News
Supply Chain Management in the Cloud
Supply Chain's Cloud-first Strategy
Making the Case for Using a Transportation Management System for Parcel Shipping
XPO cites steady adoption of Drive XPO carrier app
Kenco Logistics plans to open up dedicated physical warehouse space focused on innovation
More Technology News
Technology Resource
Supply Chain Management in the Cloud
Download this whitepaper to understand the unique risks associated with Supply Chain Management with the cloud.
All Resources
By
Bridget McCrea, Editor
·
October 1, 2014
This year, businesses in the U.S. are expected to spend over $13 billion for cloud computing and managed hosting services, according to Silicon Angle's recent report, 20 Cloud Computing Statistics Every CIO Should Know. The software delivery mechanism, which relies on a network of remote servers hosted on the Internet to store, manage, and process data, is growing exponentially and pushing an increasing number of shippers to consider off-premise application solutions and data storage.
When asked about their use of the cloud within the supply chain management space for Logistics Management's 2014 Software User Study, logistics professionals offered up a mixed bag of responses. Twenty-seven percent of shippers say that they're currently evaluating such options or that they plan to do so within the next 24 months. Twenty-six percent say that they're not sure if their companies are interested in cloud computing, and 24 percent have already adopted such solutions.
However, another 17 percent of shippers checked the "It's not an option for us" box when asked about their cloud computing intentions. Security concerns, privacy issues, system reliability, and data integrity topped the list of cloud-related concerns.
Over the next few pages we'll explore the growth of supply chain management (SCM) solutions in the cloud, pinpoint the key drivers of this trend, attempt to demystify the concerns, and discuss which SCM applications make the most sense for this delivery method.
Plugging partners into the cloud
With more and more users and applications discovering each other in the public cloud, it just makes sense that multiple SCM software solutions would be gaining traction in this setting.
According to Clint Reiser, research analyst with ARC Advisory Group, the two most prominent cloud-based supply chain applications currently using this alternate delivery method are global trade management (GTM) and transportation management systems (TMS). It has long been thought that these two are particularly good matches because they require ongoing import/export, rule/requirement updates (for GTM) and connections with multiple outside partners (TMS).
According to Reiser, the next most popular SCM applications found in the cloud, albeit much further down the list from GTM and TMS, are supply chain planning (SCP) and warehouse management systems (WMS). He says that all four applications have experienced some level of success in the cloud due to the fact that they rely on the "ability to have multiple parties providing information to one another outside of the organization."
Put simply, being able to "plug" outside partners into a web-based solution that's available via a password-protected site on a 24/7 basis has pushed TMS, GTM, SCP, and WMS further into the cloud than any other SCM applications to date.
"Multiple organizations can use cloud-based applications for communicating with one another and for exchanging information," says Reiser. Take GTM, for example. Most shippers use this application for a combination of visibility and event management, says Reiser. Using the software, a shipping firm may receive a pallet of goods, scan it upon receipt at the docks, and then enter more information about the goods as they pass through customs.
Then, when the shipment is loaded, the firm may enter additional information or, in the case of domestic shipments, provide information to a TMS. "This creates an environment of visibility for trading partners," says Reiser, "with the fact that the information is available 24/7 in the cloud adding even more value."
Reiser compares this scenario to a traditional, licensed software structure, where only the company itself has access to its information and data and opts only to share it as necessary. "When you have a core solution that's only being utilized within the four walls of a warehouse, for example, then the extra value that comes from being able to share with your information network is taken away," he adds.
Taking on a life of its own
Chris McDivitt, vice president and supply chain technologies leader for Capgemini North America, says that the cloud makes the most sense for shippers that want to collaborate with outside entities. Along with TMS, he says that sales and operations planning (S&OP) applications—which determine optimum manufacturing output levels—have caught on in the supply chain space.
By implementing these and other applications in the cloud, shippers gain the ability to collaborate on complex problems and make "faster decisions across the customer-supplier network," says McDivitt. "When you're talking about shippers that have hundreds of thousands of trading partners, having a cloud-based application in place helps provide greater visibility and more opportunity to create a real community of shippers, receivers, and service providers."
When using S&OP, for example, McDivitt says that shippers are attempting to make decisions around the balance of demand and supply across both customers and shipping partners. By leveraging the cloud—and by adding web 2.0 tools like social media into the mix—he says that shippers can more effectively communicate and, as such, better attain that delicate demand-and-supply balance.
Despite the obvious benefits of using the cloud for SCM applications, not all shippers are enthused about "opening the doors" to their private data and information to a wider audience. As evidenced by Logistics Management's 2014 Software User Study, there are still companies that are either evaluating their cloud-based options or not interested in the delivery method at all.
For most, the apprehension lies in the thought of sharing data in the public cloud. "The cloud is still new and there have been some pretty well publicized security breaches lately [Target and Home Depot, for example]," says McDivitt. "Because of this, we're still seeing some reluctance around this unproven idea of sharing sensitive and proprietary data online."
Reiser says that reluctance increases when the application in question is, in essence, the backbone for the organization in question. In most cases, shippers are worried about the loss of control that could come when an on-premise solution is replaced by a subscription-based model.
According to Reiser, this can beg the bigger question: We put all of this money into implementing and configuring the system, and now we don't own it anymore? When the mindset falls in this territory, he adds, a cloud-based subscription model can actually be a drawback.

More cloud ahead
With U.S. companies expected to invest billions of dollars in cloud-based software, and with companies like Oracle rolling out cloud versions of their popular TMS applications this year, the likelihood that more shippers will adopt this delivery method is highly likely.
Calling the cloud one of several "disrupters" that are currently affecting the supply chain software space, Gary Hanifan, managing director at Accenture, sees more opportunity ahead for shippers looking to leverage the cloud. "We see the movement to cloud as an important one," says Hanifan, who points to GT Nexus and Kinaxis as two providers that are "appropriately platformed" to gain traction in the cloud SCM space.
ARC's Reiser also sees more potential for growth in the cloud-based SCM space and says WMS will likely be the next application to expand its footprint in this arena. He also expects more companies to offer both on-premise and cloud-based models in order to fulfill their customers' wishes on both fronts.
"If you want your solution in the cloud, then they'll deliver it for you via a subscription basis," says Reiser. "If you want to buy the software upfront, pay for it, and host it yourself, then they'll do that for you too."
Before setting customers up with one delivery method over another, vendors will also run the numbers to help users determine the most economical choice for their operations. "It's basically six of one and a half dozen of another at this point, with shippers looking for break even points and figuring out how much additional economies of scale can be gained by hosting it themselves versus putting it in the cloud," adds Reiser.
With the computing world as a whole moving more and more applications into the cloud, McDivitt says the fact that more supply chain management and planning software solutions will follow suit is inevitable. "There's no doubt we're going to see more and more applications developed around the cloud," says McDivitt, "and across all three supply chain areas—execution,
planning, and management."
June 15, 2016
About the Author
Bridget McCrea, Editor Bridget McCrea is a Contributing Editor for Logistics Management based in Clearwater, Fla. She has covered the transportation and supply chain space since 1996 and has covered all aspects of the industry for Logistics Management and Supply Chain Management Review. She can be reached at
, or on Twitter
Subscribe to Logistics Management Magazine!
Subscribe today. It's FREE!
Get timely insider information that you can use to better manage your entire logistics operation.


Latest Whitepaper

Finding the Right Fit for New Technologies and Automation in your Warehouse/DC
In this white paper, Canon Solutions explores the challenges companies face when automating, explain why there's no need to rip-and-replace existing systems
Download Today!
From the July 2019 Logistics Management Magazine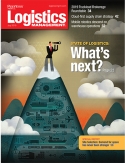 2019 State of Logistics: Third-party logistics (3PL) providers
2019 State of Logistics: Air cargo
View More From this Issue
Latest Webcast
Leveraging 3PLs for Future Shipper Gains
In this webcast, Evan Armstrong, president of Armstrong & Associates offers logistics and supply chain managers the industry's most comprehensive overview of the state of domestic and global third-party logistics arena.
Register Today!