Reverse Logistics Gets Less Reactive
There's a dawning awareness of the importance of a reverse logistics strategy—especially in light of the critical role it now plays in e-commerce. Our experts say that level of thinking will not only help improve customer service, but will contribute significantly to an organization's bottom line.

Logistics in the News
Carrier executives grapple with driver shortage expected to worsen
Panjiva reports gain in July shipments despite trade concerns
July Cass Freight Index Report shows ongoing declines
U.S. rail carload and intermodal units trend down for week ending August 10, says AAR
Create Shipping Efficiencies and Decrease Delivery Costs
More Logistics News
Logistics Resource
Create Shipping Efficiencies and Decrease Delivery Costs
How will your shipping team win during peak season?
All Resources
By
Patrick Burnson, Executive Editor
·
March 1, 2017
As the complexity of supply chain management deepens at the same pace as the growth of e-commerce, logistics professionals now need to realize that a product's journey no longer stops at the consumer's front porch or loading dock. Now, more than ever before, the "U-turn" has to become a vital part of every company's revenue model.
Fortunately, there are scores of third-party logistics providers (3PLs) out there to help shippers more efficiently manage returns, with many more looking to enter the marketplace.
"Thanks to Amazon, Alibaba, and other dynamic e-commerce retailers, we're living in a buy-anywhere, return-anywhere consumer society," observes Evan Armstrong, president of the 3PL analyst and consultancy firm Armstrong & Associates. "It is no longer acceptable to disallow returns if the product wasn't sourced in the United States."
Armstrong says that for 3PLs, e-commerce and the omni-channel retail environment have driven a proliferation of stock keeping units in inventory on the fulfillment side; thus creating a need for well-defined processes for handling reverse logistics and the disposition of returns.
"Third parties such as FedEx Supply Chain [formerly Genco], OHL/Geodis, DHL Supply Chain and XPO have become masters of reverse logistics," notes Armstrong. "In third-party logistics, it's often the 'messy stuff' that contributes greatly to bottom lines, and returns are messy." If handled well, he adds, a good reverse logistics operation can have double the operating margins of an outbound fulfillment operation.
Robert Lieb, Ph.D., a professor of supply chain management at the D'Amore-McKim School of Business at Northeastern University, certainly agrees. However, he notes that simply putting an "e" in the front of a company name doesn't guarantee that it would be either a viable business enterprise or an attractive 3PL customer.
"There is a familiar echo in the marketplace of 'free shipping' and 'free returns,'" says Lieb. "Neither is free. Someone has to absorb those costs." Shippers seeking to contain costs and draft an effective reverse strategy either in-house or with a 3PL are advised to weigh their options on a continual basis, and, of course, study industry trends as they evolve.
Banking on "reverse"
One profoundly straightforward idea—yet one that remains perplexing to a majority of shippers—is to simplify the return logistics process as much as possible. Jeff Burkett, director for Harris Williams & Co., an investment bank specializing in advisory services for middle-market companies, says that his firm's recent research shows that 85% of customers will not do business with a company if they can't receive credit back for a returned item.
"Our reverse logistics research indicates that companies are making the return process as easy as possible to combat this trend, often including clearly labeled instructions and pre-paid packaging slips in the shipment," says Burkett. "While the company has to cover the potential return shipping costs, there are direct benefits implementing a solid reverse approach."
According to Burkett, by increasing customer lifetime value, the company will have better control over the first stage of the returns process. "Providing the return shipping labels ensures that the package is sent to the correct location, as tracking down a package that was sent to the wrong location can be costly," he says. "Additionally, having uniform return labels allows for increased efficiency in processing a return once the items reaches receiving."
As with many aspects of logistics management, the devil is in the details. For example, one of the most critical stages in the reverse process is to examine the package and identify the sender. This includes verifying what goods are included and in what condition.
Finally there's a check to see if the item matches the original purchase. "While this may seem like a simple assembly line, it's crucial to the process," says Burkett. "Delays and mistakes can result in operational hassles, reduced customer service, missing or lost products."
Because the next step is issuing the customer a return credit or exchange, missing items can make the process much more difficult and expensive than is necessary—the last thing a company wants is to upset a customer or have to take a loss on an item because it "walked away."
"As soon as the item has been received and the return/exchange processed, the receiving company has the opportunity to extract value from the item," adds Burkett.
"Triaged" approach
If the vicissitudes of the reverse loop were not dramatic enough, some analysts have introduced a new coinage for the industry: "triaged" inspection. In the medical field, triage is the process of determining the priority of patients' treatments based on the severity of their condition. This rations patient treatment efficiently when resources are insufficient for all to be treated immediately.
According to Burkett, the same goes for damaged goods in the supply chain. He says that before the item's ultimate destination (back on the shelf, to a consignment shop, to the dumpster) and value can be determined, the item must be inspected or "triaged."
"This task has one goal—to drive the greatest value possible," says Burkett. "To do so, it is imperative that the inspection team is highly trained with expansive product knowledge so that the right decisions can be made regarding how to process the item."
Amazon slayer?
While there may be no "800-pound gorilla" in the reverse logistics marketplace yet, Amazon is clearly becoming the dominant player, observe analysts.
To counter that trend, UPS recently formed a strategic alliance with Optoro, a leading platform for returned and excess inventory. The goal, says UPS, is to provide a "one-stop shop solution" for retailers and manufacturers to optimize the transportation and disposition of returned goods.
"As e-commerce grows, returns will become an increasingly glaring challenge for retailers," says Alan Gershenhorn, chief commercial officer at UPS. "We are expanding our returns solutions supported by one of the fastest growing companies disrupting the reverse logistics process."
Tobin Moore, co-founder and CEO of Optoro, says that the alliance will permit the company to accelerate the adoption of its software with the world's top retailers and brands. "By offering technology and logistics services, this will enable us to help retailers increase their profits, and also minimize their environmental footprints," he says.
At this point, Burkett agrees with Armstrong and Lieb that this function can be outsourced to a skilled third-party service provider. Next, comes the final stop on the reverse logistics journey: asset recovery.
At this stage, and depending on the results of the inspection, an item can be restocked, returned to the supplier, repackaged for sale, sold to a liquidator or scrapped. "The amount of value extracted obviously varies significantly depending on the result, but leading providers ensure that a product can be resold at its highest and best use and price whenever possible, gaining value for their retail
clients," says Burkett.
Big Data angle
In this age of Big Data," a product's value doesn't stop with the good itself. That's because companies are spending more money to analyze customer returns to identify trends and predict future customer behavior.
As a consequence, Harris Williams & Co. researchers say that there's a more refined marketing effort to reduce the likelihood of future returns. "So, not only is the physical good processing important, but the supporting consumer behavior is wildly valuable to retailers," adds Burkett.
For a variety of reasons, the complexity of the supply chain has continued to evolve over the past two decades, and with the advent of e-commerce, the supply chain, now more than ever before, has to perfect the U-turn.
But are most 3PLs prepared to enter the fray? Burkett thinks not. "No 800-pound gorillas exist yet," Burkett adds, "and there continues to be ample room for small, nimble, savvy players to enter the reverse market and deliver immense value."
Reverse goes "circular"
Other analysts have observed that logistics can drive the "circular" flow of goods, thereby linking markets and providing transparency across supply chains, no matter how complex. This move would make 3PLs—especially those with a global network, infrastructure and expertise in reverse logistics—to be key enablers for accelerating the scale-up of the circular economy.
As part of the "Circular Economy 100 (CE100)," a report produced by Cranfield University, a U.K.-based postgraduate school, and Deutsche Post DHL Group, researchers examined "CE100" member companies to determine a model for assessing and improving reverse logistics' processes across product groups and related sectors.
Based on company interviews, exploratory workshops, applied logistics expertise and scientific method, the report reveals that capturing the value of end-of-life goods and facilitating the reuse and recycle pillars is a "circular" model.
"The economic case for the circular economy is motivating first-movers around the world to capture the value of business models that are restorative and regenerative by design," says Peter Ball, professor of operations management at the University of York, England. As one of the authors of this report, he maintains that "rethinking value creation" by applying a circular approach can prevail over the linear "take-make-dispose" economy of today.
"While the circular economy can contribute to sustainability all over the world, it's not the wonder solution on its own," concludes Ball. "But it's great as one component, as it's engaging business to think of the sustainability journey as profitable."
March 2, 2017
About the Author
Patrick Burnson, Executive Editor Patrick Burnson is executive editor for
Logistics Management
and
Supply Chain Management Review
magazines and web sites. Patrick is a widely-published writer and editor who has spent most of his career covering international trade, global logistics, and supply chain management. He lives and works in San Francisco, providing readers with a Pacific Rim perspective on industry trends and forecasts. You can reach him directly at
Subscribe to Logistics Management Magazine!
Subscribe today. It's FREE!
Get timely insider information that you can use to better manage your entire logistics operation.
Start your FREE subscription today!
Latest Whitepaper
How to Manage Increasing Labeling Demands
Download the report to learn best practices for managing those increasing label demands.
Download Today!
From the August 2019 Logistics Management Magazine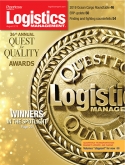 Ocean: Protecting margins in a soft market
Warehouse Voice Technology Speaks for Itself
View More From this Issue