Quarterly Transportation Market Update: Advantage Truckload
Various events are creating the tightest TL market in at least four years—and our experts say that it's going to get tighter and rates are going to go higher over the next year.

Transportation in the News
U.S. rail carload and intermodal volumes dip for week ending July 6, says AAR
A. Duie Pyle opens up Maine-based integrated logistics center
Truckload and intermodal pricing see gains in June, notes Cass and Broughton
Driver turnover rates head in opposite directions, says ATA
Cass Freight Index Report points to ongoing freight declines
More Transportation News
Transportation Resource
5 Levels of Autonomous Dispatch and Routing
Download this paper for an overview of Autonomous Dispatch and Routing, and learn how increasing levels of automation support and scale dispatching capabilities and create additional business opportunities.
All Resources
By
John Schulz
·
October 31, 2017
Top trucking executives are calling it "a perfect storm." A rare combination of tightening capacity; inventory adjustments by manufacturers; a major service meltdown by a Class I railroad; effects from a series of hurricanes; and other longer-term structural issues in the truckload (TL) sector have created the tightest market that shippers has seen over that last four years.
"Some of these issues are short term, but a lot of it isn't," says, executive vice president and COO of , the nation's 2nd largest TL carrier. "But there are a lot of factors that are making it very good for trucking right now."
And while that's creating boom times for carriers, shippers ought to be prepared for much tougher negotiations in the coming 12 months to 18 months. It's also important to keep in mind that the $320 billion truckload sector is highly fragmented. The largest carrier, , barely has 2% market share—and that's after the merger between Knight Transportation and Swift earlier this year. Keep in mind Schneider has barely 1% of the market.
Because this situation has traditionally translated into little pricing power for carriers, shippers usually have held the upper hand in negotiations with their TL carriers. That may not be the case much longer. Spot market rates, which often are a precursor to longer-term contract rates, have gone "hog wild," in the words of , veteran transportation analyst for investment banking firm —and there's plenty of data to support this thesis.
According to Larkin, truckload supply and demand began tightening in May and June and remained relatively tight during the early stages of the third quarter, although Hurricanes Harvey and Irma have accelerated the rate of tightening fairly dramatically.
, chief economist at the freight transportation consulting firmR, recently stated that some freight brokers, who manage billions of dollars of freight in TL networks, are now seeking contracts in an effort to lock in current prices before they rise even higher.
According to DAT Research, which closely tracks spot market TL rates for van and flatbed traffic, tight capacity caused by the disruption form the hurricanes resulted in a spike in spot market rates in late summer. That, combined with demand from a stronger economy, boosted spot market volume and rates to the highest levels in more than two years.
The number of available loads on the spot truckload freight market rose 4% while van load volumes on the top 100 lanes hit an all-time high during late September, according to DAT Solutions, which operates the DAT network of load boards.
To top if off, the advanced seasonally adjusted "For-Hire Truck Tonnage Index" produced by the American Trucking Associations (ATA) jumped 8.2% in August, following a 2.7% gain during July. In fact, it's risen all four quarters this year.
"Tonnage was stronger than most other economic indicators in August, and more than I would have expected," said , the ATA's chief economist. However, he added that prep work for the hurricanes and better port volumes likely gave tonnage an added boost during the month.
"But what we're seeing and hearing from our customers is consistent," says Derek Leathers, president of Werner Transport, the nation's 5th largest TL carrier. "I don't think it's any one thing. It's not just hurricanes. There's been lower inventory levels, a slight uptick in consumer confidence, retailers are a little more aggressive in their orders…there's not just one answer."
What's behind the capacity crunch?
For years, analysts and carrier executives have warned that the day is coming when the lack of qualified drivers in the TL sector will combine with expanding industrial and retail sectors and will cause truckload demand to outstrip supply. That day appears to be here.
"It's been a confluence of events," says John White, president of the truckload group of , the nation's 7th largest TL carrier. "We're in one of the toughest driver recruiting environments in a long time. Nobody can expand their seated truck count. We would all like to grow our fleets, but nobody can because of the lack of drivers."
According to White, the Knight-Swift consolidation is having "some impact" on capacity, but it goes beyond that. "If you look at recent macroeconomics, it doesn't seem that robust," he says. "But we're seeing tonnage up, demand up and supply down. For us, it really started to build in May and continued since then. The impact of Hurricanes Harvey and Irma has certainly exacerbated the situation."
Besides hurricane relief and recovery pushing the freight market over the top, here are some of the other factors trucking executives cite for what they say is the best operating environment for carriers since 2014:
Spot pricing shot up rapidly in the wake of the hurricanes, and those rate hikes eventually are finding their way into contract rates.
The introduction of mandatory electronic logging devices, starting mid-December, is expected to negatively affect productivity by 5% to 7%.
Shipper frustration remains with respect to erratic railroad service quality—specifically the major service meltdowns in the CSX network in the central part of the country.
Near historically low diesel prices have made over-the-road truckload more competitive than some intermodal truck-rail lanes.
The driver shortage has gotten so bad that some carriers are offering signing bonuses of $10,000 if they complete one year with that company.
Carrier insiders say that TL industry consolidation is likely to continue with Transforce, XPO and Daseke contemplating their next move.
According to the most recent survey of truckload carriers conducted by Chris Kemmer, an industry consultant, trucking fleets have the most positive view of business conditions for the upcoming three months since the survey he completed in the second quarter of 2015. And there is very little new capacity, as most of the 20,000 new Class 8 trucks sold every month are mostly for replacement vehicles—a fleet buys 100 new Class 8 trucks, but retires 100 older trucks because there aren't enough additional drivers.
To top it off, the improved job market overall is siphoning away candidates who could become truck drivers, says Schneider's Rourke. "Plus, a lot of driver training schools say they're getting 20% to 40% less funding because federal funds have dried up."
Turning down freight
U.S. Xpress has an internal metric for rejecting freight known as "EDI turndown," which White says is a great internal indicator of how much freight demand is out there.
For example, in the first quarter, traditionally the slowest quarter for trucking, USX's EDI turndown rate was running about 700 truckloads a week. By the second quarter, that number reached 1,800. In the third quarter, it jumped to 3,600. And during the peak of the hurricane relief efforts in Houston and Florida, it hit an all-time high of 5,500.
"You have seen significant expansion in spot market rates," adds White. "Contract rates are slower to react, but even those are beginning to expand."
The regulatory environment is playing a role as well. Drivers are in tight supply, largely because of mandatory random drug and alcohol testing that began in the late 1990s. When electronic logging devices (ELDs) are mandated next month, it's expected to make an additional impact on productivity as it will become tougher—if not impossible—to cheat on hours of service (HOS).
ELD enforcement will come in two stages. The first will be fines as high as $10,000 in some states for HOS violations. But next April, in addition to fines, that truck cited for HOS violations will be immediately placed out of service. "In the short term, there will be some pain with ELDs," says Werner's Leathers. "But what gets overlooked is that the visibility you gain is more valuable than the short-term pain."
Others are looking to see how quickly smaller fleets—93% of all U.S. trucking fleets have fewer than 20 trucks—adapt to the new ELD regulatory landscape. "The most interesting thing is how quickly people will come in line with ELDs," adds White.
The only real-world comparison to the potential out-of-service rate for ELD violations happened when the Compliance, Safety, Accountability (CSA) initiative started in 2010. When CSA started, some 4.9% of fleets were placed out of service. Carriers say even if the rate is half that for ELDs, that takes even more capacity out of a system that already has demand outstripping capacity.
And then there are the demands on capacity when the e-commerce surge starts in the first week of November, which is a huge wild card for carriers. "All this e-commerce goes by truck and a ton of it goes by truckload," White says. "My prediction is that we're going to get record turndowns that we haven't seen since 2014."
The turnover issue
The turnover rate at TL carriers surged in the second quarter of the year, another sign that the market for drivers is quickly tightening, according to the ATA's Costello.
"We saw double digit gains in the annualized turnover rate for both small and large truckload fleets," says Costello. "After a period of relatively low turnover, it appears the driver market is tightening again, which, coupled with increased demand for freight movement, could rapidly exacerbate the driver shortage."
According to ATA's quarterly report, the turnover rate at large truckload carriers jumped 16 percentage points to 90%—the highest it's been since the final quarter of 2015. The 16-point increase is the largest quarterly jump since the fourth quarter of 2010. At smaller carriers, fleets with less than $30 million in annual revenue, the turnover rate swelled by 19 percentage points to 85%, the highest since the first quarter of 2016.
The turnover picture at less-than-truckload (LTL) fleets was more muddled, with over-the-road LTL turnover dipping one point to 9%, but the rate for local LTL drivers was 14%, up two points from the previous quarter and the highest rate in three years.
"We predicted that last year's period of relatively low and stable turnover could be short-lived if the freight economy recovered from 2016's freight recession," says Costello. "It appears that those predictions were correct, and we may be seeing the beginnings of a significant tightening of the driver market and acceleration of the driver shortage."
Dart Transit has started marketing to female drivers with $8,000 sign-on bonuses. In a recent ad on the Women in Trucking website, Dart said that it provides opportunities such as paid home leave "with women in mind." Among other incentives Dart is offering women are "Income with More Home Time Options." It offers Relay Routes with daily home time, clean terminals that are "inviting places where you can relax."
The rate picture
Usually when asked about future rates for shippers, carrier executives hedge their bets and are cautious in their statements. Not this year. Nearly every executive and analyst contacted for this story said that TL shippers must be prepared for sharply higher rates come contract time.
"Rates have been depressed for several years," says Leathers. "There's been a recent run-up in spot rates, but rates are still below 2014 levels, and that's not sustainable. The last five years we've had razor-thin margins, or worse. Rates will have to improve to reinvest in our fleets and drivers."
Schneider's Rourke agrees, adding that "spot rates always lead, and spot has changed dramatically. That is a precursor for contract rates changing as well."
"I'd even say that contract and spot rates are jumping," adds USX's White. "Customers are paying more for increased rates for increased capacity in many markets. You just look at supply, recruiting, ELDs coming, hurricanes. People underestimated the hurricanes, especially now that the rise in local construction will affect drivers."
With all of the elements and data rolled up, analyst Larkin says that he expects TL contract rates will "likely" rise between 5% and 10% over the next three quarters.
"I'm actually predicting very 'bullish' into 2018, because I don't see any end in sight in the driver situation," adds White. "If we could add 100 to 200 trucks right now, we would. But the driver situation limits our ability to get there. All of our competitors have significant capacity parked against the fence right now because none of us has enough drivers."
October 31, 2017
Subscribe to Logistics Management Magazine!
Subscribe today. It's FREE!
Get timely insider information that you can use to better manage your entire logistics operation.


Latest Whitepaper

Finding the Right Fit for New Technologies and Automation in your Warehouse/DC
In this white paper, Canon Solutions explores the challenges companies face when automating, explain why there's no need to rip-and-replace existing systems
Download Today!
From the July 2019 Logistics Management Magazine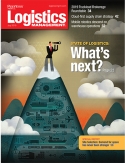 2019 State of Logistics: Third-party logistics (3PL) providers
2019 State of Logistics: Air cargo
View More From this Issue
Latest Webcast
Leveraging 3PLs for Future Shipper Gains
In this webcast, Evan Armstrong, president of Armstrong & Associates offers logistics and supply chain managers the industry's most comprehensive overview of the state of domestic and global third-party logistics arena.
Register Today!