Q&A: Airforwarders Association's Fried offers up state of the sector
Logistics Management Group News Editor Jeff Berman recently caught up with Brandon Fried, executive director of the Washington, D.C.-based Airforwarders Association (AfA), an organization representing more than 275 member companies dedicated to moving cargo throughout the supply chain, with business models varying from domestic to worldwide freight forwarding operations.

Logistics in the News
Logisticians, carriers fret over U.S. economy's future
U.S.-bound shipments trend down in June, reports Panjiva
Rules of Origin Really Do Rule
U.S. rail carload and intermodal volumes dip for week ending July 6, says AAR
A. Duie Pyle opens up Maine-based integrated logistics center
More Logistics News
Logistics Resource
Rules of Origin Really Do Rule
Inputs Make the Outputs: How Rules of Origin Really Do Rule
All Resources
By
Jeff Berman, Group News Editor
·
December 20, 2018
Logistics Management Group News Editor Jeff Berman recently caught up with , an organization representing more than 275 member companies dedicated to moving cargo throughout the supply chain, with business models varying from domestic to worldwide freight forwarding operations. A transcript of the interview between Berman and Fried follows below.
LM: Within the is a plan to re-open the TSA's Air Cargo Security Division and canine screening program. What is the current status of this?
Brandon Fried: There has been some talk about re-opening that division. It had been dissipated, or kind of fizzled out, a number of years ago after the Implementing Recommendations of the 9/11 Commission Act of 2007's screening requirements came through. We found it refreshing to actually see it codified in the most recent FAA reauthorization bill.
LM: In what ways, is it refreshing?
Fried: We have always said that if there is a significant air cargo issue stakeholders should not have to cross a threshold with TSA and look for someone who understands air cargo. There should be a place within the agency to go to comprised of people dedicated to air cargo itself, with strong industry backgrounds, understanding aviation security but also understanding cargo security. We are enthused about it, and we hope that the agency complies with the mandate in the right way. And we are anxiously waiting to hear about its leadership and its participants, but it is something we think is going to be extremely convenient for us, as we will be able to go to people right away to deal with things like security programs, screening issues, and the new third-party private canine screening program that was also mandated. That is where it will be housed.
LM: What are some of the challenges that may come with these efforts?
Fried: A lot of it has to do with staffing. Sometimes at TSA there is a bit of a revolving door in responsibility and leadership, and you want to be able to basically walk into a storefront of sorts and know where air cargo is housed. The other thing is, granted, the TSA has a large agenda and a lot of different concerns on its plate with passenger security, rail, pipeline, and maritime, but air cargo is unique in its requirements and you really need to know how to understand it in order to address its specific issues. That is why this is so important.
LM: What is the timeline for the next steps regarding the Air Cargo Security Division at TSA?
Fried: AfA is a member of the TSA's Aviation Security Advisory Committee. At a meeting last week, TSA Administrator David Pekoske said it was working towards a goal of getting it set up. There were also inquiries from Bennie Thompson wanting to know how quickly it would happen. I know things need to ramp up, but I imagine we will see something not long after January 1. We will certainly be asking questions if it is not around by the end of January.
LM: What are the key details of the canine screening program as it relates to the AfA?
Fried: This was an initiative we were pushing for years ago, and now by virtue of it being in the legislation [FAA reauthorization], it has really picked up a head of steam, although the train was heading down the tracks ahead of the legislation, because it was starting to engage stakeholders into developing a policy for a program a couple of years ago. There have been several meetings since then, and we have been engaging these canine screening-related providers into our membership. It is moving along. I won't say we did not need the legislation to push it some, but I think the TSA was well on its way to opening it up. We are now in a certification process, and there are bits and pieces of policy requirements coming out….with a couple of final program versions both for service providers and handlers, as well as for the users. Last week at the meeting, the agency said there will be [dog] noses to boxes by the end of December. My sense is they will be close to it.
LM: Shifting gears, what do you think about the impact of existing and pending tariffs, as well as the "trade war," as it relates to airforwarders?
Fried: When the first round of tariffs were implemented, we were justifiably concerned as it may be a catalyst that could derail what has been a pretty steady economic recovery and our overall business. We have been on quite a roller coaster ride as of late. I know we are trading to address U.S.-China trade disparities, but I think it is having an impact on volumes coming out of China, which have leveled off. Manufacturers and retailers can only eat these costs for so long and after a while they need to filter them down to the consumer. That could result in a blow to consumer confidence, and when that occurs it decreases both demand and airfreight volumes as a result. We have seen some robust airfreight volumes come out of Asia, with an increase in manufacturing activity in places like Cambodia, Vietnam, and Thailand. But at the same time there is also this factor of companies trying to beat the tariffs and get product into the U.S. before they take effect. There is cautious optimism, but I think that in the end [tariffs] have the ability to derail what is a pretty steady upward progression in air cargo, and it is a concern. It is not a war against trade disparities for us; we just want to keep our volumes up.
LM: Staying on the volume theme, how do you view the current state of airfreight volumes, as it relates to the hectic holiday shipping and holiday season?
Fried: In one word, it is robust. The online ordering megatrend we are seeing is really propelling a lot of air cargo activity, no question about it, and I think it will continue to do so. Freight forwarders are not as directly involved in the way the integrators are in the online delivery of small packages. We are more about feeding the distribution centers with larger goods, but I think consumer sentiment for online ordering remains high. But in the end, like I said, tariffs could have an adverse impact [on volumes] but so far they have not, and that is a positive thing, but we will have to see what happens after January 1, when the post-holiday frenzy dies down and it moves into more normal, or typical, commerce patterns.
LM: What about the other side, in terms of airfreight capacity management, for example?
Fried: Capacity has not been as significant an issue as it has been in the past. A bigger concern for capacity right now is over-the-road in the U.S. with the ongoing truck driver shortage. That has been something we have been dealing with throughout the year, and it has been a challenge.
LM: What specifically has made it challenging?
Fried: Once the ELD mandate came into play, it really created significant challenges for our membership for getting trucks. Things have really changed. All of the sudden, the tables have turned. If you want to deal with a trucking company as a shipper, you have to wear your best clothes and make sure your manufacturing processes are getting cargo out the door on time and not keeping trucks waiting. It is definitely a seller's market, and that is one of the reasons we are so concerned about congestion at airports. E-commerce is driving volume as much as 40% over plan at many U.S. gateways. A big issue related to that is antiquated infrastructure, combined with huge volumes, is creating backlogs of trucks waiting to tender or chase cargo. That is creating issues of monumental proportions in places like JFK in New York and Logan in Boston, and others. One of the biggest reasons for this is that there is no more land, with a lot of these places geographically locked in to where they are. At LAX, there is a big project underway to rework the air cargo operations area, but the reality is there is nowhere else to expand. That is creating a lot of angst for our members, with some having had trucks waiting at airports for seven or eight hours just to get to a ground handling company to get to their cargo. When you are selling time for a living, you cannot be waiting that long.
LM: What are the main areas of focus for the airforwarding sector in 2019, in your opinion?
Fried: We are optimistic and want to stay optimistic despite the significant economic headwinds. Automation and digitalization are key themes, and that wave is overcoming the industry right now, especially with digitalization being the buzzword of the day. What we are seeing on those fronts is more of an evolution than a revolution, as we are not technology Neanderthals. We have been around technology in the air cargo business for some time and have had automation for quite some time. FedEx, UPS, and many freight forwarders are examples of this. The pace of automation is definitely accelerating. Those who turn a blind eye do so at their own peril so we obviously are addressing that as much as we can. From a business perspective, one of the things we are looking at in 2019 is making sure we have good infrastructure in place. We are going to work with Congress on getting a good infrastructure bill so that highways, bridges, and airports get the needed funding for expansion and upkeep. That is a big concern of ours right now, because poor infrastructure obviously increases our truck maintenance costs and also delays cargo. This is universal for freight forwarders and integrators; we all share the same concerns.
January 16, 2019
About the Author
Jeff Berman, Group News Editor Jeff Berman is Group News Editor for
Logistics Management
,
Modern Materials Handling
, and
Supply Chain Management Review
. Jeff works and lives in Cape Elizabeth, Maine, where he covers all aspects of the supply chain, logistics, freight transportation, and materials handling sectors on a daily basis.
Contact Jeff Berman
Subscribe to Logistics Management Magazine!
Subscribe today. It's FREE!
Get timely insider information that you can use to better manage your entire logistics operation.


Latest Whitepaper
Rules of Origin Really Do Rule
Inputs Make the Outputs: How Rules of Origin Really Do Rule
Download Today!
From the July 2019 Logistics Management Magazine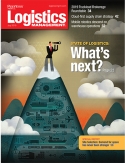 2019 State of Logistics: Third-party logistics (3PL) providers
2019 State of Logistics: Air cargo
View More From this Issue
Latest Webcast
Leveraging 3PLs for Future Shipper Gains
In this webcast, Evan Armstrong, president of Armstrong & Associates offers logistics and supply chain managers the industry's most comprehensive overview of the state of domestic and global third-party logistics arena.
Register Today!