Pallets and RFID
Some end users putting RFID and pallets to work to track work-in-process and finished goods in their facilities and supply chains

Latest News
Report: Pallet wrap sales growing steadily
U.S. West Coast ports warned about "complacency"
Dematic names Bernard Biolchini EVP and CEO, Americas
Logisticians, carriers fret over U.S. economy's future
U.S.-bound shipments trend down in June, reports Panjiva
More News
Latest Resource
Rules of Origin Really Do Rule
Inputs Make the Outputs: How Rules of Origin Really Do Rule
All Resources
By
Bob Trebilcock
·
January 5, 2011
During Modern's November's pallet Webcast, one attendee asked about the future of RFID and pallets.
Mark White, our pallet expert, argued that pallets and RFID make sense for tracking product within the four walls of a facility or across a closed loop supply chain—that is a supply chain that is controlled by a manufacturer—but not for tracking cartons across an open loop supply chain, with a number of unrelated players, like the retail supply chain. What's more, he offered, attaching an RFID tag to a wooden pallet is a recipe for disaster, given how pallets are often handled. "One of my colleagues once said that putting an RFID tag on a pallet is like putting a license plate on a car in a demotion derby," White said. "There are probably better ways to track a carton than to put an antenna on a pallet that is subject to damage pretty easily. It makes more sense to track the carton."
While tagging wooden pallets is not prevalent, there are efforts in the industry today to bring pallets and RFID together in some innovative ways. Here are three examples.
Security and visibility: Airdex (http://www.airdex.com) manufactures a lightweight foam pallet used for high-value products that ship by air, including computers and pharmaceuticals. One of the advantages of a foam pallet is that it is mostly air, which means the materials used to make the pallet don't interfere with the transmission of an RF signal, as can happen with a wood pallet. And since it's a molded product, the pallet can be manufactured with an RFID tag as part of the construction, rather than being applied later, as is the case with a wooden pallet.
According to Vance Seagle, Airdex's president, the company became interested in adding RFID, sensor or GPS capabilities to its pallet after a company specializing in freight security approached them. "Their client shipped a very high value cargo by truck that was being hijacked," says Seagle. "There was a transponder in the truck that alerted them to when it stopped longer than anticipated, but by the time they could respond, the cargo had been stripped and they couldn't catch the thieves." With some kind of an active RFID tag, they believed they could get the cargo back if the thieves moved the product on a pallet. "They asked us to mold a pallet with a transponder that would be completely stealth," Seagle says. "The pallet we came up with has been shipped all over the world and it performs well." Seagle adds that one of the biggest proponents of the technology is the insurance companies that insure freight shipments.
Since then, Airdex has worked in partnership with AT&T and US GlobalSat, a company that makes a very small GPS transponders, and a mobile billing company to develop a pallet with GPS and sensor capabilities. The target end users including the U.S. military – and that's about all Seagle can say, makers of apparel or other products that are easily counterfeited and industries, like pharma or food, that ship temperature-sensitive products. "If you're shipping a serum or vaccine, the temperature has to be maintained in a very close range," says Seagle. "Right now, they can check a sensor when the product arrives to see if it went out of range during delivery. With a real-time device, they could be alerted during transit if something happens. If a critical shipment has just been damaged, they can immediately order new medicine."
The next step is to develop a tag that can not only provide X and Y coordinates for tracking but also with Z coordinates for a three dimensional view of an area. That would provide much more precise tracking of items, like containers at the port that may be buried deep in a stack. "The pressure is on for total asset visibility," says Seagle. "There are so many assets in transit all the time, that having total visibility is a real tool for some industries."
Tracking work-in-process and maintenance: Like Airdex, Green Line Armor (http://www.greenlinearmor.com) produces an alternative to the traditional wooden and plastic pallet. In this case, a very heavy duty hybrid pallet: the wooden components are much heavier than a traditional wooden pallet and they are screwed together instead of nailed; the lead deck boards—the ones most susceptible to lift truck damage—are made from heavy duty plastic. It's so heavy duty that Green Line Armor sells it with a limited 10-year warranty, according to company president Eric Renteria.
Manufacturers are the most likely end users, and Green Line Armor has targeted the canned goods industry, manufacturers of heavy equipment and products and the automotive industry. The company's biggest customer has 2,000 pallets that are used to handle work-in-process in its factories and then to store finished goods in the warehouse.
From the start, Green Line Armor designed a compartment in the plastic lead boards to hold an RFID tag. It then installs a passive RFID tag on the lead boards on both sides of the pallet. That way it gets a solid read no matter how the pallet is oriented. The tag has a 12-digit identification number that identifies the pallet when connected to a database on the back end. Green Line Armor uses that information for warranty purposes.
"We know when the pallet was manufactured, where it was built and the lot codes of the raw materials that went into the pallet," says Renteria. "The last part is important to pharmaceutical and food industry companies that may have to track all of the raw materials associated with their products." The data also tells Green Line Armor who originally purchased the pallet and how much time is left on the warranty. "We'll know if you weren't the original owner of the pallet," Renteria says.
When Green Line Armor's largest customer learned about the RFID tag, it asked the company to create another special compartment in the plastic boards to accommodate an active RFID tag they used in their operations. Each RFID tag has the ability to communicate its location to other RFID tags and ultimately to an inventory tracking system on the manufacturing floor and in the finished goods storage area. "With the click of a mouse, the customer can take a physical inventory and know where their WIP and finished goods are stored," says Renteria. "That information is available to their locations all over the world."
Driving warehouse operations: iGPS (http://www.igps.net) also relies on RFID to manage its pool of roughly 15 million plastic rental pallets, according to Jack Sparn, CIO. An EPC Gen II passive RFID tag—the tag that was originally developed for tracking cartons and pallets in the retail supply chain—is embedded in each of the pallets four corners to ensure a read regardless of how the pallet is oriented. For its own tracking, tracing and billing purposes, iGPS scans the tag when a pallet leaves one of its depots for a customer location; it's scanned again when it leaves a customer's manufacturing plant, typically when it leaves the palletizer for the shipping dock; it's scanned a third time when it arrives back at an iGPS depot and is put back in inventory.
"Our database has a record of every single scan of every pallet since the first pallet was manufactured, and we can track them throughout their life," says Sparn. "If we couldn't track and track our pallets, we couldn't accurately bill for each use, nor could we identify where our assets are located for our asset recovery teams."
At least one iGPS customer is using the RFID tag to enable its automated warehousing processes. After a load is palletized and stretchwrapped, a license plate bar code label that carries the product information is automatically applied to the load. When the bar code label and the RFID pallet tag are scanned, the load is tied to the pallet in the manufacturer's warehouse management system. When it comes time for putaway, the pallet is picked up and the RFID tag is scanned by a reader mounted on an automatic guided vehicle (AGV). Based on that read, the warehouse management system (WMS) directs the AGV to a putaway location in the warehouse. Likewise, when it comes time to fill an order with that pallet, the WMS sends the AGV to the putaway location to retrieve the pallet. The AGV reads the RFID tag again to confirm that it is pulling the correct pallet and then automatically loads it onto a trailer for delivery. "The only time an operator is involved is when there is an exception to be processed," says Sparn. "They have been using the system for 18 months and are literally getting 100% accurate reads."

Get the most from your unit load
Pallet and unit load design systems minimize the cost of maximizing your unit load
Is another pallet pool in the offing?
The new Costco spec could open the door for an independent pallet pool from NWPCA members
February 21, 2012
About the Author
Bob Trebilcock Bob Trebilcock, editorial director, has covered materials handling, technology, logistics and supply chain topics for nearly 30 years. In addition to Supply Chain Management Review, he is also Executive Editor of Modern Materials Handling. A graduate of Bowling Green State University, Trebilcock lives in Keene, NH. He can be reached at 603-357-0484.
Subscribe to Logistics Management Magazine!
Subscribe today. It's FREE!
Get timely insider information that you can use to better manage your entire logistics operation.


Latest Whitepaper
Rules of Origin Really Do Rule
Inputs Make the Outputs: How Rules of Origin Really Do Rule
Download Today!
From the July 2019 Logistics Management Magazine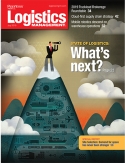 2019 State of Logistics: Third-party logistics (3PL) providers
2019 State of Logistics: Air cargo
View More From this Issue
Latest Webcast
Leveraging 3PLs for Future Shipper Gains
In this webcast, Evan Armstrong, president of Armstrong & Associates offers logistics and supply chain managers the industry's most comprehensive overview of the state of domestic and global third-party logistics arena.
Register Today!