Opportunities at the dock
Incremental changes and simple maintenance can ensure the productivity and safety of operations at the dock.

Latest News
Materials handling in automotive hits an inflection point
Other Voices: Two mega-trends driving forklift safety and productivity
PMMI Foundation supports the next-generation workforce
ORBIS achieves ESD Association certification
60 Seconds with… Michael Wohlwend
More News
Latest Resource
Finding the Right Fit for New Technologies and Automation in your Warehouse/DC

In this white paper, Canon Solutions explores the challenges companies face when automating, explain why there's no need to rip-and-replace existing systems
All Resources
By
Josh Bond, Senior Editor
·
June 1, 2014
It's no secret that some of the world's most impressive organizations have historically relied on manual systems for dock operations. Industry leaders at process efficiency inside their buildings are still manually spotting trailers and managing door traffic or using homemade software to orchestrate tasks. A larger concern is that entire operations are often supported by equipment that does not enjoy the same level of care as other pieces of production equipment in a facility.
Located just beyond the dock door—which might as well be in another continent as far as many siloed organizations are concerned—dock and yard equipment are subjected to the elements, operated by employees, drivers or both, or assumed to be a fixed feature. For instance, once a door, lift or leveler has been installed, the tendency is not to revisit how it can be improved.
But substantial gains in these areas are possible, according to industry experts, whether by tweaking something a few inches or folding line-to-yard operations into a single, semi-automated platform. "There are significant opportunities for both productivity and functionality improvements, opportunities far greater than they were just five years ago," says Steve Sprunger, senior vice president of sales and marketing for Entrematic. "In recent years, between the downturn and general frugality, we're seeing that the warehouse and the dock are getting a lot more attention."
Not to mention that persistent safety concerns around the dock are always worth targeting. Matt Clemens, director of engineering for Vestil Manufacturing, says many of Vestil's customers are driven to them after an incident or OSHA visit. He advises against that reactive approach. Working from the yard entrance through the door and into the facility, this article will explore a range of proven and emerging dock technologies that can keep workers safe and product moving.
Red carpet rollout
Docks have traditionally been reactionary places. After all, given the realities of over-the-road transportation, it can be hard to know how best to use dock resources at any given moment. But this assumption ignores the fact that trailers are often staged in the yard for some amount of time before they hit the door—where their arrival should not be a surprise. There's no reason why valuable information can't be gathered as soon as a vehicle comes within range of a facility, according to Sprunger.
"More people are looking to connect the dock to the yard," he says. "GPS can track a trailer on the road, and warehouse management controls assets inside the building, but there has rarely been a solid tie between the two."
Passive RFID tags for trailers can help, whether applied to a captive fleet or affixed upon entrance into the yard. "While that trailer is anywhere in the yard, the system will know about it," Sprunger adds. "It can direct the yard jockey much better while enabling indoor systems to prepare not just for the physical trailer but also its contents. It's a lot more helpful than 'a trailer is coming between 8:00 and 12:00.' "
In real time or cumulative reports, indoor operations can assess where a trailer is parked, what's inside, how long it's been there, what needs to be unloaded and where it needs to go, or vice versa. Many full truckload clients are trying to figure out any way to maximize the cube inside the trailer to attack freight costs, says Walt Swietlik, director of customer relations and sales support for Rite-Hite. In addition to better information, customers are finding they need better access to the trailers to boost productivity and reduce product damage when loading or unloading, he says.
A move toward just-in-time deliveries might prompt some facility changes, Swietlik says. Instead of 20 docks on one side of the building, a customer might like to shift receipt for, say, steering wheels to an area adjacent to where wheels are installed. "They're ready to blow a hole in a building where needed," Swietlik says. "More than ever, customers are focusing on general dock design and layout. They're taking a hard look at dock height and dimensions and in many cases are breaking from the norm."
Coming through
Historically, trailers were only 8 feet wide and married nicely with dock doors 8 feet wide and 9 feet tall. Today's trailers are 8.5 feet wide and instead of an 80-inch-wide load many now prefer to ship 96-inch-wide loads, Swietlik says. A trailer's full load could shift from 27 to 30 pallets in this case. Or, if it's possible to turn both pallets to their 48-inch side, Swietlik says a trailer will gain six pallet positions—12 more pallets if stacked.
Trailer and door width can make or break efforts to use a single-double attachment, but the door isn't the only thing in the way. A lot of older buildings have higher dock heights of 50 to 52 inches, when trailer beds are coming in at 46 to 48 inches off the ground. Similarly, Swietlik says, classic dock levelers 6 feet wide by 8 feet long are increasingly replaced with dock plates as wide as 8.5 feet and 10 to 12 feet long.
Whatever its size, the trailer's connection with a door includes a number of safety concerns. The absence of dock locks, vehicle restraints or pedestrian or forklift guarding around unused doors is common, and even if such equipment is present, its usage is often inconsistent or poorly monitored. Clemens notes the increased use of automation at the dock, with solutions as simple as wheel chocks connected to interior indicator lights or as advanced as sequenced, interlocking controls that require Step A before Step B is even possible.
Sprunger says visibility is central to the effectiveness of automated dock systems. "If you know a trailer is at Dock 15, you can tell if the door is open, whether the trailer restraint is engaged or if a trailer is ready for release," he says. "This building profile can ensure better dock utilization. One customer cut its process time by two-thirds."
Central control panels for chocks, locks, levelers and lights can even control fan systems in the dock area. "A customer had one control panel for each high-volume, low-speed (HVLS) fan," Entrematic's Sprunger says. "People were constantly adjusting them. They now use software to centralize fan management and pre-program fans for times of day, seasons or real-time temperature changes. This approach is effective for sites with three fans or 30."
The only constant
Seasonal changes in volume impact dock usage, but business conditions are subject to other disruptions. Isabelle Grenon, product manager for GMR Safety, which specializes in the design and manufacture of dock safety and efficiency solutions, says that in the last couple of years she has noticed a tendency for major corporations to transfer operations to third-party logistics providers (3PLs). "This transition impacts equipment suppliers and 3PLs by essentially replacing one customer with another," she says. "Quite often the new customers have entirely different concerns at their docks."
Aside from change, the only constant is the need for effective safety precautions at the dock. For instance, because a closed dock door will immediately yield to a forklift, many users are installing barriers in busy or crowded docks to ensure lift trucks don't go airborne. Similarly, says Clemens, personnel barriers are being installed in applications where doors will stay open for any length of time.
But some operations present much larger problems than an unguarded door. Pete Norden, dock lift program manager for Southworth, offers the example of a customer that used ramps to manually push 2,000-pound hospital beds up onto vans, box trucks and trailers. The customer ultimately replaced the ramp with a lift, and did not have to dig a pit to accommodate it. Norden says many prefer to avoid the cost and permanence of digging a pit as the popularity and capability of surface-mounted lifts increases.
Gavin Page, special project estimator at Autoquip, says suppliers are getting into more custom projects, more than they were even four years ago. In the absence of custom solutions, some customers have gotten creative with their problem solving at the dock. "We had a customer who had built his own lift out of an overhead winch and a piece of plate," he says. "It had no safety features, had been hit multiple times and had even fallen once or twice."
Another customer had simply learned to live with the problems with its lift, which lift truck drivers would drive onto, raise, then drive onto the truck, back out, lower down and return back into the factory. "They were repeating this process 20 to 30 times in the same truck," Page says. "There was only a single lane behind the building that ran perpendicular to the dock, so their options were limited."
The facility's new system includes a lift and ramp that, when lowered, are flush with the ground. The truck drives over both, and the lift and ramp raise together when the truck is in place. In a creative twist, Page describes another customer that fitted a lift to the end of a drawbridge-style ramp. When lowered over nearby train tracks the combination allows lift trucks to come and go as they please.
For this kind of outdoor equipment, improper maintenance can drastically reduce component life, Norden says. "A lift, for instance, can last 30 years if well maintained. Others are dead as a doornail within five years," he says. "Some users have 50-year-old equipment that has not been maintained. People make a short-term investment to take care of a problem then ignore the equipment."
Clemens says poor maintenance tops his list of concerns, citing infrequent cleaning, little or no greasing, or cracked decks from fatigue. "A leveler either works or doesn't, but you don't want it to fail," he says. "They are fairly robust, but components like the ratcheting mechanism on a dock leveler can wear."
Maintenance and visual inspection of rollers, bearings, bushings and cylinders is important, Norden says, as well as an annual oil change. "A lot of customers don't think of dock lifts as production equipment," he suggests. "Inside a facility they think of equipment as key to uptime. But in the back of the facility they just forget it. Machinery doesn't have to sit neglected for very long until it becomes a performance issue."
Companies mentioned in this article
Actiw Oy: http://www.loadplate.com
Autoquip Corp.: http://www.autoquip.com
Entrematic: http://www.entrematic.us
GMR Safety: http://www.gmrsafety.com
Rite-Hite: http://www.ritehite.com
Southworth Products: http://www.southworthproducts.com
Vestil Manufacturing: http://www.vestilmfg.com
August 22, 2016
About the Author
Josh Bond, Senior Editor Josh Bond is Senior Editor for Modern, and was formerly Modern's lift truck columnist and associate editor. He has a degree in Journalism from Keene State College and has studied business management at Franklin Pierce University.
Subscribe to Logistics Management Magazine!
Subscribe today. It's FREE!
Get timely insider information that you can use to better manage your entire logistics operation.


Latest Whitepaper

Finding the Right Fit for New Technologies and Automation in your Warehouse/DC
In this white paper, Canon Solutions explores the challenges companies face when automating, explain why there's no need to rip-and-replace existing systems
Download Today!
From the July 2019 Logistics Management Magazine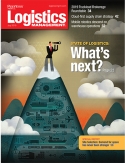 2019 State of Logistics: Third-party logistics (3PL) providers
2019 State of Logistics: Air cargo
View More From this Issue
Latest Webcast
Leveraging 3PLs for Future Shipper Gains
In this webcast, Evan Armstrong, president of Armstrong & Associates offers logistics and supply chain managers the industry's most comprehensive overview of the state of domestic and global third-party logistics arena.
Register Today!