Ocean Cargo Special Report: Will the "greening" of fleets trump overcapacity challenges?
Logistics managers and non-vessel operators expect that, as ocean carriers' cash flow gets tighter, the charter market will increasingly be used for newer, fuel-efficient vessels. The payoff for shippers will be sustainable service.

By
Patrick Burnson, Executive Editor
· August 1, 2013
With rates finally stabilizing, ocean cargo carriers may be able to relax a bit this year. Meanwhile, shippers are getting more customized service in all the trade lanes. And with older vessels being replaced with newer, more fuel-efficient models, everyone is breathing a bit easier.
While cleaning up their fleets with new "green" ships, ocean carriers continued to enjoy modest success in increasing freight rates from Northern Europe to the East Coast of North America in June. Meanwhile, market feedback indicates that the improvement continued in July, following the partially successful implementation of General Rate Increases (GRIs) of around $150 per twenty-foot equivalent unit (TEU) and $200 per forty-foot equivalent unit (FEU) at the beginning of the month. According to Drewry's Container Freight Rate Insight, the average "all-in" freight rate from Rotterdam to New York, based on forwarder buy rates for spot cargo, increased by 5 percent between May and June.
"This is surprising, given the poor trade lane supply-demand fundamentals," says Martin Dixon, research manager at Drewry Supply Chain Advisors in London. "But the fundamentals cover the whole of the East Coast of North America, whereas the trade lane's schedules tend to be separated between Canada, the U.S. East Coast, and the U.S. Gulf of Mexico, where the current dynamics of each are very different. The St. Lawrence Seaway is now ice-free, thereby enjoying a seasonal pick-up in traffic, for example."
GRIs on the transpacific are sticking as well, say analysts. Ocean cargo carriers comprising the Transpacific Stabilization Agreement (TSA) have announced a guideline peak season surcharge of $400 per FEU from Asia to all U.S. destinations, effective August 1.
According to TSA executive administrator Brian Conrad, each carrier plans their individual vessel and equipment allocations to meet back-to-school and holiday retail cargo demand. "Positive signals on consumer confidence for second-half 2013, and healthy consumer spending data in the second quarter, suggest a likely bump for Asian imports in coming months, and container shipping lines in the TSA are preparing for a potentially healthy peak season," says Conrad.
TSA lines reported gains from the most recent round of Asia-U.S. freight increases taken on July 1, but said results still fall short of overall revenue objectives for 2013-2014 service contracts, so they will be weighing the need for further initiatives later this summer and early fall.
As forecasted in Logistics Management, shippers have been bracing for the rate hikes for several months now. "It is hard to say at this point what the size and the timing of the Peak Season will be," adds Conrad. "But lines are expecting a defined peak period and want to be prepared. That means having the necessary vessel and equipment assets in place, the right mix of services, and their costs adequately covered to quickly address contingencies."
Peter Sand, chief shipping analyst for The Baltic and International Maritime Council in Copenhagen (BIMCO), observes that the traditional Peak Season has undergone severe change since the Great Recession, however.
"The U.S. consumer market is determining different peaks now," says Sand. "Back-to-school, black Friday, and the Christmas holiday are still valid, but there is now less pressure on a season that was once unique."
Greening fleets
The greening of ocean cargo transport may very well be the unifying element in an industry recently rocked by volatile and unpredictable demand cycles, say analysts.
Claus Hemmingsen, partner and member of the executive board at A.P. Møller- Mærsk, says that the world's largest carrier has increased efficiency and productivity while building more fuel-efficient vessels.
This ultimately means less "scrapping" of ships that have abbreviated life spans due to poor design. "We are exceeding our own expectations," says Hemmingsen. "When we invest in new terminal and port operations, too, we put sustainability at the top of the agenda."
The World Shipping Council (WSC) maintains that initiatives like those launched by Maersk and other major carriers comprising its membership make ocean cargo shipping easily the most carbon-efficient mode of transportation.
"The industry currently has a compelling incentive to reduce fuel consumption, and therefore carbon emissions, because fuel is already, by far, the largest cost of liner operations," says Chris Koch WSC president and CEO. "We estimate that at current prices, the liner shipping industry alone is probably spending roughly $50 billion a year on fuel for vessels serving the U.S. international trade."
This observation is mirrored in a recent report of the International Maritime Expert Working Group, which indicates that international maritime shipping accounts for 2.7 percent of annual global greenhouse gas emissions. And according to analysis by the Swedish Network for Transport and the Environment, shipping also produces fewer exhaust gas emissions—including nitrogen oxides, hydrocarbons, particulates, carbon monoxide, and sulfur dioxide—for each ton transported one mile rather than air or road transport.
Other notes of interest provided by the WSC include:
A ton of goods can be shipped from the Port of Melbourne, Australia, to the Port of Long Beach, a distance of 7,935 miles, while generating fewer CO2 emissions than are generated when transporting the same cargo in the U.S. by truck from Dallas to Long Beach, a distance of 1,442 miles.
A ton of goods can be moved from the port of Ho Chi Minh City, Vietnam, to Tianjin, China, a distance of 2,067 miles, generating fewer CO2 emissions than would be generated if the same goods were trucked from Wuhan in Central China to Tianjin, a distance of just 614 miles.
The wine industry recently found that a bottle of French wine served in a New York restaurant will have a lower carbon transportation footprint than a bottle of California wine served in that restaurant.
Koch maintains the these points add up to one major conclusion: "The size and global nature of the shipping industry makes it important for the industry to continuously work to reduce its environmental impact, and there is evidence that the industry has made significant progress," says Koch.
Where's the ROI?
But in the end, do shippers really care? That compelling question was posited last May in the 2013 Executive Survey on Supply Chain Sustainability survey conducted by AlixParnters, a global research firm based in New York. More than 150 C-level executives from a broad range of industries in the U.S. and Europe responded.
The findings of the survey reveal that even though most supply chain executives agree that sustainability is becoming an increasingly important issue among customers and senior management, cost still trumps environmental impact as a driver of behavior. "Still, companies that can implement cost-effective supply chain sustainability improvement strategies and market them to customers will have a competitive advantage," says Foster Finely, a managing director at AlixParnters.
Although 72 percent of respondents say their companies have corporate policies or sets of objectives regarding sustainability, and 84 percent say lower costs are more important to customers than improved environmental impact. Some 70 percent indicate they would pay no more than 2 percent more for sustainable initiatives.
European companies responding to the survey say they're more likely to emphasize sustainability, with 88 percent of respondents from Europe having sustainability policies already in place. Similarly, 33 percent of European executives surveyed say green initiatives on "supply chain sustainability" were "extremely important" or "very important."
"Yet no matter where companies are based or how important their executives said they feel sustainability to be, the majority (53 percent) of respondents say green initiative policies or objectives do, in fact, affect supply chain operations moderately or a great deal," says Finley. "Just 14 percent said green concerns affect supply chain operations very little or not at all."
Executives also expressed concern about return on investment in green supply chain practices. Less than a third (31 percent) of American executives surveyed said they'd be willing to invest in green logistics initiatives that do not produce positive financial returns. In Europe, however, more than double that number—62 percent—reported willingness to invest.
Nevertheless, certain sustainable supply chain opportunities are seen as having greater potential for financial return than others are, with freight consolidation and network optimization—both cited by 53 percent of executives surveyed—topping the list. Similarly, third-party logistics and trucking (49 percent each) are seen by executives as the segments in which the most cost-competitive sustainable innovations can be found—not ocean cargo.
"For companies willing to spend on sustainable technologies, nearly 60 percent require a cost payback within 18 months or less," says Finley. "Just 17 percent are willing to wait longer to see a return on their investment. That lack of return on investment is the largest obstacle to achieving greater supply chain sustainability, cited by 65 percent of executives we asked."
Lack of return on investment is followed by implementation costs, which was cited by 59 percent of respondents. For all of those reasons, active investment in sustainable supply chain projects remains a question mark for many company executives.
Sharing the risk
But how does one align special interests among carriers, shippers, and 3PLs to gain and measure ROI? Business for Social Responsibility (BSR), an innovative non-profit association, is close to doing just that. BSR's Clean Cargo Working Group (CCWG) is a global, business-to-business initiative dedicated to improving the environmental performance of marine container transport.
Angie Farrag, the group's associate director, transport and logistics, explains that CCWG creates practical tools for evaluating and reporting the environmental impacts of global goods transportation, thereby helping ocean freight carriers track and benchmark their performance and easily report to customers in a standard format.
"This helps shippers review and compare carriers' environmental performance when reporting and making informed buying decisions," says Farrag. "Our tools represent the industry standard for measuring and reporting ocean carriers' environmental performance on carbon-dioxide emissions."
As part of its objectives, Clean Cargo works to collect emissions data annually from its carriers throughout their entire fleet. Shippers receive this data in a scorecard format that highlights average fleet emissions on a trade-lane basis.
BSR was curious to know how shippers use this data, and they responded as follows:
• CO2 emissions: Clean Cargo shippers use the Clean Cargo scorecard mainly to report on their CO2 emissions, but sulfur-oxide (SOx) and nitrogen-oxide (NOx) emissions are becoming increasingly important.
• Carbon footprint calculation: Eighty percent of all interviewed shippers joined Clean Cargo because their companies wanted to access the primary data of ocean carriers in order to identify their baseline emissions in ocean transportation, calculate their carbon footprint, and set emissions reduction targets with a more accurate methodology.
• Intermodal transport comparison: Shippers highlighted that access to Clean Cargo data enables them to compare different modes of transportation and make informed decisions where it may be possible to shift certain flows to ones with lower emissions—from air freight to ships or from road to trains or inland water transport.
And while the ocean carriers and 3PLs comprising CCWG represents a "who's who" of the ocean cargo sector, many of the participating shippers are arguably brand leaders in their respective industries.
"Electrolux started to calculate its carbon emission from transportation a couple of years ago, and found out that emissions are at least as high as energy use from Group-combined operations," says Gorm Kjærbøll, global ocean contracting manager for the Electrolux Group. "This reinforced the importance of working to reduce the company's transportation footprint through initiatives like Clean Cargo."
Sarah Flagg, global head of sustainable logistics for Damco International, maintains that industry initiatives like Clean Cargo are the most effective way to collaborate with both carriers and shippers.
"It enables us to work directly with the companies that operate the equipment, move the goods, and own the data," says Flagg. "The ocean carriers understand the issues and the potential solutions better than anyone else."
Carrier members, like Peter Livey, head of trade management at Hyundai Merchant Marine, agree that collaboration is key, but reading from the metrics table is critical. "Some of the current standards are unrealistic," he says. "Unless the shippers' top management supports it and gets agreement on the procurement level, it's difficult to achieve."
However, Livey concedes that "harmonization" even among peer stakeholders is a move forward. "Standards enable engagement vertically and horizontally," he says. "Shippers and carriers are working more closely now than ever before, and the environmental concerns are shared by all. The shipping community can also use a common platform to prevail over regulatory obstacles before they are put into place."
And top shipping analysts agree, noting that this may represent another big payoff: long-term profits for shippers of oceanborne cargo and the companies that provide it.
About the Author
Patrick Burnson, Executive Editor Patrick Burnson is executive editor for
Logistics Management
and
Supply Chain Management Review
magazines and web sites. Patrick is a widely-published writer and editor who has spent most of his career covering international trade, global logistics, and supply chain management. He lives and works in San Francisco, providing readers with a Pacific Rim perspective on industry trends and forecasts. You can reach him directly at
Subscribe to Logistics Management Magazine!
Subscribe today. It's FREE!
Get timely insider information that you can use to better manage your entire logistics operation.


Latest Whitepaper
Rules of Origin Really Do Rule
Inputs Make the Outputs: How Rules of Origin Really Do Rule
Download Today!
From the July 2019 Logistics Management Magazine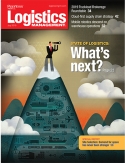 2019 State of Logistics: Third-party logistics (3PL) providers
2019 State of Logistics: Air cargo
View More From this Issue
Latest Webcast
Leveraging 3PLs for Future Shipper Gains
In this webcast, Evan Armstrong, president of Armstrong & Associates offers logistics and supply chain managers the industry's most comprehensive overview of the state of domestic and global third-party logistics arena.
Register Today!