Content from our sponsor
Ninth Exec Sentenced for Illegal Chemical Storage and Transport in California
Nine executives and managers at a California wastewater company—including the company's CEO and its Chairman of the Board—now face criminal sentences for a fraud scheme that involved knowing violations of the Hazardous Materials Transportation Act (HMTA) and hazardous waste disposal laws.

Transportation in the News
U.S. West Coast ports warned about "complacency"
Logisticians, carriers fret over U.S. economy's future
U.S.-bound shipments trend down in June, reports Panjiva
U.S. rail carload and intermodal volumes dip for week ending July 6, says AAR
A. Duie Pyle opens up Maine-based integrated logistics center
More Transportation News
Transportation Resource
5 Levels of Autonomous Dispatch and Routing
Download this paper for an overview of Autonomous Dispatch and Routing, and learn how increasing levels of automation support and scale dispatching capabilities and create additional business opportunities.
All Resources
By
Lion Technology
·
March 2, 2018
Six weeks ago, and pay a $5,000 fine for his role in a conspiracy to improperly dispose of hazardous waste from the company's site in San Paula, CA.
The scheme came to light following an investigation conducted by EPA's Criminal Investigation Division, the US DOT Office of the Inspector General, and the Ventura County DA's office.
Tanker Truck Explosion Blows the Cover-Op
In late 2014, a vacuum cargo tank trailer exploded at the company's facility, spilling 1,000 gallons of chemicals, starting a chain reaction of hazardous materials explosions and necessitating a three-mile-wide evacuation and shelter-in-place order, a school closure, and a highway closure.
The joint investigation revealed that the company had been storing hazardous materials—which it used in a treatment process—in larger volumes than was allowed under the site's hazardous materials or hazardous waste permits. In advance of scheduled inspections, executives ordered that hazardous chemicals be shipped off site, to an employee-leased lot.
When the cargo tanker exploded, employees had unloaded chemicals from about 20 different unlabeled totes into one tank. A toxic gas cloud enveloped the area, dozens were treated at local hospitals, three first responders were injured and ultimately put on disability, and a fire truck was destroyed.
Banned from the Business
In addition to jail time, probation, and monetary penalties, some of the individuals sentenced are also now prohibited from working in jobs involving environmental services, hazardous materials safety, chemical reporting, or worker safety.
For example: The company's Transportation Manager, in 2017, is also now "prohibited from any employment involving the transportation of hazardous waste." Spending months in jail and years on probation is bad enough. Now imagine having education, certifications, and job experience that are no longer useful for you career.
In total, eleven defendants were indicted following the cargo tank explosion for criminal charges including:
Conspiracy to dispose of hazardous waste;
Impeding enforcement;
Handling hazardous waste with reckless disregard;
Failure to warn of a serious concealed danger;
Withholding info about a substantial public safety danger;
Forging documents;
Causing grave bodily injury/death by emitting an air pollution; and
Witness tampering.
Personnel facing criminal convictions related to fraud, non-compliant storage and transport of hazardous materials and hazardous waste, and public endangerment in this case now include the Chairman, CEO, VP of EHS & Facility Operations, VP of Oil and Gas Sales, Transportation Manager, Operations Manager, Human Resources Manager, and a shift supervisor.
Would Hazardous Materials Training Have Any Impact Here?
Effective training is crucial to keep organizations in compliance with the often complex rules and regulations for managing and shipping hazardous chemicals. Hazardous materials and RCRA training programs should clearly lay out both the dangers and the penalties for non-compliance, both civil and criminal.
Professionals from the C-suite to the warehouse floor must understand that safety regulations surrounding the storage and transport of hazardous chemicals are not bureaucratic "red tape" to be side-stepped without consequence. They exist for a reason; because when facilities ignore the rules—or work to subvert them on an institutional level like in this case—people get hurt, die, and have their lives irrevocably changed.
You could argue that no amount of training could have stopped the fraudulent, purposeful noncompliance scheme outlined above. It's true that when individuals choose to knowingly violate laws and regulations that protect supply chain workers, the public, and the nation's infrastructure, the only response may be swift and stringent enforcement, as we've seen in this case.
So, in a case like the one in San Paula, California, in which the Chairman and CEO are complicit in a fraud, vice presidents, managers, and supervisors should take note: Risking your freedom for the sake of profit can leave you out of work, behind bars, and even unable to return to the career you worked to build.
Trusted Hazmat and RCRA Training
Be confident you know your responsibilities for hazardous materials transport and RCRA hazardous waste compliance. Civil penalties for hazmat shipping or waste management mistakes rise every year, making expert training more valuable than ever.
Try these two top-rated courses:
. Satisfy DOT's 49 CFR 172.704 training mandate for hazmat employees and learn what you need to know to certify compliance with the Hazardous Materials Regulations (HMR). This DOT hazmat shipper training program is available in workshops nationwide or as a self-paced online course.
. Learn new RCRA hazardous waste rules in effect now and soon to be adopted nationwide. Improper storage, labeling, or management of hazardous waste can lead to injury, death, emergency releases, and future liability under CERCLA. Join us live in 40+ US cities or learn the latest RCRA rules online.
March 7, 2018
Subscribe to Logistics Management Magazine!
Subscribe today. It's FREE!
Get timely insider information that you can use to better manage your entire logistics operation.


Latest Whitepaper
Rules of Origin Really Do Rule
Inputs Make the Outputs: How Rules of Origin Really Do Rule
Download Today!
From the July 2019 Logistics Management Magazine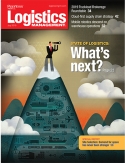 2019 State of Logistics: Third-party logistics (3PL) providers
2019 State of Logistics: Air cargo
View More From this Issue
Latest Webcast
Leveraging 3PLs for Future Shipper Gains
In this webcast, Evan Armstrong, president of Armstrong & Associates offers logistics and supply chain managers the industry's most comprehensive overview of the state of domestic and global third-party logistics arena.
Register Today!