MRO Best Practices: Are you ready for Predictive Maintenance?
A new generation of maintenance programs tracks real-time data about specific pieces of equipment to reduce downtime and costs while optimizing equipment efficiency. It's all a matter of knowing the true condition of the equipment.

Latest News
Dematic names Bernard Biolchini EVP and CEO, Americas
Logisticians, carriers fret over U.S. economy's future
U.S.-bound shipments trend down in June, reports Panjiva
Rules of Origin Really Do Rule
Trump administration working to relax truck safety standards
More News
Latest Resource
Rules of Origin Really Do Rule
Inputs Make the Outputs: How Rules of Origin Really Do Rule
All Resources
By
Gary Forger, Contributing Editor
·
August 21, 2018
In the beginning, there was reactive maintenance. It broke. You fixed it. Simple enough, but often so untimely.
Then came preventative maintenance. Rather than waiting for it to break, you maintained or even replaced it on a schedule, hopefully before it broke.
So, on May 23, you lubricate that conveyor chain as scheduled by the manufacturer. It's better than waiting for a failure, causing unintended downtime even if you have the part in stock. But who really knows if the maintenance was as timely as hoped.
Now comes predictive maintenance. Instead of waiting for equipment to break or maintaining it on schedule, predictive maintenance occurs only when it's necessary. Suddenly, real-time maintenance has arrived.
With the help of sensors, data is constantly collected about the operation of the equipment and its well-being. Then, with the help of the Internet of Things (IoT) to connect all the data sources combined with data analytics to make sense of the data, maintenance is performed when and where it is needed. It puts the emphasis on minimizing downtime and maximizing equipment efficiency.
With predictive maintenance, that high-utilization conveyor chain is lubricated based on its specific condition. And the lower-utilization conveyor chain is lubricated based on its specific condition, not because the high-utilization chain is being lubricated on May 23.
"It's a shift from reasonable expectations to reliable expectations," explains Dematic's senior vice president of customer service. And that's the case whether it's a motor, drive, lift truck or large integrated system.
Instead of waiting for equipment to break or maintaining it on schedule, predictive maintenance occurs only when necessary based on hard data.
---
As endearing as the predictive maintenance concept is, it is best not to overstate where we are in its development. In reality, we are on the cusp.
Yes, some companies have been actively building predictive maintenance programs for two years or longer. Predictive maintenance is big, complex and integrated. It doesn't get built in a day.
It is, however, time to pay attention. And, there were several launches of predictive maintenance products at Modex 2018. Others will come along later this year.
Regardless of the timeline, all of these developments will put maintenance into a different orbit in the plant and warehouse.
By its very nature, predictive maintenance uses next-generation supply chain technologies. And it pulls maintenance out of its silo and fully integrates it with operations. Furthermore, "it stands to introduce a whole new era in relations between equipment suppliers and customers," says Kevin Reader, director business development and marketing at Knapp.
The benefits of predictive
Predictive maintenance is not new. It has been used for years in jet engines and elsewhere, but not so much in materials handling. Let's face it, there is a significant difference between a jet engine failure at 40,000 feet and a conveyor failure, even at the peak of the holiday season, explains Pacal Waldvogel, Kardex Remstar's leader of strategic projects.
Nevertheless, there is steadily increasing pressure to reduce maintenance costs and downtime. "The idea behind predictive maintenance is to keep equipment operating and safe for the least amount of dollars," says John Rosenberger, Raymond's director of iWarehouse Gateway and Global Telematics.
Rosenberger continues to explain that predictive maintenance allows not just real-time repairs but repairs to specific pieces of equipment. That's in stark contrast to preventative maintenance that may require an entire section of a facility to be down for a period of time.
Equipment suppliers are focusing increasingly on up time, says Dave Trice, Honeywell Intelligrated's senior manager of business development for life cycle services.
Knapp's Reader is focused on the potential to reduce operating costs with predictive maintenance. The system supplier has been working with a German grocer for almost three years. Today, Knapp's redPilot program is managing seven DCs for the grocer. Reader says the goal was to reduce overall operating costs by 3%. "But we have far exceeded that," he says. Knapp announced redPilot at Modex.
Getting started
The question is: Why is all of this is coming together now?
The answer starts with the proliferation of sensing technologies in materials handling equipment. Rosenberger says that in 2010, Raymond remotely monitored 10 critical operating conditions on a lift truck. Today, that number is 72. The same proliferation of sensors is occurring from motors to large integrated handling systems.
Sensors, however, are just the start. They collect the data about a company's specific equipment and usage patterns. Without that data about that specific equipment, it's back to the days of reasonable expectations and preventative maintenance.
Some call it big data, others don't. But that label matters less than the developing importance and availability of advanced data analytics to make sense of the data. Get to that point, and you are ready to actually do predictive maintenance.
"First, you have to collect the data and build a database, then you have to analyze it before you can become predictive," says Dematic's Weeter.
Crown follows a four-step process to get started on predictive maintenance. It starts with connecting assets, says Craig Bruns, vice president of customer support. The next step is to monitor and analyze operations. The third step is to automate and integrate data. And, it wraps up when the system can predict maintenance and lead to innovation.
The push toward predictive maintenance at Crown started almost four years ago. It now has all of its vehicle rental fleet collecting data with its InfoLink operator and fleet management system, explains Bruns. He adds that additional assets at Crown facilities and some large customers are part of the program, too. The collected data is then sent to a connected maintenance program that is monitored remotely by Crown to optimize fleet efficiency.
Raymond has also been working in the predictive maintenance arena for the past four years. Its iWarehouse Gateway, explains Rosenberger, is a telematics system that collects lift truck data for predictive maintenance programs.
"It isn't practical to manually record, collate and analyze all of the parameters from each vehicle to support predictive maintenance," says Rosenberger. "Telematics systems such as iWarehouse monitor these parameters in near real time as the vehicle is operating and wirelessly transmits them to a server for collation, analytics and reporting."
At Swisslog, predictive maintenance, known as Condition Monitoring, is an extension of its SynQ software platform. The plug-in, which was featured at Modex, is a Cloud-based solution, says Tom Rentschler, director of marketing at Swisslog. It will not only collect information that will occur, he adds, but about when and how it can be fixed proactively.
Some other suppliers are still early in development of predictive maintenance solutions. Waldvogel says Kardex Remstar is in that camp. He calls their program proactive maintenance. It is a stage between preventative and predictive.
"We don't have enough data yet to feed the algorithms," says Waldvogel. "However, we do have enough information to measure wear and proactively maintain as a result." The company is also piloting in Europe a new remote monitoring platform for its storage modules, and talked about it at Modex.
Dematic's Weeter also describes his company as being at the proactive stage. From talks about its path to predictive maintenance at Modex, Weeter foresees remote monitoring as a major component. With this approach, sensors on site will collect the data which will be fed to a data center. There, maintenance issues will be flagged and communicated back to the facility, says Weeter.
Beyond maintenance today
While the primary focus of predictive maintenance is in the here and now, it can also be used in places not immediately obvious.
For instance, it can be used to project lift truck fleet optimization into the future. , manager of fleet optimization at Associated, says the data also indicates when it is best to replace trucks to a plan, keeping new truck expenses manageable.
"It's a matter of predicting equipment purchase timing and can be used for types of equipment other than trucks," Pettinger adds. He expects Associated to introduce a full predictive program later in 2018.
There's also the matter of CMMS—computerized maintenance management systems. CMMS, also relatively new to materials handling, manages the history of equipment and other assets as well as spare parts and repair and operations supplies. In addition, CMMS tracks maintenance costs and executes work orders.
That said, predictive maintenance data can feed into CMMS. "As we get smarter with data and continue to refine maintenance prescriptions with predictive data, CMMS will only become a more valuable tool," says Honeywell Intelligrated's Trice. The two can also team up to drive work orders and optimize spare parts inventory, he adds.
Along those lines, Knapp's Reader expects predictive maintenance's specificity to optimize the maintenance workforce. "If you know what needs repair and specifically what that is beforehand, it's much easier to assign the right technician to the job," he says. "That not only ensures that the right person with the right skills is on the job, but that maintenance labor cost is optimized, too."
Quite simply, predictive maintenance stands to open a new door. These are the first few steps to simplify maintenance complexity and reduce operational costs.
Companies mentioned in this article:
View Maintenance, Operations & Repair Products and Accessories

Cabinets ideal for manufacturing, production facilities.

---

Cloud-based energy distribution control system.

---

Kardex Remstar introduces new remote support platform.

---

Diesel pneumatic tire trucks handle up to 36,000 pounds.

---

Track, monitor truck fleet with subscription service.

---

Increase pick-and-place throughput with robot.

---
September 14, 2018
Subscribe to Logistics Management Magazine!
Subscribe today. It's FREE!
Get timely insider information that you can use to better manage your entire logistics operation.


Latest Whitepaper
Rules of Origin Really Do Rule
Inputs Make the Outputs: How Rules of Origin Really Do Rule
Download Today!
From the July 2019 Logistics Management Magazine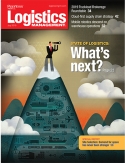 2019 State of Logistics: Third-party logistics (3PL) providers
2019 State of Logistics: Air cargo
View More From this Issue
Latest Webcast
Leveraging 3PLs for Future Shipper Gains
In this webcast, Evan Armstrong, president of Armstrong & Associates offers logistics and supply chain managers the industry's most comprehensive overview of the state of domestic and global third-party logistics arena.
Register Today!