Modex technology watch: Some use of Cloud solutions now the norm
The 2018 MHI Annual Industry Report released last week at Modex has many interesting findings from the survey it's based on, including the adoption rate for Cloud solutions.

Logistics in the News
Carrier executives grapple with driver shortage expected to worsen
Panjiva reports gain in July shipments despite trade concerns
July Cass Freight Index Report shows ongoing declines
U.S. rail carload and intermodal units trend down for week ending August 10, says AAR
Create Shipping Efficiencies and Decrease Delivery Costs
More Logistics News
Logistics Resource
Create Shipping Efficiencies and Decrease Delivery Costs
How will your shipping team win during peak season?
All Resources
By
Roberto Michel
·
April 20, 2018
The 2018 MHI Annual Industry Report released last week at Modex has many interesting findings from the survey it's based on, including the adoption rate for Cloud solutions. That data point, as well as solutions evident on the show floor, point to how Cloud solutions increasingly are part of user strategies for deploying supply chain applications.
The MHI report, done jointly the past five years as a collaboration between MHI and Deloitte Consulting, examines industry trends including 11 enabling technologies for next-generation supply chains. Among these, Cloud computing ranks highest in terms of adoption, reaching a 57% adoption rate this year.
Additionally, when asked about plans for five years from now, 91% of the more than 1,100 supply chain professionals surveyed say they will have introduced Cloud-based systems. That means it will soon be the rare company with supply chain operations that doesn't have at least some Cloud-based applications.
There were numerous Modex exhibitors who use Cloud services as the primary option for deploying their solutions. While analyst data shows that within the warehouse management system (WMS) market, the installed base of end user sites is largely deployed "on premise," meaning on servers managed on site, many other types of software solutions are used in the industry.
Transportation management system (TMS) applications, for example, increasingly are offered as Cloud solutions, even as more WMS vendors focus on Cloud offerings. Additionally, many other types of Cloud-based applications are relevant to warehouse and logistics operations, especially in relatively new niches.
For example, The Raymond Corp. is known for its lift trucks, but it also offers its iWarehouse fleet management system, which can be deployed in the Cloud. At Modex, John Rosenberger, director for iWarehouse, said Raymond has focused on building a comprehensive suite of software that can be easily deployed to optimize lift truck fleet and warehouse operations.
The suite spans various key functions including telematics, certification management, labor management, real-time locating system (RTLS) concept capabilities, support for automated processes, and a Web portal for visualizing trends that make it unnecessary to cobble together point solutions, Rosenberger said. "You can bring together all these functions in one integrated solution to get a complete picture of what's going on in your warehouse and make your processes more effective," he added.
Modex exhibitor Cloudleaf offers a Cloud-based supply chain visibility and sensor data platform, whose use by an unnamed pharmaceutical company for "cold chain" monitoring is highlighted in the 2018 MHI industry report. According to Nitesh Arora, head of marketing for Cloudleaf, its platform is completely Cloud-based, performing edge computing on sensors and gateways without needing an edge server on site, thus simplifying deployment.
"Our patented technology allows us to continuously track every sensor within four walls as well as outside and in-transit," Arora said. "Infrastructure footprint is very low and the sensor batteries last three to five years."
Another Modex exhibitor, TECSYS, introduced a "last mile" delivery management solution that can be deployed in the Cloud, said Bill Denbigh, direct of logistics product marketing at TECSYS. The solution aims at giving regional distributors and logistics providers a set of delivery management tools similar to those that major parcel couriers can offer to customers, Denbigh said, in a Cloud-deployable solution that is pre-integrated with TECSYS's WMS, or which can integrate with other WMS solutions.
The functions in TECSYS's last mile solution spans delivery tracking, dock management, dispatching, driver management, and home delivery functions such as scheduling of "white glove" services like unpacking and set up of delivered equipment. While TECSYS can deploy the system on premise, Denbigh believes the Cloud option will be preferred because it is a quick, less complicated way to put in place the last mile functions organizations need to keep up with major online competitors.
"The need to service customers who are making frequent, smaller orders is driving rapid change in what distributors and 3PLs need to be able to offer to their customers," said Denbigh. "This solution is all about bringing together the key elements of last mile functionality in one solution in a way in which you quickly get value from the elements you need most, and from there, can easily expand to all the capabilities."
It's worth noting that the MHI survey asks respondents whether they have "introduced" Cloud solutions, not whether it's the dominant means of deploying systems. It may be that many respondents who answered "yes" on introducing Cloud solutions still have quite a bit of their systems deployed on premise.
Overall, the MHI study and the software offerings highlighted at Modex point to an information technology (IT) foundation in which many relatively new functions can be quickly brought into place with Cloud deployment, even while key existing systems remain on-premise. Few organizations are going to ditch an adequately working, on-premise WMS just because a vendor now offers a Cloud option, but for many relatively newer functions that weren't needed or perhaps not even envisioned when WMS was deployed, the Cloud is becoming the go-to means for deployment.
May 21, 2018
About the Author
Roberto Michel Roberto Michel, an editor at large for Modern Materials Handling (MMH), has covered manufacturing and supply chain management trends since 1996, mainly as a former staff editor and former contributor at Manufacturing Business Technology. He has been a contributor to MMH since 2004. He has worked on numerous show dailies, including at ProMat, the North American Material Handling Logistics show, and National Manufacturing Week. He can be reached at
Subscribe to Logistics Management Magazine!
Subscribe today. It's FREE!
Get timely insider information that you can use to better manage your entire logistics operation.
Start your FREE subscription today!
Latest Whitepaper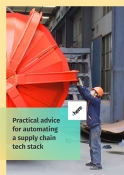 Practical advice for integrating new technology
As one of the world's leading location platforms, HERE shares insights and tips to streamline the supply chain technology integration across the whole organization.
Download Today!
From the August 2019 Logistics Management Magazine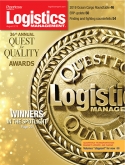 Ocean: Protecting margins in a soft market
Warehouse Voice Technology Speaks for Itself
View More From this Issue