MES at a crossroads
The time may finally be right for manufacturing execution systems to find a home in the marketplace.

Latest News
IDC TechScape assesses successful digital twin implementation
Signode Industrial Group to debut new corporate structure and brand at Pack Expo 2019
Article 3: Hedging Applications for Trucking Carriers, Shippers & 3PLs
Why ERP Is Key to the Customer Experience
Practical advice for integrating new technology
More News
Latest Resource
Practical advice for integrating new technology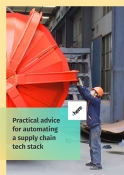 As one of the world's leading location platforms, HERE shares insights and tips to streamline the supply chain technology integration across the whole organization.
All Resources
By
Bob Trebilcock
·
April 14, 2011
Last December, Congress passed the Food Safety Modernization Act. The new law gives the Food and Drug Administration the authority to directly issue a product recall—no ifs, ands or buts about it.
Potentially, that's bad news for food and beverage manufacturers, who once issued recalls on a voluntary basis. Now, they have an entirely new level of compliance requirements to meet if they want to narrow the scope of a recall.
It's potentially good news for the developers of manufacturing execution systems, or MES—the supply chain execution software systems that direct and report on shop floor activities.
"Food and beverage companies are very conscious of getting their names in the paper for the right reasons and not the wrong reasons, like a product recall," says John Southcott, co-CEO of Brock Solutions (http://www.brocksolutions.com), an MES systems integrator. Southcott is also the international chairman of the board of directors for the Manufacturing Enterprise Solutions Association (MESA, http://www.mesa.org), an organization for MES solution providers and users (see page 58 for 60 Seconds with John Southcott). "MES provides the traceability of the materials that went into making a product that can prevent a recall or limit the scope of a product recall."
The question is whether manufacturers are ready to give up their homegrown legacy manufacturing systems and implement packaged MES solutions, just as warehouses and distribution centers have been doing with warehouse management systems (WMS) for the past decade?
The short answer may be: Yes, they are. "I was involved in 40 MES acquisitions last year and they were across industries," says Simon Jacobson, director of research for manufacturing operations at Gartner (http://www.gartner.com). "The common theme was that their current IT systems could no longer support their needs, they wanted faster implementations, and they needed a better way to connect their manufacturing systems to the enterprise."
MES at a crossroads
In that sense, manufacturing execution systems are at a crossroads, that point where the reasons for business to adopt a technology intersect with the ability of that technology to deliver a real solution.
If that sounds like a familiar refrain about MES, well, it should. "The MES market has been at a crossroads in the past," says Jacobson, who is a supporter of the technology. "Everyone wants to optimize cycle times and MES is good at managing production processes and getting rid of paper."
While those benefits are all well and good, Jacobson adds, the stumbling block for the adoption of MES has been that users weren't able to justify the expense of an MES system on optimized cycle times alone. "The question was whether these expensive systems would also support new product introductions, enable margin growth, or enable compliance," Jacobson says. If buyers weren't looking at those capabilities up front, or MES vendors weren't effectively delivering those messages, "the systems were stuck with the MES scarlet letter, which is that they cost too much and the implementations take too long."
For those reasons, the industry has been treading water as a $1.5 billion market without any significant year-over-year growth. Analysts like Jacobson, along with MES consultants and vendors, believe that the market is about to change, this time for real.
Exhibit A is General Electric, according to Charles Horth, CEO of STI (http://www.sticorp.com), an MES systems integrator. "GE has recently committed to rolling out MES across its 4,000 plants worldwide," Horth says. While GE is now one of the leading providers of MES systems, automating that many plants is still a significant commitment of time and money on the part of one of the world's leading manufacturers. "What's especially significant is that this is being driven by the executive leadership at GE," says Horth.
Driving MES today
One of the biggest reasons for this interest is new regulations and compliance issues. The food and beverage industry is the most recent example, but not the only example. "Regulation is tightening around all industries," says Southcott. "There are changes afoot in the tobacco industry; the automotive industry wants to limit the extent of a car recall; and if a bridge collapses, the authorities want to know where the steel came from and whether it passed quality inspections."
An MES enables compliance by capturing information about the bill of materials that goes into any production run of product, including batch and lot information, the ingredients or recipe for a product as well as any parts, components and raw materials used in the process.
"With an MES, we can capture the genealogy of the product when it was manufactured," says Tadeusz Dyduch, product manager for Apriso (http://www.apriso.com). "But the supply chain is also part of the solution. We now have tool sets to track the flow of goods outside of the four walls of the factory to the final buyer." That means MES users can identify the specific materials that went into making a product, the people and specific machines or lines involved in production, the results of any quality tests and tie that information to the transportation methods and the organizations that received the product after manufacturing.
In the tobacco and pharmaceutical industries, for instance, traceability and tracking information are being used to confirm the authenticity of the product: Governments want to confirm that taxes have been paid on tobacco products and drug manufacturers want to minimize the presence of counterfeit drugs in the pharma supply chain.
Compliance, however, is only one of the factors driving a renewed interest in MES on the part of users. Other factors include:
An aging workforce: For many manufacturers, leaning out the workforce has led to a shortage of new, young talent on the floor and in the plant's IT departments. "The individuals supporting existing manufacturing systems are on the back end of their careers," says Southcott. "The next generation may not be attracted to that role."
Custom code is expensive: Many manufacturing plants run on custom systems that, like their workforces, will soon be retired. It makes more sense to replace those systems with a packaged solution than another custom-written program.
Islands of automation: Many manufacturers have point systems in place for specific processes, like labeling compliance, "but there are still a lot of paper-based solutions and islands of automation," says Michael Gay, CPG industry manager for Rockwell Automation (http://www.rockwellautomation.com/rockwellsoftware/cpg).
Connecting the shop floor to the top floor: For years, manufacturing was a black box. C-level executives were only aware of the plant when something went wrong. Today, enterprises want visibility into their manufacturing operations and the ability to link those systems into their broad supply chain and ERP systems.
"We did a study in 2005 that found that the supply chain reported to manufacturing about 39% of the time," says Jacobson. "When we redid it in 2010, we found the supply chain answering to manufacturing only 8% of the time." What that means is that manufacturing and logistics are much more intertwined and have to work much more closely together than in the past. What's more, information about all of those processes needs to be rolled up for executive decision making.
Business strategies are changing: Running a long production batch is a much different animal from the shorter runs and frequent product changeovers that are part of today's dynamic market. "MES is an enabler of those kinds of business strategies," says Horth.
And, the nature of MES projects is beginning to change. "We're beginning to see business sponsorship for these projects," says Jacobson. "C-level executives are deeply involved in the projects and at the most progressive companies, they are putting together teams that blend manufacturing personnel with IT personnel and the supply chain."
What's different about MES
Remember that the adoption of any technology is never a one-way street. MES is at a crossroads because the needs of manufacturers are intersecting with the fact that "MES systems finally work as advertised," says Southcott.
And, like the WMS industry before it, the MES industry is moving closer to a packaged solution. "What the vendors are trying to do is to deliver as much out-of-the-box functionality as possible," says Jacobson. "They are mimicking the way mid-range enterprise resource planning (ERP) vendors have gone to market, with industry-specific applications and processes."
Make no mistake, however: MES systems are still expensive. But developing an out-of-the-box approach, especially one that is tailored to specific industry verticals, allows MES users to leverage their investment in one plant across multiple plants. "We're all creating libraries and capabilities for the industries we call on," says Rockwell Automation's Gay. Once an MES user rolls out a solution in one plant, it's much easier and more cost effective to roll the same solution out in another plant. "We have modularized the approach to MES," Gay says.
The last important change in the market may not involve functionality; rather it's the nature of the vendors providing MES solutions. A once-fragmented market made up of small, niche players has consolidated. Today, a handful of very large companies, including Siemens, GE, SAP and Rockwell Automation, are making significant investments in the MES space. "When companies of this size get into the market, it sends a message to end users that this is a serious space," says Southcott.
Jacobson adds that it's still too early in the development to predict whether this approach will turn the tide for MES vendors, "but it's interesting to watch."
June 11, 2012
About the Author
Bob Trebilcock Bob Trebilcock, editorial director, has covered materials handling, technology, logistics and supply chain topics for nearly 30 years. In addition to Supply Chain Management Review, he is also Executive Editor of Modern Materials Handling. A graduate of Bowling Green State University, Trebilcock lives in Keene, NH. He can be reached at 603-357-0484.
Subscribe to Logistics Management Magazine!
Subscribe today. It's FREE!
Get timely insider information that you can use to better manage your entire logistics operation.
Start your FREE subscription today!
Latest Whitepaper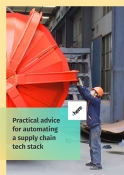 Practical advice for integrating new technology
As one of the world's leading location platforms, HERE shares insights and tips to streamline the supply chain technology integration across the whole organization.
Download Today!
From the August 2019 Logistics Management Magazine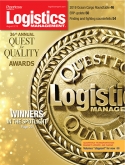 Ocean: Protecting margins in a soft market
Warehouse Voice Technology Speaks for Itself
View More From this Issue