Looking back at MODEX 2018
The new technologies on display last week in Atlanta were exciting, promising and confounding for materials handling customers faced with a new set of distribution challenges

Logistics in the News
Potential DSV acquisition of Panalpina takes a turn with Agility now in the mix
FTR's Trucking Conditions Index sees significant gain
AAR reports mixed volumes for week ending February 9
XPO Logistics reports strong Q4 and full-year 2018 earnings results
Chapter 11 filing and employee letter shed more light on NEMF's bankruptcy development
More Logistics News
Logistics Resource
8 Methods to Improve Your Forecast Accuracy
In this paper we will take a brief look at eight methods that have produced superior results for Logility's many clients in a variety of industries and market conditions around the world.
All Resources
By
Bob Trebilcock
·
April 16, 2018
It's been said that Amazon is developing – or has developed – the ability to pre-position inventory in anticipation of our orders. In short, they're trying to figure out what we want before we know we want it.
That's what I was thinking about during Modex 2018. Near the end of day one, I asked J.J. Schambow, the business development executive for enVista, what booth visitors were looking for. Her answer was quick and short: "They're just trying to figure it out."
On Tuesday, I met with Pieter Krynauw, the new president of Honeywell Intelligrated, who talked about the idea of the connected supply chain, one in which workers are connected inside the DC, DC's are connected across a network and they're all connected to processes happening outside the four walls and across the supply chain. "Industry has not come to grips with what this means to their supply chains," Krynauw said.
I posed that same question – what are our customers looking for? – to Steve Simmerman, the senior alliance director for JDA, and Scott Deutsch, president of Eberhardt and got similar answers.
"Help," was Simmerman's one word reply.

Deutsch, meanwhile, said that he'd given a standing room only presentation on upgrading your WMS, having no idea how big a crowd to expect. "Those I talked to after said they had legacy systems managed for years by someone who was ready to retire," Deutsch said. "They don't have anyone else who knows how to keep them running and they're afraid they can't modify them to keep up with new expectations."
In other words, they're trying to figure it out.
It seems to me that materials handling customers are dealing with multiple and opposing challenges. On the one hand they don't want to go too far into automation, given all the new technologies being introduced – everything from robotics, to sensor technologies, to a myriad of goods-to-person solutions. They don't want to invest today in a solution that will be outdated tomorrow. On the other hand, they don't want to be left behind either – they see these new technologies and wonder how they might be applied in their operation. And then, there's the labor issue. As Deutsch pointed out, in too many facilities, those with experience are retiring with no one coming up behind them. For companies like Wabash National Corp, an Indiana-based manufacturer of commercial trucking equipment highlighted this week in the Wall Street Journal, automation is a necessity – the company is paying more and more in over-time because it can't find enough help to keep the lines running, the Journal reported. The company is gambling on automation to alleviate the problem.
It's an exciting time for those of us who have been around the industry for years, when innovation was about running faster conveyor and sortation speeds. As a Dematic executive pointed out when he showed me a new goods-to-person layout, the system is designed to minimize the amount of conveyor. At the same time, like everyone else, I'm trying to figure it out.
April 16, 2018
About the Author
Bob Trebilcock Bob Trebilcock, editorial director, has covered materials handling, technology, logistics and supply chain topics for nearly 30 years. In addition to Supply Chain Management Review, he is also Executive Editor of Modern Materials Handling. A graduate of Bowling Green State University, Trebilcock lives in Keene, NH. He can be reached at 603-357-0484.
Subscribe to Logistics Management Magazine!
Subscribe today. It's FREE!
Get timely insider information that you can use to better manage your entire logistics operation.


Latest Whitepaper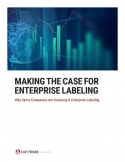 How to Minimize Costs with Enterprise Labeling
The right labeling solution will allow companies to stand up to their everyday challenges and add value.
Download Today!
From the February 2019 Logistics Management Magazine Issue
State of Global Logistics: Time for a reality check
Preview some of the innovations you will see at ProMat 2019
View More From this Issue
Latest Webcast
Freight Tech: Separating Need from Noise
In this webinar experts will share practical advice for selecting solutions that provide quick time-to-value while readying your supply chain for long-term success.
Register Today!