Lift Truck Maintenance: Parts and parcels
Increased visibility into every lift truck's costs is promoting accountability for operators, managers and service providers.

Latest News
Trump administration working to relax truck safety standards
U.S. rail carload and intermodal volumes dip for week ending July 6, says AAR
Other Voices: 5 steps to integrate PFEP software with PLM and ERP to accelerate product launches
Report: Molded wood pallets sales on an upswing
Indiana University Health builds a supply chain (and a distribution center)
More News
Latest Resource
Finding the Right Fit for New Technologies and Automation in your Warehouse/DC

In this white paper, Canon Solutions explores the challenges companies face when automating, explain why there's no need to rip-and-replace existing systems
All Resources
By
Josh Bond, Senior Editor
·
January 1, 2015
With increased access to data and more disciplined maintenance practices, lift truck fleet managers have more incentive and ability to ensure their warehouse workhorses perform as efficiently as possible. This knowledge has resulted in sweeping change to the parts supply chain responsible for delivering timely, cost-effective fleet repairs.
"The current level of cost consciousness at which businesses must operate requires attention to these details," says Pat DeSutter, director of fleet management for Yale Materials Handling Corp. "Lift truck maintenance is no longer a peripheral cost of doing business. It's a manageable variable."
The road to optimum maintenance practices needn't be traveled alone, since granular data about each lift truck's performance increases accountability for dealers and service providers.
Today, it's no longer acceptable for a technician to make repeated visits for the same repair or to needlessly increase downtime for what should be a quick fix. Service providers should already be motivated to keep technicians productive as opposed to traveling or troubleshooting, but a simple cost spreadsheet can enable customers to present a powerful report card.
"Even without software, maintaining accurate asset records, including usage and associated costs, is a must," DeSutter says. "Simply logging these costs can go a long way toward understanding cost drivers and can serve as a first step in identifying opportunities for improvement."
The real price tag
Traditional fleet maintenance practices relied heavily on guesswork. For example, an older lift truck might be running very well with low costs, but its hour meter would flag it for replacement. Or, a supplier offering a particular part for two dollars less than another might seem like a good deal.
It has also been commonly assumed that planned maintenance (PM) should be performed every 300 hours. But what does "300 hours" even mean? Some lift trucks log hours if the key is in the vehicle, whether or not it's being used.
"Some manufacturers' hour meters work by key; some by key and motion; some by key, motion and lift; some by key, motion and lift minus overlap," says Ken Ehrman, founder and president of I.D. Systems. "If you measure the actual activity of the equipment, you get a much more accurate sense of wear and tear. The difference between an hour meter and actual activity can be as much as 50%, and you might cut PMs by two thirds as opposed to performing blanket monthly PMs."
As for individual parts, a customer might identify the top 100 parts used and keep them in stock on site or at the dealer. A closer look at each of them can reveal places to streamline inventory, improve uptime and cut costs.
"It used to be that a customer might know they need a lot of drive tires because of poor floors in the facility," says Jack Kaumo, manager of fleet management and iWarehouse marketing for The Raymond Corp. "Instead, we can use the intelligence that's widely available to look at the replenishment rate, the cost of inventory and the cost of service to the customer. A different tire might be four times the price, but it wears much slower and can save the customer money."
When it comes time to perform a repair, downtime is enemy No. 1. Assuming a service technician has parts on hand is a recipe for wasted time and money.
"A lot of companies are looking at what happens before the repair," says Josh Landreman, senior manager of product support at UniCarriers. "It pays to identify a lift truck's needs based on safety, which should be addressed immediately, then items expected to impact operations in the coming weeks, then things that can wait until a PM. This will greatly improve responses to and durations of repairs, while limiting truck downtime."
The dealer's ante
The question of whether to outsource fleet maintenance or manage it in-house used to depend largely on fleet size. If a dedicated technician could be kept busy with more than about 25 pieces of equipment, there was not necessarily any motivation to seek help.
"Initially, it looked pretty easy," says Torrence Smith, senior manager of fleet management services for Mitsubishi Caterpillar Forklift America. "How complex could a lift truck be? Well, parts inventory alone is a huge cash outlay. What they would really like to do is maintain the same service level without the cash outlay. As a result, they have looked to vendors to employ technicians and manage inventory."
Now, dealers and service providers are providing full service for fleets of 300 trucks, according to Craig Bruns, director of aftermarket support for Crown Equipment. All that data can benefit those with only 10 trucks, and along with full service arrangements comes increased accountability for the dealers.
Customers were initially drawn to full maintenance programs by the appeal of a monthly flat rate. But since such arrangements often did not cover preventable damage and abuse, the rate could end up varying by a lot. "Bumper to bumper covers everything—unless you bump into something," Bruns says. "And, it gets complicated when you're asking 4,000 technicians to decide whether an event constitutes abuse or not."
New programs offer true flat rates, which removes guesswork while compelling dealers to take every step to limit equipment damage. But even if a plan does not include abuse costs, technology and discipline can cut the costs associated with full service maintenance. Ehrman says the key benefit is identifying an issue like an oil leak before it becomes a much more expensive problem.
"Traditional maintenance outsourcing could actually be the most expensive approach since a customer can become comfortable with their fixed rate, which is often a big one," Ehrman says. "Preventative data collection has been proven to reduce costs by as much as 50%. So if a service provider used to charge $200 to $250 per month per truck, that should be about half."
As a result, the practice of going paperless is becoming popular, according to Michael Heyden, national manager of parts and service field operations for Toyota Material Handling USA. Having a technician manually fill out work orders is being replaced by processing work orders electronically using electronic tablets, he says. This information is then used to complete the PM or repair and then housed for future data analysis.
Data analysis has already led to changes in the way parts are handled and repairs are completed. Don Bratton, senior consultant for BEB, a lift truck fleet management and operator safety training company, says technicians don't have the time to replace a small component of a module and instead replace the entire module to get a lift truck back into action. They can then fix and reclaim components later.
"In the old days, you would need a water pump and 20 additional parts to install it," Bratton says. "Now the same repair is plug and play, which is an increasingly common approach throughout lift trucks. The work might even be done by a less skilled person, preventing a technician from having to travel to the site in the first place."
Because a device in a technician's pocket can transmit data at every moment, much of the important information about service events is captured automatically. "Geo-fencing" around the perimeter of a facility can create a time stamp the moment a technician arrives and departs, and service calls can be assigned to the closest, most knowledgeable or best-equipped technician.
With advance data about parts needed for a given service, each technician is more likely to be well equipped upon arrival. Landreman suggests the management of parts inventory should be measured like the turns of product inventory within a warehouse.
"That kind of discipline can result in a 50% to 60% reduction of parts by both price and quantity in the van, at the same time as an almost 95% improvement in productivity because the technician has the right parts," Landreman says. "In a sense, parts management becomes one and the same as the management of technicians, in terms of what they have and where."
As more lift truck users have outsourced fleet maintenance, the location of parts has also changed. Bruns says that the consignment of inventories and the establishment of externally managed stock have become more commonplace.
For those parts stocked inside a customer's facility, he's seeing fewer parts cages with a clerk and more automation, RFID chips, scan guns, and other solutions. E-commerce capabilities have also seen growth, as OEMs and aftermarket suppliers empower customers to do their own maintenance.
Managing great expectations
The only person who spends more time with a piece of equipment than a technician is the operator. A significant cultural component accompanies creating and enforcing optimal maintenance practices, and telematics and other automated data capture technology is not guaranteed to succeed. The way a device is presented to operators might not match how it is perceived.
Some may see a telematics device as a sign of distrust that forces them to do something, and some could appreciate it as a tool that rewards them for good behavior. Some operations can expect to lose 10% to 15% of employees within the first week of using a new device. They either quit because they know their bad habits will be seen, or because management identifies and terminates them.
"One customer refused to put a device on because they had a family culture and didn't want a 'Big Brother' device," Bruns recalls. "Instead, they installed an undercover system the operator never sees, and each operator is anonymized. But they can still collect fault codes and hour meters, and drive down operating costs."
Even well-meaning initiatives can backfire, Bruns says, citing an example of an ATV giveaway for a year without accidents. "With six weeks left, a guy had a pallet hit him in the head, and he tried not to report it," he says. "You have to be careful with safety incentives."
Similarly, production requirements can clash with the need for scheduled equipment downtime as part of an effective maintenance program. DeSutter suggests businesses that experience a high level of seasonality might be more likely to neglect effective maintenance habits during operational peaks.
Smith again emphasizes data collection as a starting point. "Even without sophisticated technology, you can keep track of service costs tracked by serial number back to individual trucks," he says. "For one national customer, we regularly told them about their costs for accidental damage. And, it was not a small number. Some of its locations had been through a preventive education program, some had not, and the difference was stark. If you never tell an operator he's not supposed to do something, he will. The default tends to be bad, not best, practices."
Toyota's Heyden says that effectively reducing damage in the first place is central to the industry's focus on uptime. "Businesses that understand the true cost of keeping their businesses running and share that information with their employees empower them to continuously improve their processes," he says. "The bigger picture view helps to solidify decision making in operational management and keep everyone satisfied."
Companies mentioned in this article
BEB Industrial Asset Management, bebsoft.com
Crown Equipment, crown.com/usa
Hyster Company, hyster.com
I.D. Systems, id-systems.com
Mitsubishi Caterpillar Forklift America, mcfa.com
The Raymond Corp., raymondcorp.com
Toyota Material Handling USA, toyotaforklift.com
UniCarriers Americas, unicarriersamericas.com
Yale Materials Handling Corp., yale.com
August 17, 2016
About the Author
Josh Bond, Senior Editor Josh Bond is Senior Editor for Modern, and was formerly Modern's lift truck columnist and associate editor. He has a degree in Journalism from Keene State College and has studied business management at Franklin Pierce University.
Subscribe to Logistics Management Magazine!
Subscribe today. It's FREE!
Get timely insider information that you can use to better manage your entire logistics operation.


Latest Whitepaper

Finding the Right Fit for New Technologies and Automation in your Warehouse/DC
In this white paper, Canon Solutions explores the challenges companies face when automating, explain why there's no need to rip-and-replace existing systems
Download Today!
From the July 2019 Logistics Management Magazine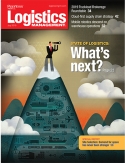 2019 State of Logistics: Third-party logistics (3PL) providers
2019 State of Logistics: Air cargo
View More From this Issue
Latest Webcast
Leveraging 3PLs for Future Shipper Gains
In this webcast, Evan Armstrong, president of Armstrong & Associates offers logistics and supply chain managers the industry's most comprehensive overview of the state of domestic and global third-party logistics arena.
Register Today!