ISM 2018: The digitization of procurement
NextGen supply chain technologies were front and center at ISM 2018.

Logistics in the News
Small win for transports: 53-foot containers from China exempt from Trump's tariffs
FTR Trucking Conditions Index sees slight gain
U.S. rail and intermodal volumes are down for week ending September 14, reports AAR
C.H. Robinson CEO Biesterfeld makes case for major technology investment at CSCMP
FedEx issues rate changes and fiscal first quarter earnings
More Logistics News
Logistics Resource
Consolidation offers Faster Transit and Greater Efficiency for Canada-bound Shipments
Thursday, September 12, 2019 | 2pm ET
All Resources
By
Bob Trebilcock
·
May 11, 2018
I had a chance to talk with Tony Uphoff, Thomas's president and CEO, at Monday's reception in Nashville at ISM 2018. While we both work in supply chain management today, we share a long background in consumer magazine publishing in New York. We both were witness to the disruption caused by digitization on long-standing, and once successful, business models in that world. At the same time, Thomas has tried to get ahead of the curve by transitioning from a print-based company – what we all knew as Thomas Register – to a digital native organization.
After, it occurred to me that our shared magazine experience, and Thomas's journey, is a metaphor for what's going on in this industry. Without question, supply chain processes, from source to make to deliver, are in the midst of a similar digital transformation, one that will probably take place over the next 3, 5 or 10 years. Yes, it will be disruptive to supply chain management, but I also think that the digitization of the supply chain will enhance what we do rather than decimate it the way it has magazine publishing and retail.
That was driven home yesterday morning at the first session I planned on attending on Artificial Intelligence in procurement. I say planned because it was standing room only and I was turned away. I was able to stand in a queue to attend the subsequent packed session on block chain in procurement (spoiler alert: It may be coming, but it ain't there yet and finding the sweet spot application is still a challenge right now). There were other sessions on block chain in the afternoon, and sessions on dashboards, analytics, machine learning, digital procurement, cyber security, control towers and a case study presentation on the digitization of a procurement organization. If you walk around the exhibition hall, a significant percentage of the booths are companies offering software and technology solutions. Clearly, technology is center stage, and probably rightfully so.
One reason for the popularity of some of these sessions is that we're all trying to figure out just what are these new technologies, like the Internet of Things, AI, block chain, machine learning and robotic process automation (RPA). Most of us aren't at the stage of applying them to our procurement organizations. But I think there's also a recognition that the organizations that learn how to use technology to their advantage will have a competitive advantage. To that end, in a round table on Sunday, Deborah Stanton, the executive director of CAPS Research, noted that data analyst was one of the notable job categories identified in list of skills gaps in procurement. Susanna Zhu, Hershey's CPO, noted that acquiring talent, including people with analytical skills, was the thing that keeps her up at night.
I asked Tom Derry, ISM's CEO, what from the Chinese menu of new technologies does he think is going to have the most impact on procurement in the near future. "Robotic process automation," was his answer. RPA, as it's also known, is software that can be trained to do rote tasks that are now done by people. "In our surveys, about 30 percent of companies already have active pilots in RPA," Derry said. "I think in the next 3 to 5 years, a majority of firms will have active RPA implementations."
RPA could lead to a transformation of procurement organizations if adopted, eliminating some jobs that are currently handled by people now. At the same time, Derry added, "the new jobs will be maintaining the algorithms that automate processes. Companies are going to want that expertise in house rather than rely on consultants. And, once those skills are in house, they can be transferred to other parts of the organization."
The digital revolution that Tony Uphoff and I lived through working in New York publishing was head spinning and, frankly, a little frightening. The digital revolution taking place in supply chain management may be head spinning, but it's also exciting and seems full of opportunity for the companies that figure out how to use it first.
May 11, 2018
About the Author
Bob Trebilcock Bob Trebilcock, editorial director, has covered materials handling, technology, logistics and supply chain topics for nearly 30 years. In addition to Supply Chain Management Review, he is also Executive Editor of Modern Materials Handling. A graduate of Bowling Green State University, Trebilcock lives in Keene, NH. He can be reached at 603-357-0484.
Subscribe to Logistics Management Magazine!
Subscribe today. It's FREE!
Get timely insider information that you can use to better manage your entire logistics operation.
Start your FREE subscription today!
Latest Whitepaper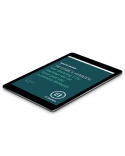 Are Your Profits Taking a Hit in This New Retail Environment?
This whitepaper aims to provide a better understanding of whether it might be a solution for your retail supply chain operations.
Download Today!
From the September 2019 Logistics Management Magazine Issue
IMO 2020 is Coming to Town: Will the spiking cost of fuel cause you pain?
Cold Chain/ Food Logistics: Setting the standard for cold chain
View More From this Issue
Latest Webcast
The State of Rail/Intermodal Markets. Volumes are down, but the future looks bright
In this webcast, our panel will provide a comprehensive update on the current state of the rail/intermodal markets and offer an in-depth look at the pain points shippers have been experiencing (service challenges, precision scheduled railroading (PSR), rates, capacity management) and offers shippers advice on how to prepare for the Q4 2019.
Register Today!