Equipment 101: Automated storage and retrieval systems (AS/RS)
Automated storage and retrieval systems (AS/RS) can help an operation reduce labor, increase accuracy and throughput, and have a green impact on the environment.

This mini-load staging buffer uses computer-controlled shuttles equipped with a load transfer device. The shuttles can deliver loads to a person who will pick items. When the pick is complete, the load is automatically returned to its storage location.
Latest News
Trump administration working to relax truck safety standards
U.S. rail carload and intermodal volumes dip for week ending July 6, says AAR
Other Voices: 5 steps to integrate PFEP software with PLM and ERP to accelerate product launches
Report: Molded wood pallets sales on an upswing
Indiana University Health builds a supply chain (and a distribution center)
More News
Latest Resource
Finding the Right Fit for New Technologies and Automation in your Warehouse/DC

In this white paper, Canon Solutions explores the challenges companies face when automating, explain why there's no need to rip-and-replace existing systems
All Resources
By
Lorie King Rogers
·
March 1, 2011
Automated storage and retrieval systems, known as AS/RS, have been around since the 1960s. Put simply, they are computer-controlled systems that put away, store and retrieve product in warehouses, distribution centers and manufacturing facilities.
"The first systems were built to handle large loads," explains Ralph Mills, executive director of sales . "From there, pallet loads developed into mini-loads, and most recently AS/RS is being used for replenishment and to sequence items."
Over the years, AS/RS have evolved into smarter, sophisticated materials handling solutions that can handle smaller loads and strategically deliver product to the right place at the right time without manual labor.
AS/RS configuration
Large systems, known as unit-load AS/RS, typically store and retrieve pallet loads. Smaller systems, mini-load AS/RS, handle product in totes, trays or cartons.
Regardless of size, most AS/RS have the same basic configuration: Two rows of metal rack face each other with a narrow aisle in between. Down the center of the aisle is a raised metal rail. A tall mast travels through the aisle along the rail. When the mast reaches a designated storage location, a carriage travels up or down the mast to the level of the location. A load-handling mechanism mounted on the carriage then reaches into the storage location to put away or retrieve a load.
The mast, carriage and load-handling device collectively are known as a storage and retrieval machine (for short an S/R machine or SRM) or a crane.
Most AS/RS use one SRM per aisle, but sophisticated high-throughput systems might assign multiple machines to one aisle. Some low-throughput systems assign one machine to multiple aisles. In these systems, the SRM makes a turn at the end of its aisle or is moved from aisle to aisle by transfer cart.
SRMs may have single or double masts. With a single-mast machine, the carriage is attached to the front of the mast. With a double-mast machine, the carriage rides between two masts, providing added stability in tall AS/RS or in systems that handle heavy loads.
Unit-load AS/RS
Unit-load AS/RS are designed to store large loads of 1,000 pounds or more, which are typically stored on pallets. Some specialized systems handle oversized loads like furniture and long rolls of carpet.
While a unit-load AS/RS can reach 100 feet, a typical system is less than 40 feet high. A standard AS/RS stores loads on rails designed specifically for automated systems. This rack, like drive-in rack, stores loads on rails that run perpendicular to the aisles. (Standard pallet rack stores loads on cross beams that run parallel to the aisles.) AS/RS rack can be configured single-deep, double-deep or as deep-lane rack with several pallets and stored one behind the other.
The load-handling mechanism for a unit-load AS/RS is usually a telescoping device, called a shuttle, that reaches into the storage location, slides under the pallet, then pulls it onto the carriage.
Less common turret-style SRMs that use a rotating fork are slower but can interface with standard pallet rack instead of special AS/RS rack.
A unit-load AS/RS can provide:
• dense storage in a warehouse,
• buffer storage for work-in-process,
• a dynamic pick face for a case-picking operation, or
• parts sequencing for an assembly line.
Mini-load AS/RS
Small-scale AS/RS that handle lighter loads, usually less than 1,000 pounds, in containers such as trays, totes or cartons are known by a number of different names.
Some suppliers use the term "mini-load AS/RS" to describe systems that handles loads between 100 and 1,000 pounds and the term "macro-load AS/RS" to describe those systems that handle loads of less than 100 pounds. Others simply call all of them mini-load systems. "Case-handling machine," and "tote stacker" are other terms used to describe light duty AS/RS.
This article will refer to all less-than-unit-load systems as mini-load AS/RS.
In addition to having many names, mini-load AS/RS also take numerous forms. Most are configured along the same principles as unit-load systems, but instead of using shuttles to pick up and retrieve loads, they use one of a variety of load-handling devices. Examples include extractors that grasp and pull handles on metal trays, vacuums that attach to corrugated cases, and robotic arms that grip plastic totes.
A typical mini-load stands between 10 and 40 feet tall. Mini-load AS/RS have numerous applications, some of which fall outside of the manufacturing and distribution industries. For example, government agencies and universities use them to store documents and books. Most mini-load AS/RS, however, are used in factories and warehouses for small parts storage and order fulfillment.
Benefits of AS/RS
If your organization is considering an automated storage and retrieval system, first determine which system is right for your handling needs. "Too often, end users want to incorporate every 'what-if' scenario into their selection process," says John Clark, director of marketing for . "Pick a system that addresses your sweet spot."
To determine your sweet spot, begin with AS/RS application discussions that address rate and storage capacity, says Charlie Zebell, vice president of supply chain solutions for . Then, define the loads to be handled and ask questions about selectivity, redundancy and building constraints.
Once in place, AS/RS can provide a number of benefits such as controlled access to valuable inventory, increased accuracy and productivity, and reduced labor costs and risk to workers. For example, these systems are a good option in freezers and other harsh environments that can be hazardous to people.
Advances in software and computer technology have enabled the continuous improvement of AS/RS and given end users competitive advantages, but what's really driving these changes is the need to have an effective "engine" that can support goods-to-person order fulfillment, explains Ken Ruehrdanz, warehousing and distribution market manager for . "Workers are no longer wandering around the warehouse looking for product. Instead, they stay in one place and the machine retrieves the product and brings it to them."
This turn of events has turned AS/RS from an overhead expense into a solution that can positively impact an operation's bottom line. "Distribution wasn't considered a profit center," says Sean O'Farrell, business development manager at Witron (http://www.witron.com). "Now it's a competitive edge that helps get product on the shelf faster, in the correct order and lowers the cost per pick."
AS/RS can also lower operating expenses through enhanced cubilization, which means storing product higher. How high depends on a number of variables, but a smaller building footprint means reduced cost and demand for lighting, heating, cooling and freezing the storage environment, which also has a positive impact on our overall environment.
Carousels also deliver
While this Equipment Series 101 focuses on AS/RS basics of fixed-aisle systems, other storage technologies such as horizontal carousels, vertical carousels and vertical lift modules (VLMs) are sometimes called automated storage and retrieval systems.
Carousels and VLMs can also deliver significant benefits to end users by bringing the product to the person and reducing operating expenses. "Carousels and VLMs can grow with your business, but what's important to one user is different from another," says Ed Romaine, chief marketing officer for . "When you calculate your ROI equation, you should consider four critical factors: space, cost, throughput and labor."
Your calculations could lead to a fixed aisle AS/RS or to one of the following:
Horizontal carousels are a lot like the equipment used by a dry cleaner, but instead of clothes hanging from the top rail, wire carriers are suspended from the rail. These carriers typically hold plastic bins containing small-sized products. Often paired with pick-to-light and voice technology picking systems, horizontal carousels work well in a facility with limited height, but can be stacked if ceiling heights allow vertical expansion.
Vertical carousels are similar to a Ferris wheel. This technology consists of shelves that rotate up and down inside a metal cabinet. The shelves can hold metal trays or plastic bins of small parts. When an operator requests a part from its computer system, the carousel rotates to deliver the correct shelf to an access window at the proper ergonomic level. Vertical carousels provide flexibility and work well in situations where the inventory changes, but the product profile remains the same.
Vertical lift modules are a combination of vertical carousel and traditional AS/RS technology. While the outside looks like a vertical carousel, the inside stores trays located on both sides of a column. An extractor mechanism travels up and down the column, retrieves the trays and delivers them to the operator at an ergonomic work counter. VLMs are flexible, can change with operation's changing requirements and optimize space tray density.
May 20, 2011
About the Author
Lorie King Rogers Lorie King Rogers, associate editor, joined Modern in 2009 after working as a freelance writer for the Casebook issue and show daily at tradeshows. A graduate of Emerson College, she has also worked as an editor on Stock Car Racing Magazine.
Subscribe to Logistics Management Magazine!
Subscribe today. It's FREE!
Get timely insider information that you can use to better manage your entire logistics operation.


Latest Whitepaper

Finding the Right Fit for New Technologies and Automation in your Warehouse/DC
In this white paper, Canon Solutions explores the challenges companies face when automating, explain why there's no need to rip-and-replace existing systems
Download Today!
From the July 2019 Logistics Management Magazine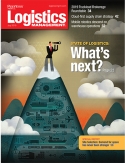 2019 State of Logistics: Third-party logistics (3PL) providers
2019 State of Logistics: Air cargo
View More From this Issue
Latest Webcast
Leveraging 3PLs for Future Shipper Gains
In this webcast, Evan Armstrong, president of Armstrong & Associates offers logistics and supply chain managers the industry's most comprehensive overview of the state of domestic and global third-party logistics arena.
Register Today!