Content from our sponsor
Helping Companies Around the Globe Solve Their Most Pressing Supply Chain Challenges
Locus' multipronged approach to supply chain management is helping companies achieve high levels of efficiency and productivity in a world where e-commerce and omni-channel distribution demand it.

Technology in the News
Warehouse Voice Technology Speaks for Itself
IBM and Chainyard announce collaboration on blockchain network
Cognex Retail Distribution Logistics Solutions Guide
BlueGrace introduces Carrier File data mining tool for flagship TMS
Supply Chain Management in the Cloud
More Technology News
Technology Resource
Cognex Retail Distribution Logistics Solutions Guide
Power Up Your Retail Distribution Operations With Cognex
All Resources
By
Bridget McCrea, Editor
·
March 27, 2019
In a world where customers expect fast, accurate deliveries within specified timeframes, companies need all the help they can get in meeting and exceeding those expectations. Driven by large e-tailers like Amazon, those expectations are changing by the day, and pushing manufacturers, retailers, and distributors to deploy new technology solutions that enable end-to-end supply chain movement and visibility.
Knowing this, Locus provides a multipronged solution that includes dispatching, sorting, load balancing, route optimization, last-mile deliveries, and the monitoring of shipments and vehicles in real-time. Currently used by some of the major e-commerce companies in India, the solution is now being offered in the North American market.
Focused on logistics planning, automating, optimization, and supply chain management, Locus' platform is a decision-making engine that helps companies reduce costs, achieve efficiencies, improve consistency, and increase transparency across all of their operations. Locus Dispatcher, for example, manages everything from automated delivery route planning to vehicle tracking to smart order allocation, to name just a few of its key capabilities.
Locus IntelliSort, the most advanced shipment sorting platform, helps companies maintain a high level of accuracy in the sorting process, while significantly reducing the time taken to complete those tasks. It provides routes that can be printed on shipping labels to eliminate the manual dependence and saves time by simplifying the "look-and-pick" method traditionally used for shipment sorting.
The platform also includes FieldPro for salesforce automation; and MotionTrack for real-time fleet tracking and analytics. By combining all six solutions onto a single platform, Locus is helping companies worldwide effectively solve their most pressing fulfillment and transportation challenges.
Locus CEO Nishith Rastogi says that as the entire supply chain continues to reorient itself, the need for robust technology is growing exponentially. Because both stores and individuals now want same- and next-day fulfillment, for example, the pressure is on distribution centers to streamline and automate their operations while also meeting service level agreements (SLAs) and other expectations.
"Retailers are basically saying look, I can order an Uber on my phone and it comes in five minutes," says Rastogi, "so why are you refilling my shelves once or twice a week?" The same expectations are pushing over into the B2B space, where buyers expect to be able to execute a few screen taps and have their goods show up on their doorsteps within hours (or, a day at most).
Leveraging Tribal Knowledge
With its software, Locus brings an innovative solution to the supply chain management table that goes beyond any manual methods. "Thanks to the demands of the 24-hour delivery window, businesses have to be making decisions every day, hour, and even minute," says Rastogi. "The data needs to be recalculated hourly, and it has to factor in many different internal and external elements."
To do that, Locus incorporates more than 100 application data interfaces (APIs) that connect software platforms to one another. This allows the company to embed new features into its platform without the need for excessive customizations or integrations. It's a key differentiator for warehouses and fulfillment centers that are using older, proprietary enterprise systems that can't be easily updated or replaced.
Locus also leverages "tribal knowledge" that so many veteran warehouse and logistics managers carry around with them (e.g., preferred delivery time slots for specific customers), and then uses it to help companies make quick supply chain decisions in the extremely dynamic distribution environment.
"Static systems don't work anymore," says Rastogi. "Using AI and deep learning, our platform is able to constantly adapt to the changing environment and implement viable solutions that help companies work smarter and better."
Developing a Smarter Grocery Chain
With operations in 25+ cities and over 15,000+ products on its platform, online grocery store bigbasket sells a wide variety of fresh fruits, vegetables, meat, dairy, groceries, personal care, and household items. After picking their selections, bigbasket's customers can choose from express delivery, next-day delivery, or even pick a specific time slot to have their orders dropped off.
With customer preferences always changing, bigbasket must be able to service those buyers in a timely way and on their terms. The nature of the product also adds to bigbasket's delivery complexities, especially for the perishable food items. Dropping off an order of perishable goods two hours before the customer's preferred time, for example, means the goods will be spoiled, customers will be mad, and refunds will have to be issued.
"The cost of the dissatisfied customer is huge as this has a direct impact on business and lost revenues," says Rastogi. "With the emergence of several players in the grocery market, the only key distinguisher is customer happiness and high standards in product quality."
The small window between the time a customer places an order and bigbasket's delivery time also dictates a very short planning time for shipments. This was getting extremely difficult to manage using manual planning processes, so bigbasket went in search of a better solution.
The grocer found what it was looking for in Locus, which provided a comprehensive route optimization and tracking solution to bigbasket. Locus Dispatcher, the algorithmic route optimization officer, generates optimized routes using artificial intelligence (AI). This helps drivers deliver more orders within shorter time periods.
Using a proprietary geocoding engine, Locus Dispatcher provides bigbasket with optimized and dynamic routes based on business parameters. It creates comprehensive and optimal route plans that are data-driven and not intuition based. "Most of bigbasket's orders are routed such that customer service level agreements (SLAs) and expectations are met," says Rastogi.
With Locus MotionTrack, the online grocer also gained access to real-time tracking, insights, and analytics. For example, being able to monitor its entire operations in real-time helps bigbasket compare planned routes against executed routes and keep tabs on its compliance rates. Reports can be generated and shared with managers who, in turn, easily identify the top performing and laggard business units and resources.
"Senior management has a hawk's eye view of on-ground operations for real-time tracking of fleet and workforce management on a custom dashboard," says Rastogi, explaining that bigbasket's customers can use their mobile devices to track their orders in real-time. Key "wins" for bigbasket include 99.9% SLA adherence; on-time delivery for its 10 million+ customers, better vehicle space utilization, and a more streamlined, efficient end-to-end supply chain.
Expect to see similar success stories coming soon in the North American market, where Locus is assembling a team that includes both business development professionals and mathematical researchers. It's also working with several organizations that are interested in its multipronged, flexible supply chain management platform.
"We're pretty excited about the marketplace," says Rastogi, "and about the opportunity to demonstrate the same double-digit efficiency gains that our international customers are already realizing."
March 27, 2019
About the Author
Bridget McCrea, Editor Bridget McCrea is a Contributing Editor for Logistics Management based in Clearwater, Fla. She has covered the transportation and supply chain space since 1996 and has covered all aspects of the industry for Logistics Management and Supply Chain Management Review. She can be reached at
, or on Twitter @BridgetMcCrea
Subscribe to Logistics Management Magazine!
Subscribe today. It's FREE!
Get timely insider information that you can use to better manage your entire logistics operation.
Start your FREE subscription today!
Latest Whitepaper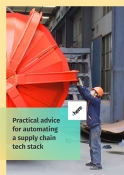 Practical advice for integrating new technology
As one of the world's leading location platforms, HERE shares insights and tips to streamline the supply chain technology integration across the whole organization.
Download Today!
From the August 2019 Logistics Management Magazine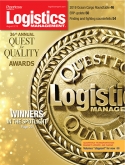 Ocean: Protecting margins in a soft market
Warehouse Voice Technology Speaks for Itself
View More From this Issue