Healthcare distribution: Easing the pain
The modernization of healthcare distribution in many ways mirrors the omni-channel revolution and stands to benefit from similar solutions.

Latest News
Report: Pallet wrap sales growing steadily
U.S. West Coast ports warned about "complacency"
Dematic names Bernard Biolchini EVP and CEO, Americas
Logisticians, carriers fret over U.S. economy's future
U.S.-bound shipments trend down in June, reports Panjiva
More News
Latest Resource
Rules of Origin Really Do Rule
Inputs Make the Outputs: How Rules of Origin Really Do Rule
All Resources
By
Josh Bond, Senior Editor
·
December 1, 2015
Think of innovative industries, and you're likely to think of healthcare. After all, the industry continues to develop a pipeline of miracle drugs and miracle procedures like robotic surgery. So, you would think that hospitals, medical device manufacturers, pharmaceutical companies and healthcare distributors would be on the cutting edge of materials handling automation and information technology systems. If so, you might want to think again.
While manufacturing, retail and industrial distribution have been transformed by new business models, like e-commerce, healthcare distribution has not fared as well in the face of regulatory, legislative and economic factors that have conspired to radically transform this industry niche. You've heard the saying that warehousing and distribution are between five to 10 years behind state-of-the-art technology, but many healthcare organizations are starting from scratch.
"The hospital setting has grossly underinvested in terms of supply chains," says Kent Roberts, vice president of business development for Swisslog Healthcare Solutions. There are a variety of reasons for that, Roberts adds. "One customer said historically there was no focus on the cost of logistics. It was all about patient care, and the supply chain was subordinate to doctors and service. Even if they had wanted to manage it, there was little visibility."
Although their supply chains haven't received much attention, that's not to say these organizations haven't been spending. Hospitals have traditionally gone for the big, shiny medical device to attract customers, like robotic surgery or a new MRI machine. "Now the bill has come due on the supply chain side," Roberts says.
The healthcare industry's response reflects the urgency and disruption of the e-commerce boom. In fact, several of the same technologies, methodologies and supply chain principles are poised to shepherd healthcare through its own omni-channel revolution.
Prevention is preferable to cure
Drawing from dozens of interviews, the Health Industry Distributor's Association (HIDA) recently reported that providers expect operating margin declines of up to 30% between 2011 to 2015, including 70% who anticipate declines of 10% to 20%.
The previous mindset for inventory management in healthcare distribution and hospital settings was less "just in time" and more "just in case." After all, when dealing with people's lives and safety, double or triple redundancy is ideal. But in the absence of any meaningful efforts to improve efficiency, costs kept increasing, as most patients are well aware. By the time the Affordable Care Act was passed and Jan. 1, 2018 track-and-trace deadlines were set, the healthcare supply chain was center stage.
"Put bluntly, the credit card statement came in," says Robert Colosino, vice president of marketing and business development for TECSYS. "Until then, everything seemed great in healthcare. They had a TV, sound system and a Porsche in the driveway. It wasn't that the supply chain solutions didn't exist, they just recognized the reality that they can't keep spending like drunken sailors."
Thankfully, there's a legacy of cross-pollination among automation solutions for materials handling in healthcare and warehousing environments. This relationship has positioned the healthcare distribution market to benefit from technologies that have already proven effective in retail and omni-channel distribution applications for many of the same kinds of challenges and objectives.
"People in healthcare distribution often say they're different," Colosino says. "Others say the challenges are essentially the same. I think that although standard supply chain practices should hold true, the fundamental difference that creates a problem is that the point of use has a different mission than profit."
To be fair, the modernization of healthcare distribution is much more complex, especially since hospital systems and related manufacturers do not have mature supply chains. Chris DiBernardi, director of business and product development for healthcare at Ryder, cites a study revealing that more than 50% of integrated delivery networks and manufacturers in the healthcare industry have classified their supply chains as immature.
"Our largest retail customer knows cost visibility to the third decimal point, and picking, shipping and shrinkage to the fourth decimal point," Swisslog's Roberts says. "With healthcare, they don't have the benchmarks. If we tell them they can save 30%, they say 'of what?'"
Patients, profits and practice
Roberts identifies five major hurdles that must be overcome if a hospital wants to run an efficient supply chain while reducing costs and improving patient outcomes:
• sourcing,
• inventory management,
• regulatory compliance,
• visibility, and
• analytics.
It's not as simple as replacing hand-counted inventory with RFID tags. Across product categories, each area has a very different supply chain model. Cardiovascular implants are handled differently from orthopedics, which are different than large medical devices and surgical equipment and large molecule pharmaceutical and in vitro test kits.
"A retail store might have 5,000 to 7,000 items," Colosino says, "but a hospital is closer to 50,000, including controlled substances and items implanted in your body, so the tracking required is extreme."
In the retail world, once a product is sold, the transaction is concluded. Collecting data based on patient outcomes, however, is entirely different in terms of informing the supply chain design and evaluating its performance. Furthermore, the scope of the healthcare supply chain has broadened, since it might include home healthcare and non-hospital facilities. Retailers might need to ship items where the customer wants, Roberts says, but healthcare needs products to more dynamically follow the patient's physical location.
Responsive and accurate supply chains must also reach even the most remote parts of the country. Wherever they are, hospitals don't just need more efficient ways of doing what they've always done; they need to achieve compliance while keeping pace with the combination of an aging population and more recognized methods of diagnosis and treatment. The need for system-wide inventory visibility and standardization of these systems between pharmacy and supply chain in every hospital location enables reduction of overhead, decreased waste and improved efficiency.
"There is a lot of potential for customization as healthcare organizations look at new ways of providing patient-specific supplies and medications," says Ross Halket, executive director of automated system design sales at Schaefer Systems International. "Right now, someone stands at the end of hospital hall, pours pills from a big bottle to fill cups with patient doses, and delivers them. If they use five aspirin a month, why buy 500?"
The solution might include a supply chain modeled around a consolidated service center (CSC), where a group of hospitals, related facilities or even home healthcare needs would be served from a large central warehouse. Roberts says these facilities employ many of the same automation and warehouse management systems (WMS) familiar to conventional distribution.
First do no harm
Based on the focus on patient care, doctors and nurses can't be burdened with time-consuming inventory control processes that do not add patient value. By definition, this pushes much of the complexity of distribution out of the hospital environment. Halket says the options and preferences for healthcare organizations are all over map in terms of where product is stored and shipped.
The healthcare supply chain often consists of two main subsets, Colosino says: handling before the hospital and inside it. Each has a distinct set of limitations and they must work in harmony, but there are no hard and fast rules about where a given function should be performed. Kitting, order consolidation and timely, patient-specific fulfillment activities might occur in mini-DCs on each hospital floor, upstream in an off-site CSC, or through a 3PL.
"Some want in-sequence, patient-ready products delivered to the hospital floor, others want wing-specific delivery," Halket says. "There's a new approach at a central fill facility where sequenced items are pre-packaged and delivered in a tray that fits in a cart that is wheeled down a hospital aisle with a put-to-light system for those drop-offs."
Adam Brown, market development director for Dematic, says some facilities are working to expand and centralize mini-DC functions from floor-level operations to denser and potentially automation-friendly applications. Other facilities are removing many mini-DC functions from the hospital.
"Both self-distribution and 3PL- supported supply chains are looking for more granular data on tracking units of use," Brown says. "Whether it's an IV bag or five gauze pads, if someone has to walk into a patient's room and give them something, we hear wishes for solutions that could charge items to the patient's account as they are carried through the door."
For now, it is best to target some common practices, including any paper-based picking with order accuracy and inventory problems. Brown says this ultimately comes down to shaping software to the specific environment. "If you do not start with an IT-centric program, whether you pick manually or not, you will need back-end systems to track, plan and administer those orders properly and accurately."
Amid the scramble to meet the needs for efficiency throughout the supply chain and ease at the point of use, every player in healthcare distribution is working to protect or expand their revenue streams while picking the abundant low-hanging fruit in their customer bases.
"Wholesalers are looking to break into that business in a big way and take it away from traditional hospital wholesalers," Halket says.
"Companies that were once pharmaceutical wholesalers now want to be pre-wholesale, or provide central fill and other specialty services. They're all trying to get into each other's business. The advantage might be to the wholesalers, who understand the risks of investing in automation as opposed to hospitals, which are much more risk-averse and wonder what the impact might be."
A speedy recovery
For those hospitals considering CSCs to promote supply chain efficiency, risk aversion is common for greenfield projects and modern technologies, but it is more pronounced in established facilities, according to Rich Riemer, vice president and principal of Southwest Solutions Group, a certified installer for Kardex Remstar. For all the past excessive spending in the name of improved care, some corners of the industry have been outright neglected, he says.
"One of the largest untapped opportunities is in the pathology department, where samples of biological material accumulate in incredibly outdated storage systems," Riemer says. "There are metal drawers that are cramped and disorganized and don't preserve sample integrity. No patient wants to hear that the biopsy was no good, and they need to schedule another."
In addition to storage, transportation systems must protect samples as they move from facility to facility. To offset freight costs, a hospital might tap its existing network of hospital-owned trucks that ferry specimens and supplies to manage other product movements and deliveries. But the nature of healthcare distribution calls for a range of product velocities and responsiveness.
"Some CSCs are not like any other centralized distribution," Riemer says. "There's a lot of pallet movement, a lot of hand-picked items, and extensive geographic logistics to provide on-time delivery. They often start picking at 4 a.m. before sending vans out at 9 a.m."
Hospital DCs are therefore investing in automation like goods-to-person systems to enable speed and accuracy in these environments. As acquisitions and centralization continues, organizations will also find the economies of scale to justify automation. For the foreseeable future, consolidation will be prevalent, as evidenced by the recent news of Walgreens' plans to acquire Rite-Aid. Among large and small players in the healthcare market, uniting supply chains often means reckoning with redundancies.
One of the main end goals is standardization, Roberts says. Gloves are a common example. If each entity acquired by a growing hospital network had a set of gloves it liked, suddenly the network finds itself stocking 37 kinds of gloves when they really only need five. A CSC can uncover duplication and facilitate a standardized SKU set, Roberts says, but it's important to have clinician buy-in.
"A doctor might object and say these seemingly small decisions are putting patients at risk," he says. "If they get together with the 37 gloves and are asked how best to trim that, everyone will get better results. This might even include direct collaboration between supply chain folks and clinicians."
Companies mentioned in this article

• Dematic
• Ryder Logistics
• Schaefer Systems International (SSI)
• Southwest Solutions Group, a Kardex Remstar installer
• Swisslog
• TECSYS
December 1, 2015
About the Author
Josh Bond, Senior Editor Josh Bond is Senior Editor for Modern, and was formerly Modern's lift truck columnist and associate editor. He has a degree in Journalism from Keene State College and has studied business management at Franklin Pierce University.
Subscribe to Logistics Management Magazine!
Subscribe today. It's FREE!
Get timely insider information that you can use to better manage your entire logistics operation.


Latest Whitepaper
Rules of Origin Really Do Rule
Inputs Make the Outputs: How Rules of Origin Really Do Rule
Download Today!
From the July 2019 Logistics Management Magazine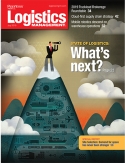 2019 State of Logistics: Third-party logistics (3PL) providers
2019 State of Logistics: Air cargo
View More From this Issue
Latest Webcast
Leveraging 3PLs for Future Shipper Gains
In this webcast, Evan Armstrong, president of Armstrong & Associates offers logistics and supply chain managers the industry's most comprehensive overview of the state of domestic and global third-party logistics arena.
Register Today!