Global Trade Management: Automation time
According to recent market surveys, too many global shippers are still using a mix of manual processes and homegrown systems to manage global trade. Our analysts say "enough is enough."

in the News
Dematic names Bernard Biolchini EVP and CEO, Americas
Logisticians, carriers fret over U.S. economy's future
U.S.-bound shipments trend down in June, reports Panjiva
Rules of Origin Really Do Rule
Trump administration working to relax truck safety standards
More News
By
Bridget McCrea, Editor
·
March 1, 2014
Aware of the complexities of running a global supply chain, today's global shippers generally take one of three routes to import and export compliance and management.
Some off load the task to their third-party logistics (3PL) providers and freight forwarders, while others use spreadsheets and manual processes to tackle the issues. However, a smaller portion has turned to global trade management (GTM) software to streamline and automate processes related to customs and regulatory compliance, global logistics, and trade financing.
According to ARC Advisory Group's recent Global Trade Management Market Study, international trade has grown at almost three times the rate of global GDP over the last 10 years. In turn, this increased volume of trade has made manual global trade processes insufficient in many cases.
Concurrently, global expansion has increased the complexity of trade regulatory requirements placed on multinational corporations.
According to ARC's findings, these market dynamics certainly improve the GTM value proposition and should increase demand for the solutions.
However, shippers have been somewhat reluctant to adopt GTM.
According to SCM World's recent Managing Global Trade: Rising Importance but Lagging Execution survey, 75 percent of companies trade across more than 10 countries and that nearly half (48 percent) trade across more than 50 countries. Almost half (48 percent) of respondents say that an inability to control global transportation costs and the lack of visibility of global shipments moving through the global supply chain are among their top five business challenges.
Key challenges these shippers face include delay of shipments by customs (80 percent) and unpredictable lead times on international deliveries (90 percent). And while 57 percent of respondents say complying with global trade regulations is a top concern, less than 4 percent have automated their import compliance functions and just 12 percent collaborate with extended global trading partners in an automated fashion.
According to SCM World's findings, the most common way of handling trade management processes and the information needed to support such processes involves some combination of manual work in spreadsheets, clunky homegrown systems, and arm's length relationships with third-party partners.
"Truly successful global trade management depends on getting both the visibility problem and the compliance problem right," says Kevin O'Marah, SCM World's chief content officer. "Without accurate and up to date content for compliance purposes, money will be wasted."
Over the next few pages we'll explore the adoption rates of GTM, explain the critical role that such solutions can play in the smooth running of a global supply chain, and hear from a shipper that has moved from manual, homegrown processes to a full blown GTM.
Global disconnection
With such a high degree of shippers relying on disconnected global trade compliance and management solutions, a lot of money and time is being lost as companies struggle to keep up with new rules, regulations, and laws.
"Delivery holdups at the border and at customs, regulatory issues, visibility problems, and myriad other challenges are making global shipments harder and harder to manage," says O'Marah. "When shippers use a slew of manual processes, phone calls, and rely on individuals to remember things, even the shortest global supply chains can run into trouble."
Those potential trouble spots haven't gone unnoticed by shippers. According to ARC, demand is especially strong for solutions that support special-duty programs such as free trade and foreign trade zones.
Free trade functionality automates classification processes that support duty minimization, ARC reports, while foreign trade zones offer opportunities for companies to reduce or delay duty payments, resulting in lower operational and inventory management costs. Other functions that shippers need help with, and that GTM handles, include maintenance of product classification databases, denied party screening, export license management, and supply chain security program compliance.
According to William McNeill, principal research analyst at Gartner, Inc., there's a resurgence in the number of shipper inquires around restricted party screening (the process of screening those parties involved in an export transaction for the purpose of complying with the safety standards) and export compliance.
"Now that the economy is improving, companies that are doing more international business are re-examining their export policies in an effort to mitigate the risks," says McNeill.
Holistic view
For the most part, investment in global trade solutions remains highly tactical in nature, with companies finding specific ways to mitigate potential risks without looking at the more holistic, global picture.
Most remain focused on restricted party screening, says McNeill, who also sees a high degree of shippers relying on their 3PLs and freight brokers to identify and address any potential risk areas. This can get shippers into trouble, he notes. "Just because you outsource the process doesn't mean you shouldn't have visibility into it."
O'Marah concurs, and says GTM provides that visibility while also maintaining the all important content (customs, taxes, tariffs, denied parties) that is cross-referenced to ensure compliance. "Keeping track of all of the changing rules is the hardest aspect of global trade right now," says O'Marah.
"Through our own research, we found that every shipper could tell a story of being caught by surprise by a new rule or regulation. Those issues can really hurt."
Ultimately, O'Marah says that a good GTM's ability to check against all possible issues and conditions in advance—before any problems can arise—is what makes such systems invaluable. And as global supply chains continue to grow and expand, the need for such automated oversight is sure to increase. Looking ahead, O'Marah says he sees great potential for a more holistic approach to cloud based GTM—a development that could make content updates, transparency, and trade partner collaboration easier and more accessible in the 24/7, web-based format.
"If shippers had access to a layer of universal content that was changed and updated consistently without the need for manual updates," says O'Marah, "there would be greater transparency and, perhaps, more companies interested in replacing their manual trade systems with
automated options."
McNeill also predicts a coming convergence between GTM and sourcing/general visibility applications. "When companies examine either compliance software or GTM, they should do it with an eye toward their organization's overall logistics strategy," says McNeill.
"It should be based on their existing logistics applications and those that can help improve their sourcing and visibility. This is yet another direction that GTM may be headed in the future."
June 15, 2016
About the Author
Bridget McCrea, Editor Bridget McCrea is a Contributing Editor for Logistics Management based in Clearwater, Fla. She has covered the transportation and supply chain space since 1996 and has covered all aspects of the industry for Logistics Management and Supply Chain Management Review. She can be reached at
, or on Twitter
Subscribe to Logistics Management Magazine!
Subscribe today. It's FREE!
Get timely insider information that you can use to better manage your entire logistics operation.


Latest Whitepaper
Rules of Origin Really Do Rule
Inputs Make the Outputs: How Rules of Origin Really Do Rule
Download Today!
From the July 2019 Logistics Management Magazine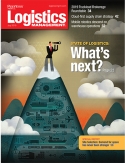 2019 State of Logistics: Third-party logistics (3PL) providers
2019 State of Logistics: Air cargo
View More From this Issue
Latest Webcast
Leveraging 3PLs for Future Shipper Gains
In this webcast, Evan Armstrong, president of Armstrong & Associates offers logistics and supply chain managers the industry's most comprehensive overview of the state of domestic and global third-party logistics arena.
Register Today!