Global Logistics: Prepare or perish
Over the past month, most of us have been feeling the pinch of negative global macroeconomic trends first hand as we watched U.S. markets wildly fluctuate on a daily basis, taking a chunk out of our investments and making us feel uneasy about our long-term financial planning.

Logistics in the News
Potential DSV acquisition of Panalpina takes a turn with Agility now in the mix
FTR's Trucking Conditions Index sees significant gain
AAR reports mixed volumes for week ending February 9
XPO Logistics reports strong Q4 and full-year 2018 earnings results
Chapter 11 filing and employee letter shed more light on NEMF's bankruptcy development
More Logistics News
Logistics Resource
8 Methods to Improve Your Forecast Accuracy
In this paper we will take a brief look at eight methods that have produced superior results for Logility's many clients in a variety of industries and market conditions around the world.
All Resources
By
Michael Levans, Group Editorial Director
·
February 1, 2016
As it so often happens, we tend to not fully absorb the weight of events that unfold on distant shores—until it has a direct effect on us, that is. Over the past month, most of us have been feeling the pinch of negative global macroeconomic trends first hand as we watched U.S. markets wildly fluctuate on a daily basis, taking a chunk out of our investments and making us feel uneasy about our long-term financial planning.
It's not until it arrives on our doorstep and hits us in the pocket—or our transportation budget—that we take a genuine interest. Last month, executive editor Patrick Burnson did a terrific job of putting context around the ongoing global slump and the ripple effect those declines could have on our freight rates and capacity this year.
"While the U.S. economy continues to move forward, logistics managers need to brace themselves for a volatile period of rate fluctuation due to global unease," says Burnson. "Just on the oil front alone, we need to remember that the U.S. still relies on OPEC production to balance supply."
And considering the continued unrest in the region, OPEC production could be significantly cut at any moment—another global event that would immediately darken our doorstep. It's clear that oil supply and fuel cost uncertainty must remain top of mind. In fact, our "Oil and Fuel" columnist Derik Andreoli writes this month that the global oil and fuel markets heading into 2016 "could not be more unstable."
"The good news for shippers, at least in the short term, is that oil and fuel prices are lower now than they've been at any point over the last decade," writes Andreoli. "The bad news is that these low prices cooked the goose that laid the golden egg, and now threaten to further destabilize many of the world's leading oil exporters."
Not only can you read Andreoli's analysis in our pages this month, but you can also hear his long-term forecast for the oil and fuel markets as part of our "2016 Rate Outlook" .
He's part of a panel of analysts who explain the impact that the current environment is having on freight transportation markets. At press time, more than 1,500 shippers have attended this event.
This month we flip the lens and offer a collection of features to help global shippers prepare for the myriad challenges that emerge when extending supply chains across distant and unfamiliar borders.
Burnson takes a look at the progress that 10 Southeast Asian nations (the ASEAN marketplace) are making on the road toward economic integration to better compete with China, Japan, and South Korea. "While the rewards are plentiful in the ASEAN," says Burnson, "so too are the risks. The wealth of an emerging middle class is booming, but infrastructure improvements have miles to go before the goal is realized and U.S. shippers can reap the rewards."
And as global expansion become more enticing, so does the need for global trade management (GTM) software to better streamline processes and help eliminate some of that risk. Contributing editor Bridget McCrea writes that pending trade agreements, growth in ASEAN and the need to gain CBP compliance with new programs has GTM adoption hovering around 25 %—and has been increasing at an annual pace of about 9% to 10%.
"While it's tough to predict how global events may alter our domestic planning," says Burnson, "there are steps we can take to better manage the risks when going into new markets. An ounce of preparation and planning is worth a pound of cure."
May 20, 2016
About the Author
Michael Levans, Group Editorial Director Michael Levans is Group Editorial Director of American Truck Media's Supply Chain Group of publications and websites including Logistics Management, Supply Chain Management Review, Modern Materials Handling, and Material Handling Product News. He's a 23-year publishing veteran who started out at the Pittsburgh Press as a business reporter and has spent the last 17 years in the business-to-business press. He's been covering the logistics and supply chain markets for the past seven years. You can reach him at
Subscribe to Logistics Management Magazine!
Subscribe today. It's FREE!
Get timely insider information that you can use to better manage your entire logistics operation.


Latest Whitepaper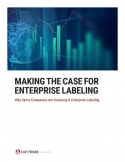 How to Minimize Costs with Enterprise Labeling
The right labeling solution will allow companies to stand up to their everyday challenges and add value.
Download Today!
From the February 2019 Logistics Management Magazine Issue
State of Global Logistics: Time for a reality check
Preview some of the innovations you will see at ProMat 2019
View More From this Issue
Latest Webcast
Freight Tech: Separating Need from Noise
In this webinar experts will share practical advice for selecting solutions that provide quick time-to-value while readying your supply chain for long-term success.
Register Today!