European Update: Logistics Hubs Key to e-commerce efficiency
The warehousing and distribution center (DC) market in Western Europe is experiencing one of the highest levels of rental growth ever recorded. Here's where the action is and what you need to know if you're expanding your EU operations.

Logistics in the News
U.S. rail carload and intermodal volumes dip for week ending July 6, says AAR
A. Duie Pyle opens up Maine-based integrated logistics center
Truckload and intermodal pricing see gains in June, notes Cass and Broughton
Driver turnover rates head in opposite directions, says ATA
Availability of U.S. industrial & logistics real estate rises after 34 months of declines, says CBRE
More Logistics News
Logistics Resource
Leveraging 3PLs for Future Shipper Gains
Thursday, July 18, 2019 | 2:00PM ET
All Resources
By
Karen E. Thuermner
·
October 2, 2017
Over the past year, Europe has been on the economic mend, with the GDP growth at 1.6%, with much of this growth attributed to increased purchasing by Europeans.
And with Europeans projected to buy more goods—mixed with the looming uncertainly over what impact Brexit will have on cross-border European trade—companies distributing to customers on the Continent as well as the United Kingdom are seeking optimal distribution locations that support the growth of their operations.
Take Manhattan, Calif.-based global lifestyle and performance footwear company, which is experiencing double-digit sales growth in Europe. By locating its distribution center (DC) operations to Belgium, the company can easily distribute its footwear to expanding markets including Germany, Spain and the United Kingdom.
Accordingly, the warehousing and DC market in Western Europe is experiencing one of the highest levels of rental growth ever recorded. "All retailers, e-commerce operators and manufactures are currently rethinking their supply chains to gain higher efficiency in the region," says EMEA industrial and logistics managing director at the global commercial real estate services firm CBRE. "This efficiency is resulting in less need for traditional brick and mortar operations."
Recent studies by global consultancy find that location decisions in the EU have a large impact on total company supply chain costs. Operating costs, which may vary significantly per location, labor costs, quality issues and inbound and outbound transportation expenses are also taken into account when determining a DC location, say EY advisers.
All that said, the preferred and most active region for DC investment remains a region referred to by Europeans as the "Blue Banana." This region, which stretches from southeast England through northern France, the Benelux, Germany's western regions, Switzerland and northern Italy and is shaped like a banana when viewed on a map, is Europe's wealthiest economic area and, therefore, regarded by many as the best location for distribution activities. In essence, The Blue Banana is the swath of area where consumers experience high discretionary spending.
Such discretional spending has resulted in an uptick in DC demand, especially for retail operations, and has lead to high occupancy rates in Germany, in particular. Global commercial real estate firm Colliers International points to e-commerce as being the main driver behind that growth. "E-commerce is certainly boosting demand for industrial and logistics properties in Germany and encouraging new project developments," according to a recent Colliers study.
In the meantime, growing customer expectations for same-day and same-hour delivery are forcing increasing numbers of courier, express and parcel service providers to build smaller logistics centers in cities throughout Europe. "New asset types like downtown warehouses and distribution centers are becoming increasingly attractive to investors, providing an alternative to traditional big box stores," say Colliers' analysts.
Consequently, last mile logistics solutions are especially important in some of Europe's oldest markets, where land is scarce, congestion is high, but labor is still available. "It's highly developed in Istanbul, Genève, Zurich, London and Paris," adds CBRE's Gariel.
Top EU locations
The World Bank ranks Germany as Europe's primer location for efficient infrastructure, followed by the Netherlands. In fact, a JJL Associates 2017 market study states that 2016 was the most active year ever for warehouse and DC occupancy in the German market. And that's not surprising, considering that Germany offers the largest stock of warehousing and DC availability.
But given Germany's historic low vacancy rate for warehouse space—around 3%—and the fact that much of the demand is driven by build-to-suit projects, Alexandra Tornow, JJL associate director of EMEA research for industrial and logistics, admits that it's difficult to get classification of the stock.
According to Tornow, Germany's advantage is its geographic location and developed infrastructure that connects to markets throughout Europe. Its Port of Hamburg is Europe's third largest container port, while the Frankfurt Airport offers major air cargo facilities anchored by Lufthansa. Germany has 17 logistics clusters, reports JLL, many of which are located around major cities such as Berlin, Dusseldorf, Frankfurt, Hamburg and Munich. The largest cluster is in the Rhein Ruhr area around Duisburg, home to the world's largest inland port. Duisburg, with nine container terminals at the intersection of a motorway network and rail and barge connections to the gateway ports of Rotterdam and Antwerp, has become a logistics hotspot for Eurasian traders and logistic players. VCK Logistics Supply Chain Solutions recently opened its new 377,000 square-foot warehouse in Duisburg.
"There's been a lot of development around Duisburg in the last couple of years," says Tornow. And, of course, the reason is largely due to its location. "Being at the west end of the Yuxinou Railway, Duisburg links the southwestern Chinese city of Chongqing to Europe," she adds. "The continuing expansion of transcontinental connections to other Chinese cities such as Shanghai, Beijing, Wuhan and Yiwu has also enhanced Duisburg's role in the expected surge in cargo traffic as a result of China's Belt and Road Initiative."
Like Duisburg, the Netherlands offers excellent connections due to its central location, abundance of experienced logistics talent, competitive cost and robust warehousing and distribution sector. "Dutch sites are ideal for moving freight into and around Europe due to the country's road connectivity and multimodal connections to the ports of Rotterdam and Antwerp," reports Jeroen Haver, logistics sector specialist for the Netherlands Foreign Investment Agency (NFIA).
According to Haver, well known North American companies in sectors such as high tech, life sciences, apparel and automotive have operations in the Netherlands to take advantage of the Dutch logistics network. Tesla has its only European DC in Tilburg, just southeast of Rotterdam, while many North American cold chain companies also invest in Holland due to the nature of its thriving ports business.
"Agro Merchants Group, which operates 6.7 million cubic meters of temperature-controlled warehouse space, acquired three companies in recent years in the Netherlands and just opened a new cold store in the Port of Rotterdam," states , senior manager of supply chain solutions for Holland International Distribution Council. "Lineage Logistics is following suit by acquiring major player Partner Logistics."
The Netherlands logistics sector received a significant boost this August when the U.S. Department of Defense announced that it would be responsible for the storage, shipping and management of spare parts for more than 400 F-35 fighter aircraft in Europe for the coming decades. "The Pentagon chose the Dutch proposal because of its highly integrated approach that will keep logistics costs low, stocks optimized and the availability of F-35 devices ensured," says de Caluwe.
The Netherlands has three hubs for warehousing and distribution: West Brabant (Bergen op Zoom, Roosendaal); Central Brabant (Tilburg, Waalwijk); and North Limburg (Venlo-Venray). "In fact, 12% of West Brabant's 725,000-person population works in the logistics or supply chain sector, and its universities graduate roughly 100 Bachelor in Logistics students per year," adds Haver.
As further proof of the regions viability, XPO Logistics is building a new 645,800+ square-foot DC in Venlo to further expand its fashion and e-commerce operations. It currently operates similar facilities in Eindhoven and Tilburg. France is also concentrating on developing logistics and has earmarked this sector for economic development. As a result, major players, such as, are making major inroads there. CEVA, for example, recently won a major delivery contract with French-headquartered, multi-national retailer Carrefour. CEVA operates from a 387,500 square-foot facility near Charles de Gaulle airport and recently opened a 75,347 square-foot facility close to Reims.
In the meantime, Northern France is home to 140+ million square feet of warehouse space. Amazon operates a DC in Lille in France's Nord Pas De Calais region, as does Columbia Sportswear and Häagen-Dazs. From Arras, Häagen-Dazs distributes ice cream products throughout Europe as well as Australia.
Delta 3, located in Dourges, is an important multimodal platform in the region. Delta 3's platform is important, given that road congestion around Europe's leading container seaports—the Ports of Rotterdam and Antwerp—makes the quick movement of containers inland problematic. "The issue is space and congestion," remarks Bernard Piette, general manager of a trade association called Logistics in Wallonia.
As a result, some companies find Belgium's Wallonia region advantageous, particularly given inland accessibility to air cargo and seaports like Liège, Brussels (Zaventem), and Antwerp. "The Port of Liège is also linked to the waterways of Rotterdam, Antwerp and the Rhein area," says Piette.
Executives at footwear manufacturer Skechers chose Wallonia because they anticipated increased European market share. Sophie Houtmeyers, Skechers' vice president of distribution operations, says Liège offers a superior location over Amsterdam, Venlo, Antwerp, and southwest Germany due to Wallonia's less congested roadways.
Other factors, says Houtmeyers, were available land, favorable electricity and labor rates. "Wallonia's high unemployment rate benefits the company by making it easy to hire good workers that are flexible and loyal," she adds.
But foremost, emphasizes Houtmeyers, is Wallonia's multimodal capability. Liège is located at the crossroads of six motorways with connections to Antwerp, Brussels, the Netherlands, Luxembourg, Germany and France. The Port of Liège benefits from four rail lines that form part of the European railway network. The port, operated by the Liège Port Authority, is accessible to sea-going vessels and convoys propelled by two barges. Ships can connect with the Ports of Antwerp in 14 hours; Rotterdam, in 24 hours; Dunkirk in 48 hours; and Zeebruges in 24 hours.
"Containers are shuttled to connect with North Sea ports Amsterdam, Rotterdam and Zeeburge," says Helene Thiebaut, Liège Port Authority spokesperson. "Containers are cleared in Liège, which helps speed processing."
The Port Authority's Liège Trilogiport, which opened in 2016, provides a multimodal logistics platform on more than 293 acres along the Albert Canal.
Developing issues
Just as is the case in the United States, however, labor is an underlying issue. "The problem today is finding workers with the right skills, flexibility and education at suitable costs to make an operation work," says Gariel says.
In Wallonia, the regional government is addressing the pressing issue by investing in logistics training through its FOREM competence centers at Liège Logistics and La Louvière. Here, workers are trained as truck drivers and handlers, logisticians, pickers, public transport drivers and transport operators. Moreover, at Liège Logistics, the FOREM Formation has introduced a course in biologistics earmarked at customs officers.

Delta 3, located in Dourges, is an important multimodal platform in the region.
Labor shortages and workforce development aside, there's yet another issue looming over European distribution and logistics—Brexit and the impact it will have on site selection decisions of warehousing and DC. While experts say it's too early to know exactly what the fallout will be, the United Kingdom has suggested a temporary customs union with the EU for an interim period after Brexit in March 2019. According to a UK government partnership paper, this would be followed by either a "highly streamlined" border with the EU or a customs partnership without an effective border. This would mean companies would not need to develop DCs both on the Continent and the United Kingdom to efficiently service their customers. "But as the United Kingdom continues to move forward with Brexit, many companies are developing plans to move [product] stock from the United Kingdom to mainland Europe," observes NFIA's Haver.
October 2, 2017
Subscribe to Logistics Management Magazine!
Subscribe today. It's FREE!
Get timely insider information that you can use to better manage your entire logistics operation.


Latest Whitepaper

Finding the Right Fit for New Technologies and Automation in your Warehouse/DC
In this white paper, Canon Solutions explores the challenges companies face when automating, explain why there's no need to rip-and-replace existing systems
Download Today!
From the July 2019 Logistics Management Magazine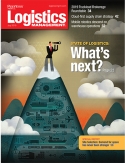 2019 State of Logistics: Third-party logistics (3PL) providers
2019 State of Logistics: Air cargo
View More From this Issue
Latest Webcast
Leveraging 3PLs for Future Shipper Gains
In this webcast, Evan Armstrong, president of Armstrong & Associates offers logistics and supply chain managers the industry's most comprehensive overview of the state of domestic and global third-party logistics arena.
Register Today!