European Update: Continued Uncertainty in the Global Transport and Logistics Sectors
Analysts and logistics service providers agree that increasing protectionism and restrictions on trade can only hinder the free flow of goods between nations—and certainly can't be in the interest of the global transport and logistics sector.

Logistics in the News
U.S. rail carload and intermodal volumes dip for week ending July 6, says AAR
A. Duie Pyle opens up Maine-based integrated logistics center
Truckload and intermodal pricing see gains in June, notes Cass and Broughton
Driver turnover rates head in opposite directions, says ATA
Availability of U.S. industrial & logistics real estate rises after 34 months of declines, says CBRE
More Logistics News
Logistics Resource
Leveraging 3PLs for Future Shipper Gains
Thursday, July 18, 2019 | 2:00PM ET
All Resources
By
Dagmar Trepins, European Correspondent
·
April 3, 2018
It continues to be a time of much uncertainty in Europe. The U.S. tax reform is putting more pressure on Europe at the same time that the European Union (EU) has found itself in a fight on another front. The United Kingdom (UK) voted to leave the EU—and its departure is scheduled for March 29, 2019.
Talks between the EU and UK are now focusing on future relations—and a plan for a two-year "transition period" to smooth the way to post-Brexit affairs. However, the negotiations between the UK and the EU remain sluggish, while worries are growing that it may turn out to be a "hard Brexit," which would certainly worsen trade and working conditions for many transportation and logistics companies.
Political tension now marks the current relationship between the United States and the EU. While Washington is announcing stiff tariffs on steel and aluminum imports and limits on trade volumes as means to protect the domestic industries, Brussels is threatening to introduce tariffs on bourbon whiskey and Harley Davidson motorcycles.
This is cause for concern not only for Harley fans, but also for businesses dependent on international trade on both sides of the Atlantic. Analysts, port officials and logistics service providers agree that increasing protectionism and restrictions on trade can only hinder the free flow of goods between nations and certainly can't be in the interest of the global transport and logistics sector.
EU ports fear trade barriers
The leading European ports are worried about Brexit, but also about the United States' announced trade restrictions on the EU—and they're trying to prepare as best they can.
Regarding Brexit, Rotterdam Port Authority chief executive doesn't expect that a deal on "frictionless" trade will be in place before the March 2019 deadline. In an interview with BBC Radio 4's "Today" program, he warned of huge backlogs of trucks on both sides of the English Channel.
"We will need several hundred Customs officers, and any goods and any trade of volume between the UK and the continent will have to be cleared in Rotterdam or have to be cleared in the UK," said Castelein. "Those processes will take significant amounts of time and will therefore incur cost, which will mean that the products will become more expensive or the incomes of the people shipping the goods will be reduced," he added.
Castelein compared this situation to the Y2K scenario. He emphasized the need to be prepared for an uncertain situation and backed efforts to avoid the erection of barriers to trade, saying: "I do believe we need to negotiate for the best—as frictionless as possible—because that will serve both countries and both sides of the Channel best. However, I do believe we need to prepare for the worst."
A recent study by , a think tank of the Ministry of Infrastructure in the Netherlands, estimates that the Port of Rotterdam stands to lose between 3.9% and 4.2% of cargo throughput in the case of a hard "no deal" Brexit. The Port of Rotterdam anticipates that transport by ferry and short sea (fruit, vegetables and other containerized goods) will be hit hardest by Brexit customs barriers.
XPO Logistics is expanding it's last mile service to Europe
---
"In addition to trying to estimate the Brexit effects on business and trade flows, we're in constant consultation with other authorities on how to mitigate any negative effects for the port community and to find support for business," says spokesman . "For example, we try to mitigate congestion by creating more space for waiting truck traffic. Also, we're putting pressure on Customs authorities to provide sufficient personnel and on-site inspection infrastructure, and we're engaging with UK colleagues to synchronize IT systems in order to mitigate Brexit red tape."
Commenting on recent developments on the UK's future border arrangements, Mark Simmonds, policy manager at the British Ports Association, says that the association has consistently supported the Government's ambition for frictionless trade with the EU post-Brexit.
"And we have made the pragmatic case for retaining the benefits that the Customs Union and the Single Market deliver in terms of efficiency at the border," says Simmonds. "In that regard, we welcome the debate prompted by the speech made by the Labour Leader Jeremy Corbyn supporting a form of Customs union with the EU as a step toward avoiding potential disruption at ports."
In response to Brexit, the Port of Antwerp announced that it has decided to appoint a representative in London in order to keep in closer touch with the economic situation now that Brexit is looming closer. "The UK is actually our third-largest trading partner," explains , the Port Authority's international networks manager. "On the other hand, the volume shrank by nearly 8% last year, probably due to the uncertainty surrounding Brexit."
Container thoughput drive growth in Rotterdam.
---
Although negotiations concerning the exact terms of trade are still in progress, Brexit will actually become a reality just over one year from now. "We plead for a clear, well-defined Brexit, both during the current transition period and in the post-Brexit age, in order to prevent a disintegration of the internal market," says , CEO of Port of Antwerp. "Once Brexit becomes a reality, we want to have an efficient framework that permits a smooth flow of trade. That means as few tariff barriers and administrative obstacles as possible."
The Port of Hamburg is also monitoring the development of Brexit and its potential impact on the port's seaborne cargo handling carefully. Renowned institutions and analysts in Germany predict that Brexit is likely to lead to an overall decline in trade and maritime cargo turnover between the EU and the UK.
"To what extent the Port of Hamburg is affected cannot be foreseen at this stage," said , CEO of Port of Hamburg Marketing. "Will there be a 'cold Brexit' or will the negotiations end with a trade agreement? If so, what will it look like in the end? As long as the Brexit conditions are not clear, it's difficult to make reliable statements because we simply lack the basis for it. At the moment, there are no indications that companies in Hamburg plan to reduce jobs or hire additional workers because of the upcoming Brexit."
The trade restrictions between the United States and the EU that have been announced are also regarded with great concern in Hamburg. According to Mattern, a shift in trade and traffic toward Canada could be the consequence, especially after the successful conclusion of the Comprehensive Economic and Trade Agreement (CETA) between Canada and the EU.
"We already note a significant increase in shipping to and from Canada," says Mattern. "If the United States sets up trade restrictions with the EU, cargo flows through the neighboring Canadian ports can be expected to increase even more and lead to increased transit transports. I believe that flows of goods are difficult to block, and they will rapidly seek alternative routes—even if this occasionally means little detours."
Logistics providers expand services
If you ask logistics companies in the United States and Europe about the extent to which the current political announcements are influencing their business and investments decisions, you will get a lot of "no comment" answers.
Others emphasize that they make their decisions on the long-term, irrespective of the political climate, and that market potential and customer demand are still the deciding criteria when it comes to investments on both sides of the Atlantic. As global players with branches in U.S. and Europe, many of them are well positioned in both regions, and thus are benefiting from the U.S. tax reform. With extra money in their corporate funds, they can invest in expanding services and establishing new branches in Europe and the United States.
High growth rates in e-commerce and an increasing digitization in logistics make Europe an interesting investment market for companies such as . The U.S. logistics services provider recently announced that it's expanding its last mile logistics service for heavy goods to Europe, with a focus on the UK, Ireland, the Netherlands, Spain and France.
"Our last-mile expansion to Europe is being driven by customer demand, primarily related to e-commerce," says , chief operating officer of XPO Logistics. "Consumers are buying more large items online, including furniture and appliances. These are home deliveries that often require white glove services, such as assembly, installation and testing. We'll leverage our proprietary technology and successful business model that have made us a last-mile leader in North America."
Silicon Valley has also discovered the European logistics market. Following Google and Amazon, more and more U.S. start-up companies are trying to gain a foothold there. One of them is Flexport, a full-service air and ocean freight forwarder, combining software solutions and end-to-end service that allows shippers to track their goods in real time.
The company raised $110 million in a Series-C round from investors such as DST Global, Felicis Ventures, and Peter Thiels Founders Fund, and is now expanding its services in Europe with the opening of a second European office in Hamburg, after having established an office in Amsterdam about two years ago.
The vote for this city was based on its gateway function as a major seaport with access to Germany's large import and export market. "Having a presence in this city brings us closer to our freight operations and our clients," says , CEO and founder of . "We already move considerable volumes of freight through Hamburg's major logistics gateways every year, so establishing a local presence will make doing business cheaper."
EU looking across the pond
However, many logistics companies are also looking in the other direction. The U.S. market continues to be of great interest to European companies due to its growth potential and volume.
For example, following the successful integration of UTi Worldwide, , the global transport and logistics provider with headquarters in Denmark, is further expanding its network and services in the United States. This January, the company opened a new office in Buffalo, N.Y., to expand its local service on the North America trade corridor.
"While trends in the logistics industry seem to be moving toward centralization and remote filing, DSV is focused on customer service including local proximity, which is the reason for opening our new office in Buffalo," says , DSV commercial director for North America.
In addition to its usual range of transport and logistics services, DSV will offer a full Customs brokerage clearance operation with licensed on-site personnel via its new office. In 2018, the company plans to expand its freight brokerage service by adding four new DSV Road offices to the existing 15 offices in the United States.
As the examples show, despite any political disputes, companies carry on with "business as usual" as much as possible. Transport and logistics companies are used to having to deal with the unexpected—and with constant change. They react flexibly, even in the face of uncertainty and unforeseeable developments.
April 3, 2018
Subscribe to Logistics Management Magazine!
Subscribe today. It's FREE!
Get timely insider information that you can use to better manage your entire logistics operation.


Latest Whitepaper

Finding the Right Fit for New Technologies and Automation in your Warehouse/DC
In this white paper, Canon Solutions explores the challenges companies face when automating, explain why there's no need to rip-and-replace existing systems
Download Today!
From the July 2019 Logistics Management Magazine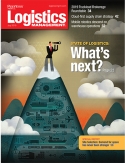 2019 State of Logistics: Third-party logistics (3PL) providers
2019 State of Logistics: Air cargo
View More From this Issue
Latest Webcast
Leveraging 3PLs for Future Shipper Gains
In this webcast, Evan Armstrong, president of Armstrong & Associates offers logistics and supply chain managers the industry's most comprehensive overview of the state of domestic and global third-party logistics arena.
Register Today!