Emerging Market Update: Trade chaos places spotlight on promising new players
While trade tensions with China have already disrupted many U.S. supply chains, analysts suggest that a recalibration of shipping and sourcing destinations is long overdue. Emerging markets might finally live up to their potential and keep globalization on track.

Logistics in the News
Carrier executives grapple with driver shortage expected to worsen
Panjiva reports gain in July shipments despite trade concerns
July Cass Freight Index Report shows ongoing declines
U.S. rail carload and intermodal units trend down for week ending August 10, says AAR
Create Shipping Efficiencies and Decrease Delivery Costs
More Logistics News
Logistics Resource
Create Shipping Efficiencies and Decrease Delivery Costs
How will your shipping team win during peak season?
All Resources
By
Patrick Burnson, Executive Editor
·
July 12, 2019
Ancient astronomers maintained that "nature abhors a vacuum," and today's trade analysts would concur. They note that for many U.S. shippers, China's low-wage and low-cost model is becoming a fading star. Which begs the questions: Will emerging markets finally form new, sustainable constellations?
"Thanks to ongoing trade tensions, the U.S. relationship with China has been changed forever," says Rosemary Coates, the president of Blue Silk Consulting, and author of "42 Rules for Sourcing and Manufacturing in China," now considered an essential guidebook for any global organization. "We're unlikely to ever go back to the halcyon days of even a decade ago."
According to Coates, China has developed strong demand in Europe, Australia, Africa, the Middle East and South America, and they will continue to build sales of goods in these regions, while the relationship with the U.S. deteriorates. "The trade war with America will hurt the Chinese economy somewhat, but it's far from a disaster for them," she adds.
Indeed, China's economic growth held steady at 6.4% year-to-year in the first quarter, says IHS Markit chief economist Nariman Behravesh, "The Chinese government has gradually ramped up fiscal and monetary stimulus to support growth, and will do more if needed," he says. "Real GDP growth is projected to slow from 6.6% in 2018 to 6.2% this year and 5.9% in 2020 and 2021."
Part and parcel of that strategy is based on surging exports to the European Union and Association of Asian Nations (ASEAN), adds Behravesh. At the same time, however, there's considerable concern over the ability for emerging nations to pull U.S. shippers out of current trade doldrums. There may be "hazards galore" for other large players—like Turkey and Argentina—in this arena, he cautions.
"Even as the global economic environment looked as if it would be improving for emerging markets—with slightly stronger growth and easier monetary conditions—political and policy risks have risen sharply," says Behravesh. "The indirect effects of a China-U.S. trade war will include hits to the markets and currencies of the most vulnerable economies."
Currency concerns
Atradius, a trade credit insurer based in Amsterdam, recently published its economic outlook, noting that the global economy is in a fragile state, making many emerging nations even more exposed to dramatic currency fluctuations.
"Emerging markets currencies had their worst six months since the lira crisis of last summer," says Dana Bodnar, an economist at Atradius. "Elevated domestic policy risks, such as in Argentina and Turkey, also increase the vulnerability of individual emerging markets go global uncertainty."
Atradius also notes that policy uncertainty in the form of trade war proliferation or a "no deal" Brexit are significant risks for global logistics managers. "Disruptions are causing some supply chains to shift," says Bodnar. "This may be done either by moving a factory elsewhere in a given geographical region or by localizing to avoid cross-border uncertainty. However, this strategy might incur added costs initially."
Finally, says Bodnar, increasing oil price volatility—especially amid increasing geopolitical tensions—is a concern for transport costs.
"Outperformers" recognized
Researchers from the McKinsey Global Institute say that they were surprised by a recent examination of the per capita GDP growth of 71 emerging economies over the past 50 years.
The results were striking, states the institute's whitepaper, "Three Questions About Emerging Economies." In fact, analysts observe that one in four were "outperformers," with real annual per capita GDP growth of 3.5% for the entire period. Furthermore, 11 of these achieved annual per capita GDP growth of at least 5% between 1995 and 2016.
"The emerging economies led by the outperformers have certainly been very strong engines of global growth in the past, accounting for maybe two-thirds of overall global growth," says Anu Madgavkar, a partner at the McKinsey Global Institute. "The emerging economies could contribute something like $11 trillion of incremental GDP by 2030, which is like adding a whole new economy the size of China to the global GDP."
Peter Henry, the dean emeritus of New York University's Leonard N. Stern School of Business Services, adds that these outperformers are going to be a much more important part of the path forward for emerging economies than they were in the past.
"And that's going to mean that emerging economies are going to need to be more flexible," says Henry. "They must have stronger enabling environments, because the path will be a little bit less linear than it was for the first set of countries that industrialized. So, this is going to really require a different playbook, a different set of growth strategies."
Rakesh Mohan, senior fellow at the Jackson Institute for Global Affairs at Yale University and distinguished fellow at Brookings India, adds that India and China alone, in the next 15 years, will provide incremental demand equivalent to the demand from all of Western Europe and the United States in the 1980s and 1990s. "So, in that sense, the context is different, but probably more positive rather than negative," he says.
As expected, China dominates "The 2019 Agility Emerging Markets Logistics Index," ranking No. 1 overall and topping the domestic and international logistics opportunity list. In partnership with the London-based consultancy Transport Intelligence (Ti), Agility contacted more than 500 survey respondents who rated China as the market with the second highest potential as an emerging logistics market after India.
"This is the ninth consecutive year that China has been the overall No. 1 emerging market in the Index," says Essa Al-Saleh, president and CEO of Agility Global Integrated Logistics. "Survey respondents were bullish about prospects for China's Belt & Road Initiative, with 63.9% of respondents indicating their expectations that projects would spur growth in China and boost trade with its neighbors."
Some 41.4% also predict that Belt & Road investments will better equip emerging markets to trade and grow. In addition, 44.9% of survey respondents expect rapid growth in China's e-commerce market to continue. At the same time, India kept pace with China, coming in at No. 2 overall in 2019.
"In addition, survey respondents showed their belief in the emergence of India's logistics market, ranking it as the market with highest potential over the next five years," says John Manners-Bell, Ti's CEO. "At 48.1%, nearly half of those surveyed expect India's e-commerce market to grow as fast or faster than China's online retail sector.
Meanwhile, the Index demonstrates that Brazil's political and economic troubles have reduced its performance and potential as an emerging logistics market. Brazil comes in at No. 15 in the Index, trailing several smaller countries and economies with fewer natural resources and less developed manufacturing bases. Of greatest concern, Brazil ranks No. 39 of 50 emerging markets for business fundamentals.
Researchers say that there are reasons to be optimistic about Brazil, however. Around half (44.5%) of survey respondents remain either optimistic or strongly optimistic about Brazil's potential as a logistics market, while a rank of fourth in the domestic logistics opportunities sub-index, and expectations of economic recovery in 2019 point toward a reawakening in Latin America's largest logistics market.
E-commerce ready
As emerging market e-commerce giants such as Alibaba, JD.com, Lazada and Flipkart rapidly expand sales in home markets and abroad, outsourcing of logistics services is expected to grow. Around half (47.7%) of those surveyed in the index study expect more e-commerce outsourcing in the coming years, with cross-border express and the management of e-fulfilment centers being the opportunities with highest potential.
Higher Internet penetration and access to online payment systems are the most important technologies behind emerging markets trade growth, according to 33.2% of those surveyed. One third of survey respondents see small- to medium-sized enterprises (SMEs) as better placed to grow in emerging markets than larger competitors. Long neglected, but now a focus of logistics providers' growth strategies, SMEs are in need of help reducing and navigating trade bureaucracy, according to 23.3% of those surveyed.
In a strong signal to emerging market governments and regulators, more than one fifth of survey respondents (21.6%) noted than modernization of customs systems and processes is the most important use of technology in facilitating emerging markets trade. Respondents also show some uncertainty about prospects for emerging market growth in 2019. While 55.7% think the IMF forecast of 5.1% emerging market growth in the coming year is "about right," at 47.1%, nearly as many think an emerging markets financial crisis is "likely" or "very likely."
Trade tensions
Trade tensions between the United States and China risk a 10.4% fall in volumes, according to survey respondents. And for many analysts, this means South East Asian markets are expected to gain from a prolonged trade war. "The region's key markets—Indonesia, Malaysia, Vietnam, Thailand and the Philippines—all feature in the Top 20 positions in the data driven Index," observes Manners-Bell.
After several years of investment and economic growth, U.S. imposed sanctions appear to have eliminated much of the optimism surrounding Iran's logistics market potential. Some 74.8% of those surveyed said U.S. sanctions have reduced or eliminated Iran's potential as a logistics market and investment destination. In fact, Iran ranked 37th overall, while coming in 49th out of the 50 emerging markets analyzed in the international logistics opportunities sub-Index.
Despite the uncertainty caused by the U.S.-instigated renegotiation of NAFTA, the replacement United States-Mexico-Canada Agreement appears to have calmed survey respondents' nerves, as 65% say they believe Mexico will maintain or boost trade with the United States and Canada in the coming years. This will help to maintain Mexico's No. 3 rank in the international logistics opportunities sub-Index.
Finally, the ill wind that blows for Brexit may actually nurture alternative shipping and sourcing destinations, says Manners-Bell: "At 70%, a significant majority of survey respondents think emerging markets will be unaffected or will benefit from Brexit. Indeed, any negative effects may be felt by the UK, with 58.9% expecting emerging markets to seek concessions from the UK in post-Brexit trade agreements."
July 12, 2019
About the Author
Patrick Burnson, Executive Editor Patrick Burnson is executive editor for
Logistics Management
and
Supply Chain Management Review
magazines and web sites. Patrick is a widely-published writer and editor who has spent most of his career covering international trade, global logistics, and supply chain management. He lives and works in San Francisco, providing readers with a Pacific Rim perspective on industry trends and forecasts. You can reach him directly at
Subscribe to Logistics Management Magazine!
Subscribe today. It's FREE!
Get timely insider information that you can use to better manage your entire logistics operation.
Start your FREE subscription today!
Latest Whitepaper
How to Manage Increasing Labeling Demands
Download the report to learn best practices for managing those increasing label demands.
Download Today!
From the August 2019 Logistics Management Magazine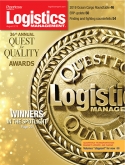 Ocean: Protecting margins in a soft market
Warehouse Voice Technology Speaks for Itself
View More From this Issue