Details Key to Cross-border Ease
Ever-changing regulations are making it risky for U.S. companies engaged in cross-border trade endeavors, experts say. However, savvy shippers are paying better attention to the details and are finding solutions that save time, money and frustration.

Logistics in the News
Carrier executives grapple with driver shortage expected to worsen
Panjiva reports gain in July shipments despite trade concerns
July Cass Freight Index Report shows ongoing declines
U.S. rail carload and intermodal units trend down for week ending August 10, says AAR
Create Shipping Efficiencies and Decrease Delivery Costs
More Logistics News
Logistics Resource
Create Shipping Efficiencies and Decrease Delivery Costs
How will your shipping team win during peak season?
All Resources
By
John D. Schulz
·
June 7, 2016
Canadian Prime Minister Justin Trudeau says that when he meets with Canadian business owners and executives, he often asks whether they're currently exporting to customers abroad. It's all part of an ongoing effort by his administration to encourage cross-border commerce.
However, every now and then he gets a response that speaks volumes about the relationship between his country and the United States. "They'll say: 'No, we don't sell internationally, we just sell to the United States,'" said Trudeau recently during a speech at the U.S. Chamber of Commerce, drawing chuckles from the audience. "They don't think of the United States as being international."
Any veteran U.S. retailer or manufacturer doing business in either Canada or Mexico could have informed the new, dynamic Canadian Prime Minister differently. Ameri¬can cross-border shipping—even to friendly North American allies such as Canada, where $750 billion in goods and services are traded annually—has never been more lucrative. However, the fine print that makes up the con¬stantly changing cross-border shipping regulations has never been more complicated.
"There are inherent compliance issues with cross-border trucking in North America," says Beth Pride, president of transportation and logistics consulting firm BPE Global. "Companies have a significant compliance burden, ensuring that they accurately declare their product's classification, valuation and country of origin."
However, shrewd logisticians, armed with a good game plan and keen knowledge of how the cross-border shipping game works, can overcome these paperwork chal¬lenges. According to Pride, whether in old-line heavy industry, such as automotive or equipment, or in critical sectors such as information tech¬nology and energy production, cross-border trade among the three North American Free Trade Agreement (NAFTA) nations (U.S., Canada and Mexico) is more crucial than ever as economies elsewhere are slowing.
The slowdown of China's economy, for example, is a major driving factor in the growth of NAFTA trade. But "reshoring" or "near-shoring" of manufacturing is hardly new. It's been going on since the 1960s, when U.S. manufacturers set up maquiladoras, or twin manufacturing sites, on both sides of the U.S.-Mexico border. Rising labor costs in China and else¬where has accelerated the reshoring trend, experts say, putting even more pressure on our closest borders.
However, Rosemary Coates, executive director of the Reshoring Institute and president of Blue Silk Consulting, recently told investors on a conference call that "reshoring can be justified if a manufacturer desires to insulate the company from the disruptions that come along with maintaining such an extended intercontinental supply chain." With that advice in mind, here's what shippers need to know in order to take some of the time, cost, and frustration our of the cross-border puzzle.
Latest cross-border trade challenges
In addition to robust growth across the U.S.-Canada border, the U.S.-Mexico trade lane has been enjoying more than double-digit percentage growth for more than 10 years.
"It's the greatest trade lane in the world," says Carlos Cubias, vice president of the center of excellence for south border for UPS. "My aim is to make shipping between the U.S. and Mexico like shipping between Arizona and California."
But unlike shipping within the United States, there are obstacles and potential profit-killing delays at the border.
"There is a tremendous amount of backlog, and delays at the border are massive," says Suzanne Richer, director of the trade advisory practice for software developer Amber Road. "At the border crossing in Laredo, Texas, at 7 a.m., for example, there's already a line of more than 100 trucks waiting to cross the border, and these inspections are long and costly."
To cut some corners on time, Richer advises U.S. shippers to participate in a number of expedited shipping clear-ance programs offered by governments on both sides. These include Customs-Trade Partnership Against Terrorism (C-TPAT) and Nueva Esquema Empresa Certificate (NEEC), among others. Shippers should also be aware of recent changes in new laws covering Country of Origin Labeling (COOL), she adds.
"Savvy companies have to understand that if you join NEEC and C-TPAT, you have to align the two programs to share information," advises Richer. "If you are in C-TPAT, but not validated in Mexico with NEEC, you may not get the expedited treatment unless you validate your NEEC registration."
BPE's Pride says that she often sees U.S. companies failing to correctly declare the country of origin of their products. "They presume that the coun¬try of origin of an item is the country that it's exported from rather than the country where it was manufactured," Pride says.
As a result, a company tends to list Canada, Mexico or the United States as country of origin on their North Ameri-can cross-border shipment invoices that may result in them making false NAFTA claims. If you or your supplier lists one of those NAFTA countries as the country of origin, your customs broker will most likely ask one of your employees to provide a NAFTA certificate of origin.
"That employee will provide NAFTA certification without appropriate analysis of the rules of origin, thinking that the document is required to clear the goods through Customs," Pride explains. "In many cases, the employee doesn't realize that this certification obligates their company to comply with the terms of NAFTA and is not a requirement for clearance."
Pride adds that companies must take three critical steps when making NAFTA claims: First, determine that the products are eligible for NAFTA; second, qualify the products for NAFTA; and third, certify or obtain cer¬tification for the items for NAFTA. "Far too many companies fail to do all three steps, and this results in additional com¬pliance obligations and increased risk—it's a double edged sword," she adds.
Running an effective NAFTA program brings administrative burden and cost, and making false NAFTA claims exposes your brand and carries "significant financial risks," says Pride. "Claiming NAFTA should be just like any solid business decision. You should know your bottom line before signing any NAFTA certificates of origin."
Connecting the dots
Cross-border compliance is complicated, and "it's definitely easy to overlook things," says UPS' Cubias. In fact, experts across transportation are advising U.S. shippers that they should be using a reliable third-party or proven cross- border transport partner.
"One of the main challenges is the discrepancy between border processes and systems," says Brad Jacobs, CEO of XPO Logistics. "The border along Canada is more automated than across Mexico, but it's still important to have a good working relationship with customs brokers so your shipments clear with no delays."
Truck size and weights are not uniform among the three NAFTA countries, with Mexico allowing heavier trucks than the typical 80,000-pound trucks found in America. "Some importers into Mexico add more weight, but that means that U.S.- bound trailers have to be transloaded, which adds costs and increases time," says Jacobs. "We don't allow such overloading—that helps keep rates down and claims low."
Trucking safety regulations are also different between U.S. and Mexico. "Drivers' scores in Mexico often don't stand up to U.S. scrutiny, and that makes it challeng¬ing for drivers crossing into this country," Jacobs explains. "We maintain a network of Mexican carriers that meet U.S. regula¬tions, and we don't send U.S. drivers into Mexico, and vice versa."
Still, says Jacobs, Mexico "represents a strategic market for us." That's because the Mexican economy offers a buffer in case of a U.S. financial downturn, and also because the Mexican government has committed billions of dollars to improved infrastructure.
Cross-border success exists
Experts say that while using trusted partners for cross-border shipments is great, there's no substitute for comprehensive, in-house understanding of the myriad, ever-changing regulations covering your shipments.
"The majority of companies have not undertaken sufficient training to understand border crossing complexity," says Richer. "Customs brokers and carriers play important roles, but the knowledge a company has should not be so limited that they can't see or understand the risks. At the end of the day, importers and exporters should be just as savvy about these issues rather than just relying on one source for this information."
Of course, besides having the best in-house knowledge on cross-border issues, shippers find it most advantageous to partner with a carrier or service provider that knows its way around the complexities that can arise at the border.
There are many examples of successful cross-border strategies, all tailor maid to a particular shipper's needs. UPS' Cubias shares an example of a "big three" U.S. automobile manufacturer that used a transmission supplier based in Mexico. That supplier was unable to meet demands from the OEM and often had to use expensive airfreight deliveries to keep up with surging demand levels.
According to Cubias, UPS was able to offer the OEM a choice: The transmission supplier could either utilize an expedited truckload service from the interior of Mexico to the South¬west U.S. enabling two-day service. Or it could use its standard six-day truck service. However, UPS began a blended service that included a four-day ground solution.
"They usually stick with standard," says Cubias. "But recently, there were floods in the Southwest U.S. that hurt the ability to move in standard time. So we can move it to a two-day window, which has proven a very cost-effective way to manage their inventory."
So whether the solution comes from a tailored logistics program devised by a reliable third party or is designed in-house with the expertise from a manufacturer's own supply chain team, the answer often comes from attention to detail in the ever-changing cross-border matrix.
"No matter how you do it, it's all about connectivity," adds XPO's Jacobs.
July 8, 2016
About the Author
John D. Schulz John D. Schulz has been a transportation journalist for more than 20 years, specializing in the trucking industry. John is on a first-name basis with scores of top-level trucking executives who are able to give shippers their latest insights on the industry on a regular basis.
Subscribe to Logistics Management Magazine!
Subscribe today. It's FREE!
Get timely insider information that you can use to better manage your entire logistics operation.
Start your FREE subscription today!
Latest Whitepaper
Create Shipping Efficiencies and Decrease Delivery Costs
How will your shipping team win during peak season?
Download Today!
From the August 2019 Logistics Management Magazine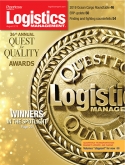 Ocean: Protecting margins in a soft market
Warehouse Voice Technology Speaks for Itself
View More From this Issue