Destination Maternity: Destination Automation
Running short of space in its old facility, Destination Maternity Corp. built a new, highly automated DC driven by an integrated warehouse management and execution system. The result is a strategic weapon helping to drive the business forward.

Warehouse in the News
Availability of U.S. industrial & logistics real estate rises after 34 months of declines, says CBRE
Finding the Right Fit for New Technologies and Automation in your Warehouse/DC
Mobile Robotics Descend on Warehouse Operations
Warehouse/DC Site Selection: Demand for space has never been stronger
CBRE research shows ongoing demand leads construction of new warehouses
More Warehouse News
Warehouse Resource
Finding the Right Fit for New Technologies and Automation in your Warehouse/DC

In this white paper, Canon Solutions explores the challenges companies face when automating, explain why there's no need to rip-and-replace existing systems
All Resources
By
Bob Trebilcock
·
September 1, 2016
If Carl Marcinkowski had to choose one word to describe the changing landscape of retail distribution, it would be complexity.
"Back in 2013, when we started the design of our new distribution center, our business had become too complex for our existing distribution center," says Marcinkowski, the senior vice president of distribution and logistics for, the world's largest designer and retailer of maternity apparel.
Complexity may be an understatement. Then, Destination Maternity, the company's trademarked, go-to-market name, was servicing almost 600 retail stores and leased spaces in another 1,300 department stores; supporting a wholesale business that supplied maternity wear to nearly 150 international franchise locations and other retailers; and filling orders for its growing e-commerce business.
All of that activity was taking place in a slightly bigger than 200,000-squarefoot facility in downtown Philadelphia with limited automation, a less than optimal layout and an enterprise resource planning (ERP) system that was not very flexible.
The solution was a 406,375-squarefoot greenfield distribution center in nearby Florence, N.J. It was designed from the ground up to use automation to simultaneously manage the complexity of Destination Maternity's business while simplifying fulfillment processes. The unique design developed by Marcinkowski's team in partnership with a systems integrator was governed by two overriding principles:
Make every millisecond count: The system was designed to dynamically optimize the equipment, inventory and labor in real time while continuously executing processes across all business channels. The key to making this work is an integrated warehouse management system (WMS), warehouse execution system (WES) and equipment controls systems, all provided by the systems integrator. While getting all three solutions from one vendor represented a unique approach, the Destination Maternity team was convinced that a single source for its software and controls—rather than a segmented approach—was the best way to create the processing environment needed to accomplish its goals.
Flexibility: Automation and flexibility are often thought of as mutually exclusive. In this case, highly automated storage and goods-to-person picking technologies come together in a way that allows different processing methodologies to be incorporated into the same pieces of equipment. For example, the same processes and equipment used to fill outbound orders are used to process merchandise returned from the stores for repositioning elsewhere across the network. Think of it as shifting from drive to reverse to drive again.
The result is a true omni-channel distribution center using software and automated storage and picking technologies for real-time execution and optimization.
Efficiency is among the most quantifiable benefits; Destination Maternity has realized a significant reduction in labor related expenses—the wholesale picking process now requires just 40 people to hit the same pick rate that previously required 90 people, and the number of touches required to process e-commerce orders has been reduced by 82%.
What's more, the system can easily handle new business opportunities. "In the past, our buying and merchant teams would come up with a new initiative, and we'd say, 'We need weeks to get ready,'" says Marcinkowski. "Now, we say, 'Bring it and we'll get it out the door.'"
Out of Space
Destination Maternity was launched in 1982 as a mail-order business selling maternity apparel for professional women after Rebecca Matthias, the 28-year-old founder, had difficulty finding maternity clothing that was appropriate for the office. Today, it touts approximately $500 million in annual revenue and is the only nationwide chain of maternity apparel specialty stores in the United States.
Destination Maternity goes to market under two brands, Motherhood Maternity and A Pea in the Pod. As of April 30, 2016, Destination Maternity operates 1,487 retail locations in the United States, Canada, Puerto Rico and, most recently, England, including 530 stores, and 957 leased department locations.
Along with a wholesale business, Destination Maternity has international store franchise and product supply relationships in the Middle East, South Korea, Mexico, Israel and India. And, it sells through several Websites, including Motherhood. com, APeaInThePod.com and DestinationMaternity.com.
Servicing that diverse set of customers was the catalyst for the new distribution center. Destination Maternity has always had to contend with piece picking, since its store formats are small and mixed cases are the norm, even for its wholesale customers.
But the growth of the business coupled with requirements, such as quick fulfillment for e-commerce orders and compliance labeling for wholesale and international orders, was overwhelming the old facility in downtown Philadelphia that often had to close down a city street so a trailer could back into a dock.
Marcinkowski adds that processes in the old facility were "very linear, and our ERP system did not allow for the commingling of our two brands." A customer who ordered case goods and items from a garment-on-hanger system from both brands could end up with four separate cartons and multiple deliveries.
It took as many as 29 touches just to fill an e-commerce order, and shipping costs were on the rise. Destination Maternity also had to contend with an increasingly diverse labor force, speaking as many as 27 different languages—any process that wasn't simple and intuitive presented challenges. "If we were going to continue to grow our different channels, we had to be able to integrate new business and better service our customers," Marcinkowski says.
A New Approach
The path to a new distribution center began with a network analysis and the selection of a location about 30 miles away in Florence. The next step was to design a building that would achieve the goal of servicing expecting and new moms with a flexible and operator- friendly solution.
Based on past experience, Marcinkowski says he and his team created a wish list of objectives for the building. "I'd worked in retail long enough to know that you have to be prepared for change," he says. "And, I wanted a system that was automatic, intuitive and operator friendly."

More specifically, he wanted a tightly integrated system that reduced touches, provided the speed necessary to fill e-commerce orders and could be used for both outbound orders and reverse logistics and repositioning of inventory. The project team visited nearly 30 different operations that included three-tier pick modules, conventional batch picking, and goods-to-person systems. While the latter held the most promise to eliminate touches and travel time, in the teams' view, they all fell short.
"There were some great systems out there, but nothing clicked with us," Marcinkowski says.
The biggest limiting factor, in the view of Destination Maternity, was the fact that most of those systems were controlled by a WMS from one vendor, a control system from another, and a WES from a third. The question was whether they could—or even should—get one software system from one vendor?
"We had a lot of debate about whether we should go with an integrated WMS, WES and control system rather than a more traditional approach," says Marcinkowski. "The way we did it was through a lot of research, analysis and detail on the part of my project team. They really took ownership of the project."
To aid that analysis and development process, the design firm created a fully functioning simulation environment to test and prove the automation software applications along with the performance of the system software for the shuttle system, mini-load, the bomb-bay unit sorter and the put wall displays.
In the end, Marcinkowski says, "The decision was very analytical and thoughtful and well proven, but still a leap of faith." But, it was a leap made with confidence. "Years ago, I was at a company that was an early adopter of a new warehouse management system," he says. "Other members of my team had also been early adopters of technology. We had the confidence that we could execute a unique concept of this magnitude."
Tie it Together
The solution Destination Maternity chose met all of Marcinkowski's criteria for a system that can fill orders across all business channels and handle returns from stores on the same equipment, all while reducing touches, increasing speed and providing the flexibility needed to take on new channels of business and new strategies. And, it does it with one integrated software system to manage people, processes and equipment.
In doing so, the facility limits the use of traditional pallet rack and shelving for storage. Instead, most product is stored in the mini-load automated storage and retrieval system with 54,400 locations or in a high-speed shuttle with 26,000 locations.
The system uses a goods-to-person strategy that automatically routes containers and totes from the shuttle, mini-load and other storage areas to 12 induction stations at a bomb-bay unit sorter.
"We wanted product coming to our people and not the other way around," says Marcinkowski. "If we empty a tote and are short of the number of items we need, the integrated system will call another tote from the shuttle or miniload." The unit sorter serves 600 drop points, or chutes. The WES, meanwhile, has the capability to monitor operating conditions on the floor and re-allocate orders and work in real time to optimize the fulfillment process.
To initiate the order fulfillment process, the WES prioritizes the orders it receives from the ERP system based on key processing variables such as transportation requirements, the SKUs being ordered and the availability of equipment and labor. It then calls for cartons and totes from the storage areas.
Since all totes are single SKU, an associate at an induction point only has to scan the license plate bar code label on the tote before inducting items onto the unit sorter. A display screen counts down the number of items that are required from the tote.
A camera-based imaging system confirms that the item is positioned on the sorter tray. Items drop into a container underneath a chute. When all the items for that order have dropped, the chute is closed and a red light signals to an associate that the carton is complete.
From there, the container or tote is automatically routed to the next stop in the order fulfillment process: that could be directly to shipping, a value-added processing area, a packing station for single-line orders or to a put wall area for order consolidation.
Since going live, Marcinkowski has seen a number of measurable improvements and cost savings. One is a 5% drop in transportation costs since the WES can combine brands and types of product that previously went out as split shipments. That has also led to a significant reduction in the number of cartons going out the door because Destination Maternity can consolidate different types of inventory into one box rather than four. E-commerce orders are processed in a matter of hours, with 98% processed the same day they are received.
The biggest test came not long after the system went live, when Destination Maternity ran a flash sale that turned out to be one of the largest e-commerce ship days in its history, nearly beating the volume of orders from the prior year's Cyber Monday.
What once would have taken three days to process was filled and shipped out the door in hours, while at the same time doing the usual number of store drops. Where distribution was once a hurdle to growth, it is now an enabler of the business.
"Our merchant teams know that if they need us to receive and ship out a million pieces in a week for a floor set change, we can handle it," Marcinkowski says. "It's a strategic weapon that is going to help drive our business and most importantly provide exceptional service for expecting and new moms."
Systems Suppliers:
System Design and Integration, Warehouse Execution and Management Systems, Warehouse Controls and Put-to-Light System, Mini-Load and Shuttle AS/RS Systems:
Conveyor and Sortation System:
Unit (Bomb-Bay) Sorter and Chutes:
Aligners: x
RF Wearable and Hand-Held Scanners:
Fixed Scanners:
Camera-Based Imagers:
September 1, 2016
About the Author
Bob Trebilcock Bob Trebilcock, editorial director, has covered materials handling, technology, logistics and supply chain topics for nearly 30 years. In addition to Supply Chain Management Review, he is also Executive Editor of Modern Materials Handling. A graduate of Bowling Green State University, Trebilcock lives in Keene, NH. He can be reached at 603-357-0484.
Subscribe to Logistics Management Magazine!
Subscribe today. It's FREE!
Get timely insider information that you can use to better manage your entire logistics operation.


Latest Whitepaper

Finding the Right Fit for New Technologies and Automation in your Warehouse/DC
In this white paper, Canon Solutions explores the challenges companies face when automating, explain why there's no need to rip-and-replace existing systems
Download Today!
From the July 2019 Logistics Management Magazine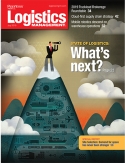 2019 State of Logistics: Third-party logistics (3PL) providers
2019 State of Logistics: Air cargo
View More From this Issue
Latest Webcast
Leveraging 3PLs for Future Shipper Gains
In this webcast, Evan Armstrong, president of Armstrong & Associates offers logistics and supply chain managers the industry's most comprehensive overview of the state of domestic and global third-party logistics arena.
Register Today!