Cubing and Weighing: Besting the dim rate dilemma
After major parcel carriers introduced new ground package rate structures nearly a year ago, the industry is still scrambling to identify and eliminate every cubic inch of waste.

It takes time and effort to maintain accurate dimensional data, but those costs are more than offset by storage and shipping efficiencies.
in the News
Trump administration working to relax truck safety standards
U.S. rail carload and intermodal volumes dip for week ending July 6, says AAR
Other Voices: 5 steps to integrate PFEP software with PLM and ERP to accelerate product launches
Report: Molded wood pallets sales on an upswing
Indiana University Health builds a supply chain (and a distribution center)
More News
By
Josh Bond, Senior Editor
·
November 1, 2015
It's been nearly a year since and enacted their new dimensional (dim) weight rates in their ground package services, a move that has compelled shippers of all sizes to reassess their approaches to packaging and shipping.
Driven largely by e-commerce growth and "buy anywhere, ship anywhere" omni-channel capabilities, the transition follows increased strain on parcel carriers tasked with ferrying huge amounts of small packages. That strain is now squarely on the shoulders of distributors, who have also seen no shortage of dramatic transformations in the way they do business. Still, the dim challenge seems to be particularly disruptive.
"Last year we were telling companies that they needed to get ready for dim, and article after article emphasized the potential impact," says , president of the warehouse automation integrator . "Now people are coming to us floored that they're seeing 30 percent increases in shipping costs. A lot of companies are still being caught off guard."
Before the update, carriers priced items smaller than 3 cubic feet based on weight and larger items based on size. This meant light items in large boxes could be shipped for roughly the same price as smaller, heavier boxes. Not anymore.
Hardest hit are small- and mid-sized operations shipping large boxes with low density, but dim rates create penalties for shipping empty space that affect businesses of all sizes. Whether handling pallets, cases, or eaches, item-specific data is essential to maximizing efficiency. Effective on-demand corrugate box systems, cartonization software, shipping processes, and labor optimization are all dependent on collecting and maintaining detailed data—which is easier said than done.
"The other shoe hasn't dropped on the shippers yet because some of the carriers have been issuing waivers and exclusions to those who have not yet adapted," says , CEO of shipping software provider . "When I ask customers how dim affects them, a lot who should know say 'that's a good question.' But less-than-truckload companies will follow UPS and FedEx, and it will happen soon. The storm is here, the tornado is five miles down the road, and it's going to catch them by surprise."
Getting the details squared away
Whatever an organization uses as a system of record, it will need to support dim data including size, weight, height, width, length, and category, such as grocery or electronics.
"If your system does not support that specificity, that's where you will run into a roadblock," according to , supply chain architect for . "But even if you have the details of each item, you also need information about the shipping carton, since choosing the right packaging is huge if you want to control dim costs."
Numina's Hanrahan says that some shippers have had to rethink what they consider "lean" practices. "Many looked at corrugate and inventory costs and asked: 'Why are we using 20 boxes? Let's get volume purchasing to reduce costs and standardize around four box sizes.' That was great up until this year," he says. "Now they've gone back to having more boxes available, especially for split case pick, pack, and ship applications."
Sowden says that cartonization software can help, but it's not necessarily a must-have. In fact, many software solutions are also struggling to come to grips with the dim challenge. When cubing an order, most software literally seeks to represent everything as a cube.
"But that item might also have usable space," suggests , director of sales and marketing for . "The challenge some customers might have—and it's a challenge for suppliers as well—is how to measure void space in, say, a baseball helmet. When it goes through cartonization, does the system understand that a baseball could fit in the helmet?"
In these cases, it might be necessary to actually put the baseball in the helmet before dimensioning, instead of relying on a master data file. , director of product development for , says that cubing is not a straightforward concept.
When you add details like fragility, nesting, or volumetric dimensions, complexity quickly increases. Software might suggest that the most efficient way to package two skis is end-to-end, or three nestable trash cans will require three boxes or one huge box with space for all three.
"The market is still a bit on the adolescent side of maturity in terms of efficiency, and it's becoming more important to find ways to solve these problems," Moe says, emphasizing that it all begins with detailed data. "I've been to a lot of really big customers, ones you'd think would have their act together, and they don't have good dim data. They often have plenty of scanning technology, but the problem is getting new data into the system on an ongoing basis."
Neilson also sees plenty of companies with fairly sophisticated software in place that relies on dim data, but the master files are rarely accurate. "There's a significant percentage of error in data files with regard to cube and dim data," he says. "The majority of people who think they have 90 percent to 95 percent accuracy are surprised to find it's often more like 50 percent."
Thinking inside the box
For many operations, the most accurate data is collected after the order has been packed and is ready to ship. "Measuring at the end is great to tell you what shipping will cost," Hanrahan says, "but I believe you have to do cartonization up front. If you're not looking at how to pick and pack to a right-sized carton, it doesn't help manage efficiencies throughout the operation."
Data should be collected as early as possible in the warehousing and distribution process, ideally upon receipt. Dimensions for master packs, inners, and eaches can inform shipping and storing, including the design of shelves, racks, conveyors, and other equipment.
"There are best-of-breed shipping systems, and we will soon see best-of-breed receiving solutions as well," Fischer says. "Right now, some scan two boxes from a pallet and assume the rest are the same. But the same SKU could be packaged differently, in different configurations, or with a different amount of packaging. There are still a lot of customers who only measure on the back end, with a yardstick sometimes."
The "tape measure and clipboard" approach to inbound data collection is not just time-consuming, it presents opportunities for inaccuracy that can snowball into larger costs and problems downstream. "A half-inch deviation can create a bigger problem than you might think," Neilson says. "Larger items are less impacted by those variations, but a tenth of an inch for a small nut or bolt can be a huge error."
For example, take a single shirt in a poly bag. If the air hasn't been squeezed out, the master file might allocate only 10 units to a carton that could hold 20. Manually performing that accurate measurement consumes time, but the added value for storage and shipping efficiency more than offsets any labor costs.
"Even if you have a dimensioning device, you still need disciplined measuring processes," Neilson says. "If a collar makes the shirt thicker at one end you might stagger the shirts to account for that. A device takes dimensions, but it's incredibly important to establish best practices and training based on how you pack and ship."
Light at the end of the dim tunnel
Those at the top of their game have recognized that dim data can inform processes well beyond the pack station.
Hanrahan offers the example of a customer whose conveyor system was built around its smallest carton size, a 10 x 7 inch box, which resulted in massive waste when shipping items like thumb drives. They identified the potential to save several hundred thousand dollars if they could convert just half of those items to padded bags, which were not compatible with the existing roller conveyors.
The customer introduced totes to help convey bags, but the improvements didn't stop there. With detailed dim data, the customer now prints packing slips and shipping labels first and then applies them to the empty bags. Voice-enabled pickers then fill and seal each bag, and the entire tote skips pack-out and is diverted to shipping.
"We're finding people want to use dim data beyond the warehouse control system or warehouse management system and all the way to enterprise resource planning," Moe says. "They are wondering how they can use the packaging system to improve everything. The concept of 'forest to fill' accounts for how packaging affects how many trees are cut down all the way to how much packaging ends up in a landfill."
Although dim charges might seem like a burden to many operations, Fischer suggests that it will soon become a boon. "Right now, dim is used to increase the cost of freight," Moe adds. "We will soon see it used to decrease costs."
Pallet dimensions and characteristics will become more detailed than just class and weight, Fischer suggests, and might include discounts for stackable pallets, repeat deliveries, and other factors. "Then it will make sense for everyone to use dim, not just those with big, light boxes," says Fischer. "At the manufacturing level, might denser but smaller packaging make more sense? The impact of dim will move upstream and affect the whole scope of the supply chain."
In the meantime, Hanrahan offers some simple tips to move in the right direction. "If you don't have a cubing solution, knockdown boxes with a crease every 2 inches can help," he says. "Or you might put colored tape inside a tote to act as an indicator for operators to match the tote's fullness with the appropriate carton. It's a poor man's cubing operation, and it's not perfect, but it helps. Once you've have applied a Band-Aid, you can start to build a case for broader process improvements. Now that freight costs are even more important, every opportunity to get efficient counts."
June 15, 2016
About the Author
Josh Bond, Senior Editor Josh Bond is Senior Editor for Modern, and was formerly Modern's lift truck columnist and associate editor. He has a degree in Journalism from Keene State College and has studied business management at Franklin Pierce University.
Subscribe to Logistics Management Magazine!
Subscribe today. It's FREE!
Get timely insider information that you can use to better manage your entire logistics operation.


Latest Whitepaper

Finding the Right Fit for New Technologies and Automation in your Warehouse/DC
In this white paper, Canon Solutions explores the challenges companies face when automating, explain why there's no need to rip-and-replace existing systems
Download Today!
From the July 2019 Logistics Management Magazine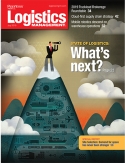 2019 State of Logistics: Third-party logistics (3PL) providers
2019 State of Logistics: Air cargo
View More From this Issue
Latest Webcast
Leveraging 3PLs for Future Shipper Gains
In this webcast, Evan Armstrong, president of Armstrong & Associates offers logistics and supply chain managers the industry's most comprehensive overview of the state of domestic and global third-party logistics arena.
Register Today!