Cross-border trade: Preparation and experience pay off
Political bluster aside, logistics professionals on all sides of the border agree that careful planning, attention to detail and good partnerships are all key to continued, efficient cross-border transit—no matter who's in the White House.

Logistics in the News
U.S. rail carload and intermodal volumes dip for week ending July 6, says AAR
A. Duie Pyle opens up Maine-based integrated logistics center
Truckload and intermodal pricing see gains in June, notes Cass and Broughton
Driver turnover rates head in opposite directions, says ATA
Availability of U.S. industrial & logistics real estate rises after 34 months of declines, says CBRE
More Logistics News
Logistics Resource
Leveraging 3PLs for Future Shipper Gains
Thursday, July 18, 2019 | 2:00PM ET
All Resources
By
John D. Schulz
·
June 7, 2018
The 24-year-old has resulted in a quadrupling of trade among the United States, Canada and Mexico in creating what one top UPS executive recently called "the greatest trade lane in the world."
According to the , as many as 14 million American jobs are dependent on NAFTA trade. In the meantime, Canada and Mexico are the top export markets for U.S. manufacturers as they buy more "made in the USA" products than the next 10 largest markets combined.
While some politicians see NAFTA as controversial, statistics will prove otherwise. As of 2014, an estimated $630 billion of U.S. cumulative growth in import and export trade volume was attributable solely to the implementation of NAFTA.
And for North American transportation providers, NAFTA is a direct route to steady flows of transport volumes, revenue and income.
According to the , about 40% of its freight moves through international NAFTA borders—the continent's main north-south conveyor belt of trade. UP handles 70% of the rail freight between the U.S. and Mexico.
As , recently told : "At its guts, a railroad like Union Pacific is built on people consuming stuff, industry consuming stuff, and trade flows. When those are happening and growing, we thrive. And all of that gets impacted by getting NAFTA wrong or the United States exiting NAFTA."
That seemed a direct message to President Donald Trump, who has called NAFTA a "terrible deal," "an embarrassment," and has threatened to unilaterally back out of it. However, like many of Trump's statements, these particular aspersions are not based on fact. According to the U.S. Chamber, the United States has run a $79.4 billion trade surplus in manufactured goods in trade with Mexico and Canada from 2008 to 2016.
Armed with such statistics, calmer heads seem to be prevailing. Transport lobbyists, the U.S. Chamber and others have pushed mightily most of this year, urging Trump administration officials only to modernize, but not scrap NAFTA. Here's partly why: At the start of this century, UP had $700 million worth of annual north-south traffic in and out of Mexico, a figure today that stands at $2.2 billion. That's one railroad, albeit the nation's largest, over the course of 17 years.
So, political bluster aside, NAFTA is not going away. But for shippers, neither is the fine print and over-complicated verbiage of international trade agreements. In an effort to help logistics professionals get a better handle on latest in cross-border trade, Logistics Management sets out to examine the recent political pratfalls, but more importantly we'll offer some practical suggestions on how to better navigate trade through the vibrant North Americancontinent over the course of this year.
Schweitzer Engineering Labs: Overweight, over the border… no problem
Any shipper who has moved an oversized, overweight shipment domestically knows about the complicated state permitting process necessary to haul such freight. Now, imagine a cross-border move involving oversize, overweight prefabricated buildings.
, a U.S.-based company with a large facility in San Luis Potasi, Mexico, has been a customer of and its agent Jim Stelts for eight years. Schweitzer is a manufacturer of electronic switch panels housed in small buildings used for substations, cell phone towers, and other miscellaneous power plants.
These structures come in various sizes and weights and go to all of North America including Alaska and Canada— moves that require a lot of coordination in getting product to sites. According to , most of the trailers are at least 16 feet wide and 72 feet long with the biggest weighing in at about 100,000 pounds, or 20,000 above what most U.S. states allow.
However, before any freight hits the road, there are permits necessary to haul such oversized freight in every U.S. state.
"We have to work hand-in-hand with our customers and suppliers," says Navarro Martinez. "Our carriers need a real understanding of our timing. To achieve that, Landstar works with us in getting the permits. The first is Texas, but they order them all ahead of time…otherwise you waste a lot of time waiting for permits at the border."
According to Stelts, because all of the shipper's buildings come in different shipment sizes and weights, upfront preparation is imperative.
"If the paperwork isn't done properly at the onset, it creates an avalanche when it comes to clearing Customs," he says. "If the weights or dimensions differ from the actual size, we may order permits ahead of time for oversize, overweight. If the shipment gets to our yard and it's wrong, it can take two or three days just to correct."
—John D. Schulz, contributing editor
Hurdles to efficiency
Beginning in 2015, loosening NAFTA regulation allowed Mexico-based trucking companies to use their drivers for round-trips into the U.S. As the program kicked off, qualified Mexican drivers were able to begin making deliveries into the continental U.S. and then pick up a return load for a destination in Mexico.
The program works two ways. First, Mexican companies apply for a permit to operate in the U.S. In this case, the driver remains in the employ of the Mexican carrier, with the authority to make a round-trip run into the United States and back. The other option is for a U.S. trucking company to hire a Mexico-domiciled driver with a visa permitting entry into the United States.
Again, the driver can make a delivery from Mexico into this country, but must have a round-trip load secured in return, as well as follow all applicable U.S. laws. Certainly, this sounds like one response to the driver shortage in the United States.
However, according to figures of all trucking companies registered, only a few Mexican domiciled trucking companies are taking advantage of this opportunity. Under this program, drivers from Mexico can only deliver a load to a destination in the United States or Canada then take a return load back to Mexico or deadhead— they're not allowed to do intra-U.S. deliveries.
The number of participating drivers is also limited by the number of visas available. To qualify, the Mexico-based driver must meet all immigration requirements to obtain a B-1 visa and applicable DOT requirements, just like a U.S. driver. Drivers need a good driving record, must be fluent in English, and must have an active visa that allows them entry into the United States.
"At CFI, we've decided to take a wait-and-see attitude with respect to this program," says for the asset-based, third-party logistics (3PL) provider . "We already have solid relationships with carriers based in Mexico as long-term partners, and we want to keep our U.S. drivers as busy as possible with all available loads. For now, our partnership approach maneuvers trailers between drivers at the border."
Cervin adds that through these partnerships, sending a shipment with a trusted approved Mexican partner means that each carrier takes responsibility for transport in their respective country.
"That's a win for our customers."
In full compliance
Besides operational efficiency, there are inherent compliance issues with cross-border trucking in North America. Carriers and shippers have a significant compliance burden, ensuring that they accurately declare their product's classification, valuation and country of origin—and often that has to be done in more than one language.
, says that the unique characteristics of cross-border freight include a little more preparation, a little more documentation and many more touch points by all parties on all sides. "Along with those elements, you need an understanding of the inner workings of carriers as well as the government organizations that comprise U.S., Canadian and Mexican Customs," he says.
If that preparation and proper documentation is not done correctly on the front end ahead of the shipment, then delays at the border will mount—in terms of days and weeks, not hours.
"If those handoffs are efficient and well planned, then they will be a non-factor," says Meyer. "If they're not done correctly, they can delay crossing by quite a while."
Unfortunately, paperwork has the most potential for creating issues. In a northbound shipment out of Mexico to the U.S., for example, when a shipper sends paperwork it has to include a commercial invoice to a Mexico-based Customs broker. That office then must classify the merchandise according to provisions in order to clear it.
"If it gets to Customs without the paperwork, it can be a real nightmare," says Jim Stelts, an independent Landstar agent who has worked on cross-border shipments for decades. "There's a very common misconception in the U.S. that when shipments enter Mexico, those shipments are similar to those that go in and out of Canada. That's simply not true. They're two completely different arenas."
based in San Luis Potasi, Mexico, says that the paperwork can be a great challenge if you don't do the planning correctly. "If you have a specialized movement, it can be a nightmare," she says. "If you mis-weigh a shipment, it can be a nightmare. If we're OK with pre-planning and the paperwork is in order then clearing Customs for export isn't an issue."
Five steps to cross-border efficiencies
There are several easily planned steps shippers need to take before planning any cross-border move, experts say. Listing the correct country of origin on any cross-border shipment is a good start. According to the experts we sourced in the reporting of this feature, here are five critical steps shippers should take to ensure smooth, crossborder moves.
Find an experienced carrier with a history of doing business in Mexico and Canada, has proven experience, and has the resources and operational infrastructure in place to ensure your freight moves reliably and is protected.
Find an experienced broker or freight forwarder, ideally one with operations on both sides of the border and knows processes and protocols for clearance in both countries.
Ensure that your paperwork and shipment documentation is all in order before the shipment leaves, and get that paperwork to your Customs broker on time. Make sure what you send the broker is consistent with what is accompanying the shipment. Any discrepancies can delay your freight.
Make absolutely sure that your carrier (and partners) have security protocols and technology to provide constant, uninterrupted visibility to your shipment, on both sides of the border.
Lastly, specify door-to-door service from a carrier with a proven and trusted partner for the Mexico and Canada leg of the trip because it is the most reliable and easiest to manage.
Failure to perform all steps correctly will result in additional and costly compliance paperwork and unnecessary delays in transit, experts say.
—John D. Schulz, contributing editor
Streamlining the process
Experts say that understanding your carriers' networks is vital to any efficient cross-border move. Of course, once inside Mexico or Canada, U.S. shippers must grapple with how to set up the proper inland distribution network. Canadian 3PLs such as specialize in setting up such just-in-time networks to coordinate inbound product flow with container offloading and consumer demand.
CFI's Cervin says that cross-border shippers should look for a carrier that has bilingual staff on both sides of the border; 24/7 operations; long-term partnerships with trusted and reliable Mexico carrier partners and Customs brokers; and the systems to give you the visibility throughout the move with door-to-door service.
"Managing risk and security is paramount," says Cervin. "You need a trusted and proven partner in Mexico that has strong security protocols in place so the shipment is picked up by a reliable and qualified driver, integrity is protected throughout the move, and the shipment is delivered intact and without incident."
And if something goes wrong, shippers need to make sure resources are in place to quickly respond and resolve the problem.
"Again, partner selection of the Mexican carrier is critically important, as is having a high level of confidence that they have the resources and technology to track and protect shipments in Mexico," adds Cervin.
Trump factor?
Of course, none of this good advice is based on the impact of President Trump's raising tariffs on aluminum and steel by 10% and 25%, respectively. Although Canada could be exempt, Mexico probably won't be. The impact of those "Section 232 tariffs," and any Chinese retaliatory measures, is a complete wild card at press time, according to our sources.
Additionally, the recently released a list proposing an additional tariff of 25% to cover approximately 1,300 tariff lines of Chinese products as an action coming out of their Section 301 investigation. Various U.S. trade organizations are asking members to raise concerns if they're impacted by either the new 25% tariffs for import of Chinese goods or the export of U.S. goods into China.
The main challenge is that it's difficult to plan operational costs, or potential profit or loss, based on either of these actions.
"When potential trade actions are headline news, CEO's are asking their operations teams what the impact will be," says , a supply chain consulting firm. "Those teams, in turn, then have to run scenarios based on conjecture just in case activities mean spending time on investigation of alternative sourcing of non-Chinese goods."
All of our experts interviewed for this piece believe that any tinkering with the fine print of NAFTA will have repercussions for the shipping community in North America. "These same considerations apply for NAFTA and any other trade agreements which might be unraveled," adds Roe.
June 14, 2018
About the Author
John D. Schulz John D. Schulz has been a transportation journalist for more than 20 years, specializing in the trucking industry. John is on a first-name basis with scores of top-level trucking executives who are able to give shippers their latest insights on the industry on a regular basis.
Subscribe to Logistics Management Magazine!
Subscribe today. It's FREE!
Get timely insider information that you can use to better manage your entire logistics operation.


Latest Whitepaper

Finding the Right Fit for New Technologies and Automation in your Warehouse/DC
In this white paper, Canon Solutions explores the challenges companies face when automating, explain why there's no need to rip-and-replace existing systems
Download Today!
From the July 2019 Logistics Management Magazine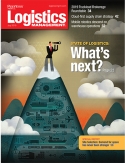 2019 State of Logistics: Third-party logistics (3PL) providers
2019 State of Logistics: Air cargo
View More From this Issue
Latest Webcast
Leveraging 3PLs for Future Shipper Gains
In this webcast, Evan Armstrong, president of Armstrong & Associates offers logistics and supply chain managers the industry's most comprehensive overview of the state of domestic and global third-party logistics arena.
Register Today!