CMMS for your DC
While computerized maintenance management systems are most widely used in process industries and sectors like power generation, they are gaining favor in asset-intensive distribution centers.

Latest News
Dematic names Bernard Biolchini EVP and CEO, Americas
Logisticians, carriers fret over U.S. economy's future
U.S.-bound shipments trend down in June, reports Panjiva
Rules of Origin Really Do Rule
Trump administration working to relax truck safety standards
More News
Latest Resource
Rules of Origin Really Do Rule
Inputs Make the Outputs: How Rules of Origin Really Do Rule
All Resources
By
Roberto Michel
·
September 7, 2016
The average warehouse may have less sophisticated equipment than a chemical plant, but there is no doubt that warehouses are becoming more highly automated. As distribution centers bring in assets like automated sorters, conveyors or automated storage and retrieval systems(AS/RS) to become more efficient, they become less like the warehouses of old and more like asset-intensive production facilities.
To support higher volumes, tighter delivery requirements and more each picking, the value of uptime makes DCs good candidates for computerized maintenance management system (CMMS) solutions. CMMS, also known as enterprise asset management (EAM), is a category of software that stores asset history; controls spare parts and maintenance, repair and operations (MRO) supplies; schedules maintenance work; executes work orders; keeps track of maintenance costs; and makes sure MRO goods are replenished.
Now that more DCs rely on uninterrupted operation of automated materials handling systems to get e-commerce orders out the door on time, the demand for CMMS in warehouses is on the rise, say CMMS providers. Some large facilities are even starting to use reliability methods from the asset-intensive production world, according to general manager of CMMS organization.
"We're starting to see more focus in the materials handling industry on facilities maintenance," says Palmer. "We're also seeing some companies starting to put a focus on reliability concepts and measures like mean time to failure, so that they can improve on the uptime and throughput of their facilities."
Dematic, a large materials handling systems provider, saw such potential in maintenance management among DC operators that it acquired CMMS provider in late 2013. Dematic's Sprocket solution, however, is capable of managing nearly any type of materials handling systems, as well as assets such as dock doors or heating, ventilation and cooling (HVAC).
CMMS and EAM solutions not only manage maintenance processes, they are the asset history for a facility. As such, they keep close track of the maintenance history for each asset, costs expended on each asset, and can be leveraged to help plan for the lifespan of assets. While more DC operators are interested in asset lifecycle management (ALM) methods, first and foremost, DC operators are concerned about reliability, throughput and protecting against unexpected costs from downtime, says , senior director of business development, lifecycle support services at, another materials handling system provider that also offers CMMS.
"When we talk to any of our customers, typically their main concerns are throughput and what it costs them to ship a case," says Trice. "So improving throughput is ultimately what they are looking for."
CMMS/EAM elements
Many vendors use the CMMS and EAM terms interchangeably. The only real difference is that EAM suggests a more enterprise-scale system, perhaps with more functions in areas like budgeting, ALM or multi-site analytics. Basically, both CMMS and EAM are centralized systems for maintenance management.
Companies that lack a CMMS still do maintenance, of course, but lack a central system to execute the work and maintain asset history, say suppliers. CMMS not only can be seen as an execution system for maintenance tasks, but perhaps most importantly, it keeps asset records up to date. Having a central, up-to-date asset history is seen as essential to reliability.
"Once upon a time, systems for maintenance might have been disparate systems, or they may have been manual systems, but if you're going to be competitive today, you just can't rely on those outdated modes," says , executive vice president and a founding partner of , a CMMS vendor.
While a CMMS might have several functions or modules, says Fineman, including work management, maintenance scheduling, mobile apps, predictive maintenance, budgeting and dashboard features, at its core is the asset history function. A good CMMS should have an easy-to-navigate asset hierarchy, she says. "You want to be able to go into the hierarchy for your equipment and easily be able to drill down into the component or subcomponent levels, or up into the asset or parent asset levels, to see information like preventative maintenance and corrective maintenance records, as well as any predictive maintenance cycle," says Fineman. "You want easy access to all of the pieces that make up the [information] envelope for an asset."
Trice agrees that a full-fledged CMMS needs a good asset history foundation, as well as modules for functions like work orders and technician scheduling. However, he adds, a properly deployed CMMS in a warehouse environment benefits from a vendor that has deep knowledge of the planned maintenance (PM) schedules, maintenance procedures and best practice documentation when it comes to specific types of automated materials handling systems.
"When we do a CMMS implementation in a DC environment, we are able to load the asset data for the user, and we come in with the appropriate PM schedules for equipment they have," says Trice. "We are also establishing the documents and work order procedures for the equipment to allow you to do the PMs in the prescribed fashion."
Intelligrated offers its CMMS solution through a partnership with a software vendor called Maintenance Connection. This CMMS has functional depth, says Trice, but Intelligrated, as a materials handling system vendor, has the expertise in maintaining automation found in warehouses, and can preload the system with the correct asset data and best practice procedures.
"There is a myriad of good CMMS solutions on the market, but what they might not provide is that upfront knowledge of materials handling systems—the asset list, the knowledge around PMs, and intelligence on maintenance practices from the OEM's network—those are the things you can't get just by going out and buying a piece of software," says Trice.
Connected solutions
CMMS deployments in DC environments can benefit from integration to data coming from programmable logic controllers (PLCs) or other controls for materials handling equipment, says Palmer. Using a standard OLE for Process Control (OPC) interface, the CMMS can communicate with systems to get alerts on malfunctions that indicate a need for maintenance, he adds. For example, five no-reads from a fixed-position scanner within 5 minutes would indicate a need to check the scanner unit or upstream materials handling for problems.
"Where we can go above and beyond with CMMS in a DC is actually connecting to the equipment," says Palmer. "That allows us to pull in alerts or error codes from PLCs and trigger the appropriate action in CMMS based on that."
A CMMS also may integrate to enterprise resource planning (ERP) systems to transact the procurement of MRO goods or spares, or to MRO supplier catalogs or materials handling equipment vendor catalogs using a standard called commerce eXtensible Markup Language (cXML) to browse and order parts, says Palmer. However, it's best that the CMMS become the central system for MRO inventory management and parts ordering, using XML interfaces to "punch out" to ERP or vendor catalogs. "You want to have only one inventory management system for spares and MRO goods," says Palmer. "It may integrate with ERP, but your spares inventory control should be part of the CMMS."
While populating a CMMS with asset data and maintenance content specific to materials handling equipment is key for a DC, a CMMS can be leveraged to manage all sorts of assets in a DC, says eMaint's Fineman. This would include facility systems like lighting and HVAC, and especially refrigeration units found in DCs for the grocery or pharmaceuticals industry. A CMMS can also be used to keep track of safety procedures for handling chemicals or hazardous materials, including lockout/tagout procedures, which is a mandated set of steps for shutting down certain equipment in a safe way.
"Environmental health and safety plays a role in how you can use CMMS," says Fineman. "You can use a CMMS to ensure you are tracking maintenance procedures from a regulatory compliance point of view, and have all the related documentation stored in an easily auditable manner."
One of eMaint's customers is , a Baton Rouge, La.-based operations support organization for independent grocers. The company uses eMaint to manage maintenance for the assets at its distribution facility, including a dry and refrigerated warehouse storage space. Use of mobile features for the CMMS have allowed Associated Grocers to do away with paperwork orders previously used by maintenance technicians, while implementation of meter-based PMs has eliminated premature PM task completion. Associated Grocers also uses eMaint's CMMS for regulatory compliance (including lock-out-tag-out and fire safety) and warranty tracking including pop-up notices that indicate whether a part is under warranty.
A fit for all DCs?
CMMS vendors contend that CMMS can benefit many DCs, though some vendors are upfront in saying that the need depends on the level of automated materials handling or other complex assets in the DC. Mike Weinberg, chief sales and marketing officer with Synovos, a CMMS vendor, says his company has not seen much activity in the DC segment compared to its major markets like food processing plants or hospitals and university campuses, but large DCs can clearly benefit from CMMS.
"Whether you are running a manufacturing plant or large DC, there are assets you need up and running," says Weinberg. "You have materials handling systems, chillers for controlled environments, dock door equipment, that need to be reliable, so there is absolutely value in having a system to manage service request, work orders, asset records and then do some predictive activities."
Dematic's Palmer agrees that the level of automation can drive how much CMMS functionality a particular site needs, but he observes more DCs are becoming asset-intensive, multi-shift operations where advanced maintenance practices are needed to protect throughput. In fact, he says, he sees larger, 24/7 DCs needing CMMS tools that support "shift-based maintenance" that devise PM schedules during times when equipment isn't needed for production, and certified techs are available.
Vendors also say that even relatively smaller DCs with critical equipment can start using CMMS in a more basic mode—establishing a central asset record, managing work orders, MRO inventory—and can later use features like predictive maintenance or asset budgeting. Vendors also agree it's important to get the initial asset data and PM procedures right, as well as to build clear understanding on who is responsible for updating data.
In other words, concepts like master data management, change management, and setting clear workflows may be just as important as CMMS bells or whistles. "To us, it's not just about the software," says Intelligrated's Trice. "It's about getting those upfront pieces done correctly—getting the asset loaded correctly, setting up the documentation—along with the backend issues of ongoing support, that make for a successful CMMS implementation."
Companies mentioned in the article:
October 6, 2016
About the Author
Roberto Michel Roberto Michel, an editor at large for Modern Materials Handling (MMH), has covered manufacturing and supply chain management trends since 1996, mainly as a former staff editor and former contributor at Manufacturing Business Technology. He has been a contributor to MMH since 2004. He has worked on numerous show dailies, including at ProMat, the North American Material Handling Logistics show, and National Manufacturing Week. He can be reached at
Subscribe to Logistics Management Magazine!
Subscribe today. It's FREE!
Get timely insider information that you can use to better manage your entire logistics operation.


Latest Whitepaper
Rules of Origin Really Do Rule
Inputs Make the Outputs: How Rules of Origin Really Do Rule
Download Today!
From the July 2019 Logistics Management Magazine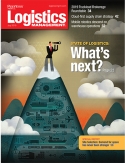 2019 State of Logistics: Third-party logistics (3PL) providers
2019 State of Logistics: Air cargo
View More From this Issue
Latest Webcast
Leveraging 3PLs for Future Shipper Gains
In this webcast, Evan Armstrong, president of Armstrong & Associates offers logistics and supply chain managers the industry's most comprehensive overview of the state of domestic and global third-party logistics arena.
Register Today!